Having failed with MotoSpeed and Rivera Motors, I am now quite disheartened and I head directly to Honda SuperMoto Atlantico (Carrera 43, 67-23).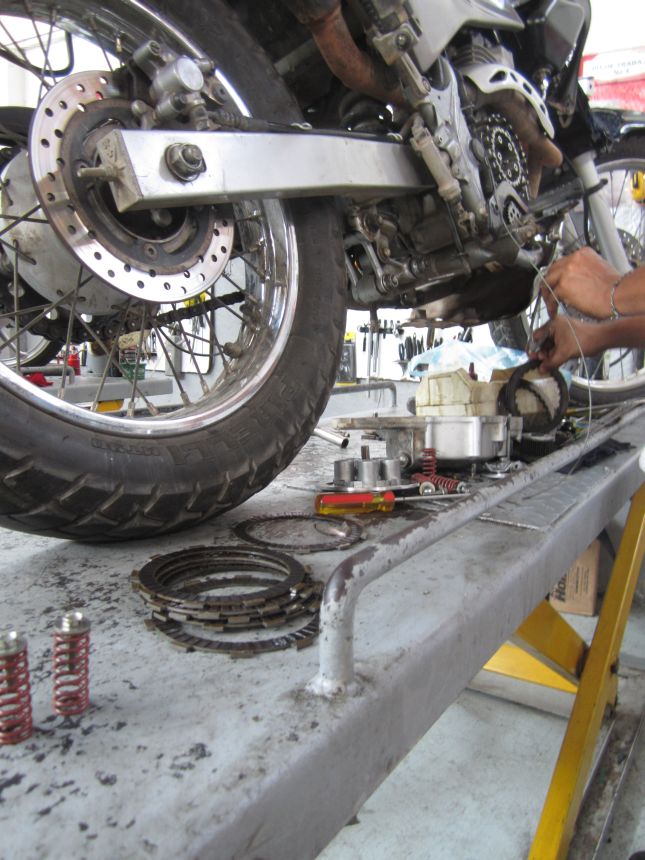 I checked these guys out before, after I had been "stood up" by MotoSpeed. Their quoted prices of 160000.00COP for all the maintenance work I wanted done was competitive, however what stopped me from choosing them was the company policy of not letting me stay near the bike to watch the work, although the manager said that I may "come in from time to time to inspect".
I return here because I've had two bad experiences with independent mechanic shops and I don't trust the attitude nor the inflated price at CycleWorld. I'm now keen to be in an official Honda place where they generally have all the tools they need for these bikes and – in my experience – the staff at least seem comfortable with the general assembly and disassembly of the main parts. I have had bad experience at Honda before, but still this seems to be my best option now. I ask them whether they have the Falcon manual, they do, and I specify I want work done according to the manual spec's. But I never see anyone referring to it.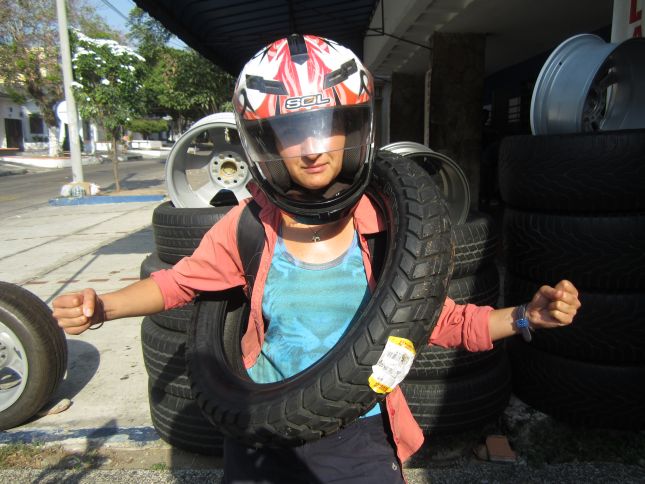 Michellin Man, meet Pirelli Woman…
Since I have less work to do now, the workshop manager quotes a reduced
price for the maintenance work:
– Replace Clutch Friction Disks (Since after BR319 it's been slipping a
bit on pull-off and a couple of times during overtaking. It's got about
28000Km so it's about time now)
– Change oil and oil filter
– Check primary oil filter debris and condition of CAM chain is ok
– Check and change spark plug
– Check/Adjust valve clearance
– Clean fuel filter and carburator
– Clean oil cistern and tubes
– Clean air filter
– Change rear tyre
——————————————-
Price: 100000.00 CLP
The clutch discs look somewhat worn, mainly the B-type. But it's been around 30000Km and I assume they are due for a change. Annoyingly, I find out that the "B"-type disk, which is packaged in a bag containing its part number (22202-MAE-000) has in fact been mis-packaged at the factory, and I actually have seven "A"-type disks (22201-MAL-600). No other "B"-disk is in stock anywhere in Barranquilla, so I'm forced to re-use the old one. The mechanic tells me that this is no big issue as it's not AS worn, because it's only used for the 5th gear. It looks worn to me but what can I say? When I ask bout the springs, the mechanic tells me they're ok. At least on the positive side the workshop manager calls the MotoSpeed guys I bought the disks from and confirms to me I can bring the mis-packaged one back there for a refund.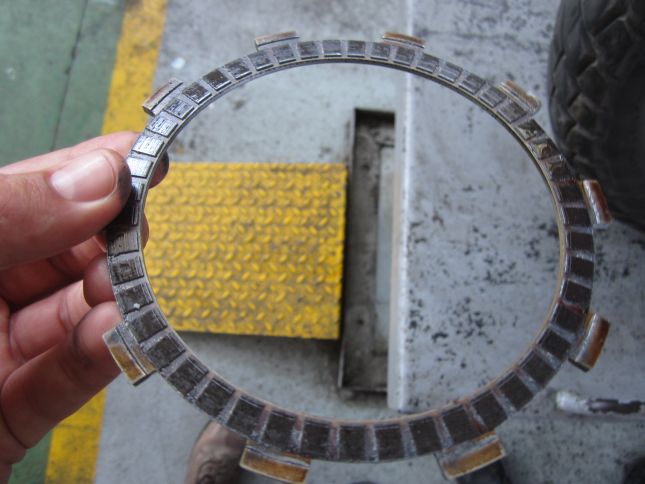 Significantly worse wear on the B-disk…
The mechanic shows me the right-side ADMission valve seems to have loosened somewhat, so the gap has decreased. He sets them to the factory standard (ADM 0.10/ESC 0.12). The spark plug (the old one we inserted yesterday after the Rivera Motor's saga) is removed and the mechanic shows me its condition and says that there is no evidence of oil contamination, therefore good news. (I cleaned the spark plug before we reinserted it and have only rode a few kilometres so I don't know if that's too little time to tell, but it makes me hopeful about not having major engine trouble).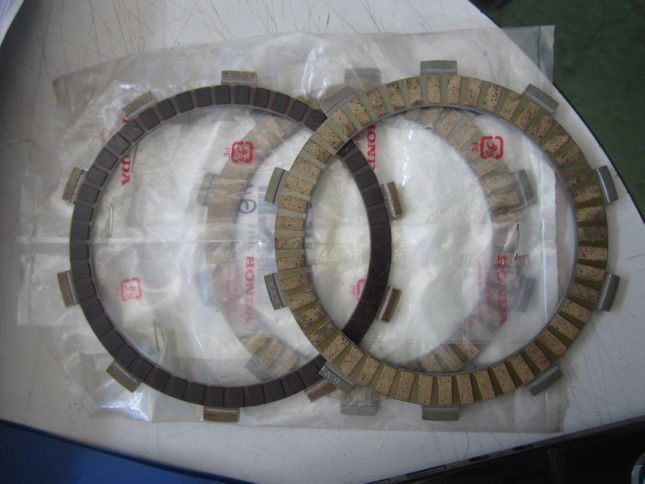 A-disk mis-packaged as a B-disk…
No debris in the primary oil filter is another welcome bit of information, and this combined with the tautness of the CAM Chain signals that the chain is supposedly in good condition and no further damage has been caused to the guides through chain thrashing.
All the rest of the items done, we speak to the mechanic about checking the cylinder and valve guides because of the oil consumption problem, and with a bit of prodding, we manage to schedule a check of this for the next morning.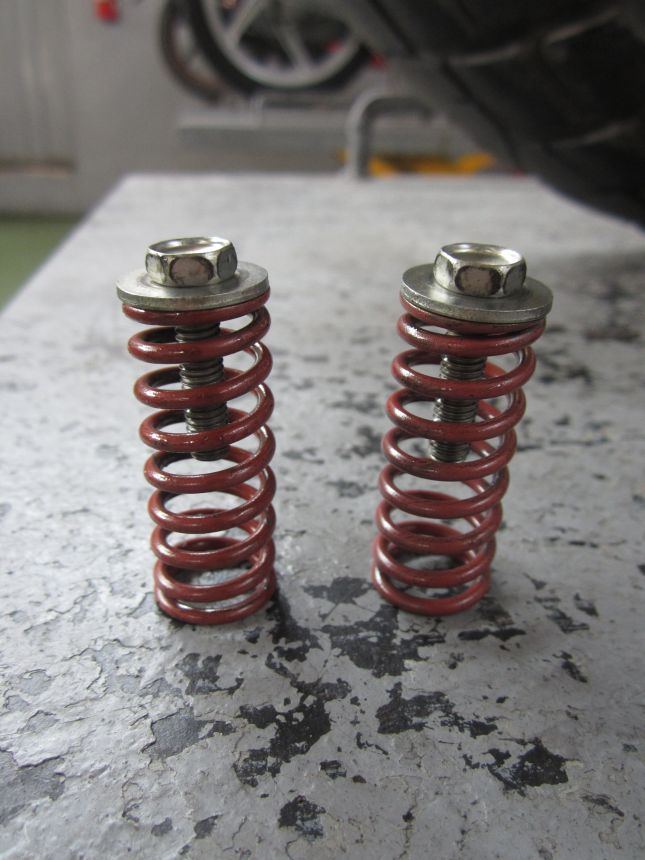 Two of the five clutch springs…
The price quoted is 150000.00CLP – this if for opening, checking and closing it up. He also agrees that we can have a discount for the actual reparation work if we have to open it up again to do this. (The reason we won't do it immediately is because we don't know the extent of damage and we don't have the spares locally to repair it.)
We leave the shop happy that we have the maintenance items taken care of and we return our mis-packaged friction disk for a refund at MotoSpeed. Whewww…