(We have discussed the technicalities about planning the Machu Picchu visit in detail in our article "INFO: Machu Picchu Glossary and Planning Guide" so if you're confused and trying to arrange your visit, click here.)
Our big moment has come. It's time!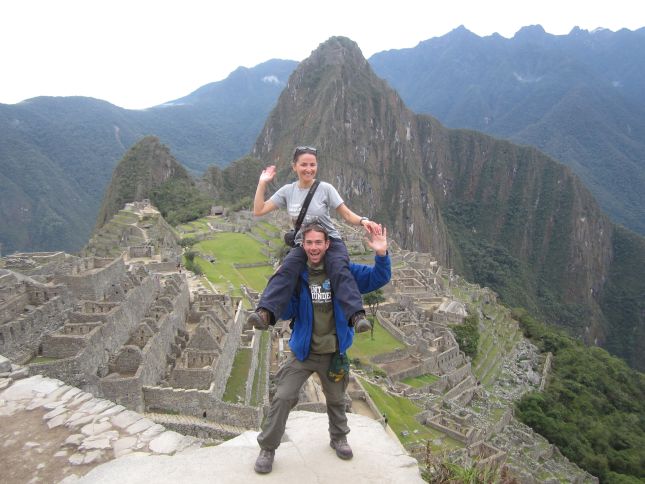 We're up before sunrise and standing at the Stairway Gate, waiting for it to open at 05:00. A dozen people are already there too. The gate opens punctually and, tickets and passports presented, everyone begins their climb up the steep walkway with excited vigour. Quite soon though, this vigour does wane somewhat as the realities of Incan stairways take their toll on the individuals. Ebru feels sick half way up, from sheer exertion, but wills herself through it and we make it to the top Entry Gate within an hour. Some buses have just arrived there but we're still among the first people getting in. We don't take a guide (many available on site or pre-book) despite being interested but we're budget DIY-ers and we're on our own mission.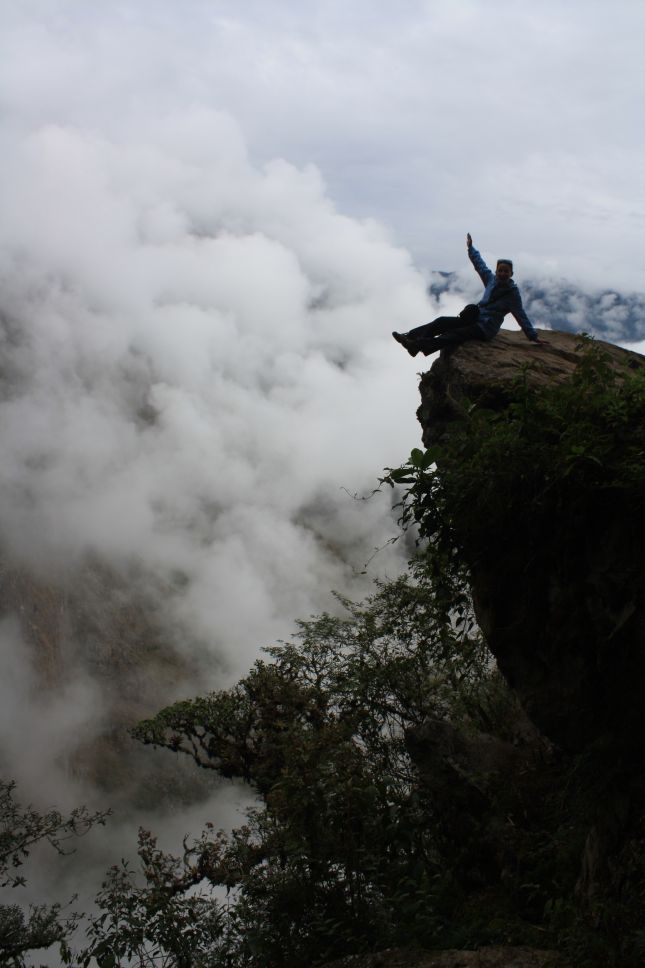 Walking through the complex it's natural to be overcome by wonder and awe in the face of this monumental achievement, such a long time ago. The seclusion of this place, so high up on a mountain with slopes – no, cliffs – almost vertical.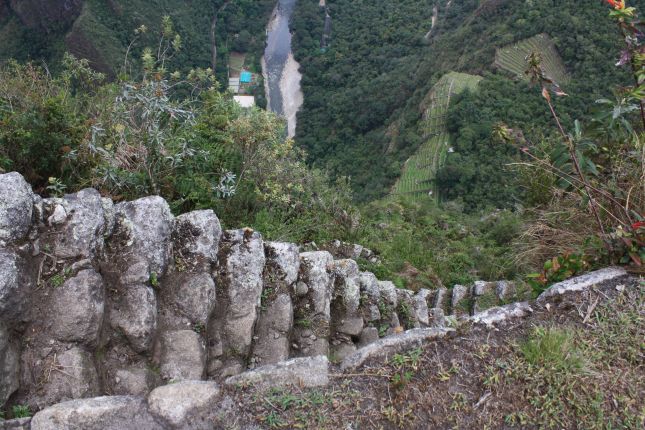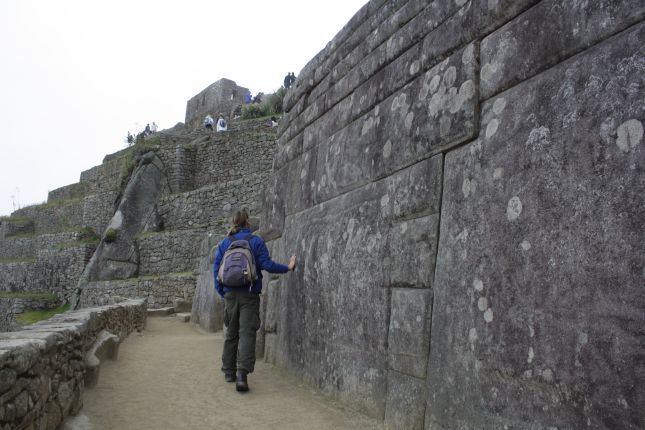 As then the massiveness of the rocks and their impeccable carve… astonishing! A must see is the Inca Bridge, along the path not far behind the Guard House – it's a stone "bridge" cut along the edge of a huge cliff face, over a hundred metres long. It's not accessible these days but just seeing it is worth it.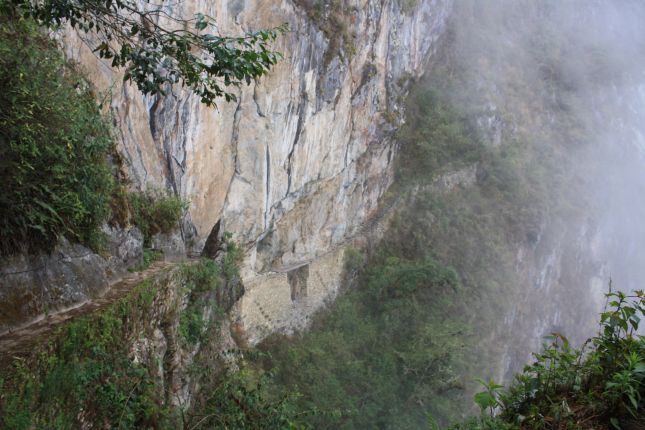 At 11:00 we enter the gate for the Huayna Picchu route (we've booked tickets for Group 2). I was quite unsure about whether to book the Machu Picchu or the Huayna Picchu ticket, because I knew the Huayna Picchu one is very popular and I disliked the thought of taking in the scenery whilst elbow-wrestling with a large crowd. However, I was very pleasantly surprised that it never seemed very crowded.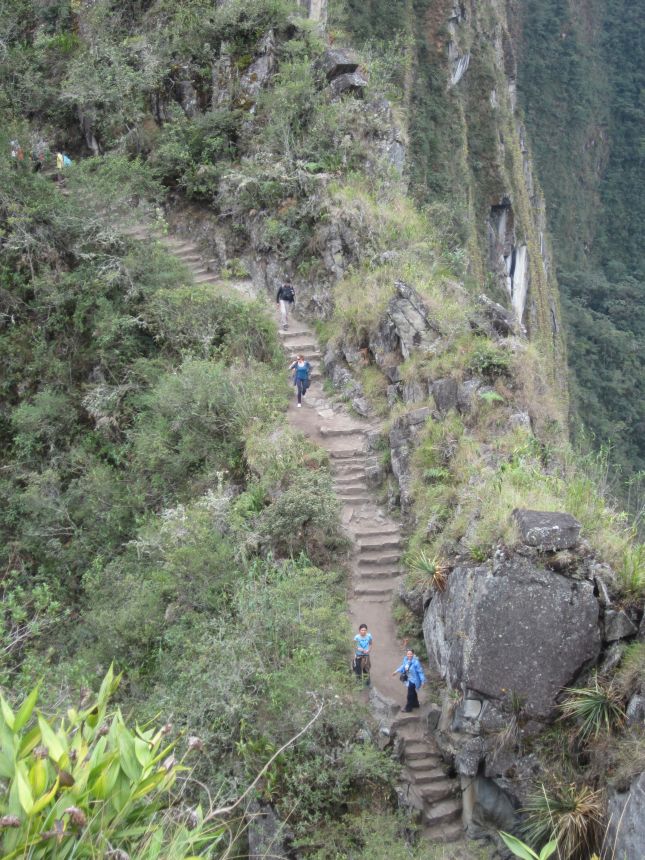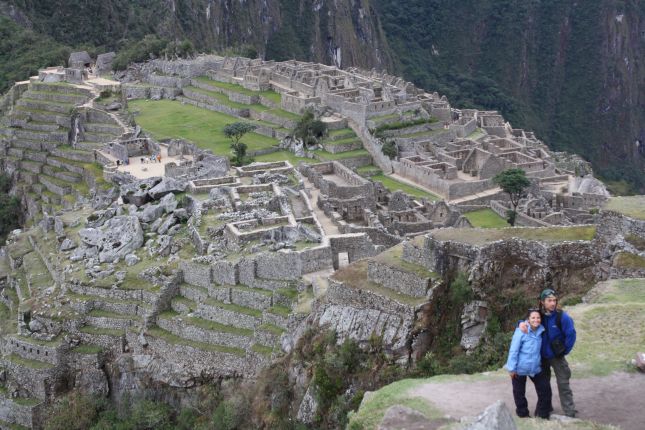 The trek to Huayna Picchu is steep downhill followed by a steep uphill that puts the initial morning hike up the mountain to shame. Hundreds of stone steps take you slowly up-up-up to a beautiful rocky summit with a perfect aerial view of the ruins opposite. Many exhausted people we pass, huffing and puffing from the strain of stepping onwards and upwards. At the summit we bump into Cooper whom we hiked with the day before.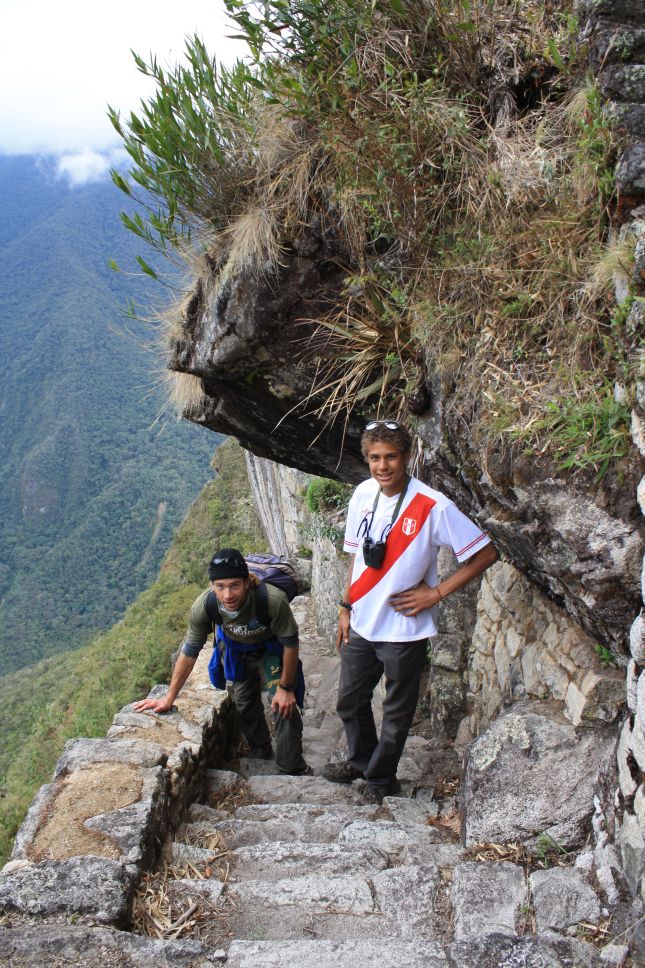 He's clearly as young and adventurous as we are so we decide to visit the Templo de la Luna / Moon Temple (a small temple down the rear side of Huayna Picchu) together. It's just past 12:00 and the ranger at the top tells us the path closed at 12:00 because it takes so long to walk down there and back. Yet we talk a bit and he lets us in after all.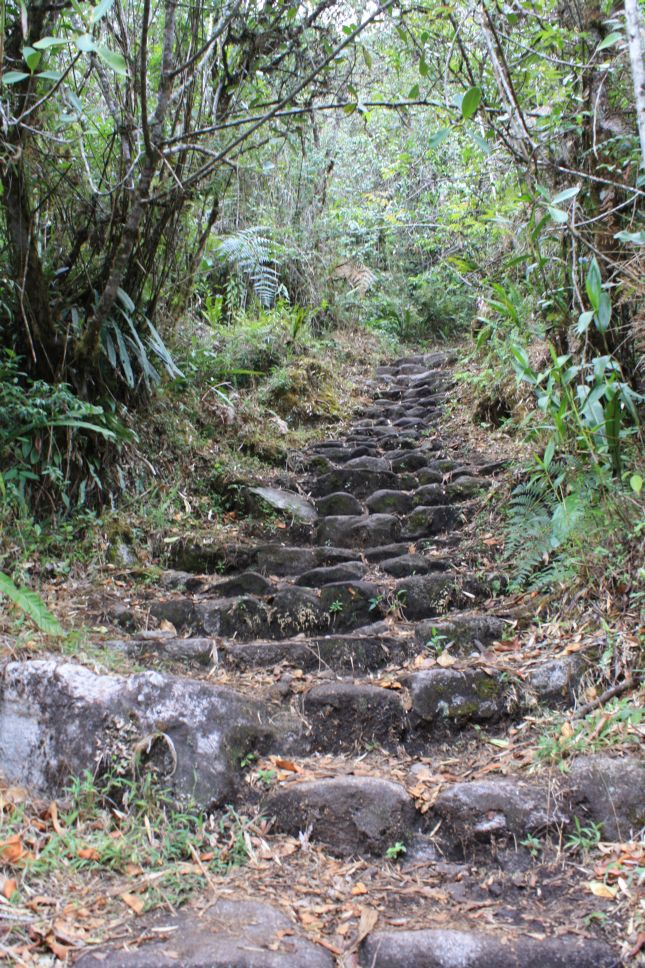 It's only the three of us, missioning down the back of the mountain to find the Moon Temple. If we thought the way up here was steep, this is a whole new degree. Not only steep stone steps to navigate downwards, but wooden ladders down huge boulder faces and cliffs. At some point our friend decides it's a good idea to take a couple of "titanic" photos of himself – call them what you wish. I'm more scared taking the photos than he is standing on the edge of the cliff!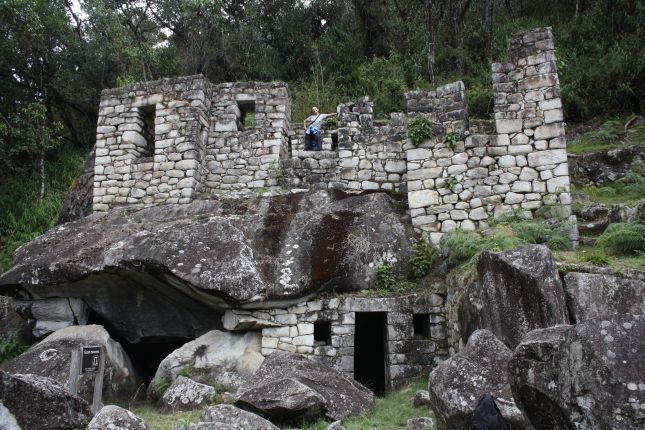 We arrive at the temple in about an hour or so and have a snoop around. There's not a huge amount down here but anyway we're glad to have come and seen it. An awesome place.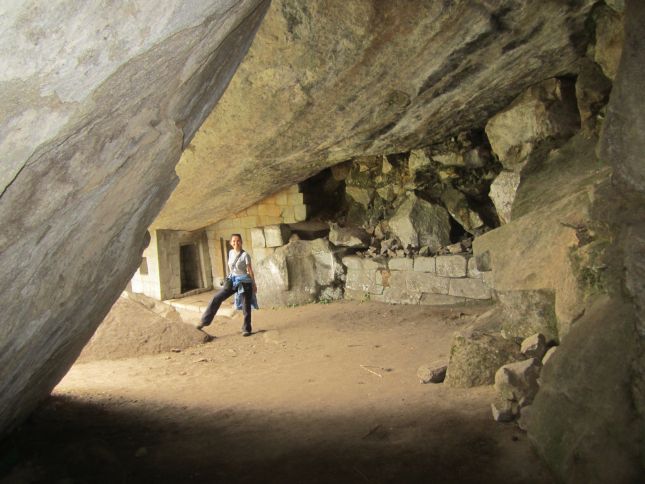 The way back is what's most rewarding! If you survive it with your heart still pounding in your chest. Chances are pretty good it will force its way out through your mouth or explode before you arrive.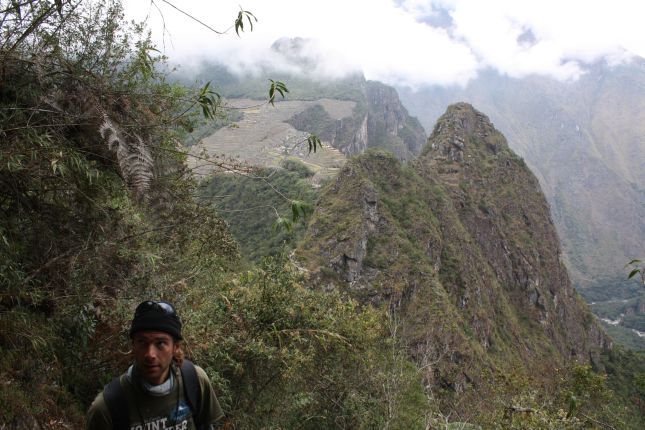 The Incas had a really ingenious way of designing stair cases: there's always just the right length of steps before the turns or hairpin-bends; they allow your eyes to focus on the staircase-horizon when you enter it, your mind to approve that its length is just about bearable without crumbling into a sorry heap of defeat and waiting for the vultures to come and take you – or conceding to a night on the mountain, if you wanna be less dramatic; and so you feed an additional drop of energy into the illusion that THIS one might, just might, be that one final turn before you hit an even path home…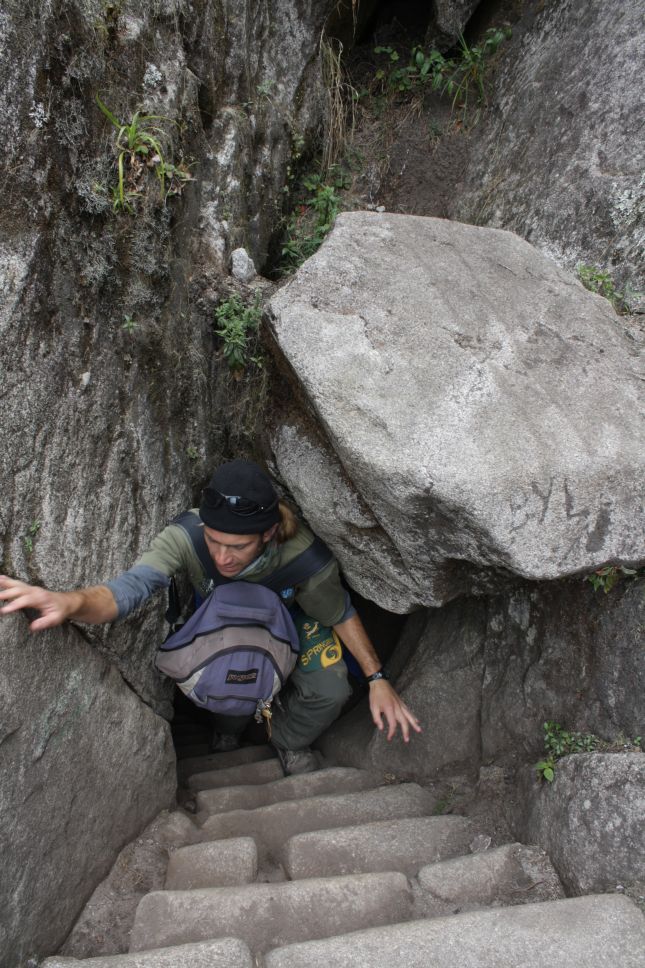 No such thing. Not for a long time at least. This walk really squeezes it out of you like a wet rag. So you'll be glad you brought that large bottle of water. And I'll pray for your sake that when you do it the sky is full of puffy little clouds like we had it, or you may just have to carry two 😉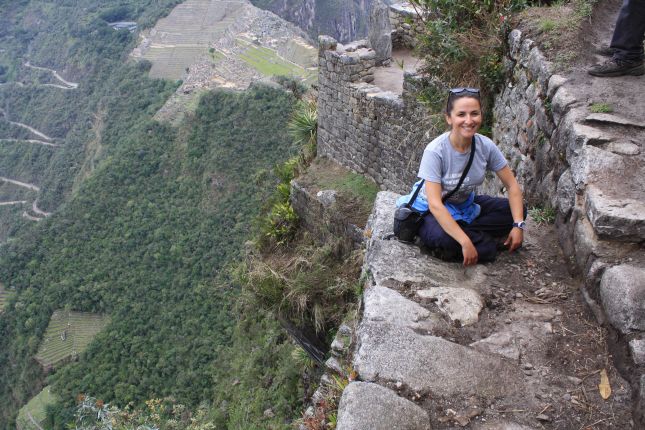 The trek pushes us to the limits. Physically it's intense! Some sections lead you along narrow stair cases cut straight into vertical cliff face, nothing but thin air between you and the ground a few hundred metres down. Fear of heights will have to move aside for the time being while the job is done.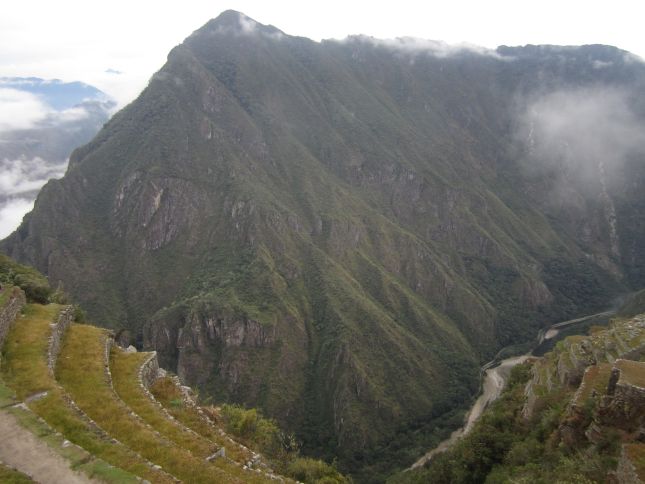 Reaching the Huayna Picchu entrance gate on our return is like being born again or something like that I think. Our circuit takes us three hours and 45 minutes in total. Nearly 3 hours of that were for the Temple of the Moon circuit. Although we've been pushed to the limit for the last couple of hours, we now walk back into the Machu Picchu ruins with a renewed charge. The achievement of that challenging route and the connection which it brings between you and the ruthless danger these ancient people faced going about their business up here makes us look out upon this place with a new perspective.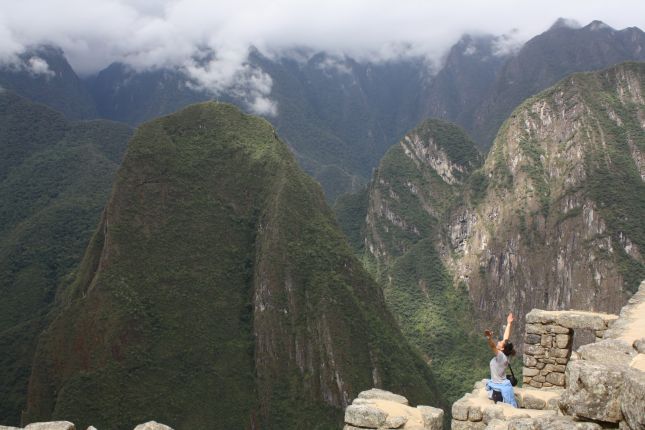 We spend the last couple of hours walking through the ruins and admiring the work and the awesome views up here. Cooper shows us a temple room which has small cavities in the walls; when two or more people simultaneously "hummmm" into them from opposite sides it creates a resonance which seems to vibrate the very rock you're standing on. Watching this amuses quite a few passing visitors – they think we're crazy. Finally we again say goodbye to Coop and head down the long stony staircase, back to the camp site.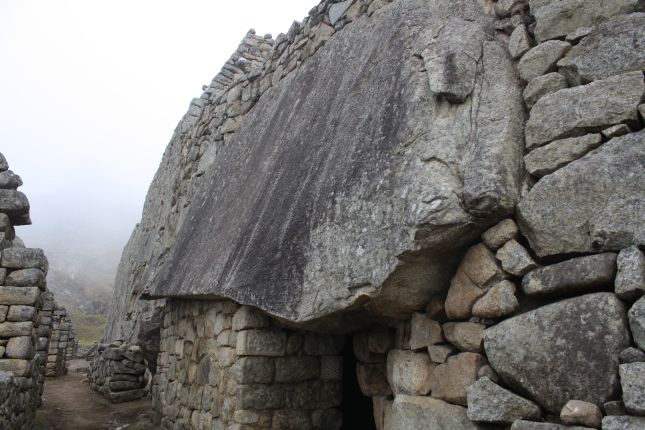 Machu Picchu is indeed a wonder of this world! Regardless how they actually managed to build this thing, the location is unique and spectacularly beautiful. Having this ancient complex up here just adds to the wonder. Combine this with a top-grade physical work-out and you've got something very special.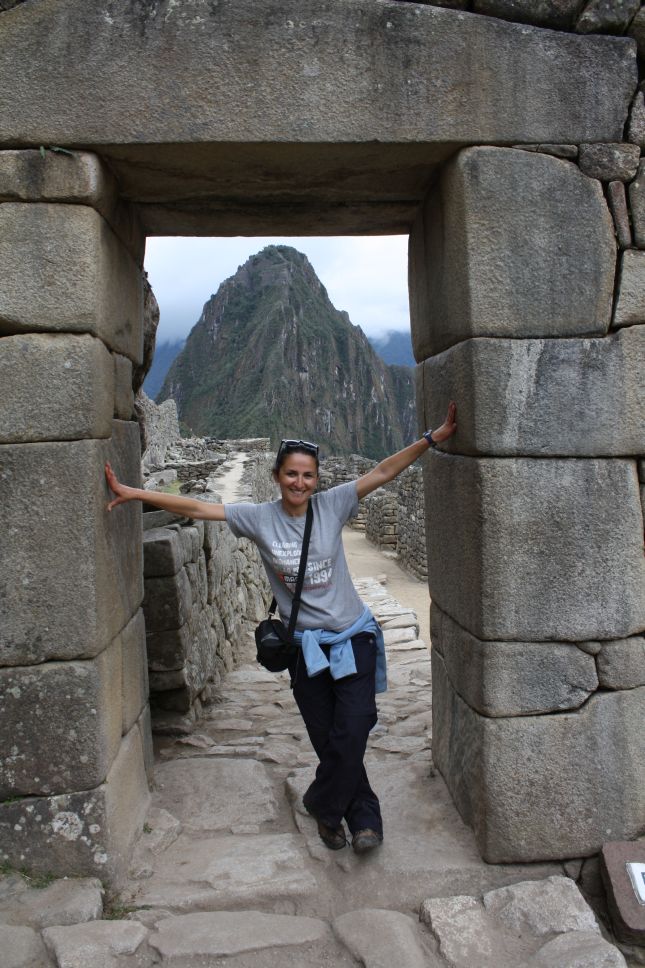 GO THERE!!!