TRIP INFO BOX

Route
Sucre, Bolivia – Potolo, Bolivia

Distance

150Km

Travel Time

Full day, with plenty of stopping for the sights

Road Conditions

20Km dirt, 10Km stone, 40+Km dirt (one way)

Weather

Clear, warm

Terrain

Spectacular Mountainous, Valleys, Canyon

Food and Petrol

Sucre, Bolivia

Accommodation

N/A
---
This is a recommendation for a beautiful biking route north of Sucre, Bolivia. If you're comfortable on dirt tracks this is easily doable, and you're in for some of the most beautiful scenery Bolivia has to offer!
From Sucre we ride out towards the Maragua crater to try and find the fossilized dinosaur footprints. We never find them but the area offers some of the most exquisite scenery and is definitely worth a visit, especially on a bike. If you don't have a bike of your own, inquire at MotoCar (Benito Moxos #99; Tel:6439169) where they offer motorbike and quad tours out to that area. Just make sure you get started early because it's slow going and you'll want to stop for lots of pictures.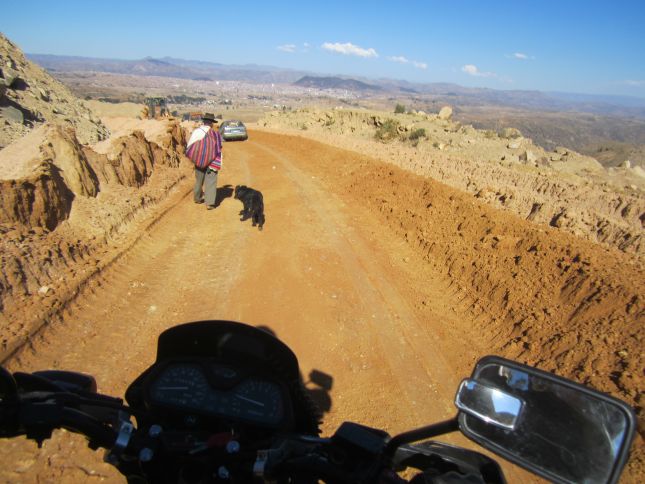 Leave Sucre using one of the North exits towards the air port, then turn West on to the road leading to Ravelo. You'll find a reasonable map at the tourist information outlets in Sucre but there is one here (http://www.altamiratoursbolivia.com/servicios/mapa.htm)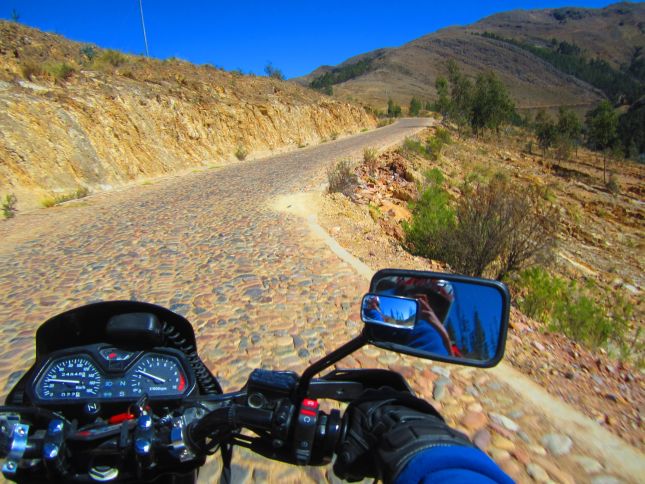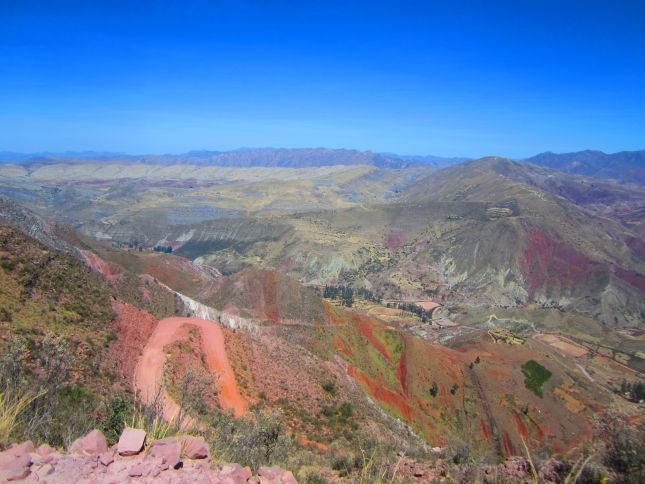 Outside of town the road turns into dirt and goes uphill. Follow on for about 20Km until the village of Punilla. There is a checkpoint there (piece of rope across the road) where you may have to pay 2BOB and there, turn left on to the pebble road to Chataquila. This leads all the way up the mountain to a church at Chataquila, and on the other side you'll be greeted by a beautiful, steep plunge of dirt track, all the way down, through the village of Chataquila into the valley. The views are amazing!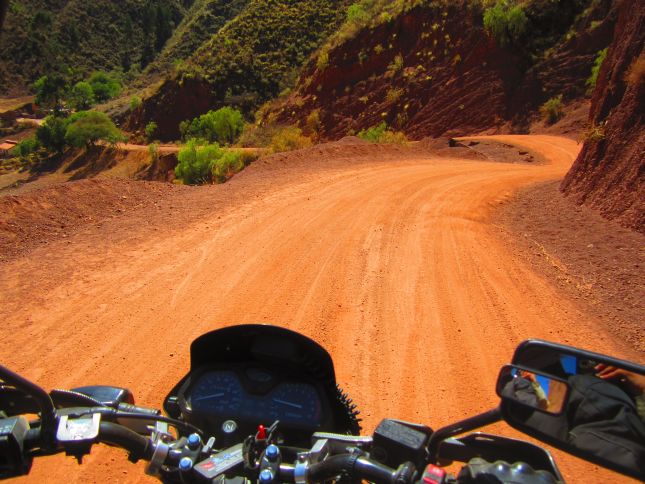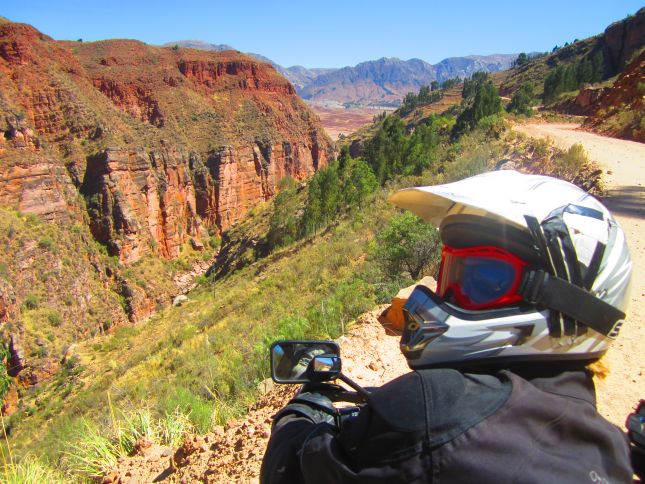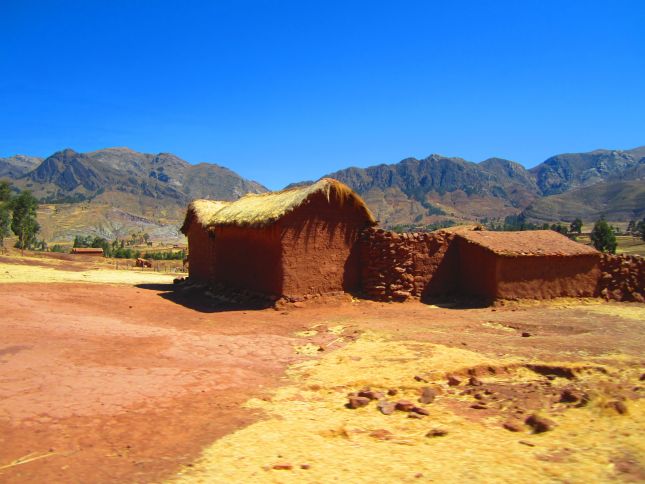 On the way down to Chataquila you can branch off left on a road which I believe leads to Maragua itself, a village in a large volcanic crater. But follow on straight through Chataquila and cross the river bridge for a trip through a deep canyon which ends up on a kind of plateau with a huge river flood plane and gorgeous surroundings. If you turn off left on the dirt track about 2Km before Potolo, this will take you over a few hills and down another valley with mountain ridges so colourful you'll think you're Alice in wonderland. Be very cautious however! The road deteriorates immensely her because of water erosion and becomes really steep and dangerous to ride. At some point we had to turn the bike around because rainwater had created a deep rift in the track which wasn't passable (ride into this unnoticed and you're sure to take considerable damage). Despite this, the ride down is worth it for the views alone.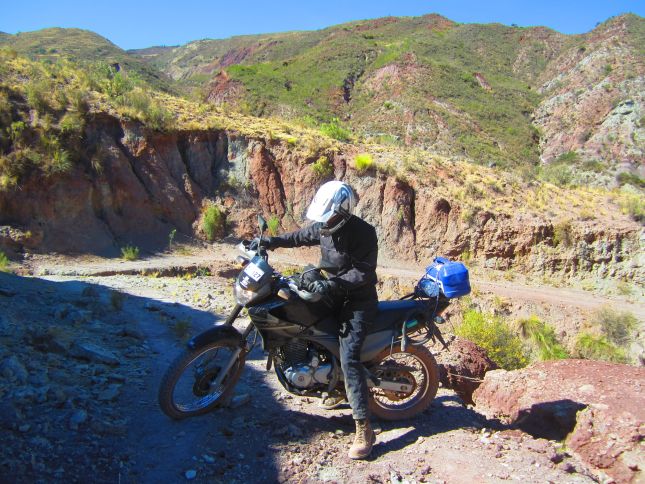 Turning the bike around on the narrow road – impassable…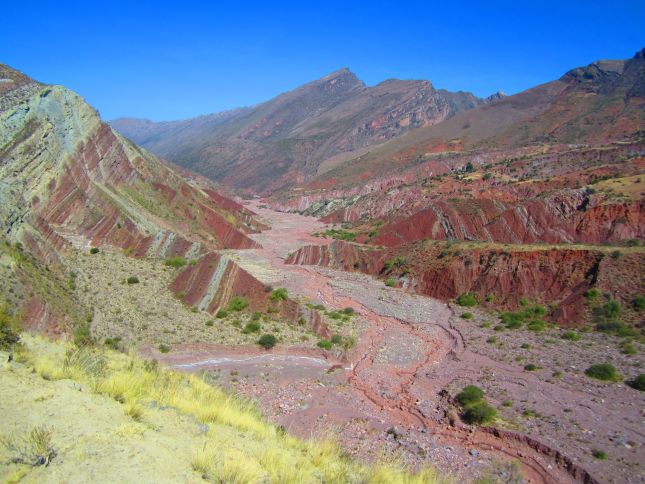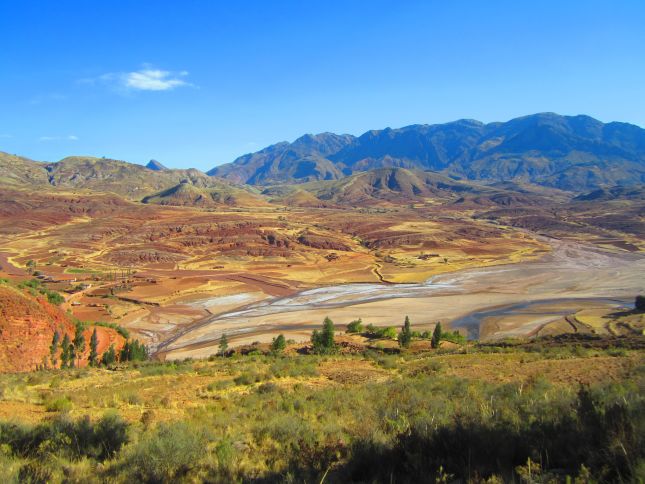 We later found out that about one or two kilometres down the track (starting just before Potolo) a small walking path leads off to the left up the hill. It's not really bike territory, but about an hour's hike up it you will arrive at those dinosaur footprints we were looking for.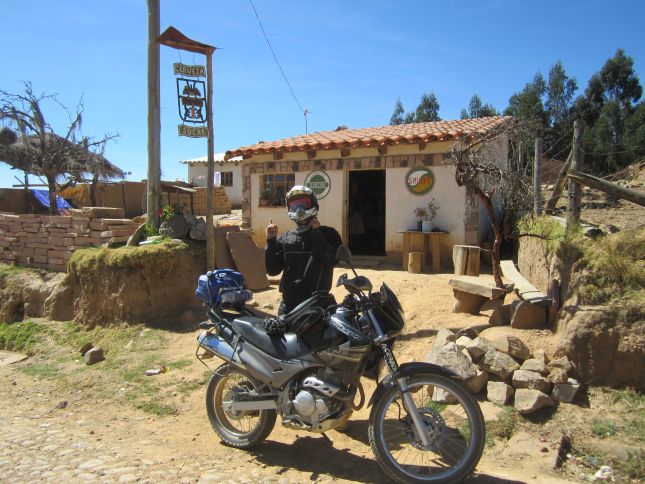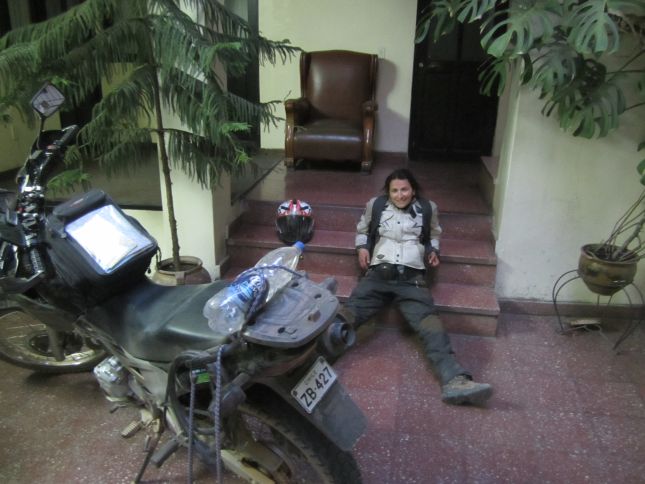 Note: the dinosaur footprints are not to be confused with those hundreds of prints at the Parque Creatico dinosaur park a few kilometres out to the NorthEast of Sucre. Those are all on a large rock face opposite the park and can only be viewed from a distance. The annoying thing is that you pay for entry into the park and then have to pay for coin-operated telescopes to get a magnified look – not great if you didn't know to bring small change!