TRIP INFO BOX

Route
Tilcara, Argentina – Susques, Argentina (RN52)

Distance

170Km

Travel Time

5 hours

Road Conditions

Great Tarmac

Weather

Sunny, Cold, turning to Overcast, Gusty, Freezing

Terrain

Quedebra, Salt Flats, Altiplano

Food and Petrol

Tilcara, Susques

Accommodation

Hostal El Kactus, Susques
---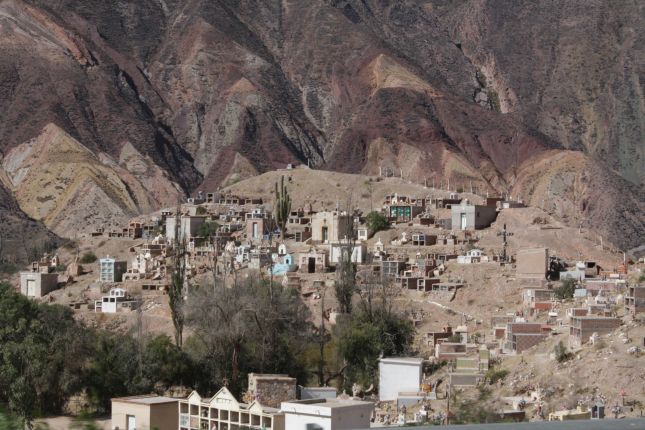 From Tilcara we branch off toward the Paso de Jama, which is the Andean pass over to Chile, around 4500m high.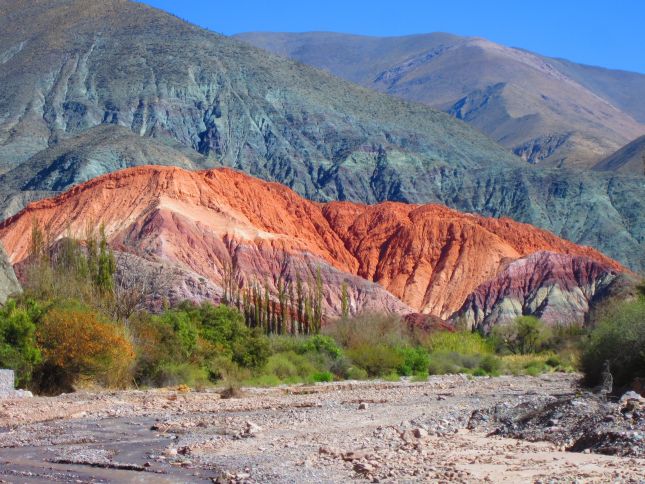 The journey starts through the amazing Tilcara Quedebra, a canyon reflecting the most unimaginable colours in rock and sand – red, pinks, yellows, purples, greens, oranges, browns… this is the kind of scenery you only find high up.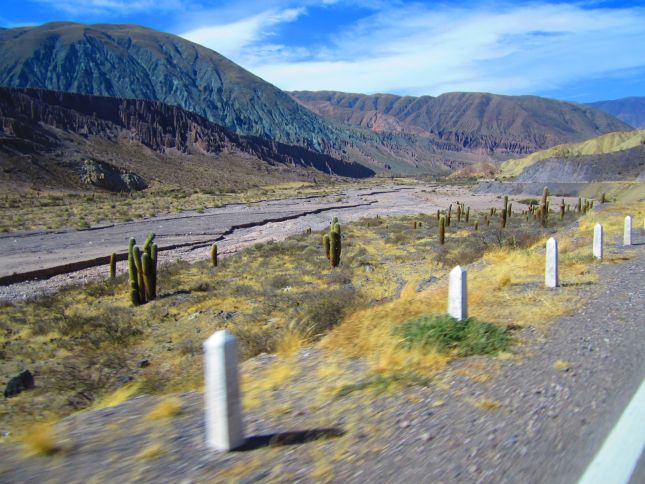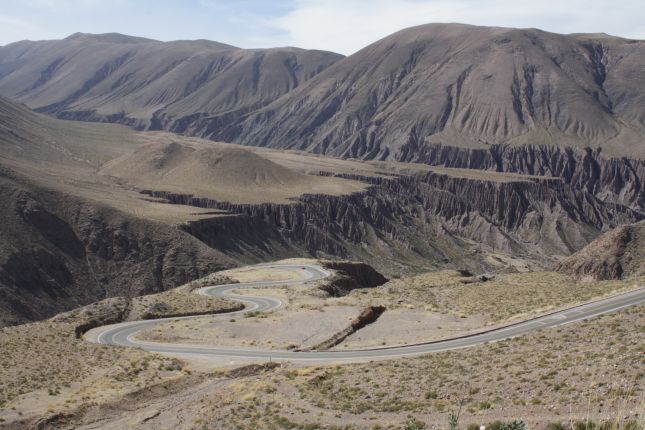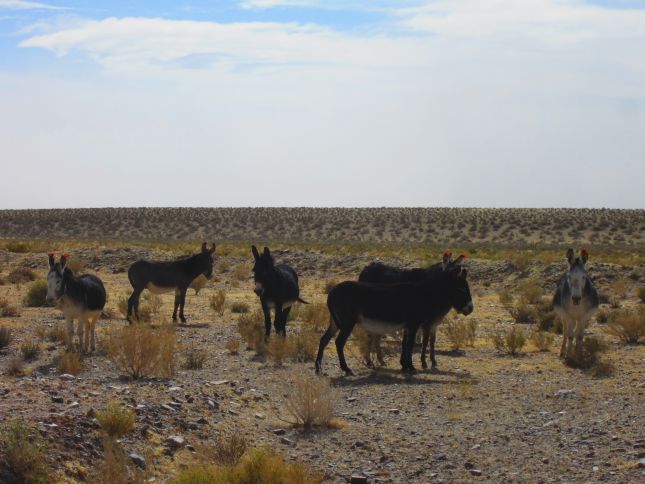 The ride takes us up steep slopes on continuous S-bends, over freezing mountain passes. It gets so cold up there moving though the open air that I have to stop every half hour to thaw out my fingers on the hot engine. Around midday it becomes more bearable with the extreme sunshine up here, but still freezing.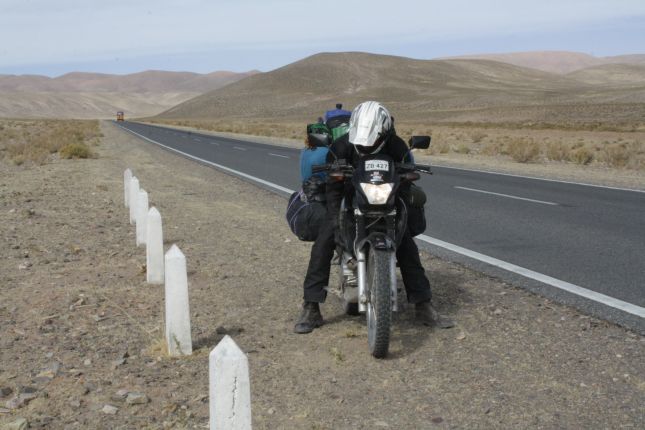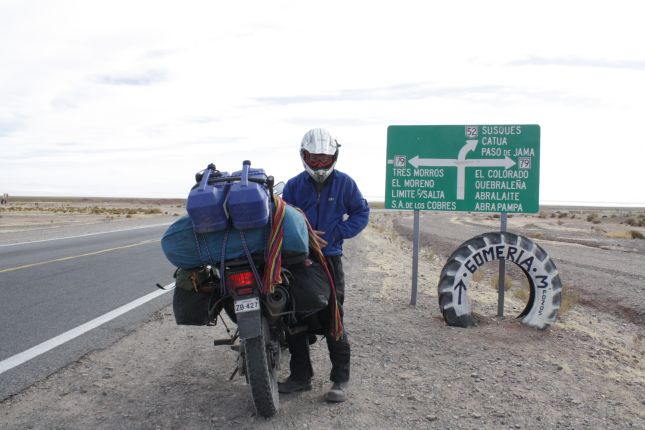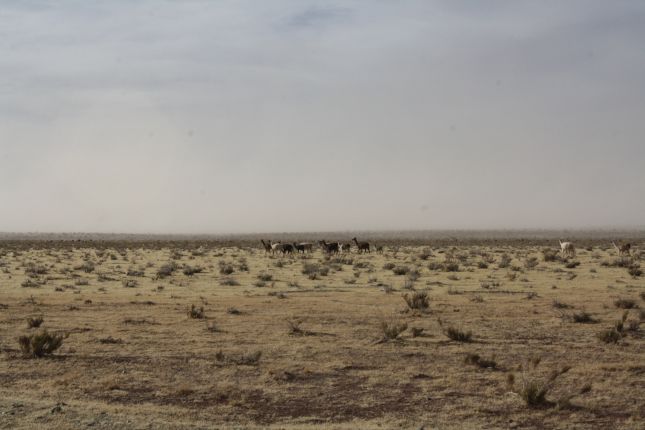 Eventually the terrain evens out and we see in front of us a vast expanse of white: the Salinas Grandes. These are massive dried up salt lakes, probably from oceans of ancient times, I'm not sure. Huge, flat and bright white, with white salt clouds rising up off them in the distance where the strong winds come in from the surrounding mountains.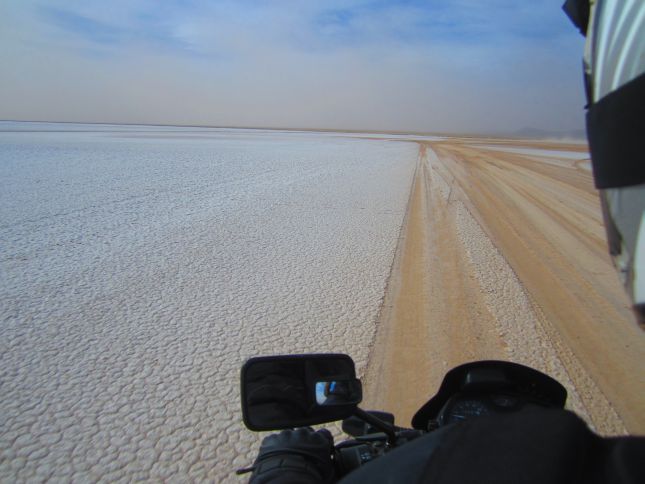 Since we're on our motorbike we of course take a detour off the road and ride the salt planes. Great fun! It's like riding on a snow field, white all around you, but flat and dry and crunchy. Handy having a compass out here because if visibility deteriorates I recon you could easily get lost.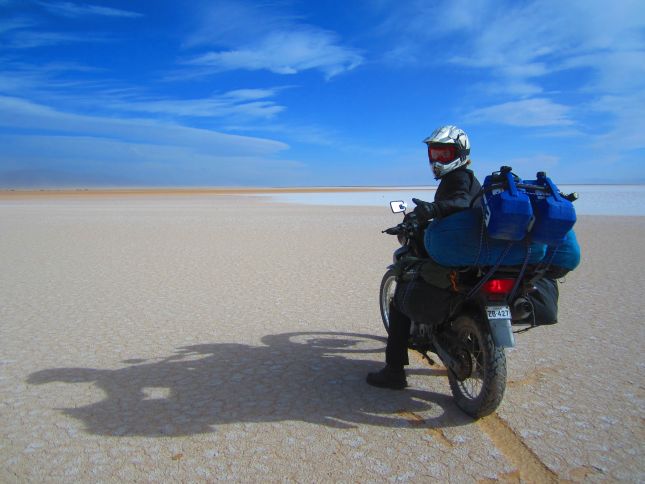 It's unreal out here! The salt is flat and powdery in places, in others it's shaped hard, crystalline honey combs, others yet it's like a dried up mud crust. A few hundred metres in the distance we observe some garbage tumbling across the plane – apparently bits of card board being thrown up a few metres into the by the strong gusts ("damn litterbugs")…. We ride closer and realize it's sheets of salt being lifted and broken up where the wind has pushed in underneath the cracks! Rolling across the plane like tumbleweed.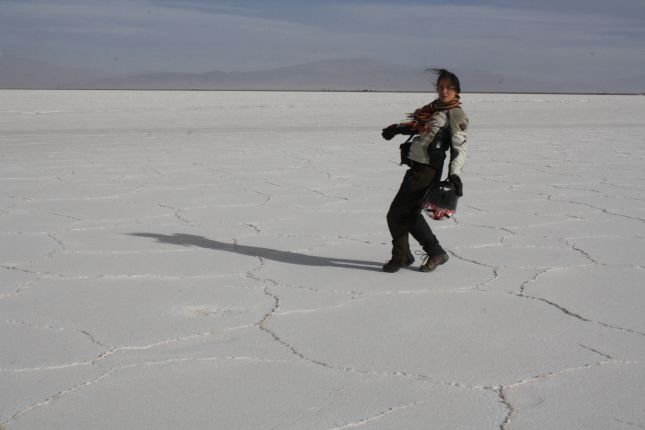 When we get back on the main road it's afternoon and the winds start coming in stronger. We can see huge salt-dust clouds coming in from the West (the direction we're heading). We quickly figure out that these tell us just where we'll be knocked sideways on the moto. I have to lean the bike against the wind as if taking a curve, to carry on going straight. Tiny salt particles are blown through the foam seal on my goggles and start burning in the corners of my eyes. Excellent stuff!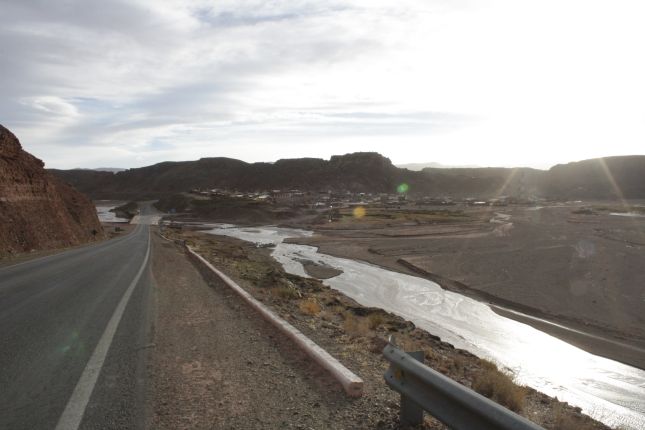 Come sunset we reach Susques, a tiny, dusty little mud-brick town, high up in the freezing nowhere. El Kactus is the first hostel we see. It's clean, it's cozy, hot water, towels & soap, heater in the room and they let me park my bike in the reception area. All for 130Peos excl breakfast. I love the mountains!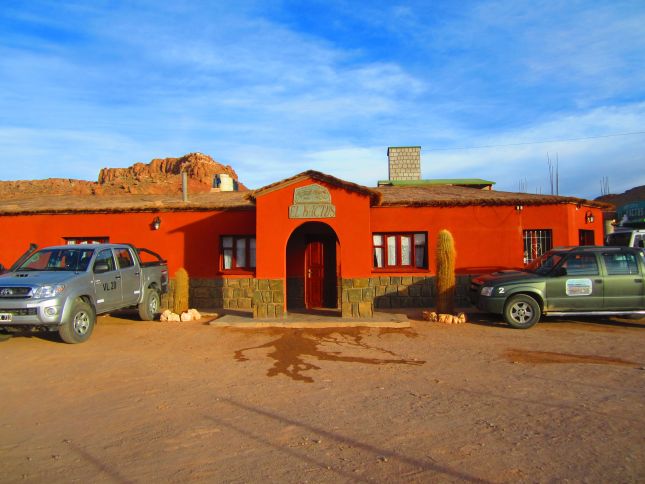 We're hungry and we walk around the little town looking for some place to eat and an ATM, as we'll need to get fuel tomorrow and we couldn't get any cash in Tilcara. Lo and behold, we find an ATM! Did I mention I love the mountains? 😉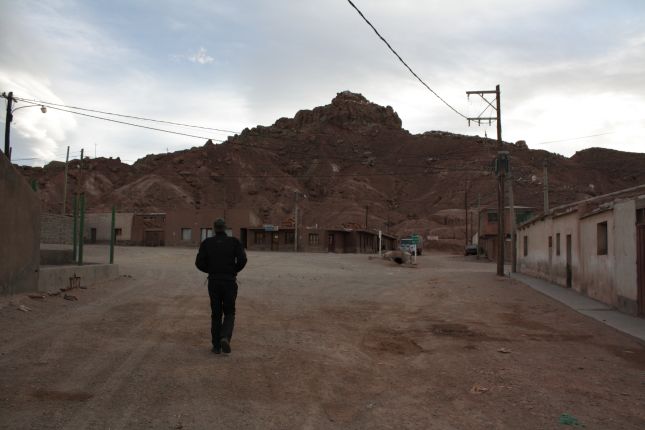 Then we bump into two tourists. Must be the only two gringos up here aside from us. We get talking and I detect a familiar accent – turns out Marvin and Rowin are two crazy Austrians from a village right next to where I was born! Get this: they decided to do something to raise awareness for an environmental organization called Global2000. So they headed up to Vienna and started walking.. down through Morocco.. flew to Buenos Aires and have been walking ever since, now about to walk the Paso de Jama after having been turned back from Paso Sico due to bad weather. Once they reach the Pacific the plan is to fly into Asia somewhere and walk from there Westwards, possibly all the way home. – Only an Styrian… 😉
Well, we decide to have a drink together. The conversation goes
something like this:
"Yes let's have a drink somewhere."
Me: "What do you fancy?"
"Oh, something unhealthy.."
Me: "Awesome, let's get a beer."
"No, no. Not alcohol."
Me: "You joking with me right?"
"No."
Me: "What then?"
"A Cola perhaps."
I'm stunned. Austrians that don't drink beer. The world has changed.
Anyway, we find a nice little restaurant (the only one in town as far as we could make out), sadly we don't remember the name. It's toward the end of the same road which has the ATM. Our new friends have their Coca Cola as we munch down a great dish of Lama stew. The chef there, Gustavo, is awesome. Very friendly host and obviously very enthusiastic about his cooking and his restaurant. These are the moments I love: in the most forgotten places out in the sticks where there's little more than dust to keep you company, you find a jewel like this! A good reason to visit Susques if you're in the area.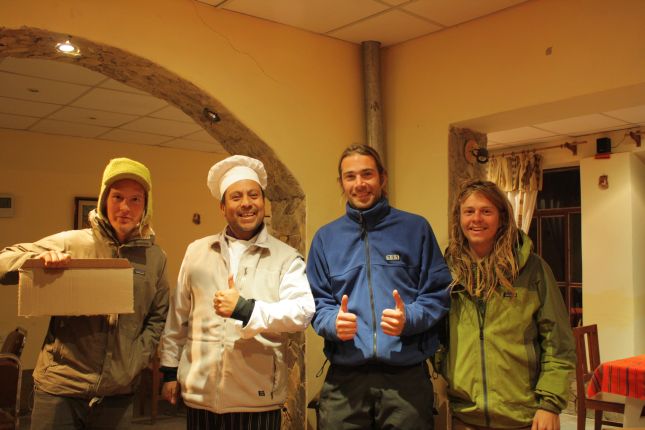 As we talk to Rowin and Marvin about their journey across to Chile they tell us about their little water problem. At 30km a day it'll take them 5 days to reach San Pedro de Atacama. This would mean carrying at least 5kg in water which is a lot, so they're hoping to arrange some way of sending provisions ahead. We offer to help them out.
By the time we head back to our alojiamentos we've agreed a plan and written it on the back of our restaurant receipts: Ebru and I will take 3 litres of water across the Chilean frontier and and after 90km we will drop them on the left road side, by the closest road sign or prominent feature, and mark the area with some green duct tape the guys give us. Awesome! Hope it works.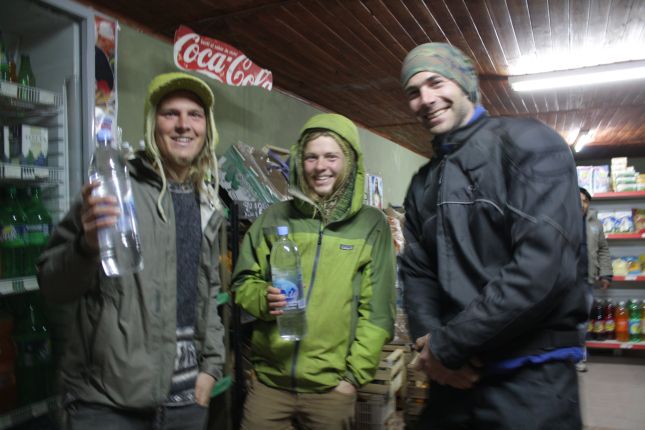 UPDATE:
I eventually received word from the Crazy Austrians. Unfortunately they did not find the water, because they did not attempt to walk the pass after all. They we're strongly urged not to attempt the walk due to the temperatures and possibility of bad weather. Too bad, but hey at least they didn't freeze to death. So they made their way up to Ecuador (if I understood correctly) and are walking on from there. Best of luck guys! Anyone walking the Paso Jama needing a backup water supply and a box of biscuits get in touch with us. 🙂