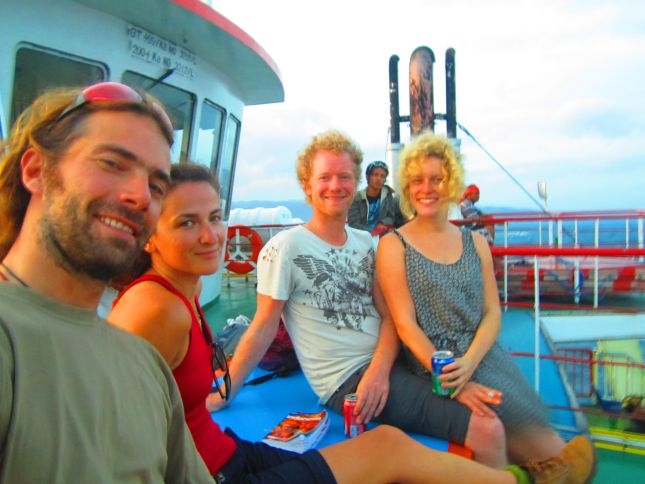 There is a ferry port in Banyuwangi on Java where ferries leave for Bali daily. We have some loooong bus journeys coming from Bromo. In fact, the bus that is supposed to go directly to one destination once again stops short and we are shunted onto another bus to take us closer. It's hot, it's slow and even the entertainment, which consists of the buskers that hop on at almost every stop and then extend their hats for change, is not really doing anything to improve our mood. Even the taxi driver who transports us from the last bus stop to the ferry terminal only a kilometre or two away, with whom we had arranged the more than fair price of 5000Rp/pp decides upon arrival that he actually wants 20000Rp/pp once we get there. I am ready to murder him and get a bit of satisfaction from turning my back and walking off, seeing his expression as he realizes he might no receive a penny, the bastard.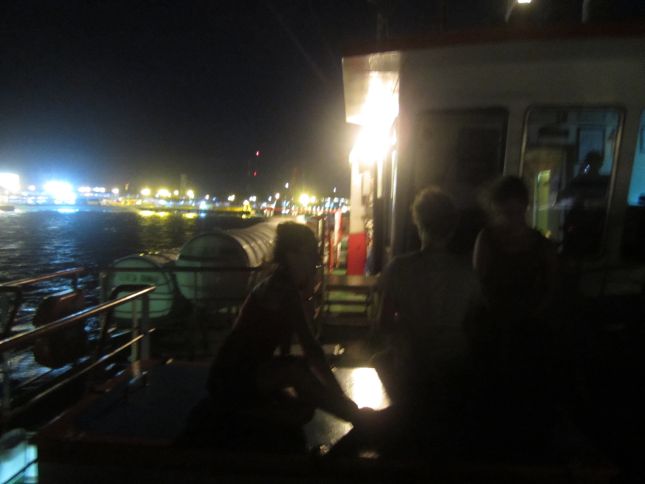 To top it up the waters aren't too calm between Java and Bali, so we spend about an hour or two floating near the Gilimanuk harbour until we can dock there at about 10 at night. Once off board we walk for more than an hour to find accommodation.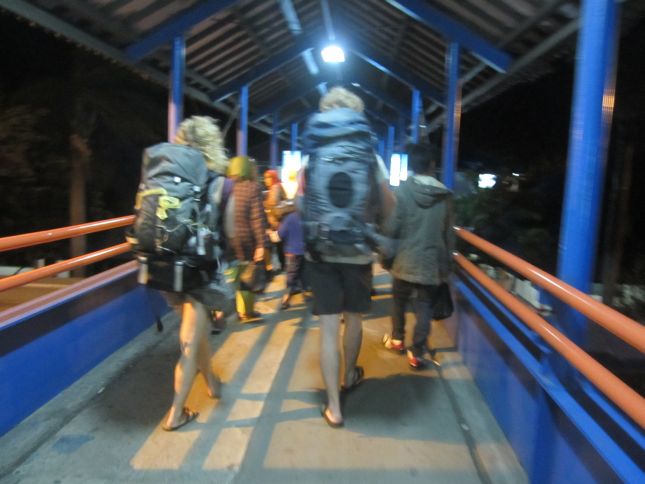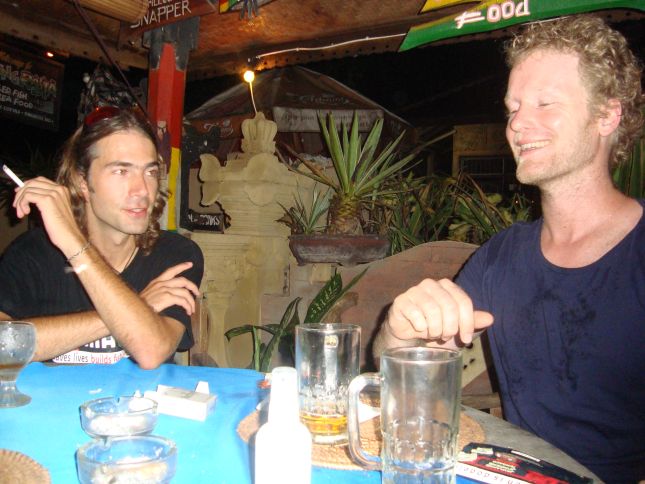 It's a simple place named Sari Hotel and we're lucky to get some food and a few beers in their little cafe before bed. There is some talk about visiting a nearby island for some snorkelling the next day. which Jasper tries to arrange, but it doesn't work out and we board another bus (probably the slowest so far) out of here.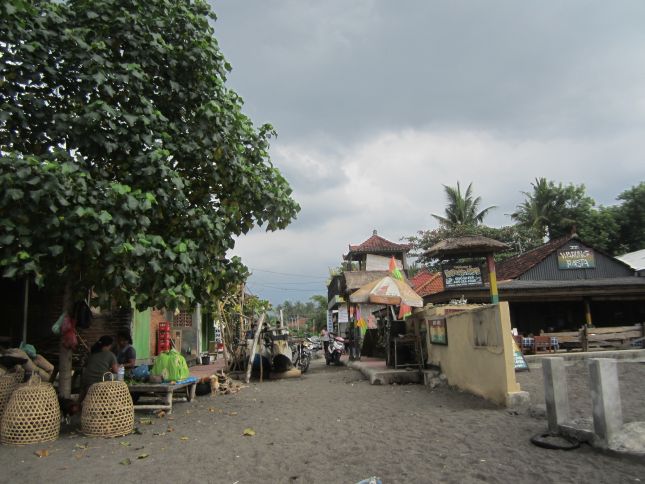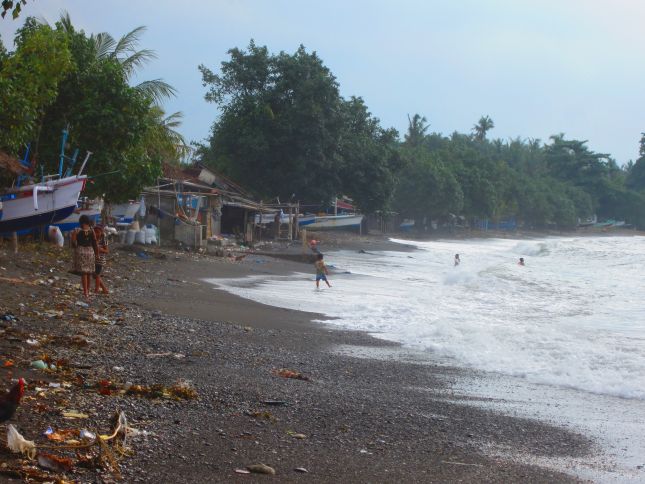 After a four hour journey and about an hour's searching in the Lovina area, we find some beautiful accommodation by the fishing village (Anturan Kubu Gembong) on the East side of town. It's called Mandhara Chico Bungalows, costs us 140KRp/night and has a pool and is also directly at the black sand beach (though this is quite a mess due to monsoon rains). The place is beautiful: rooms are clean and large, huge bathrooms with hot water, balconies. it's well maintained with mosaic pebble floors on the patio before the rooms. Really the perfect retreat for us all after a few days of being cramped up and cold.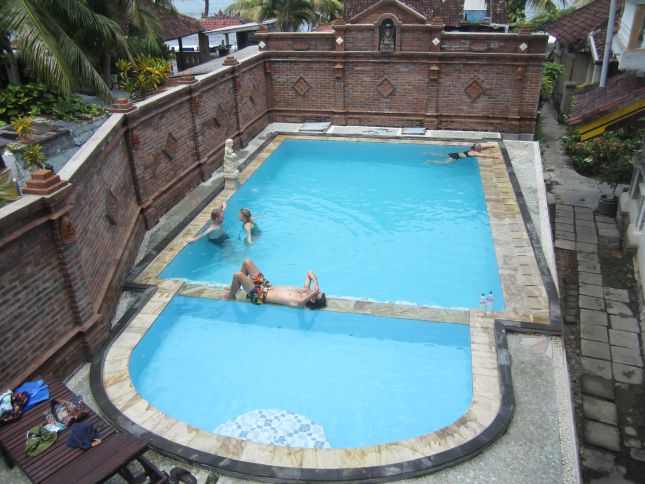 We stay put here a few days, renting scooters (around 50KRp/day) to look around Bali during the day, eating at the nearby Reggae Bar and local guesthouse cafe and drinking beer in the swimming pool until the wee hours.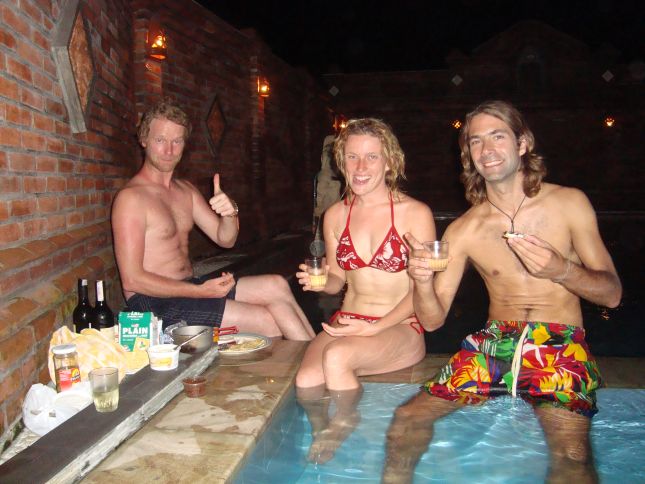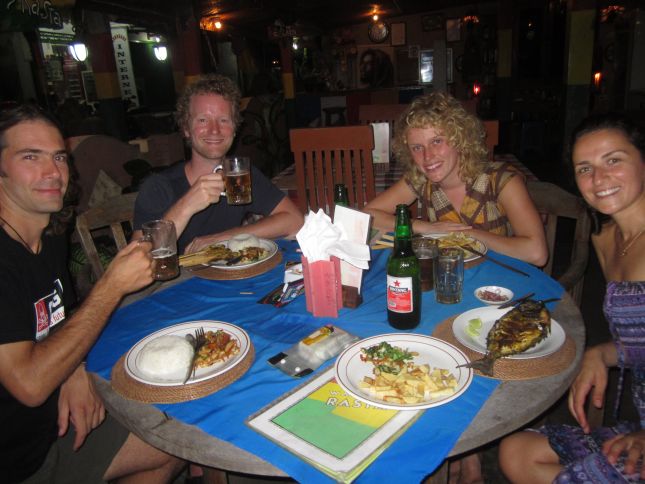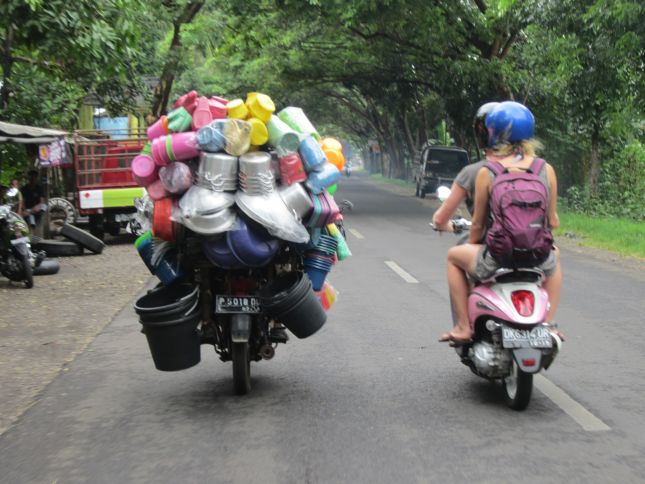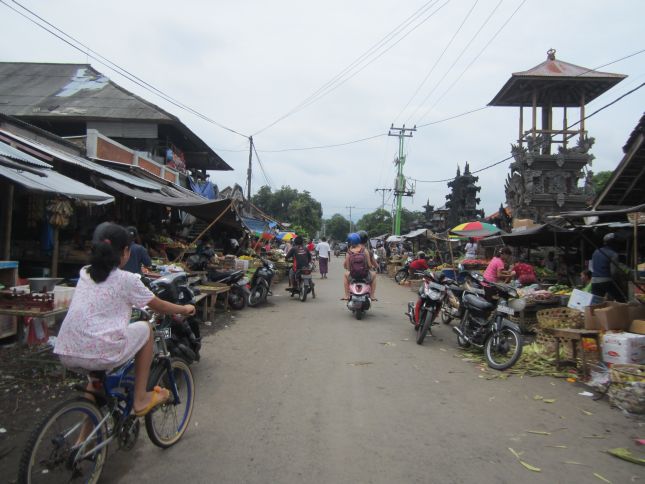 The Balinese scenery if beautiful and the guest house is great. The only thing to test your patience here is the hawkers on the beach, waiting to pounce on you and sell wares from jewellery to massages. I even get some fishing done but don't even get a nibble out here.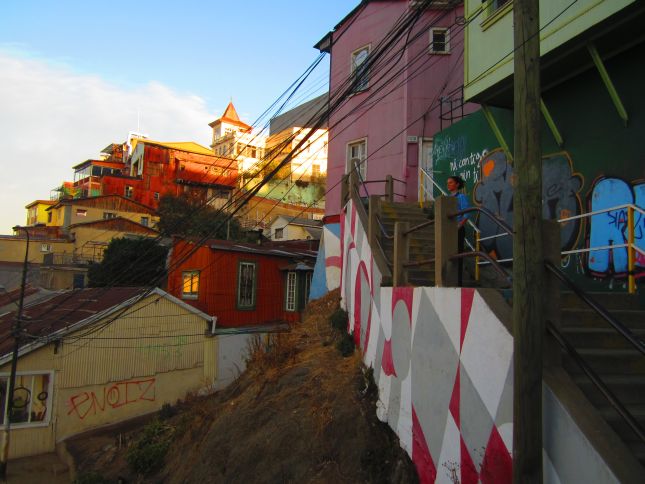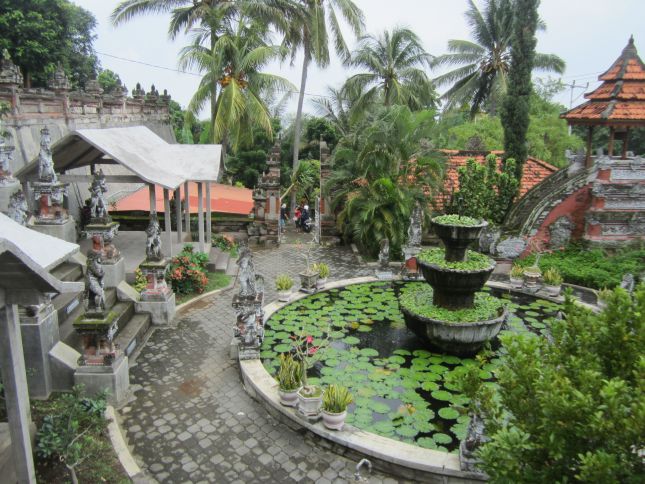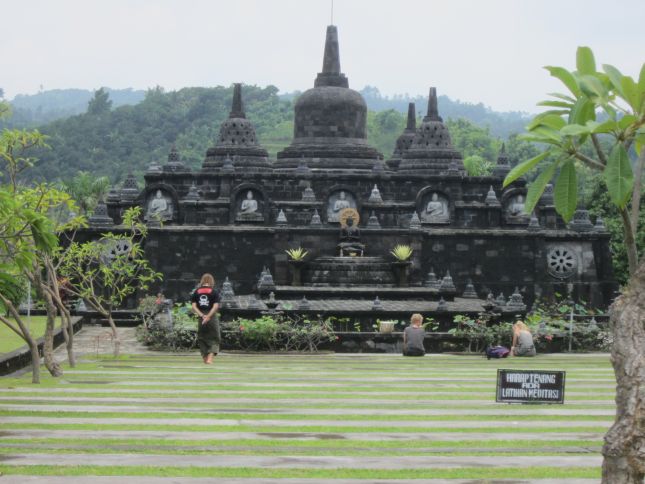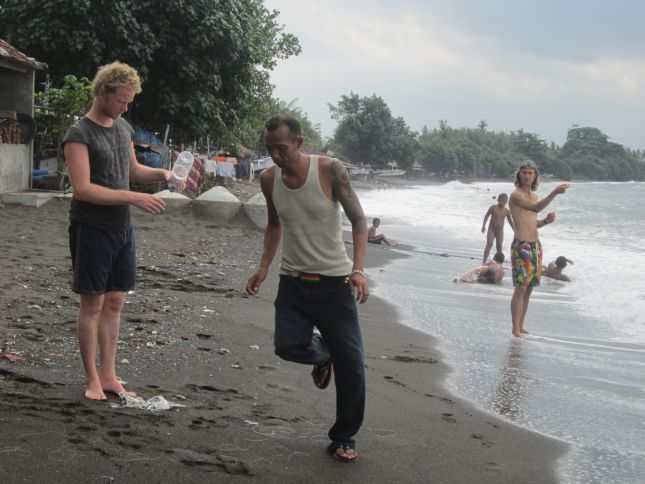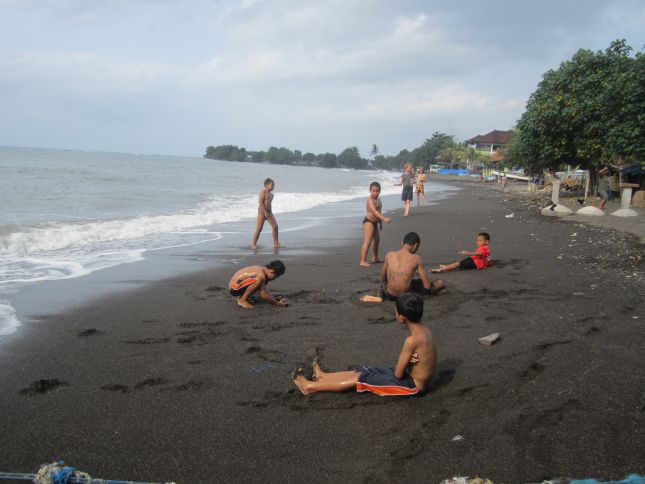 After Lovina we part ways with Karen and Jasper. They intend to visit Denpasar (which I am not keen on since I recon it'll be tout's paradise) and we only have about 10 days left here which we'd prefer to spend on a lovely little island somewhere. We say goodbye to our friends and depart via the North coast for Chandidasar (a number of bus/bemo changes involved), where we spend one night before heading to Padangbai to catch our ferry. We cannot make it all the way to Padangbai and the journey is a pain as there is a Hindu festival going on and we have to change from the limited bus services to bemos to get there and, naturally, we get ripped off a bit in the process.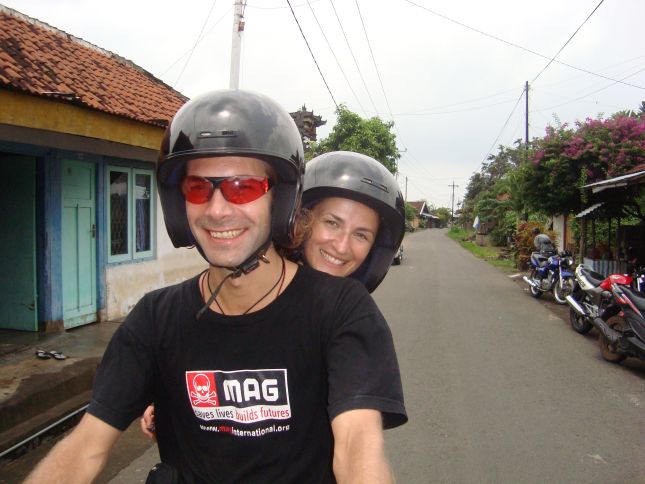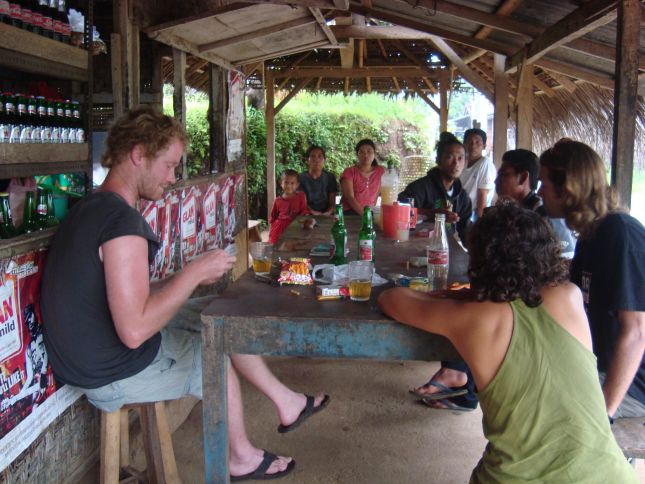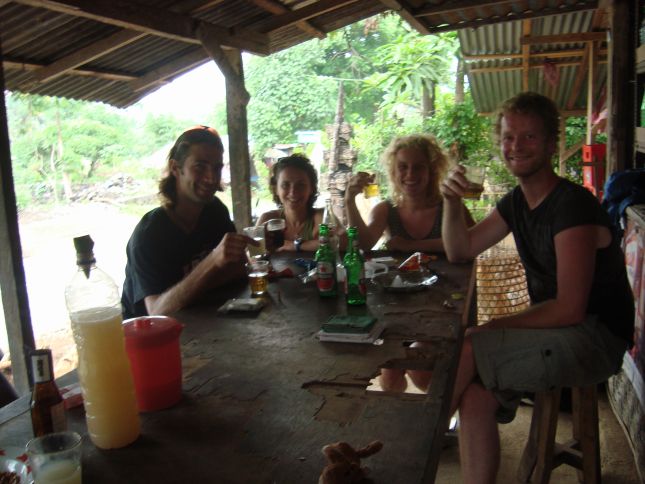 This place is pretty touristical and pretty dead right now. Apparently used to be a bit hit years ago. Our night at Temple Bungalow costs us 140KRp/night (excl. breakfast) and the place is nothing special. Though one nice thing is that across the road we find a German bakery which also does dinner – all sorts of German stuff on the menu – and it's actually good so we really dig in that night!
Karen and Jasper, we know it's taken us far too long to write this post. We hope you're safely back in Amsterdam and all is going well for you. Thanks for your good company over our time in Indonesia. When we next have the chance to visit Amsterdam we'll pay you a visit in the Noorderlicht!