We depart in an Executive coach on the train from Jakarta Gambir station to Yogyakarta on Java, better known as Yogya ("Jogja"). We're armed with a packed lunch from Dunkin Donuts which is surprisingly good and a couple of bottles of beer for the journey.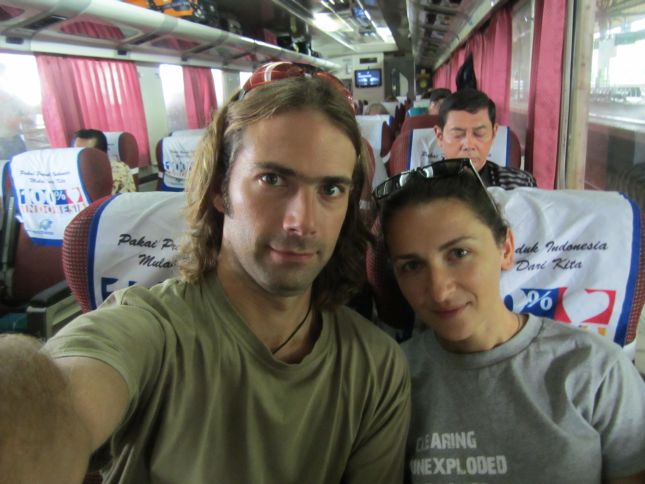 Along the way we get an idea what the city outskirts and the countryside look like.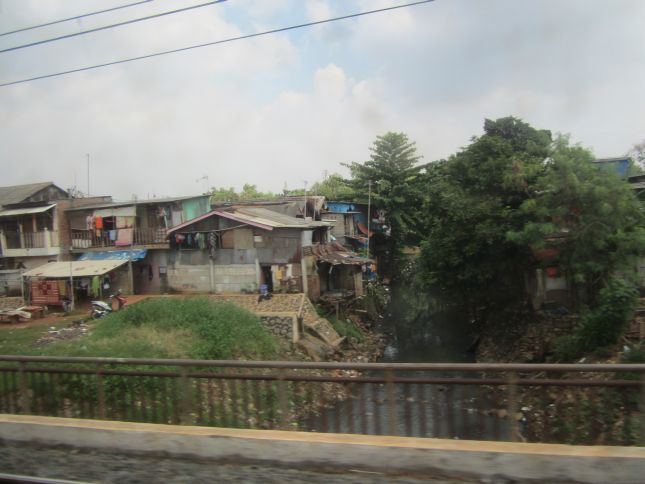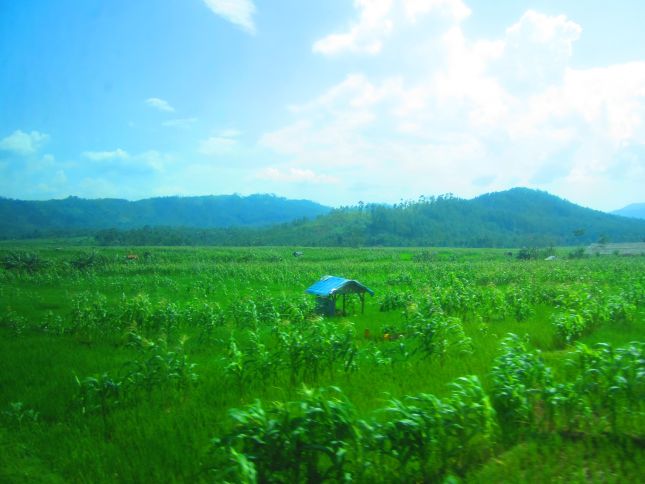 The carriage is comfortable and clean, much better than we expected. There are electric sockets next to the seats so we can make use of your laptops and get on with some overdue blog work. We do order some of the on board food just to try it, but when I bite into my leg of chicken the smell is so bad that I can't continue eating it. That's the only complaint though.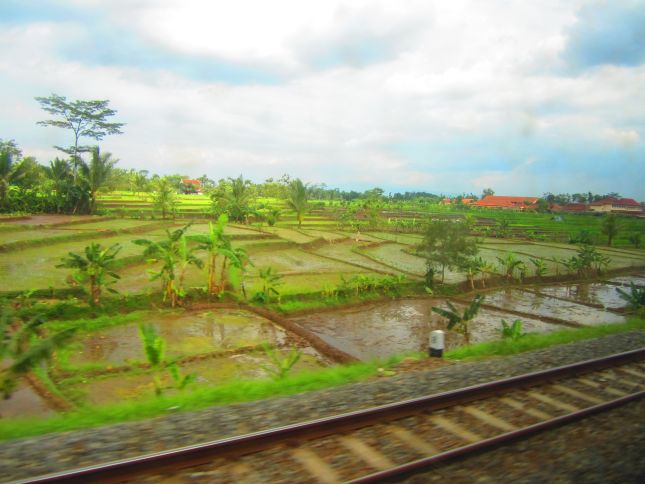 Yogya looks a bit chaotic. We arrive in time to find us some accommodation near the station before sunset. The place is called Monica Hotel and they charge 150KRP/night for the double, which is in reasonable condition and clean. That night we head down the street to a bar called Lucifer, quite a simple place but there's beer and live music. One thing that is impresses me in Indonesia is the fact that there are so many bands doing really good impressions of other artists' songs; their voices sound almost identical to the original.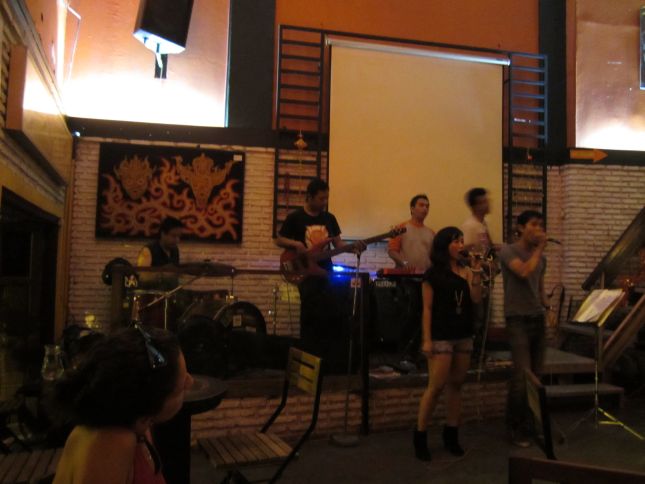 The problem with the accommodation is that it's right next door to a bar which has live music several nights a week and, following the first night, which is fine, we get progressively less and less sleep as the noise from next door keeps us awake at night and some looney early-risers in the hotel decide it's a good idea to be loud and cheerful at seven in the morning. As you can imagine, by the fourth morning I'm not the friendliest person to talk to. Of course we could have left to another place but taking time to check out and search for another accommodation of acceptable standard is an annoying waste of time.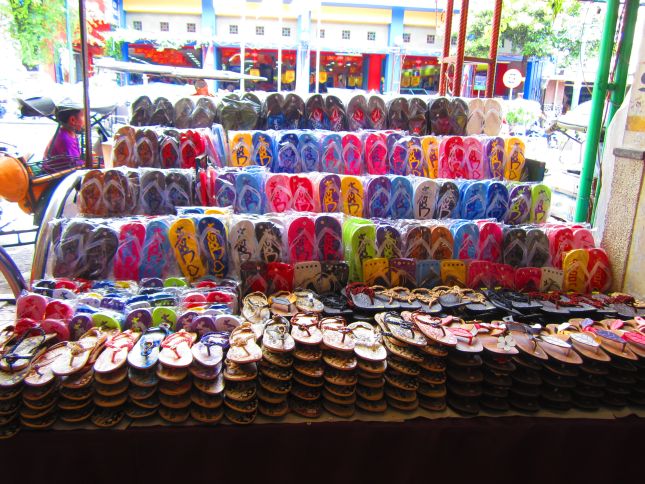 Yogya is a vibrant market town where all the streets are bustling with stalls selling bags, clothing, batik art and various hand-made souvenirs, but especially textile goods. We meet a young chap there running a stall for his father and as we're asking about wholesale prices for some of the goods there, he takes us on a tour of the wholesale market off Malioboro street. They really do produce some wonderful stuff! They use materials such as coconut shell or bamboo in such creative ways.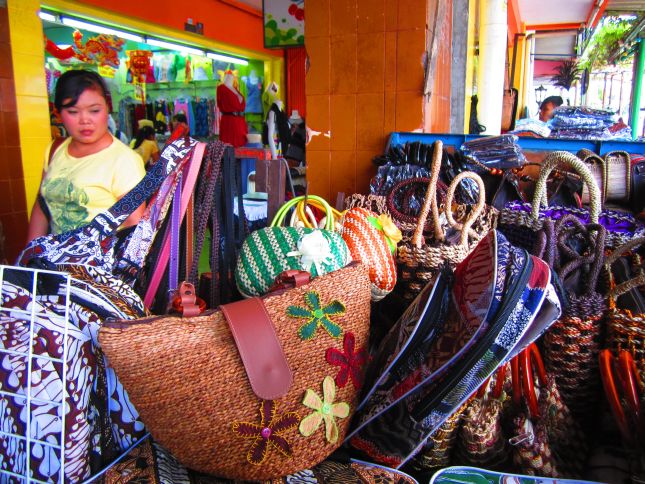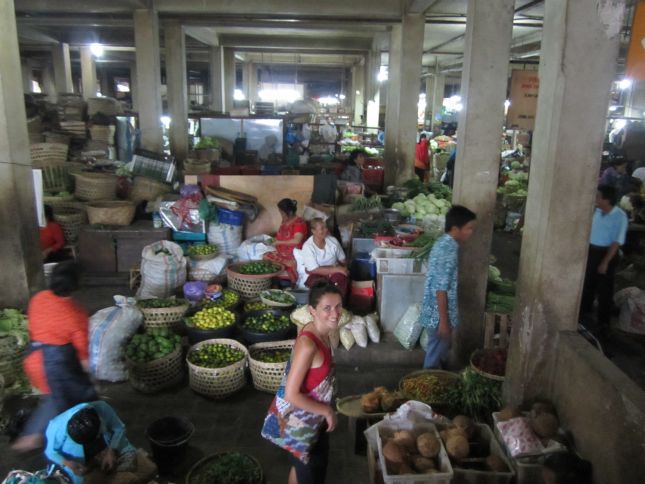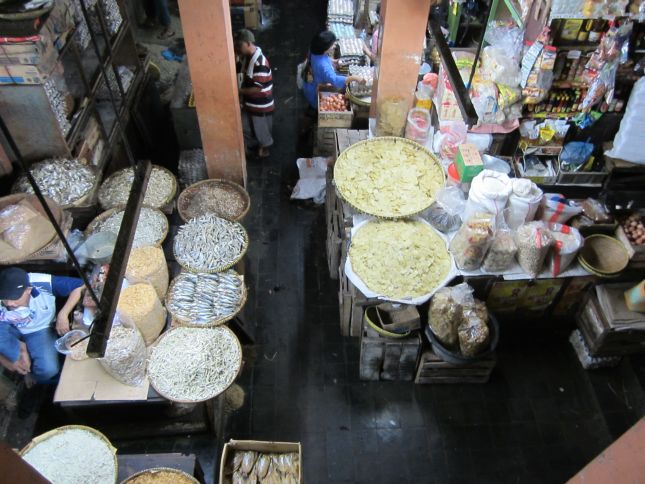 Walking the streets around here is quite pleasant though, aside from the traffic. With so many stalls and sellers around we expect to be harassed no end, but people are very civilized. They offer their wares but they're not pushy about selling to you as they are in other places we've been.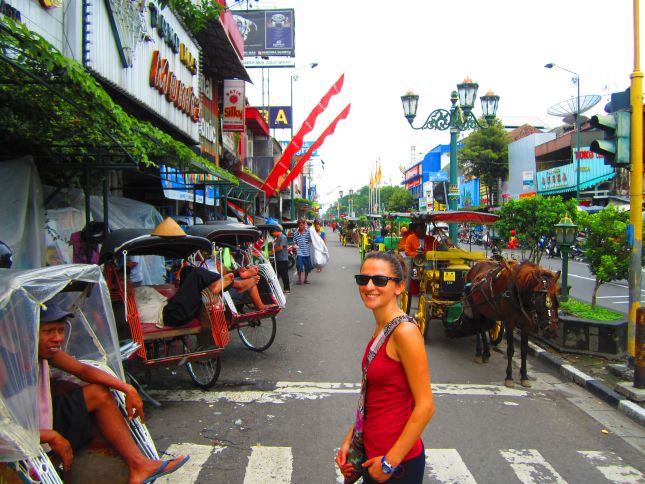 With the batik sellers you've got to be careful though. Many of them around, selling cheap machine-made goods as originals, and there are touts on the streets that will guide you to an alleged genuine batik gallery of store, which is in fact not genuine. It seems the way you can tell the good places from the bad is by the price list: the con artists generally don't have one and will try to sell you batik at hefty Dollar or Euro rates whereas the artisan shops where batik students and some known artists allegedly produce the wares, they have a price list in Indonesian Rupiahs. Batik art is a very interesting process and some of the work is really impressive. Sadly we have to keep our hands in our pockets as usual.
Aside from the street markets there are a few shopping malls and (besides Pizza Hut) you'll find some interesting shops there…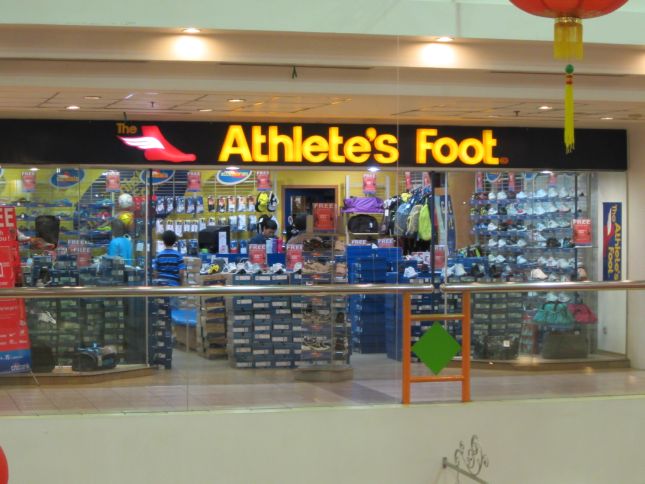 Good food is a problem for us here, as it has been in Jakarta. Half the time we're starving because finding decent food is such a mission, and that tends to affect our mood negatively. The sad result is that we end up spending every other night at Pizza Hut. Once we even walk into a McDonalds to get lunch but the smell in there puts me off and we get cakes and pastries from a nearby bakery instead. The food situation becomes really frustrating. Once we sat down at a nice place near the palace and they served up a snack which looked delicious; bananas made in every different way you can imagine; but for us… naw.
There is one pretty good eating experience we have on one of our scooter excursions though: we happen upon a place called Steak & Shake where they serve a variety of steak dishes with milkshake or cool drink at reasonable prices. We order some kind of a steak sizzler, one of those hot metal plates. Though the steak is under a centimetre thick; it comes with potato chips and a pepper sauce and tastes good, so we're happy.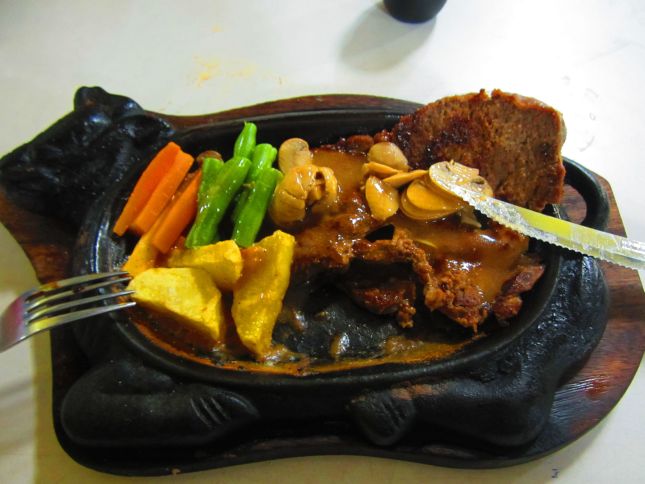 The following day we try to find the place again but fail miserably and are sentenced to Pizza Hut again. Incidentally, several times on the main Marlioboro road, we passed by a Dunkin Donuts place, but when we decide to go there for a bite to eat it also seems to have mysteriously disappeared.
Talking about scooter excursions, we head down South from yogya one day and drive along the coast, Parangtritis and Eastwards. Though we don't really meet with any spectacular beaches as we expected, we do journey through many villages and the landscapes and atmosphere is beautiful.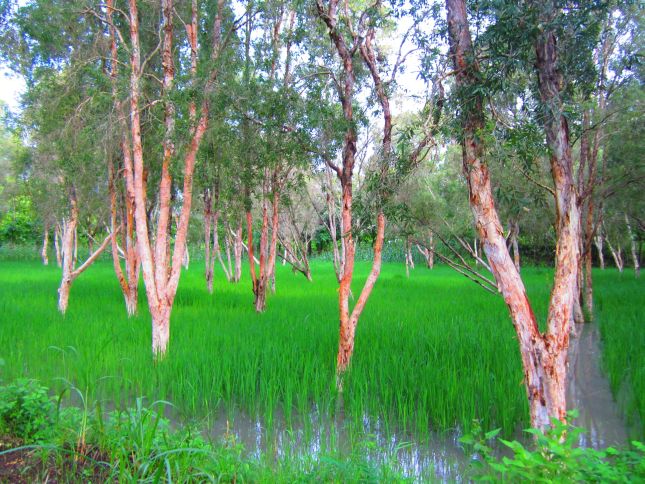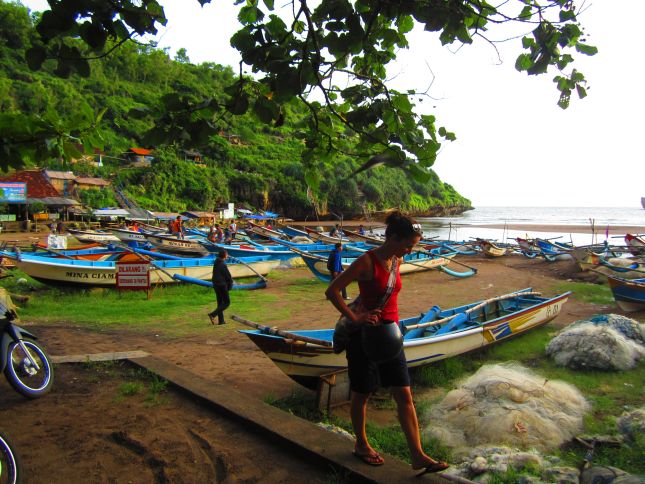 Another day we ride quite a way out of town to visit the Borobodur Buddhist temple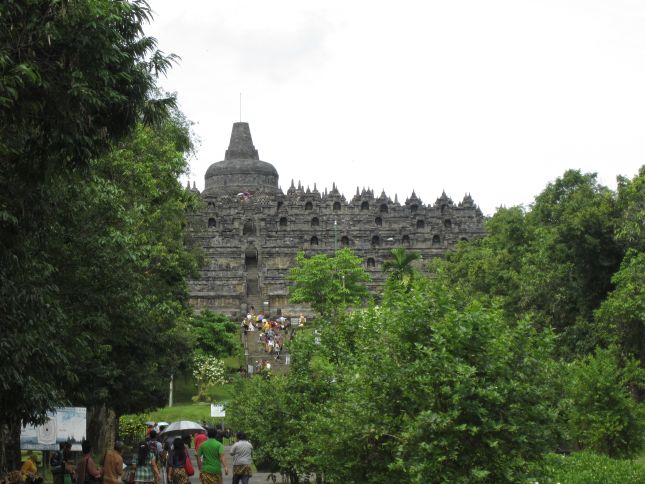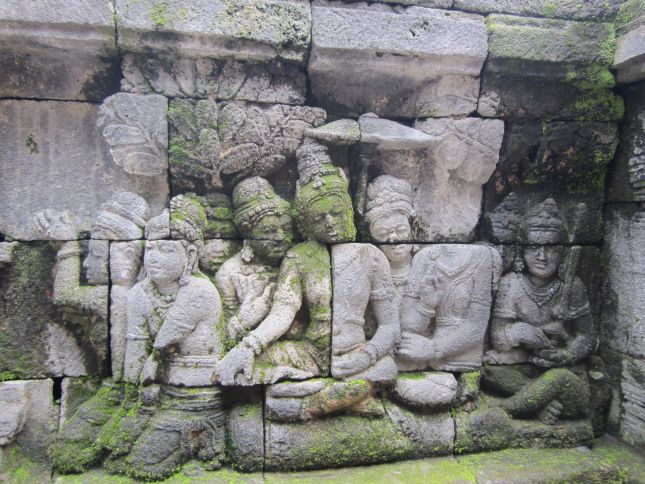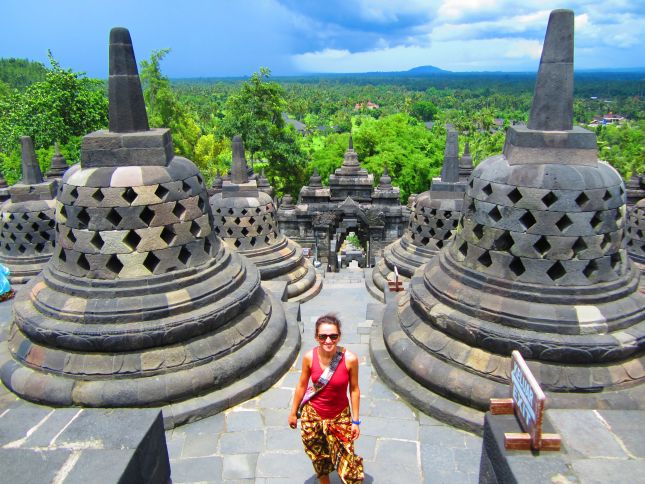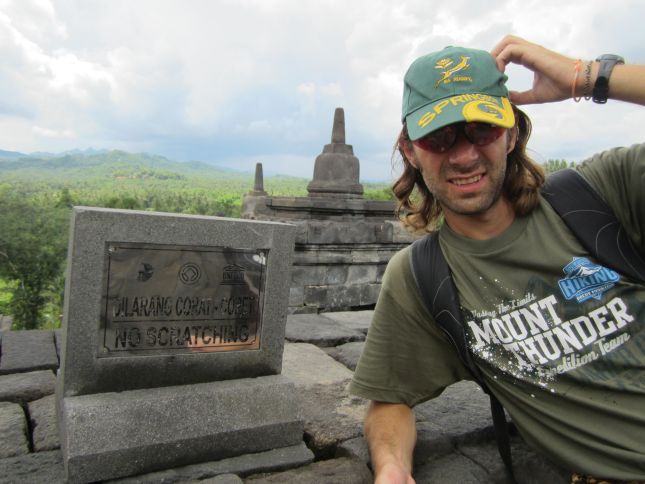 and the Prambanan Hindu temple.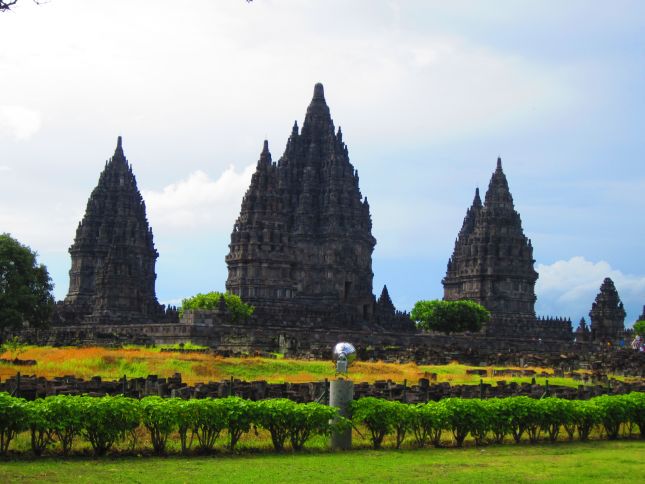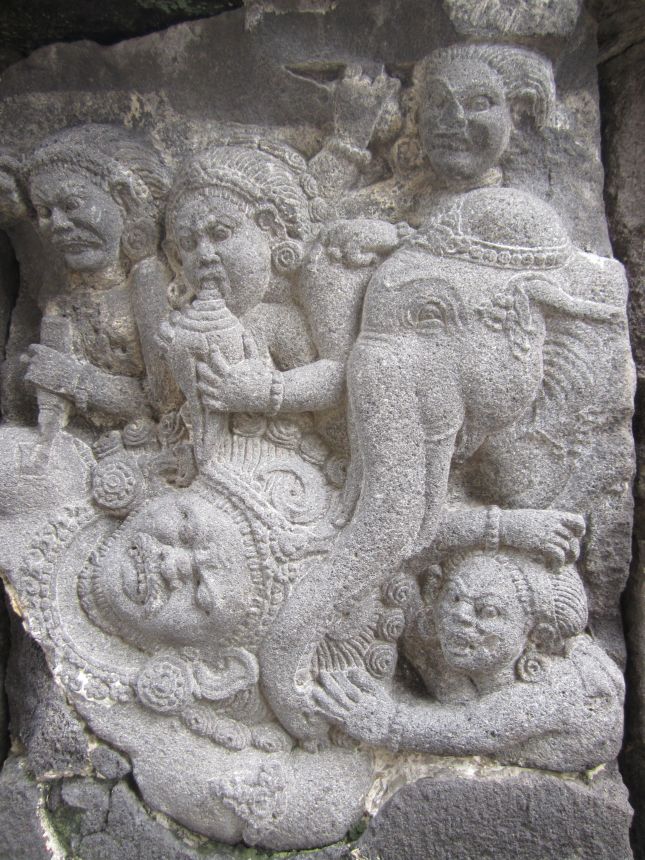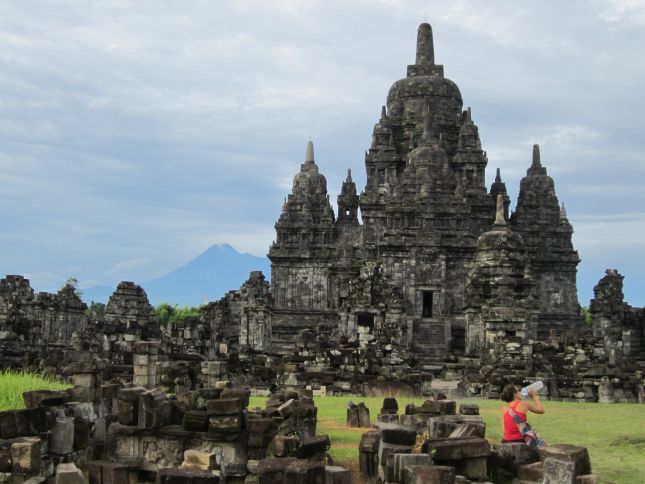 This is a good day out. The temples are of course ancient and riddled with old base relief sculptures depicting stories of the Buddha's life. The journey there and back is in itself quite nice, as you can see a couple of volcanoes sticking up on the horizon along the way – quite a beautiful sight.
As for the royal palace in the town, though we did not really find it that interesting over all, there are some interesting items to be found inside.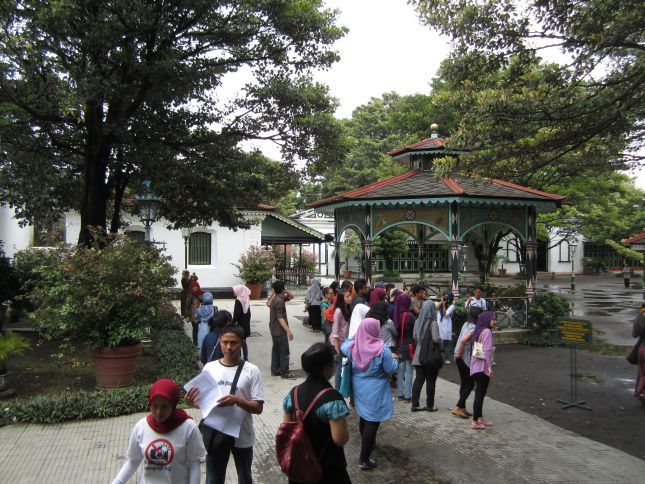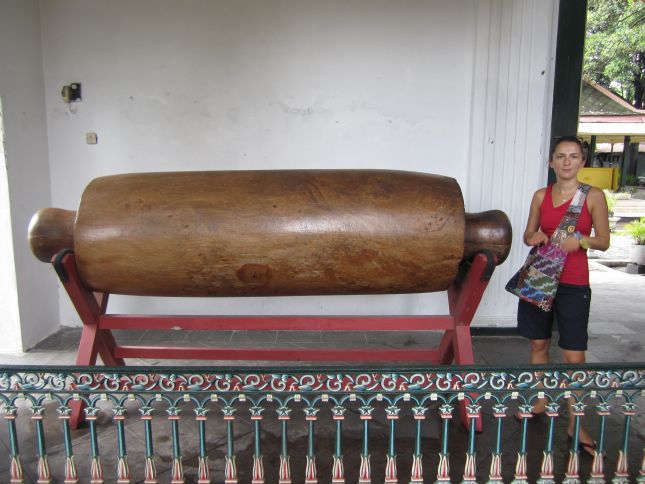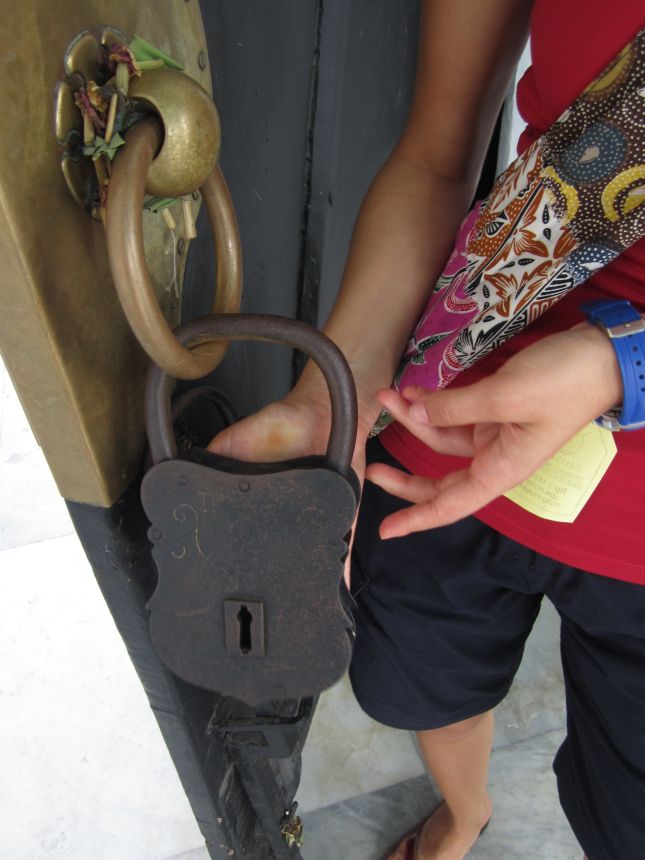 And it seems that Ebru is also quite the attraction 🙂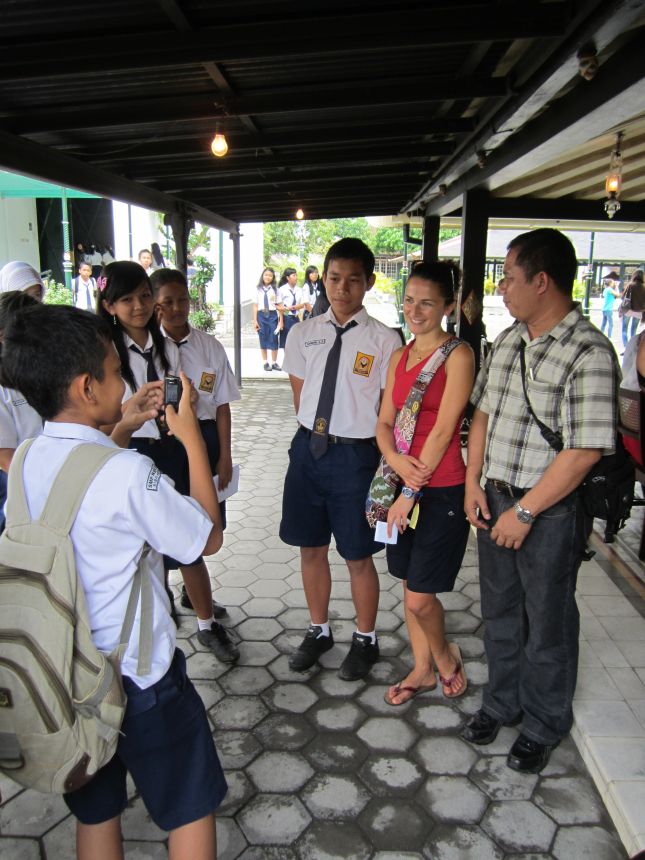 Right near the train station entrance there is a small bar, which is a must visit! It's more of a shop with a bar in it, but we see they sell beer and we just have to check it out. The owner is a fun chap and he introduces us to the local wine which is drunk mixed with beer and actually it's quite nice. He also teaches us what a "ML drink" is (and it seems to me there are plenty of people coming around for these potions).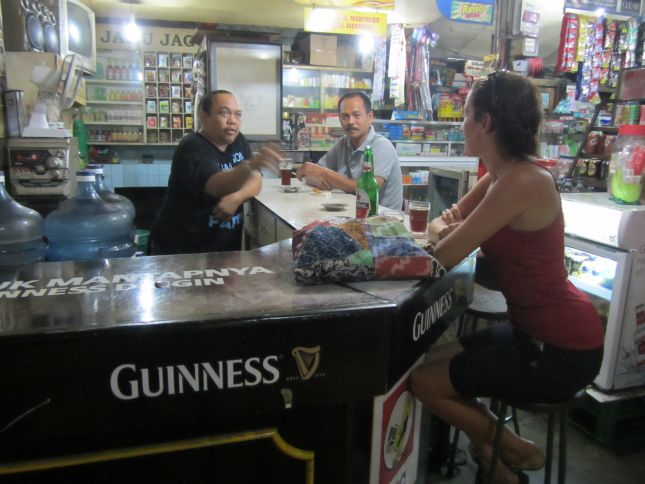 Over all, Yogya is a good experience. If you can put up with the food or opt for Pizza Hut most of the time, it's a worthwhile experience. What I like most about the place is that the stuff they produce here, unlike at other Asian markets, does not simply mimick popular western brands, such as Nike, Timberland or Reebok. Here everything is about Yogya – the T-shirts, the caps, the key rings – and it seems to convey a sense of pride in their own place, which I think is cool.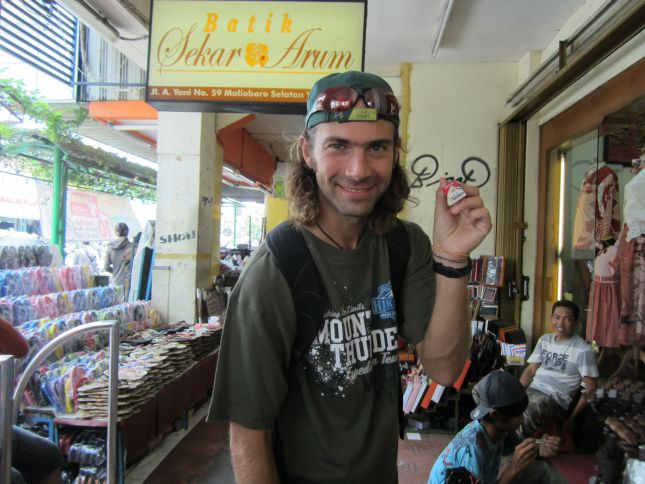 Before leaving Yogya, we undertake a journey for a few days to visit the Dieng Plateau, a few hours drive to the North. On our return we catch the late night train out to Malang, where a volcano awaits.
RECOMMENDATIONS:
– Top places to eat: Pizza Hut, Dunkin Donuts
– Travel by train. Executive seats for long journeys are excellent
– Avoid Monica Hotel if you're a light sleeper (aside from Mon-Tue when there is no music next door)