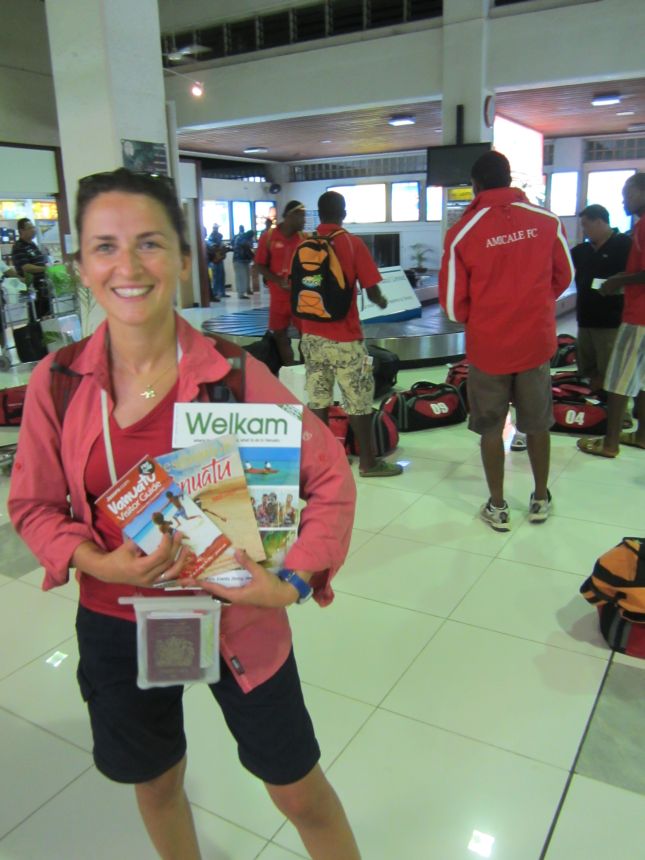 What to say about Vanuatu?
In our case there's not so much. We stay here for less than a week and spend the time on the island of Port Vila. This is not those main attractions elsewhere in the archipelago, and we do not visit them due to limited time, costly transport to get there, and forewarning of the high expense of being there. Port Vila it has to be, then.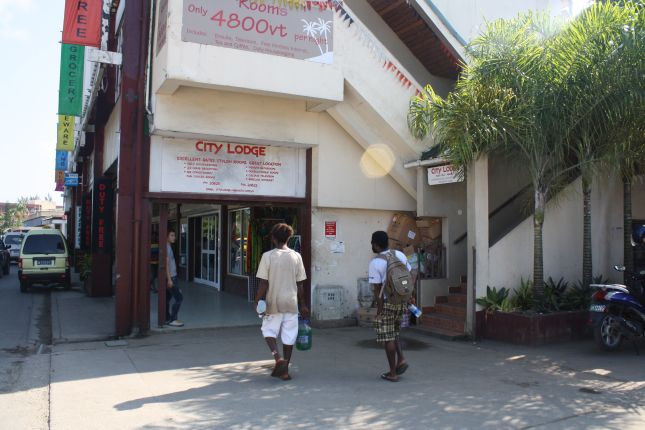 Not cheap, this little place in the pacific. The cheapest accommodation we find is on a small hotel in the centre (City Lodge), which gives us the double for 48VVU/night. It's no great shakes but at least it's reasonably clean and they have WiFi which works in the reception area. And the ladies as reception are really sweet, by the way.
Moving around the area is done in taxis or collective minibuses, which are not too costly. But beware the driver who will let you get in, having agreed a rate with you, and then stop at a petrol out of town, telling you a much higher rate for that destination because he's not going there! – Kick him in the teeth, the bastard! 😉
Three days we spend at a new resort – since it's Ebru's birthday I decide to do something special. It's called Aquana Hotel, I find it on tripadvisor. The folks there are friendly and professional (as you'd expect for US$100/night). Though there's not much choice on the pricey menu, the food is good. The atmosphere is quiet and relaxed. The bungalow is comfortable, modern and spacious and – just as we wanted – right at the beach.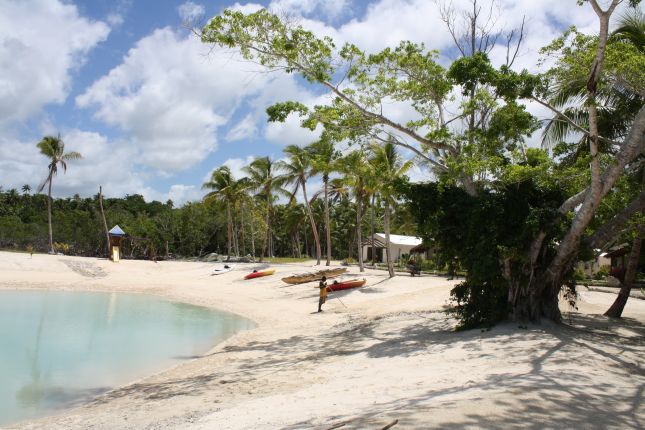 Though this is where the problems begin: the beach is a recent manufacture (literally), thus not soft powder but more of a hard sand mound which extends into the sea. The sea is a channel between the beach and the island opposite, which (though pretty) obscures any view of the horizon. The resort offers swimming, snorkelling and kayaking, but this is possible only technically: the water is shallow and murky; the coral is dead; to avoid injury on submerged rock swimming is best restricted to the swimming pool; to kayak to the other side of the island (where you see the sea) takes tremendous effort due to the channel current and even there, in the clearer water, you have to snorkel out about 100 metres to see coral that looks a bit alive.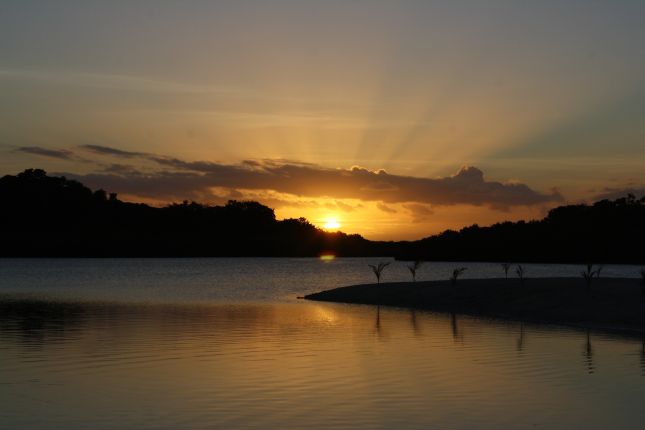 On the picture (i.e. tripadvisor) it looks nice, but…
Though we enjoy the comfortable accommodation immensely and the staff are amiable – sorry guys – this place is a disappointment! Once you're there you're stuck – with nothing else in vicinity! Won't be coming back for our anniversary.
We visit one little beach cerca the main town (Mele Bay), but we are not particularly impressed.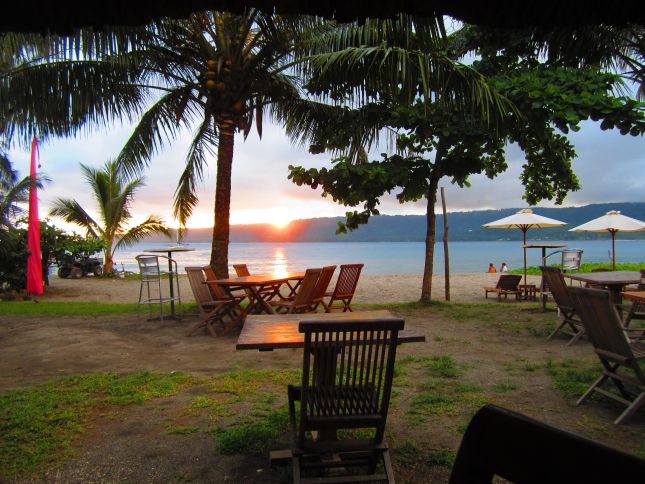 Thus we decide for rental of a scooter (approx US$40/day) from a local Frenchman, who has a shop just about a kilometre East up the main strip. The guy is cool and has no problems with us dropping off the bike at night after his shop has shut.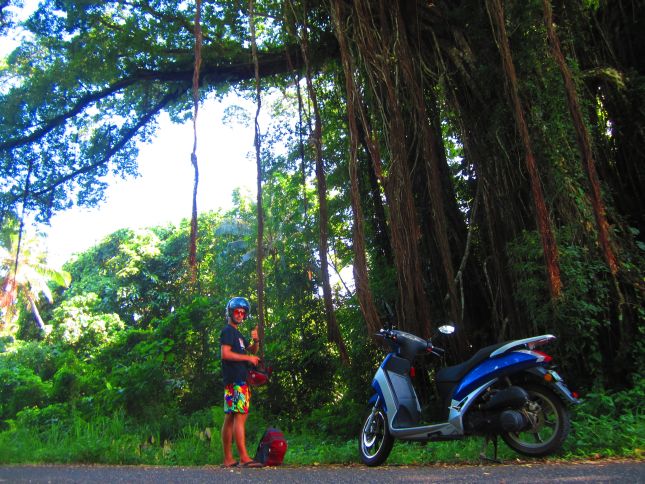 This is the best thing we do here. We do a trip right around the island and visit a few well known attractions which are pointed out in many tourist maps.
From the road you can see lush jungle and tantalizing stretches of pristine, virgin beaches beyond.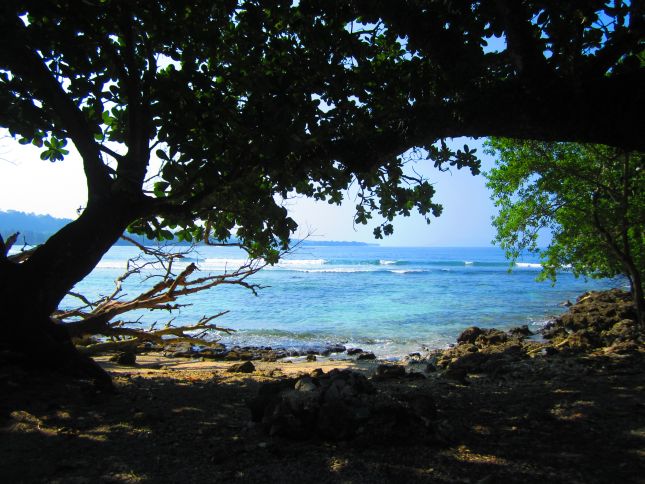 The highlight without doubt is the Blue Lagoon (yes Vanuatu has one too)!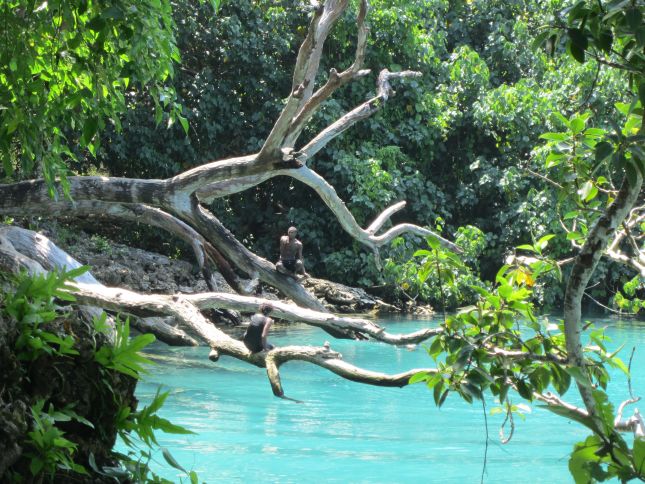 This place is a piece of heaven. Crystal clear sweet water – so sweet you can actually taste it – laces its way through the jungle towards the sea, whilst well below the surface lies the level of salt water (heavier), creating a visual blur, until you actually poke your goggles into it. There are huge trees lining the shores with swinging ropes to launch yourself in with.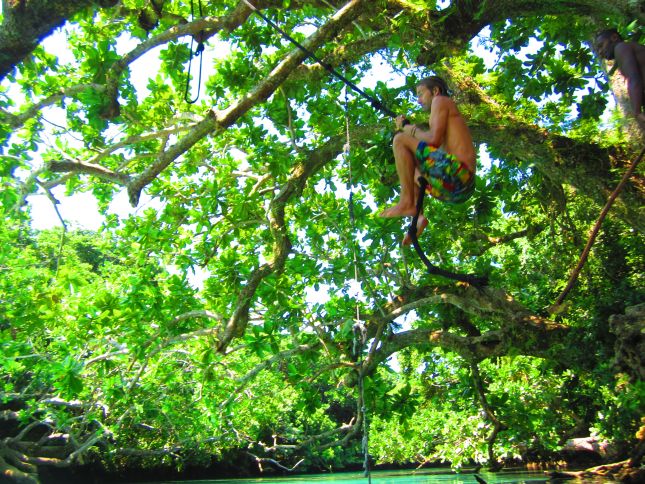 As you follow the channel out to sea you become surrounded by blue-grey volcanic rock, sharp and jagged, forming deep chasms and tunnels filled with fish and coral. It's like diving through a beautiful piece of Emmenthaler cheese filled with clear water; from bubble to bubble, watching the sea life bloom around you. Magnificent!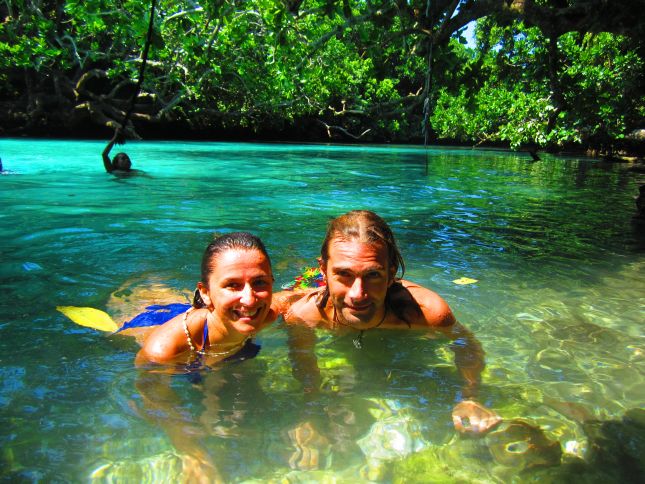 BE WARNED: DO NOT GO WITHOUT YOUR DIVING MASK!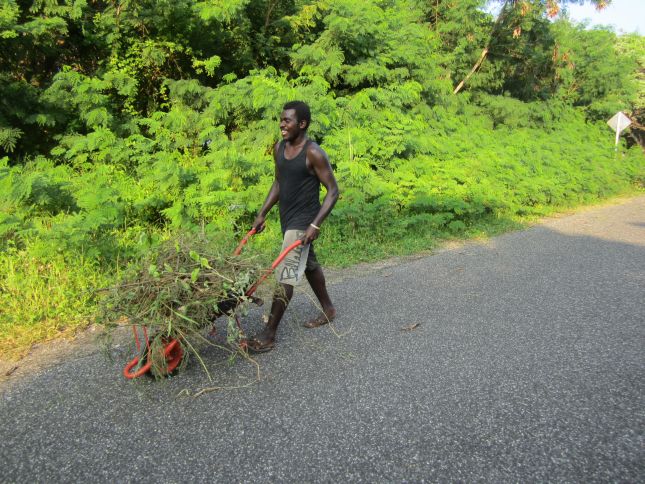 Another amazing thing to see around the island is the Banyan trees. Some of these are as wide as buildings – fat bunches of vine stretching down from the foliage with corridors winding between them. Very impressive!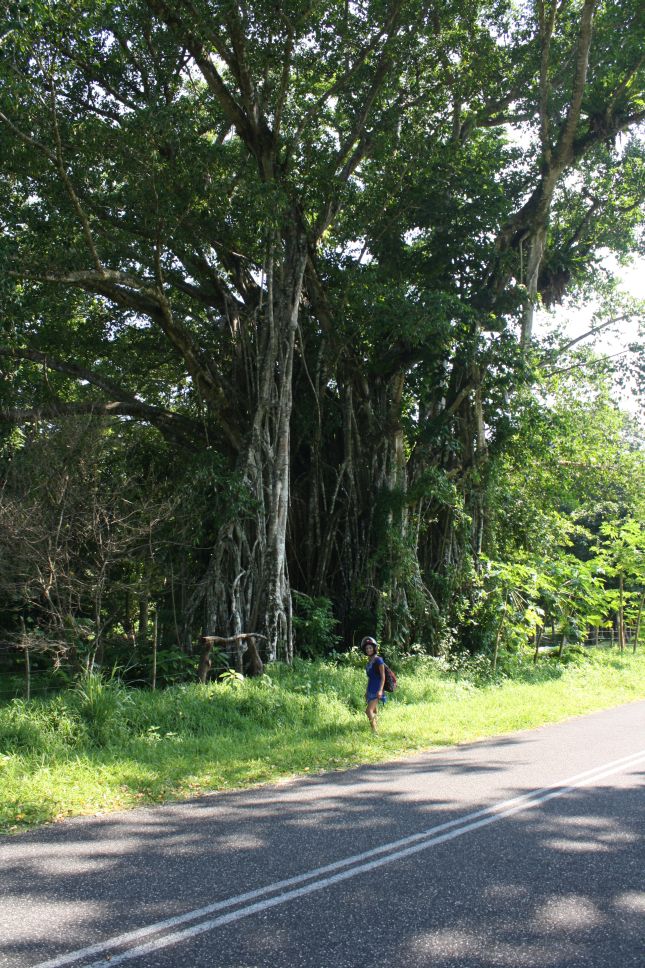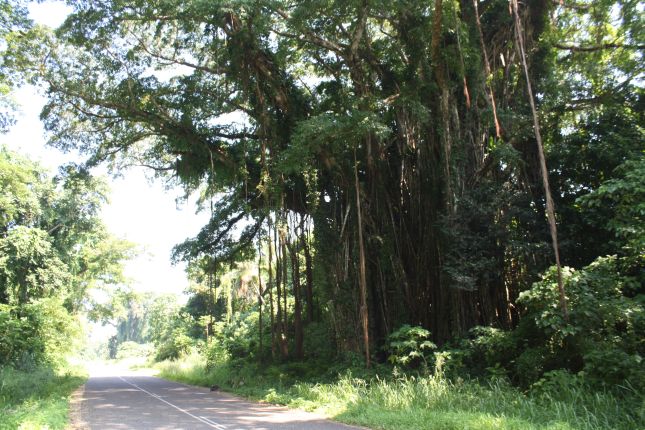 And a good lunch – definitely the best meal we found on the island – to be had at Sara Beach.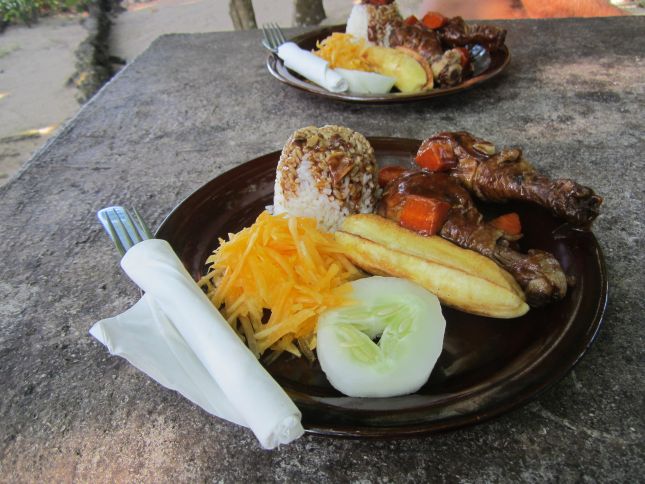 With traditional musical accompaniment.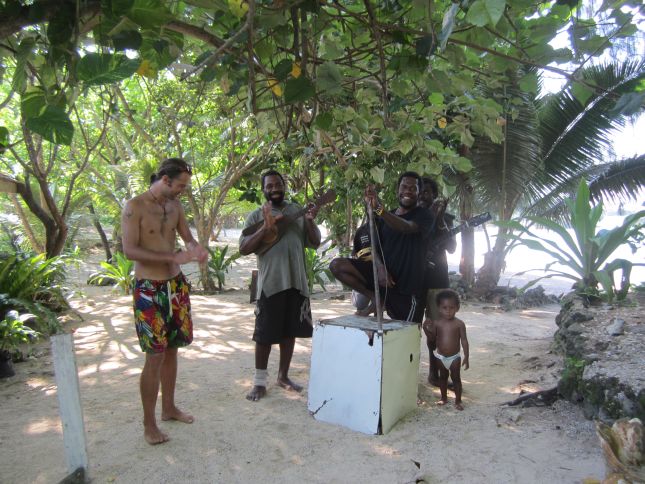 Other than that, Port Vila is nothing much to write home about (with all due respect). There's not much going on, the night life is pretty dead, and good food seems not that easy to come by.
By and large people seem to be poor. Ladies at the central market (where you can get reasonably good food at reasonable prices) attend their fruit & veg stalls all day and all night, sleeping on the floor, often with their little children. Their husbands – as in the case of one of the ladies we spoke to – not employed or meagerly paid, unable to make ends meet to feed or send their kids to school. It's rough! I think if the family don't own a plot of land with enough to subsist they're in a precarious position. Don't know what it's like on the other islands…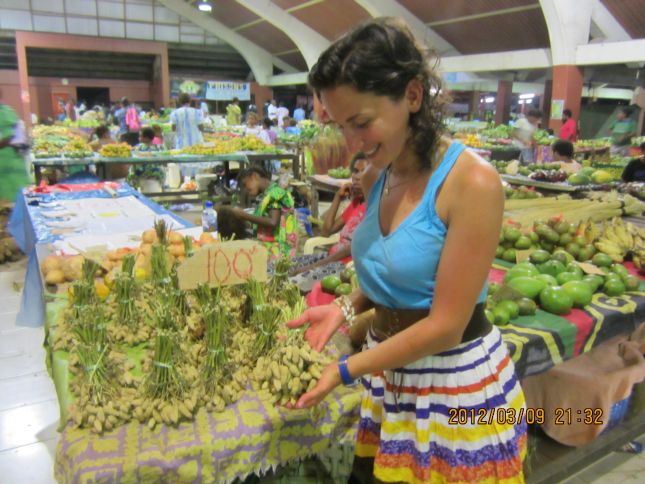 And driving around the island it seems quite clear what lies ahead: acres and acres of shoreline are neatly plotted out and up for sale – good holiday nests up for grabs for well-off Australians and New Zealanders. Why the hell not? – Though I'm not too sure how the locals will feel one day when they find out they're now land-locked and still don't have food to eat.
Just my perception.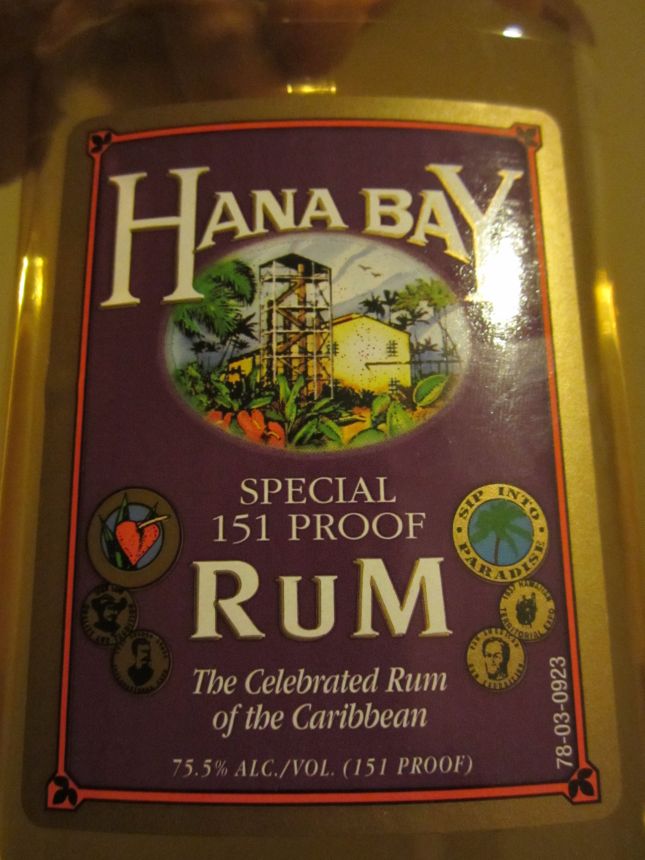 One the up-side, if you're looking for strong rum, you need look no further than here. I recommend any hard core traveller to carry a bottle of this with you as it's not only good for drinking, but also disinfection and lighting fires!