The Gilis are a string of three little islands just of Lombok in Indonesia. These islands are completely without motorized transport and have a reputation for being quite well removed from normal every-day life. First off the mainland comes Gili Air, followed by Gili Meno in the middle and Gili Trawangan furthest out, which is the largest and most populated of the lot.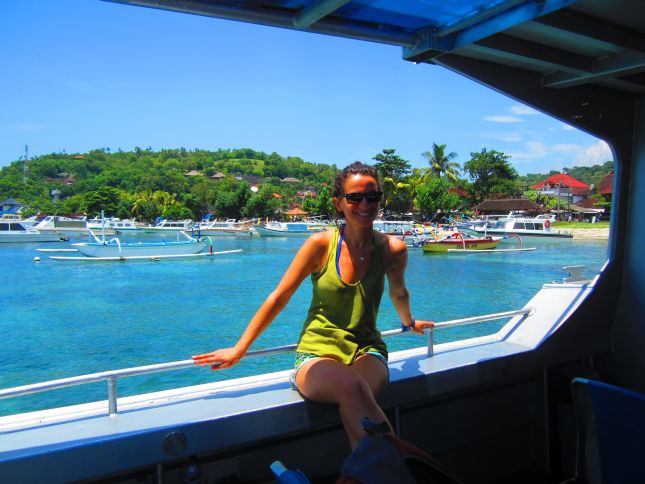 Our boat from Bali lands at Trawangan and we get off there as we know we'll find accommodation and hope to strike a good balance between action and secluded relaxation here. The first impression is pretty good, the sand is fine and bright, the water is clear and deep blue and it doesn't look very crowded at all. There are a few touts trying to sell us into one accommodation or another but we just sit down on the beach for a while until the new arrivals crowd has dispersed and then we begin our search.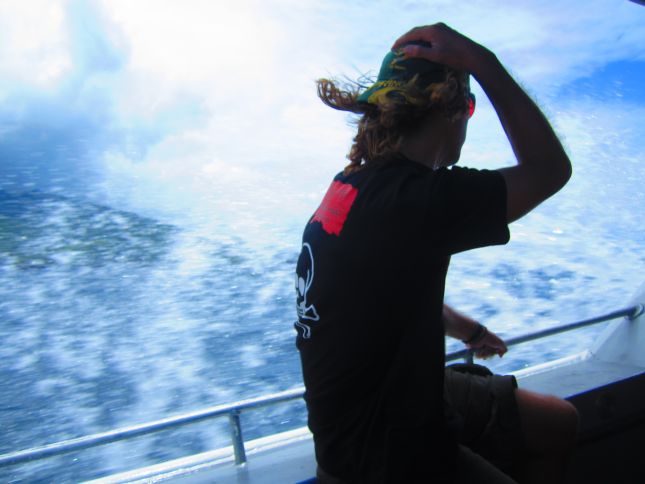 It turns out the island is pretty busy on the Southeast side, lots of people, bars and restaurants competing late into the night. Diving resorts and bungalows packed neatly next to one another. – Thank goodness we've come off season! If you walk further inland there are a few more out-of-the-way guest houses with cheap rates, but in a place like this you want to be at the beach!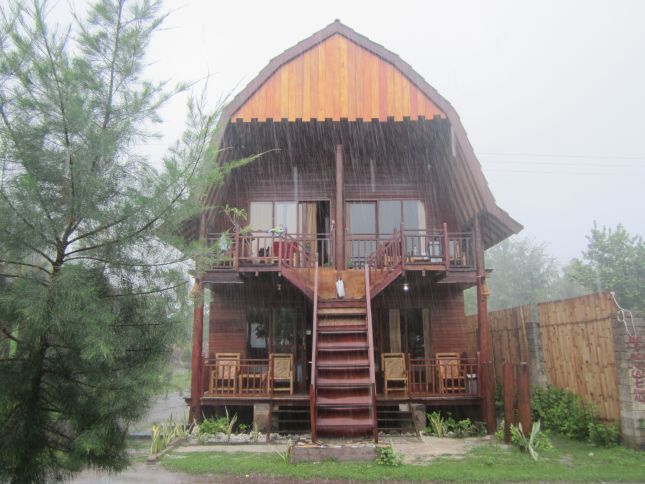 After about 3 hours walking the coast line and bargaining for room rates, we find a nice accommodation on Northeast side called Beach Bungalow (120KRp/night, quite cheap compared to the centre). The breakfast (included) leaves much to be desired though and the staff are rather lethargic. But it's away from the party zone, well away from the mosque which threatens to wake us up at inhospitable hours of the morning, and it's right at the beach front. Of course we have a 15min walk to get to the main market, but this is a price worth paying. (This is confirmed to us several times by other guests that move up to Beach Bungalow from accommodations in the centre, due to lack of undisturbed sleep.)
Not keen to entertain more blood-boiling encounters with Bemo drivers, we decide to spend the rest of our Indonesian stay here and take it easy.
We get up in the mornings, have a breakfast and then commit ourselves to the sea for a few hours, swimming or snorkeling. Sometimes we take a walk to the centre to buy food and drink supplies and drink a good cup of coffee. In the afternoons I generally swim out and go fishing from one of the boats anchored out in the channel while Ebru sunbathes or does more snorkeling. It's a great pace of life. 🙂
The snorkeling is fantastic around the North side of the island where the reef extends over a hundred metres out and depths reach at least ten to fifteen metres. Fish are abundant and a spectacular show of colour! We're really gutted that we don't have underwater camera equipment. It's less spectacular on the East side but even here we encounter lion and scorpion fish on one occasion. Also they have a turtle sanctuary on the island, so sea turtles can be seen almost daily.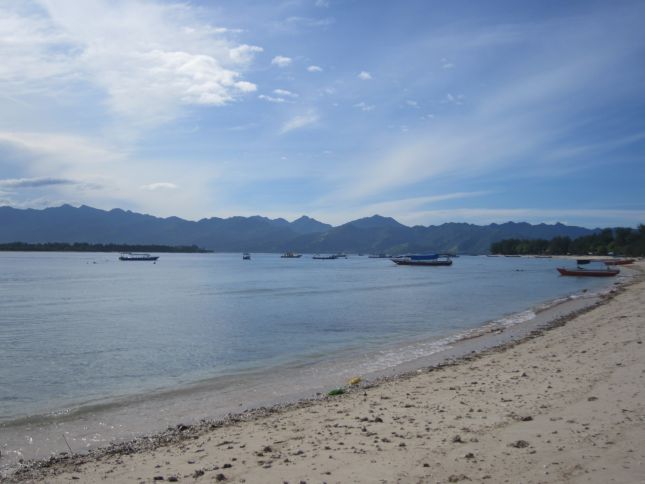 Unfortunately I cannot say that much for the fishing. I do all my fishing in the channel on the East side and occasionally off the diesel tanker that brings the generator fuel daily. But all I catch is so small it's only good for fish food. For anyone going, please note that fishing supplies can be found in a couple of shops just around the back streets behind the night market. (Make sure you go alone so your wife/girlfriend doesn't see you buying more fishing tackle AGAIN!)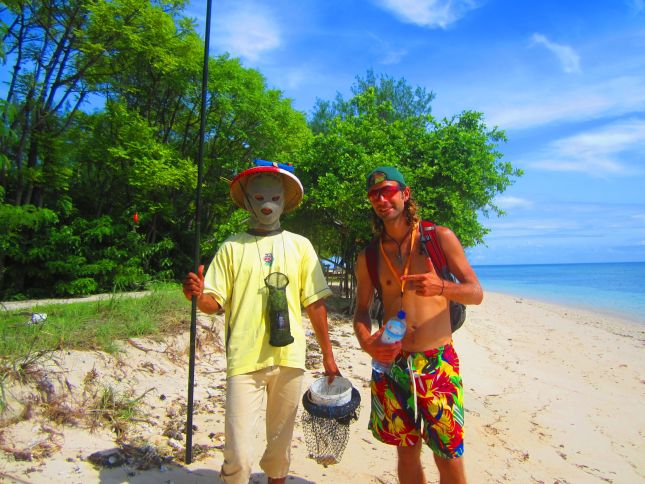 (Mainstream media failed to inform you of the latest threat: the Suicide Fisherman!)
We get to know some good people at the Beach Bungalow as well. As I recall it, each couple moved in next door to us after a rather disturbing episode closer to the town centre (noise, obnoxious guests etc), so they decided to find a place where they could get some sleep. Here they are:
Ruth and Roel from Holland. It was really funny having a dinner with them one night, as it turned out they seem to be undergoing the same interesting behavioural phenomena on their travels: she plans everything and pushes to keep on schedule; he doesn't care how long it taked as long as the beer is cold and they're having a good time. LOL!
Cecelia (Uruguay) and Carsten (Denmark)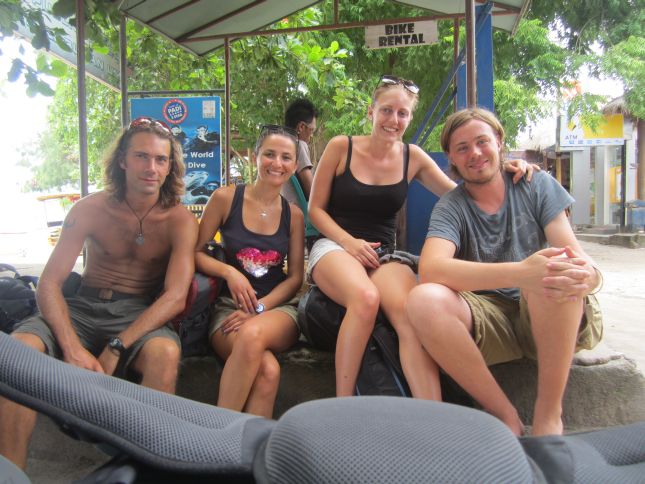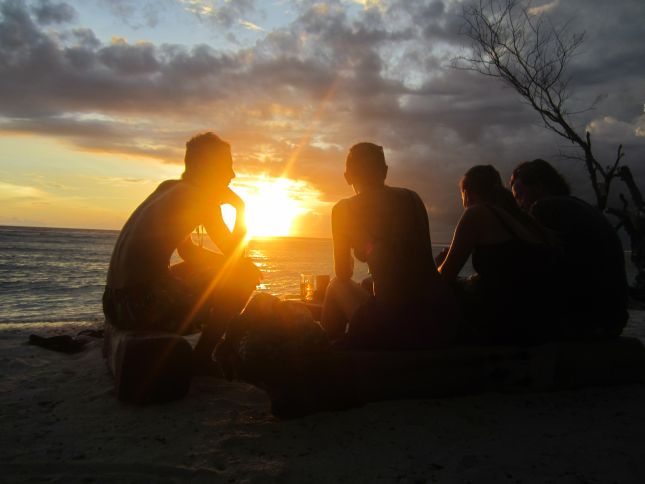 At the History Bungalows just a few metres down from us we meet a chap called Chaia. He's from Lombok, a rice farmer, but has come here to earn some extra cash. He's helpful and honest, and we immediately become befriended.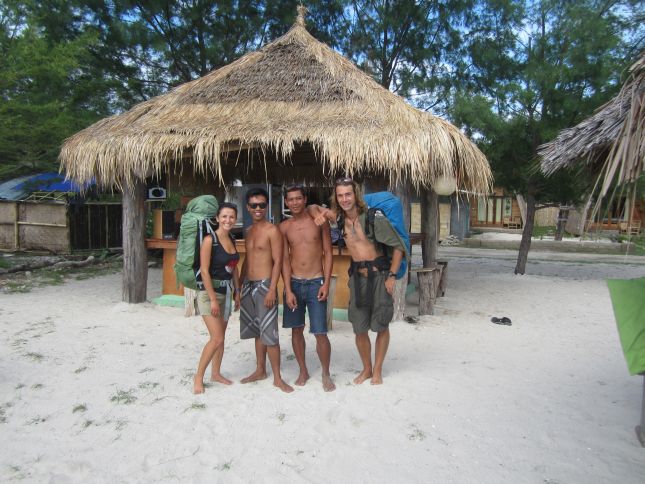 This is a place where everybody will bargain with you for the last buck but not him, and that is something we really appreciate. His bungalows are pretty quiet at the moment but we spend a few nights over at his bar, hanging out and talking about life in Indonesia and elsewhere, and he introduces us to a local rice wine, which is non-alcoholic but gets its kick from a type of tree bark – lovely stuff! Chaia I hope you read this some day. We were so happy to have met you and really enjoyed spending time with you on Gili. If we make it to Lombok again some day we'll try to look you up. And thanks for letting us plant our tree for our Planting Around the World mission!
Walking around the rest of the island (about an hour) there's not much to be found but a few resorts which look rather empty, there is one great secluded bar on the north side and on the West somewhere they have the full moon parties, but that's about it. The only place we visit in town worth mentioning is a night at Sama Sama where they have live music and a good vibe.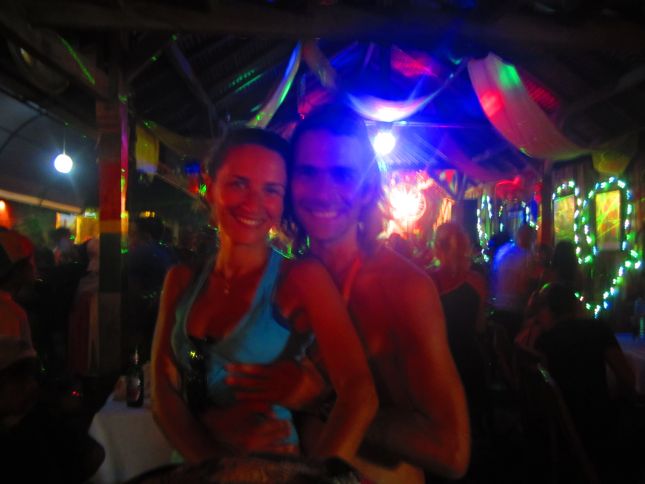 Regarding food, we're unfortunately still struggling to find something we like, as with the rest of Indonesia, but the our best meals and definitely the best value for money is to be found at the night market. Several stalls are waiting to grill you a fresh fish to serve with salad, and some other stalls sell various vegetable dishes to accompany. I don't think we ever spend more than 50KRp for a fresh fish meal for two. And aside from that, a must try is the pumpkin curry from the old lady's shop in the alley just off the market. Just ask around and you're sure to find it.
Now in truth, there's nothing much I can muster in words to convey to you the absolute tranquility and awe we felt in this place, waking up to its simple beauty day after day and letting the picture-perfect vistas wash over our optic nerves with the sound of the water rushing over coral sand. Shorts & flip-flops day in, day out (no shirt required). Sun tanning you right to the bone. We were transported away. Hypnotized. Conscious, yet dreaming.
So instead I give you these photographs to explain as best they can. Enjoy….