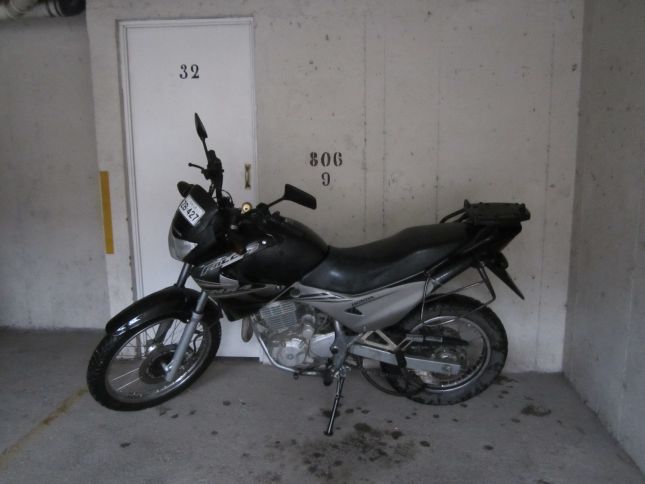 In Chanaral, walking back to the hotel that night, a dusty chap pulls over on a motorbike. Luggage rack, scratches on the faring, a few days' growth on his chin. He must have been touring for a while. Must go and talk to him!
His name is Luke and he and his girl have been touring the continent with their bikes for four months now. Awesome! I ask about how the bike is doing, what paperwork was involved, border crossings and so on – I'm just really curious. He tells me that, having bought the bike in Chile, crossing to other South American countries is easy, no Carnet De Passage required, no additional costs. No way! I can't believe it. Apparently he's heading to Santiago tomorrow to sell their bikes and head back home….
Terribly enticing thoughts start churning away in my brain. I can't help it. Ebru knows what's coming. We exchange contact details… just in case… you never know.
Originally Ebru and I had hoped to buy a small 4×4 jeep here to tour South America, but even second hand they are pricey, fuel costs are higher than we thought and according to the travel guides we read, the paperwork involved was a pain.
The four if us – we and the German girls – head to the Pullman ticket office for our onward bus tickets, leaving the same night; the plan is to head to San Pedro via Antofagasta. We walk out with only two tickets – those for Anja and Mary. Ebru and I merely have the pricing info for a journey back to Santiago. We say our goodbyes and wish them a good journey, hoping to catch up in Bolivia or Peru soon. Ebru and I go back to the hotel to check our budget.
At midnight, Ebru and I are on a bus back to Santiago, a big motorbiking adventure in mind…. worst case, if it doesn't work out, at least it'll only take us an overnight bus trip to get back to where we left off.