TRIP INFO BOX

Route
Ollantaytambo, Peru – Santa Teresa, Peru (RN28B)

Distance

150Km

Travel Time

5 hours (1 hour night riding)

Road Conditions

Excellent asphalt (dogs on pass), rough dirt from St. Maria

Weather

Overcast, foggy & cold on mountain

Terrain

Valley to 4300m pass, descent to valley

Food and Petrol

St. Maria, Ollantatambo

Accommodation

Auberge Municipal, Santa Teresa
---
To do our Machu Picchu trek we have to get to the "starting point", the village of Aguas Calientes. Aguas Calientes is not reachable by private vehicle, so we have to ride to the closest town, Santa Teresa.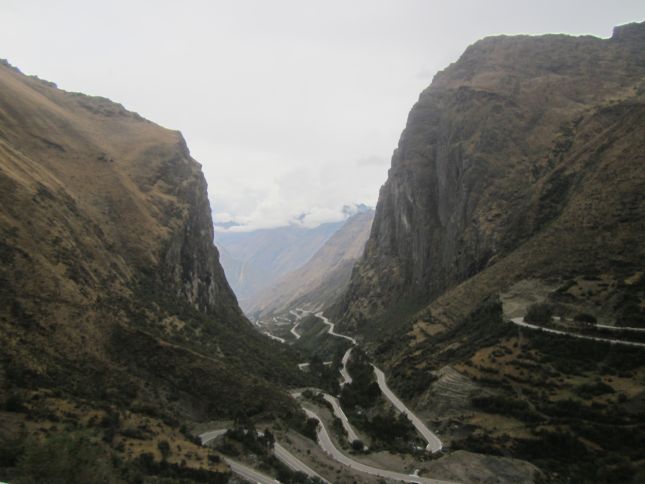 We depart Ollantatambo after our visit to its ruins, thinking that the 150Km can be covered in a jiffy. The journey ends up taking us longer than we thought. We ride further into the Sacred Valley and it just gets more beautiful. The road is excellent except for some works after about 115Km and a few suicidal dogs in the S-bends around the misty Abra de Malaga pass.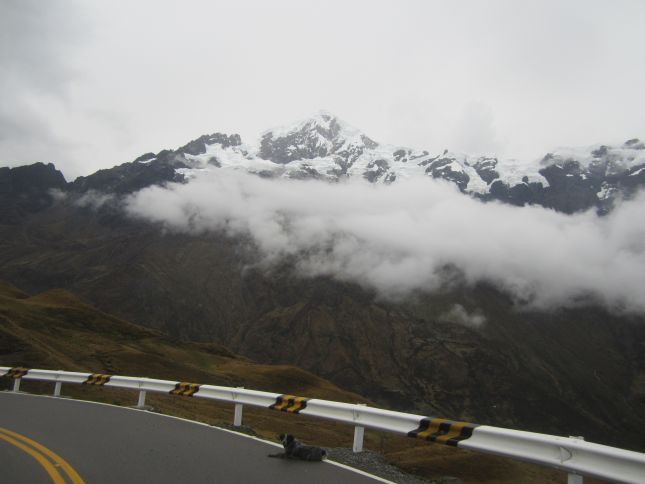 The Abra de Malaga pass summits at 4330m, it's cold there (obviously) and the road is wet, and the route then crescendoes in an endless series of winding turns with awesome views of the valley stretching out beneath, as far as the eye can see. Magnificent! Definitely another one of the best motorbike routes South America has to offer.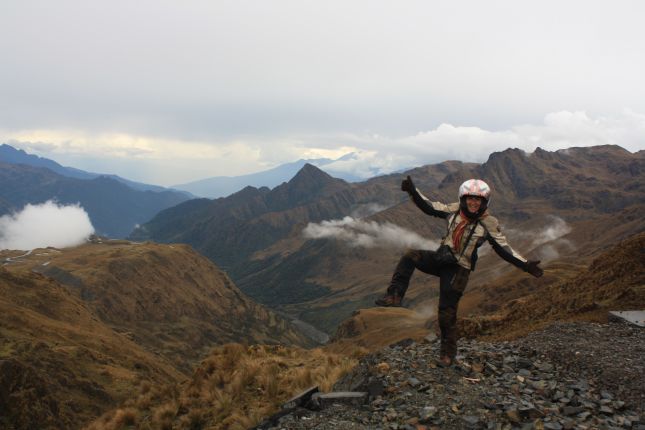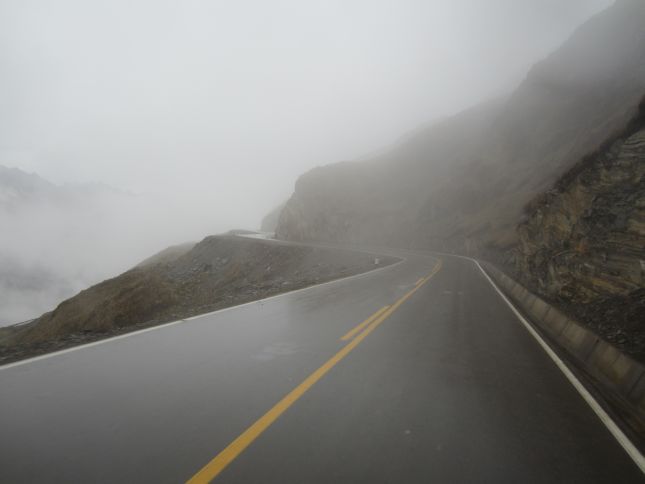 We're running a bit late and as we pull into the town of Santa Maria on a ploughed up road, we fill up at the gas station and ask around for the way to Santa Teresa.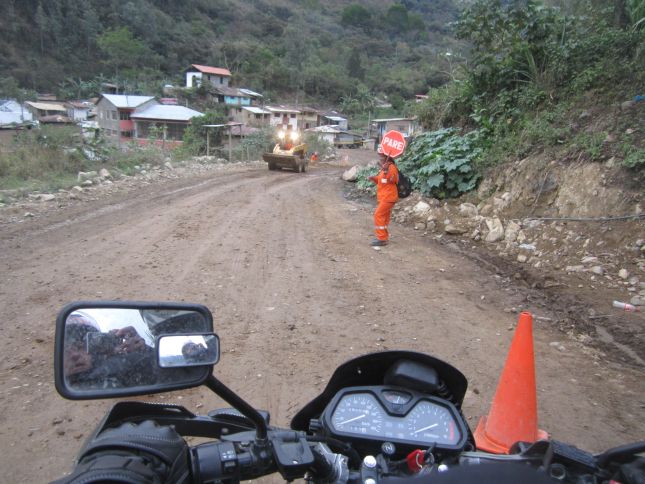 This turns out to be a small side-road coming off directly at Santa Maria, which takes you through a small ghost town – perhaps what Santa Maria used to be before is moved to the other side of the road – and then continues on gravel. By this time it's dark and all we can be sure about is that we're on a mountain side and the road is not particularly good and there are a few stream crossings involved. Exciting stuff!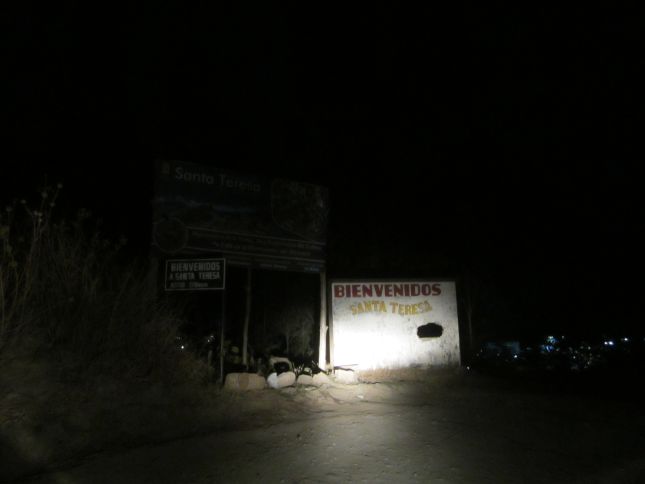 It's only 25Km to Santa Teresa but it takes us an hour. When we finally see the sign that we've arrived we're elated.
Fortunately it doesn't take us long to find Auberge Municipal (40PEN/dbl) on the main street in, just after the Mercado and the sports field. This place has spacious bungalow-style accommodations with bathroom, TV and refrigerator, and there is ample parking space.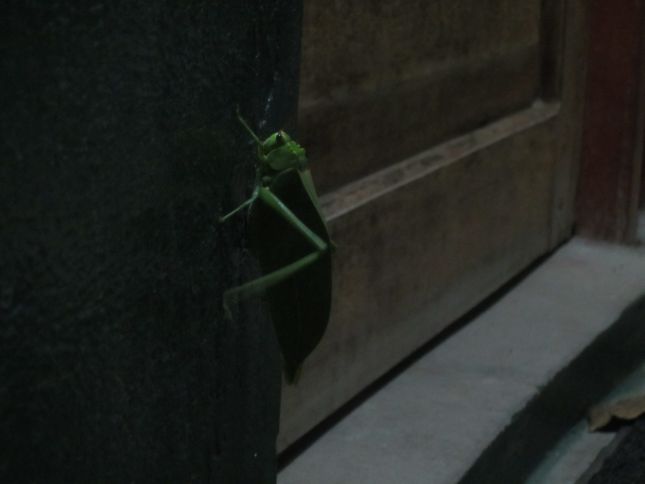 Visitor at our bungalow, Auberge Municipal…
As far as food goes, there is not much choice. Some of the few places we see are closed and that leaves only three or so places on the main "dining" street off the main plaza (Av. Calixto Sanchez). We're rather repulsed by the attitude of the well-established-looking pizza restaurant on the one side, so we move over to the Bar-Restaurant Mijuna Wasi.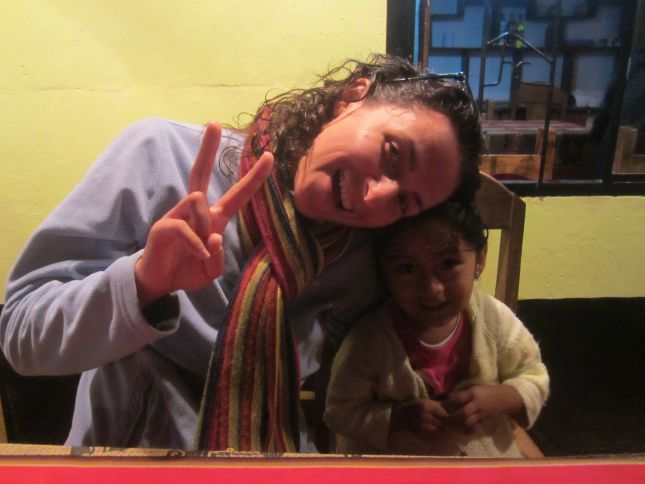 Daughter of the Mijuna Wasi family kept us good company…
This turns out to be the place to eat in Santa Teresa! A family run place, very friendly people and the food is great, despite being cheap. (Recommendation: try their Palta Vinaigrette, an avocado salad with an excellent tangy sauce!) Needless to say, we return here many times.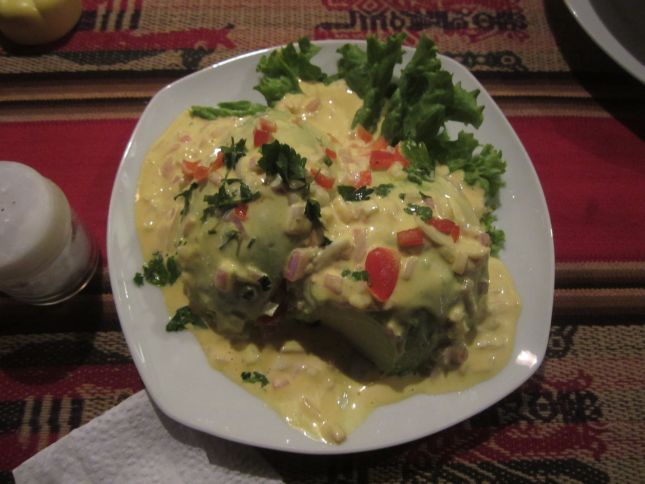 We have come to Sta. Teresa a few days ahead of our Machu Picchu trip so we have a bit of time to settle in and explore. An excellent decision, because the following day we spend several hours at the closely situated Banos Termales: a set of beautiful natural thermal pools beside the river.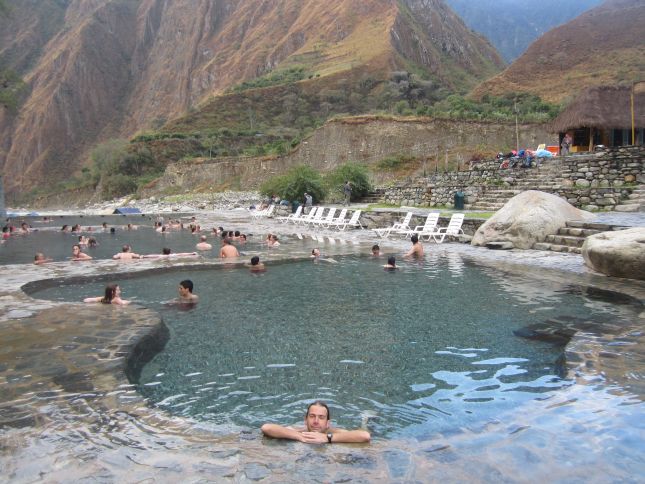 We spend most of the day there nearly alone until the Inca Trail trekkers show up at about 3PM for their much needed bath. A few local folk sell beer, wine and other refreshments around this time, which adds a nice social factor to the experience. The cost of use is minimal and the rejuvenation factor first class! One thing to beware of though: SAND FLIES! Stay in the water up to your neck and when you leave to change, make it quick!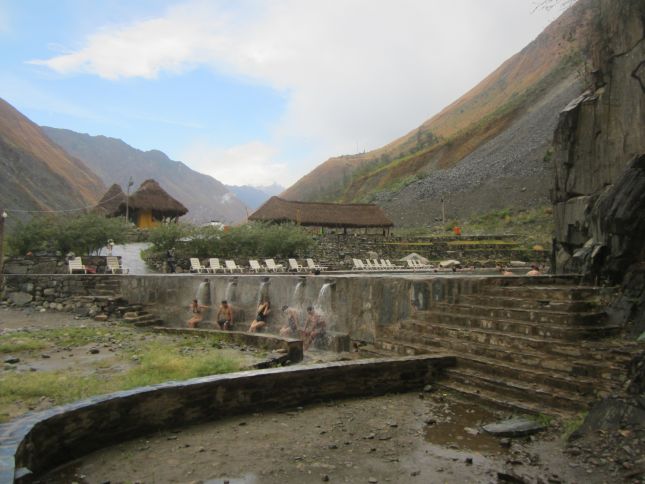 All in all, though there is not much around there, we're pleased to have come to Santa Teresa. It's a village in thr mountains with lovely views all round. The people are simple and friendly and, combined with Mijuna Wasi and the thermal springs 2Km down the road, this makes a nice little stop-over place away from it all.

NOTE: One other factor that makes this a place worth visiting by motorbike is the access road from Santa Maria. We don't at the time know what it looks like in the daylight, but we soon find out. Post to follow soon!