WOW! Five days in Singapore and there's so much to tell you about that it's hard to decide what to leave out. I really have to restrain myself on the photos as well as I could post a hundred easily.
So, after a long train ride from KL we get to the Singapore border, where it stops for the formalities at Immigration. This all goes without much ado and within the hour we're back on the track to Woodlands train station, Singapore. But when we exit the station (it's early morning) we see there's not much about and we're fresh out of money – Singapore money anyway.
A walk across the road into some building complex uncovers a large food court, bustling with activity. There are ATMs too, so once we pick up some cash we approach one of those Chinese stalls for a coffee. We want it with milk, which costs us a few cents extra, but It comes with sweet condensed milk (yuck!) so we get them to replace them, which costs us another few cents. But the end result is strong and the mug is deep, so we've got what we need.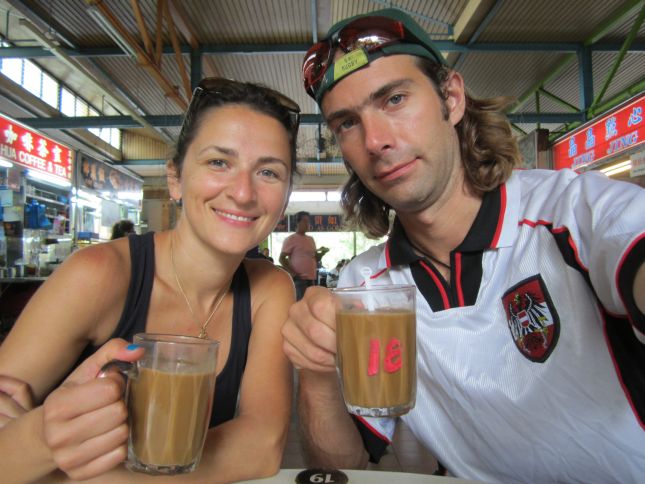 Once again we've researched some hostel options before hand. Singapore is notorious for being costly and we've had to prepare – dorm beds in hostels are the only option this time. There's a conglomeration of them near the Lavender area of Little India (again?), so we take the subway there. We walk for a long while checking out the hostels in the area, but they're all quite expensive (expected) but mostly in a pretty shit state (surprising)! It starts to drizzle and we sit down somewhere for a drink and use the WiFi to do some more accommodation searching. Whilst Ebru stays with the packs I run to check out the last few options and finally I reach Mercury Backpackers Hostel (57 Lavender Street / +65-63960500).
Now, hostels should be clean and comfortable, cheap and have a good atmosphere. But what these folks offer for (at the time) SG$27/pp is not yet printed in the backpackers' dictionary. To be honest, if it hadn't only opened a few weeks ago, it'd be a wonder that all the 15 or so other places were still in business.
Comfortable beds in small (max 6 beds), spotless rooms with ample electricity sockets and electrically secured lockers per bed; all are air conditioned, some have window wash rooms with better facilities than most budget hotels will offer; hot/cold drinking water dispensers; laundry wash/dry machines (coin operated) and hanging area; communal cooking facilities (though not extensive); WiFi; Internet workstations in lobby; 3 minutes walk from the Lavender MRT station; 5 minutes walk from various local restaurants ("coffee shops") serving excellent food; a common area with large flat screen TV on each floor; breakfast on the roof garden (not included in our price as it wasn't available then; a JACUZZI on the roof top as well as deck chairs and a charcoal BBQ for guest use. Let's see, have I missed anything? Well, I can tell you that the manager is very proud of the business and he was constantly inquiring about any problems or suggestions we could identify. He was particularly interested in feedback on the orthopaedic pillows they selected for the beds, which have a special shape and should maintain perfect comfort. Well I can tell you that we were very comfortable indeed! And when we asked at check-in whether they had any rooms with windows, they not only put us in one but also made sure we had the room to ourselves as long as possible (in our case all week).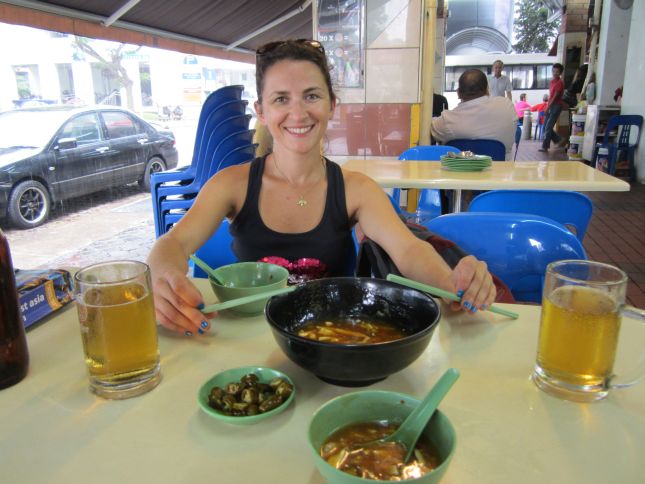 Yes, Mercury is a phenomenon and I would recommend it to any traveller wholeheartedly. Our first afternoon in Singapore is spent in a hot tub on a roof top, several high rise buildings surrounding us, and it was just what we need to recharge after a strenuous journey and will remain a very fond memory. To crown this, we find that we can easily manage Singapore on a tight budget, with the hostel costs under SG$30/pp (excluding breakfast) and all the tasty Chinese food at the coffee shops priced between SG$5 to SG$15 for generous servings.
Now, as for sightseeing and cultural interests, this island has a lot to offer.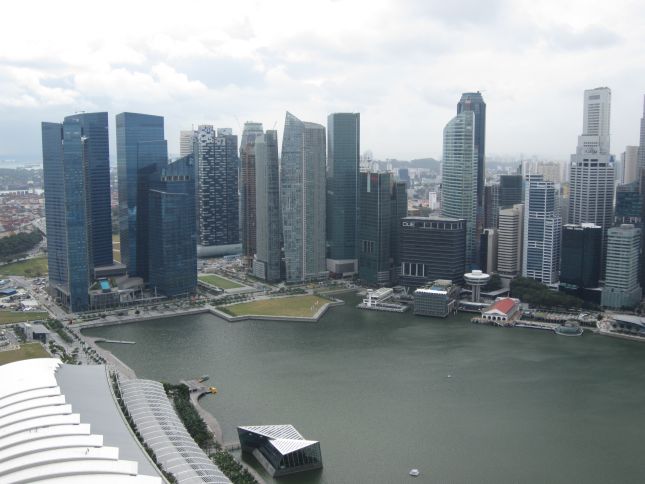 We only move around the main CBD area and we have five packed days. There's a great variety of sights to see but another thing that makes this city enjoyable to be in is that everything is well finished, decorated; it looks clean, colourful and interesting.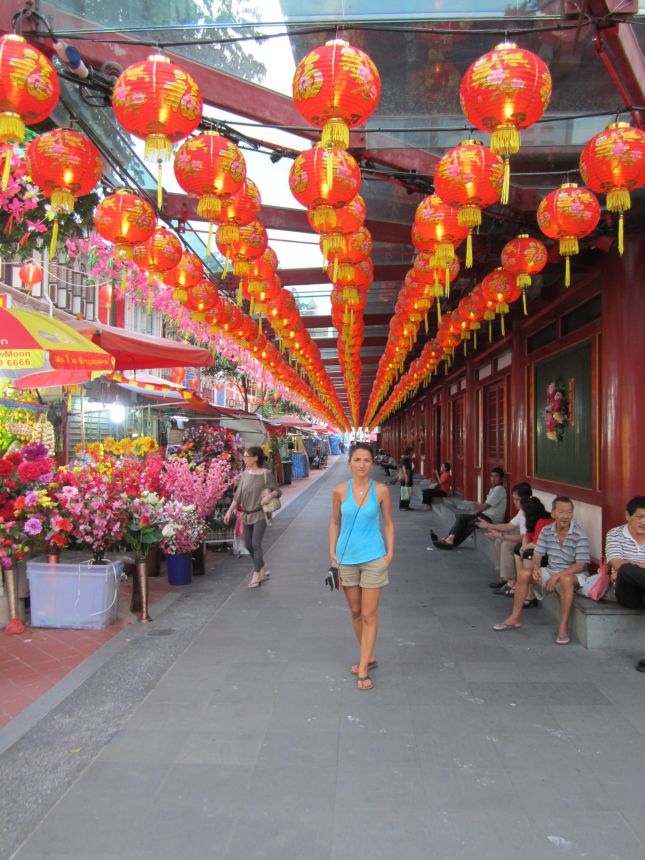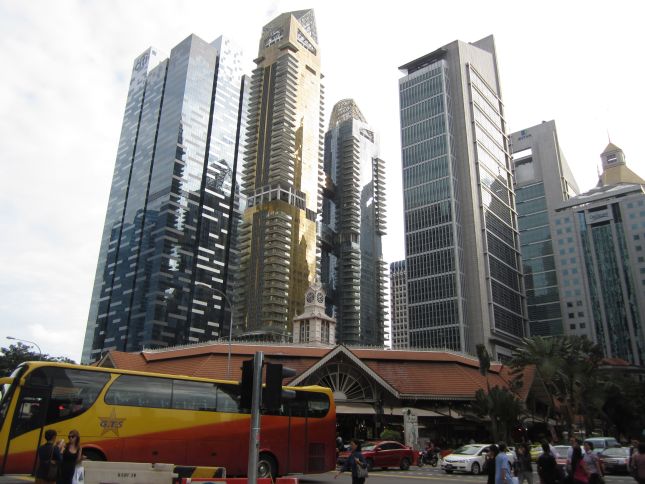 The architecture looks marvellous, by day and night! Tall skyscrapers all over the place, brown, green, grey and blue, with old colonial mansion hotels, churches or buildings between them.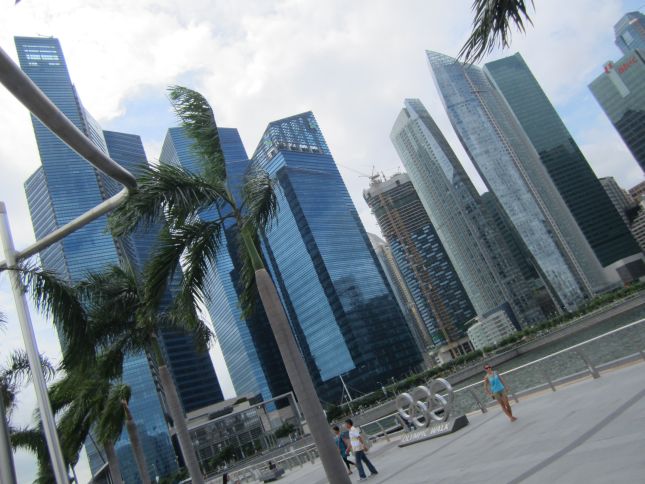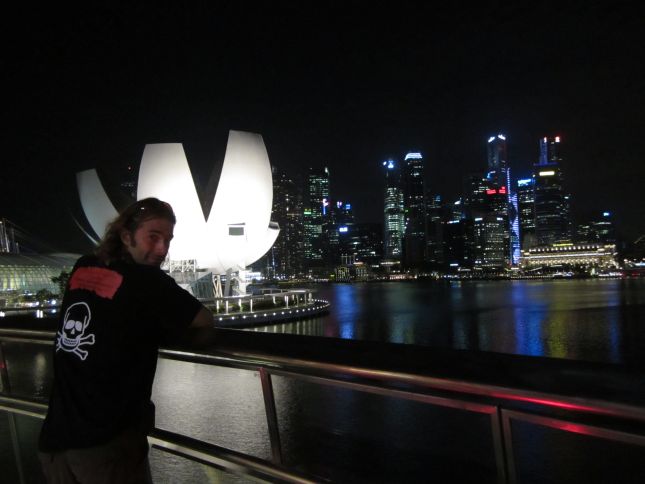 Neon lights at night.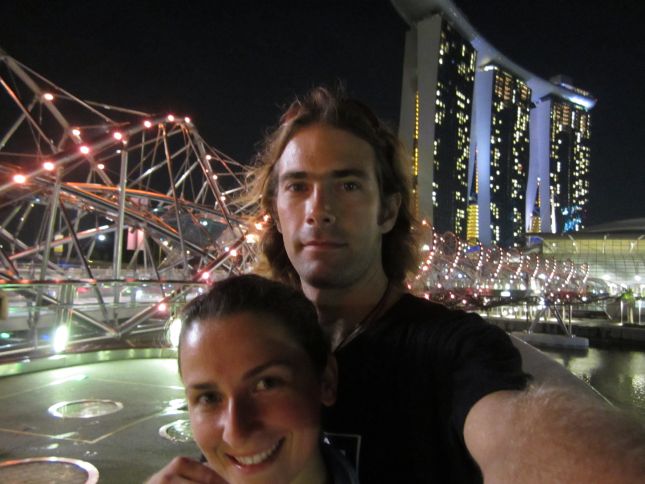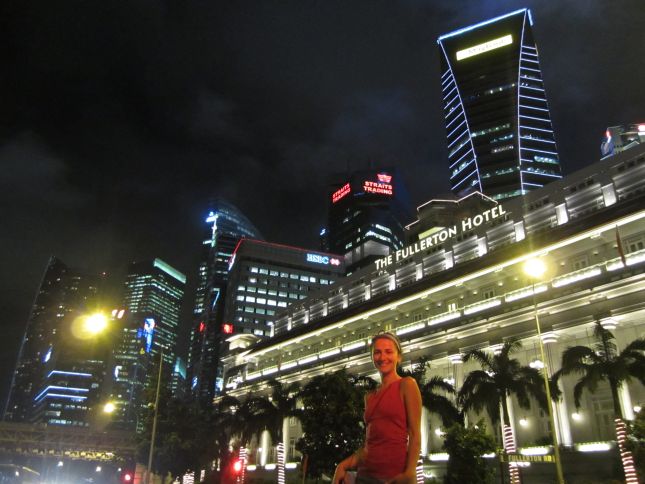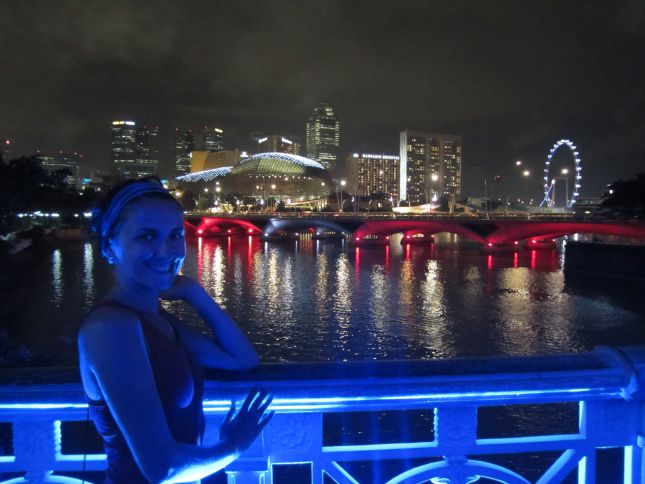 The building that dominates the view at the moment is the Marina Bay Sands hotel – it looks something like a hi-tech banana-ship stranded on three tall lego buildings.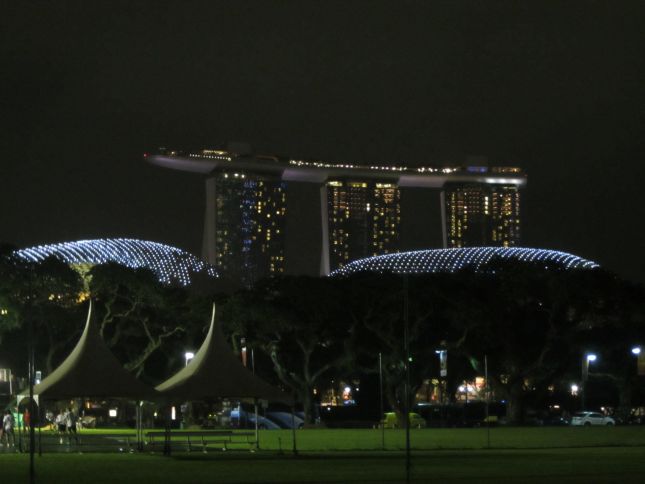 The lobby inside is quite impressive, too.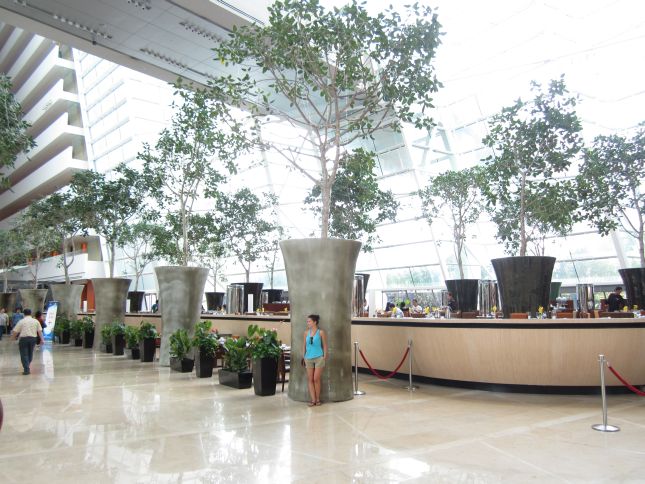 And you can go to the top for a bird's eye view of the city – or for a swim and some cocktails if you're a hotel guest.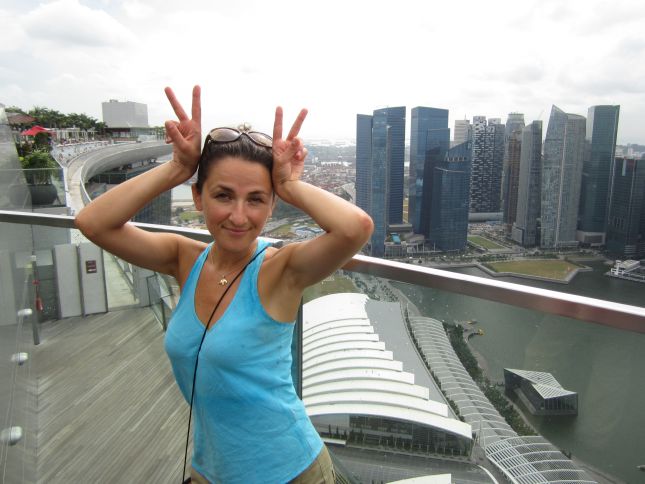 Just in front of the hotel, there is a is a shopping mall that seems it could double as an emergency shelter for the whole city – it's massive!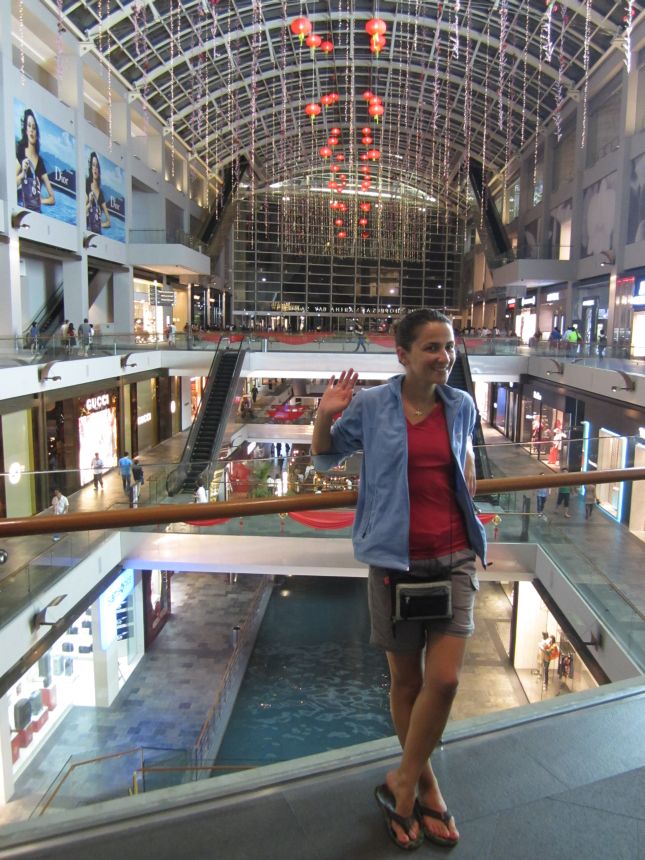 And all the cream of the crop brands are of course there – how else would Ebru be able to buy her Pradas for this season? 😉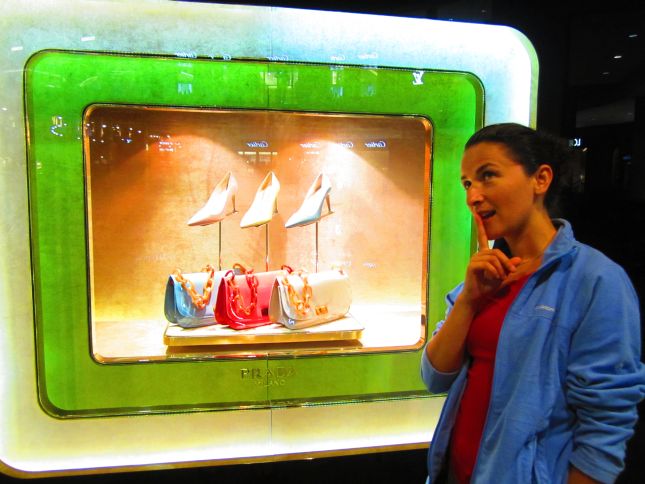 The whole Marina Bay area is an engineering wonder, actually. There's a good information centre in the area which gives a lot of info about it. The area is built entirely on reclaimed land (don't ask me who took it away in the first place, they didn't mention), but it was not there a few decades ago. This land reclamation process has been going on since the early 20th century if I recall correctly, and using this method they have increased Singapore's land area from about 500sq.km around a hundred years ago to over 700sq.km today! And beyond the Marina Bay Sands hotel there's more development going on.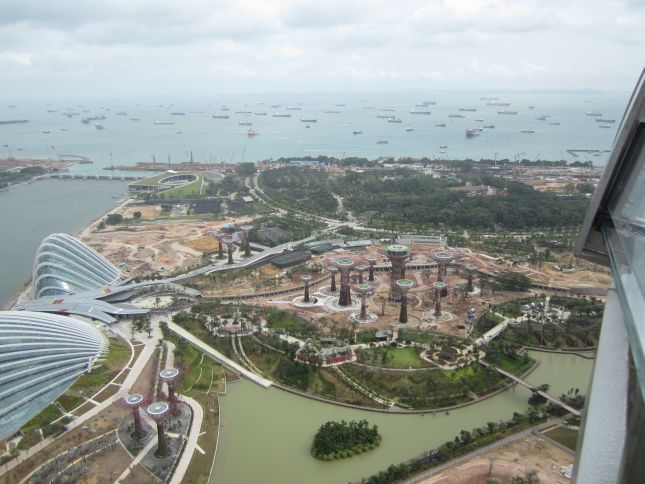 The most impressive thing to me about the whole project, though: the Common Services Tunnel .
Moving away from Marina Bay Sands we head West through the CBD, Raffles Place and over Ann Siang Hill (hills were prestigious real estate here), a quaint little area full of wine bars and pubs – not cheap, but a good place to have a drink at the end of a day.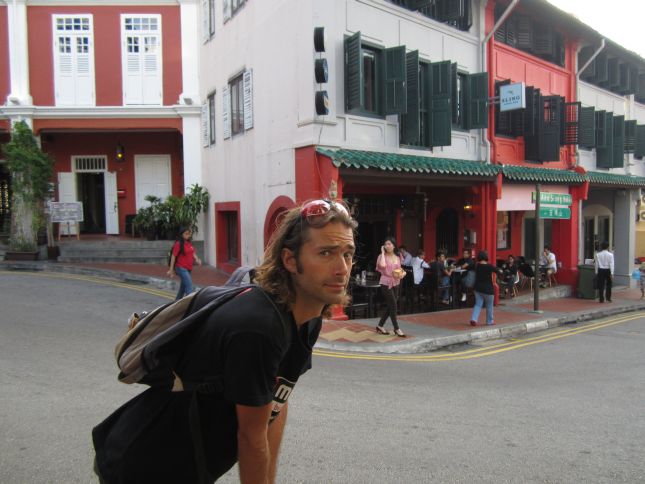 Over the hill lies China Town. You were going to ask whether there was a China Town, I know. Well there it is, and it's got, amongst many other things, a Mosque Street, a Temple Street and a Pagoda Street, each with an accompanying building, and we recommend you visit each one. Quite impressive.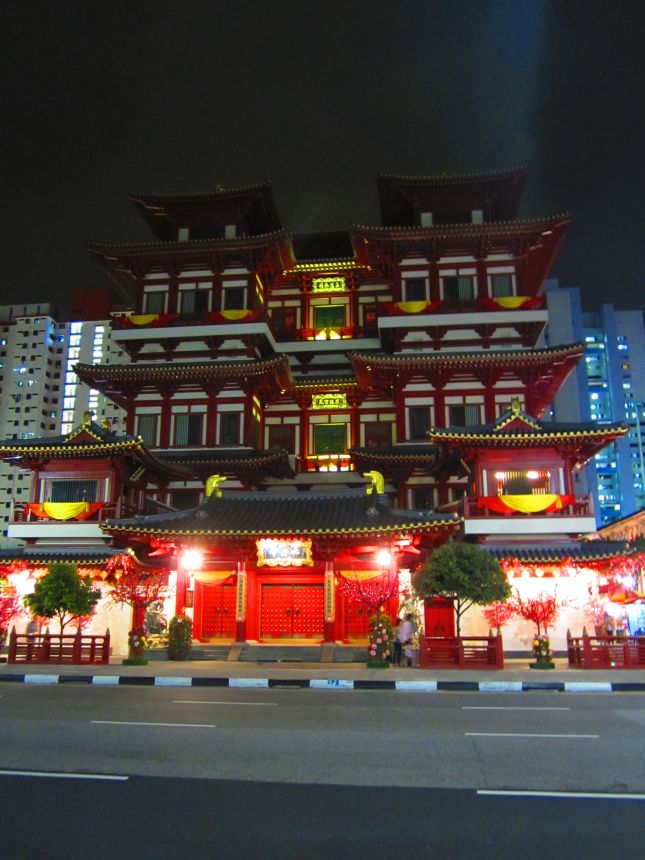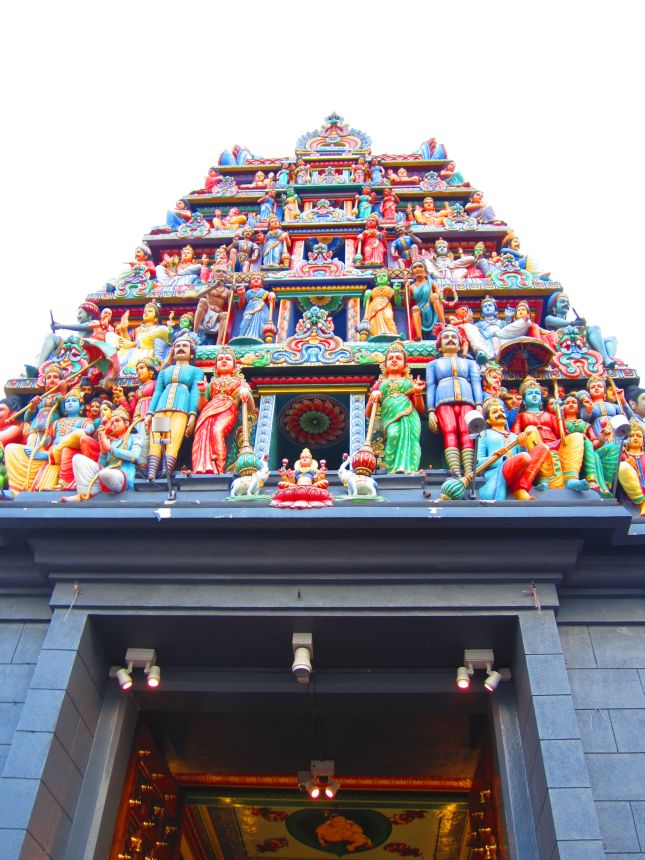 Not far from there, just off the end of the South Bridge Road, there's a nice little street (I think it's Tanjong Pagar Rd), which is packed with restaurants, and here we found a Korean style BBQ place which is worth a visit. HiStory serves an all you can eat buffet for about SG$20, which you grill on a gas BBQ on your table, and it's not likely you'll be left wanting for anything. They have various meats, seafood, vegetables and sauces; even ice cream for those with space remaining.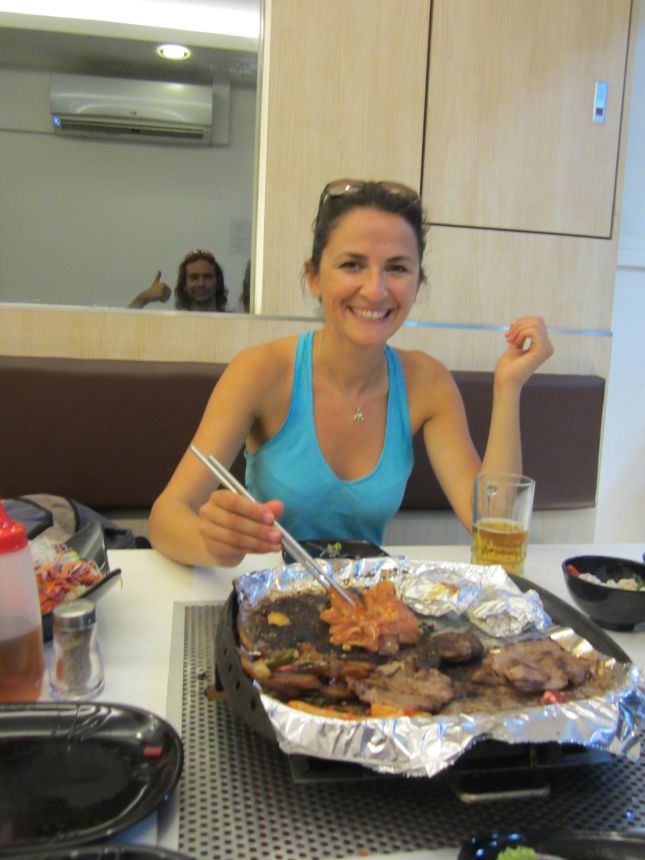 Another good day out is a stroll down the Orchard Road. Here you walk past mall after mall, one more extravagant than the other. If you're backpacking, don't expect to be able to buy anything – but be satisfied with viewing it all from the outside only.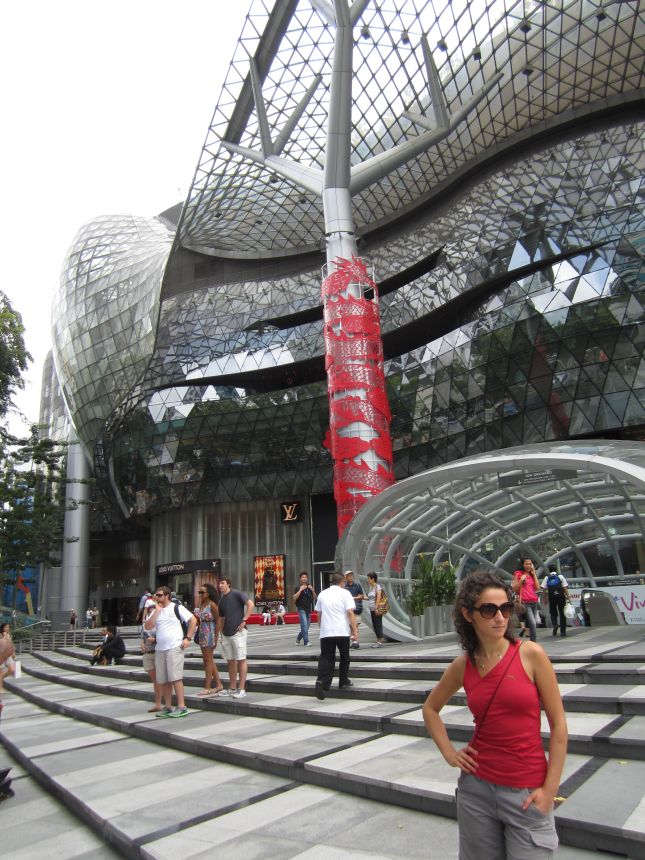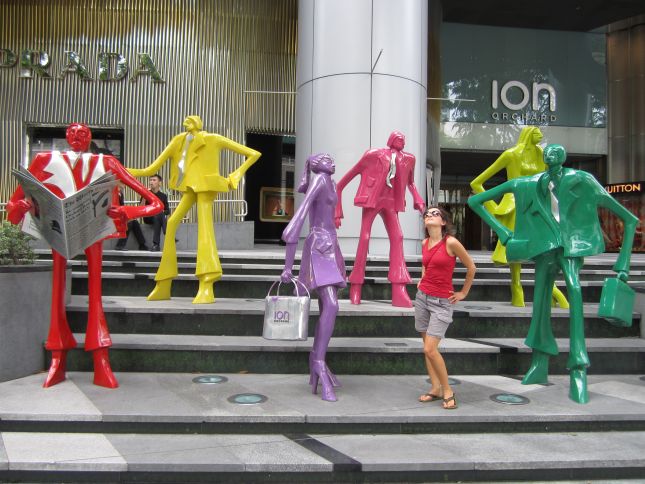 Somewhere in-between we encounter a small suburb with really cozy little houses, probably with French influence. A nice area to live, methinks… if you can afford it.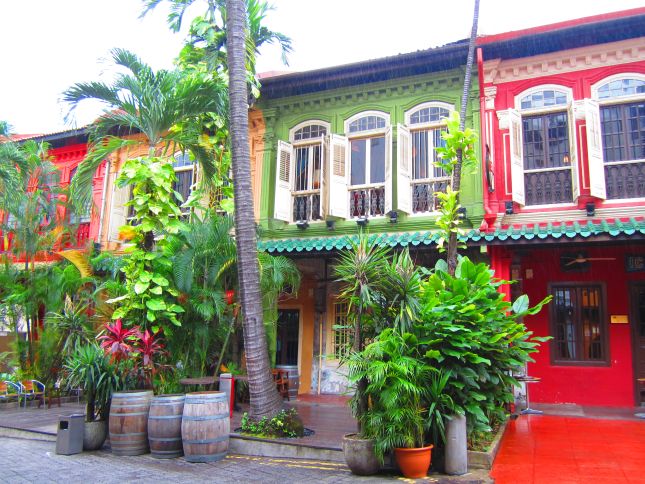 Eventually, after many, many shopping centres, we reach a park. The park has a cafe, but this one is no ordinary cafe. These people had the funky idea of combining a park cafe with an art studio and so, proudly present the Art Palate Cafe. Mom, I so hope that you will have the opportunity to visit this place one day, you'd love it!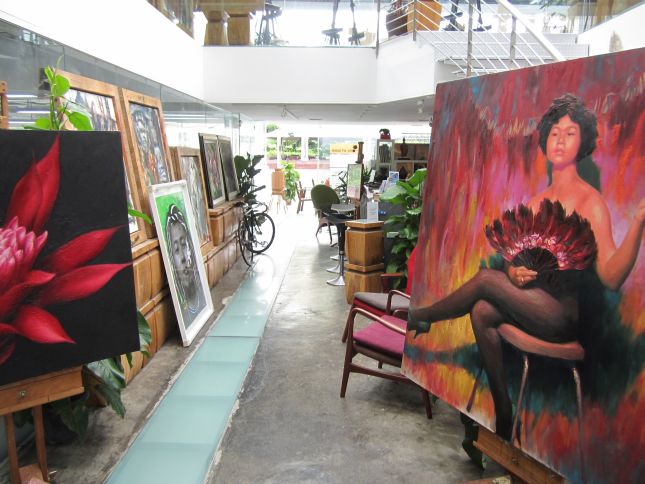 Here you can sit down and sketch the city skyline over a hot cappuccino, take painting lessons or even just write post cards.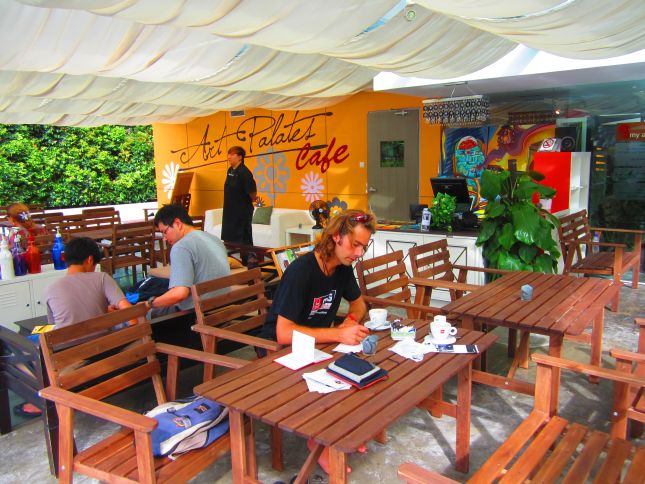 Last but not least, there is the Botanical Garden. We get here way too late in the day to enjoy it properly, but it's interesting none the less. It's a huge green area built by the British; a beautiful setting to spend a day with lots of interesting things to learn. For example, a superb feature here us that they've built a "Health Garden" in which there are samples of hundreds of plants and information displayed about their medicinal uses – very interesting indeed.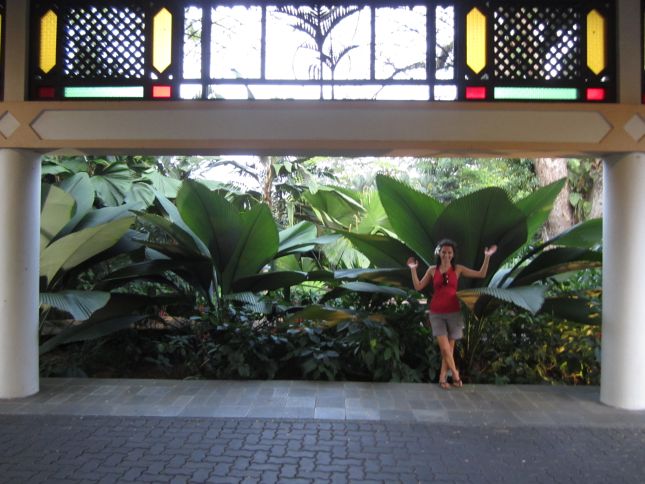 Also fascinating to learn was that the efforts of one keen British botanist, H.N. "Mad" Ridley, had a huge impact on shaping the economy of the S.E.Asian peninsula and probably the world. He had radical ideas about cultivating rubber trees for mass production and was ridiculed for it, but once he worked out a sustainable method for harvesting rubber without killing the trees, he'd basically paved the way for a huge rubber boom to take place in the world, which is something he foresaw before his contemporaries. He bred millions of seeds at these very gardens, which he distributed along with his instructions and, directly as a result of this, Thailand, Malaysia (and perhaps others I don't recall right now) went on to become the world's largest rubber producers.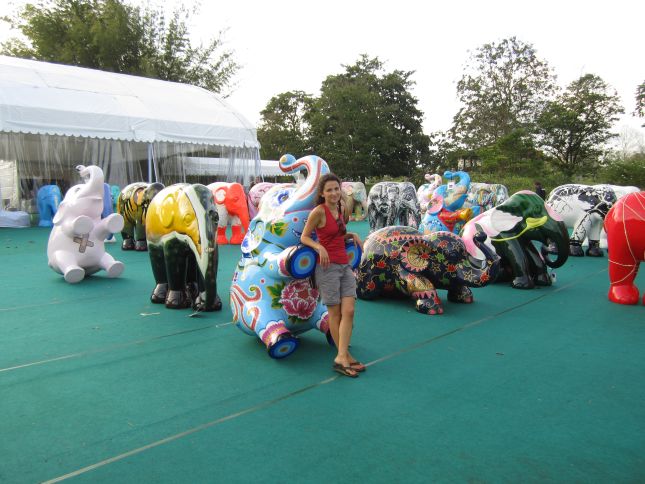 And you'll be even more befuzzled to hear that on this very day of our visit, there is an elephant auction going on!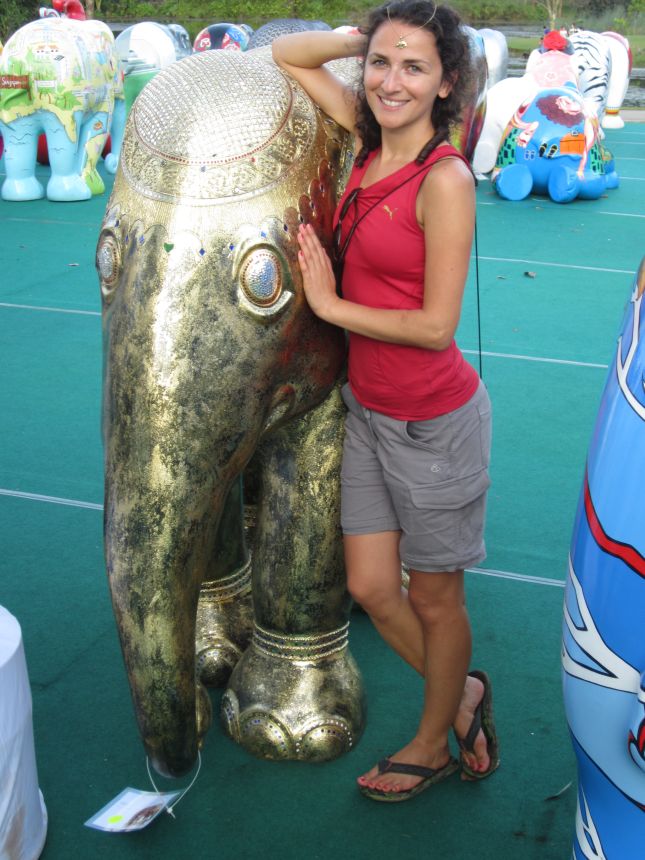 There you have it! Lots of fascinating stuff to see and do in Singapore. I hope you get the chance to visit some day!


SEE MORE PHOTOS… – DAHA FAZLA FOTO BURADA…