TRIP INFO BOX

Route
Buena Vista, Bolivia – Samaipata, Bolivia (RN7,RN4)

Distance

240Km

Travel Time

7.5 hours (2 hour break, some night driving)

Road Conditions

Good Tarmac

Weather

Extremely windy

Terrain

Jungle flatlands, crossing city, Lush ascent into mountains

Food and Petrol

Frequent

Accommodation

Hostal Andorina, Smaipata
---
To get to Samaipata we have to follow on South past Santa Cruz, into a headwind that annoys us to a seeming-crawl. 38Km before Santa Cruz we come across this sign: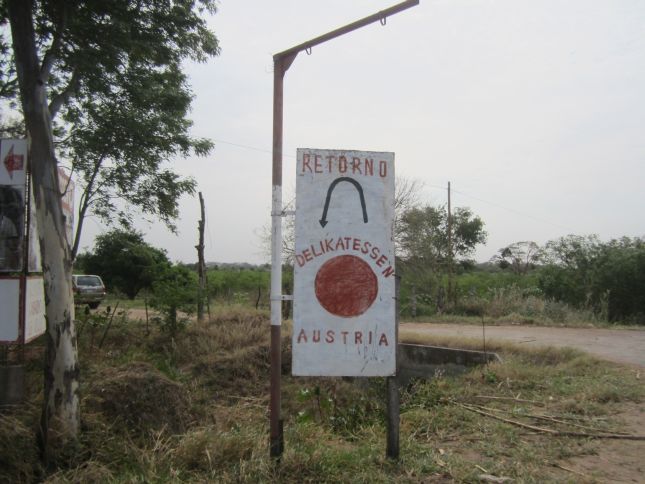 I skid to a halt (safely) and do a U turn, I have to check it out. After a bit of knocking and ringing a Bolivian lady notices us and goes into the house. Then another lady appears. This is Mrs Kranewitter, who along with her husband and family manages this farm and the annexed delicatessen. I tell her I'm here to see their produce and she invites us into the deli. The sight of it makes me smile: the interior is decorated like you'd find in an Austrian farmstead restaurant.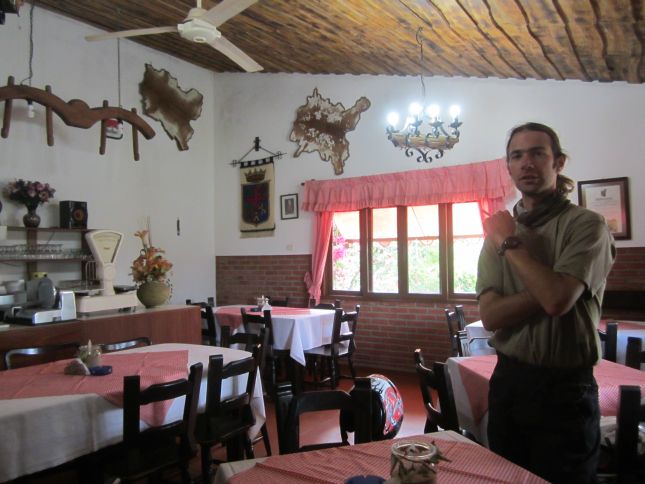 As we inspect and try the lovely hams and smoked sausages we get talking with the lady and eventually she sits us down for a coffee and cake, on the house. She tells us the extremely interesting story of her coming to this country over three decades ago. And of the terrible problems they have recently faced with the government trying to fraudulently take a large part of their land off them. It gives us another perspective on the bitter realities of corruption, which for a traveller at times can be quite convenient.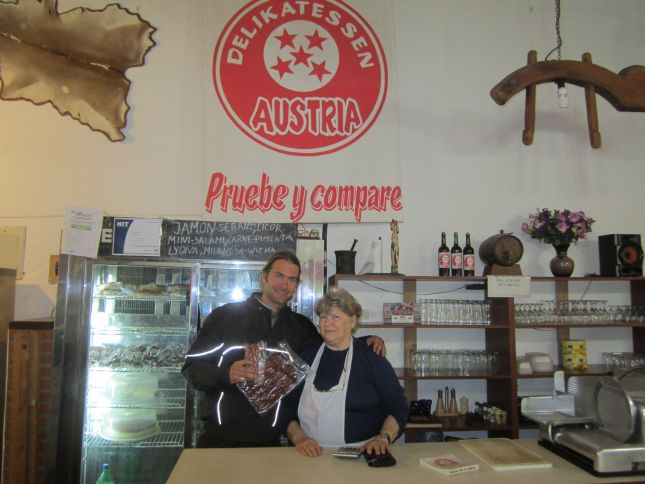 She also divulges the interesting history of her husband's ancestor, generations back, rounding up a large group of Tiroleans to emigrate Austria and colonize an area in South America; then, for love of his spouse, not going along with them himself. A great story. And she mentions to us the names of the places founded by these colonies and we write them down. Somewhere around a place called Blumenau in Brazil. Wouldn't it be interesting to pass though there on our journey! We spend far more time chatting with her than planned and therefore, refreshed, and late, we say our fond goodbyes and hit the road with a good supply of their smoked meats. (Even Ebru is crazy about them!)
Frau Kranewitter: Wir bedanken uns nocheinmal fuer Speis' und Trank, und wuenschen euch viel Glueck mit Allem und gute Gesundheit weiterhin! Unsere Begegnung war uns ein Vergnuegen.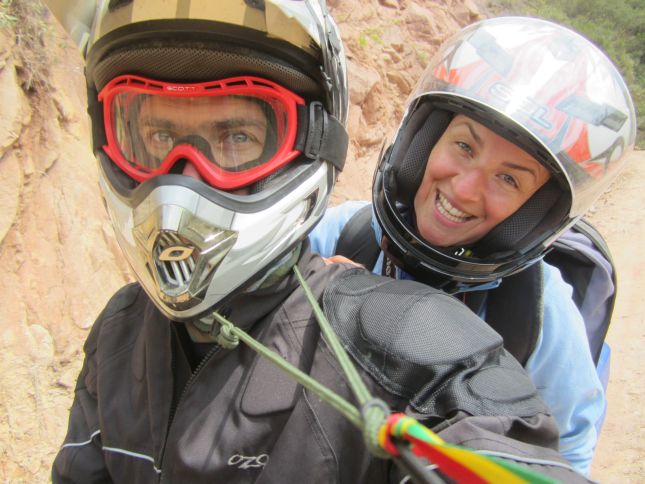 Samaipata is quite a pleasant surprise for us. It's a cozy little village, very backpacker friendly, with a nice plaza surrounded by some nice cafes, bars and restaurants. There are a good selection of hostels there, all quite reasonable, and there's quite a few natural attractions in the area to visit. The mountain scenery around here is astoundingly beautiful!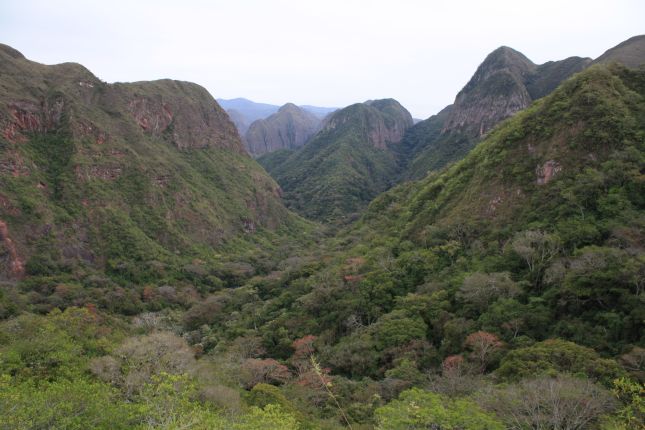 One of the bars is really hip, very modern inside and the staff serve wine, cocktails, snacks and all sorts of things you'd have a hard time finding in most little Bolivian towns.
We stay in Hostal Andorina, run by a dutch guy. It's got nice rooms and pretty good breakfast. They don't have bike parking but the lady living across the road running the laundry offers me to park my bike in her front room along with hers, which is really nice.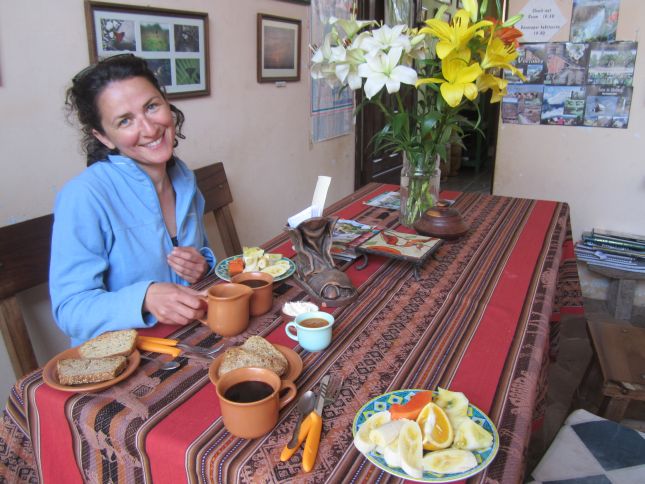 We meet two German chaps there, one who is temp-working there and has just moved to Bolivia after publishing his book. The other has been living in Chile for decades and despite a very bohemian history, simultaneously managed great success in several interesting business ventures. They both have very interesting stories to tell and are very good company. Also they are very keen chess players so I get to play my second game of chess since the start of my travels – nearly a year ago (and I've been carrying a small pocket chess set with me all the way! – Should have listened to Chris Scott's advice…).
About 3Km ride back North of Samaipata there is a 4Km sand track that heads to El Fuerte. A visit to this ancient Inca fortress costs 50BOB for foreigners and the walk about the complex will take about 1-2 hours. We recommend a guide (they were charging 75BOB at the entrance, English speaking as well) as there is nothing much to understand otherwise, though the mountain scenery is nice. We did not hire a guide so we cannot say anything about their quality. Sadly the main feature, the monolith on which all the carvings and most of the old foundations are, is only viewable from a platform on the hill, so you can only appreciate it from a distance. You can get close to the sides further along the path but there is not so much to take in. The rest is just – unless you have more information – a lot of old wall remains.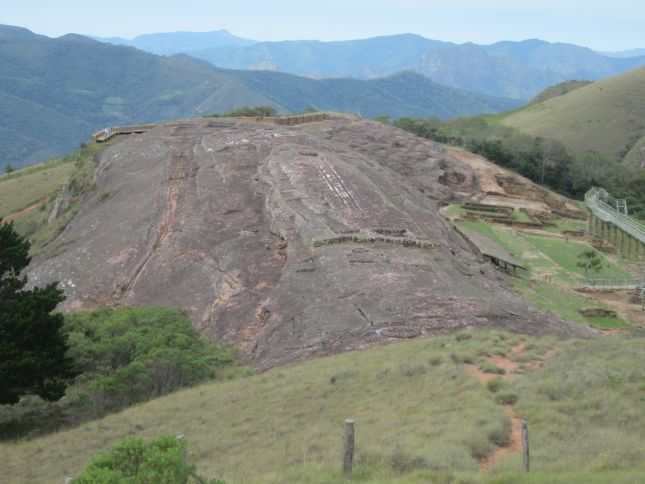 Regretfully we did not have much joy from this expedition as there are no signposts giving any useful information on the walk. I spent my time filming little documentary video clips, making up imaginary stories to go with the scenery. Maybe that will be published some day – my claim to fame.
Coincidentally we met Deepanker, the Indian bloke we met in Sucre, up at the Inca Fort. We met him last as we were leaving Sucre 2 weeks ago and he had come the other way round to end up here.
There are some beautiful waterfalls "Cuevas" to visit about a half hour drive North of the town (entrance 10Bol). You can park up in the garden near the entrance and then walk about 1km uphill to come past three waterfalls, one more serene and beautiful than the other. This is probably the most impressive site we visited here in Samaipata. Fully recommend taking a couple of sandwiches and taking in the view while you have your packed lunch.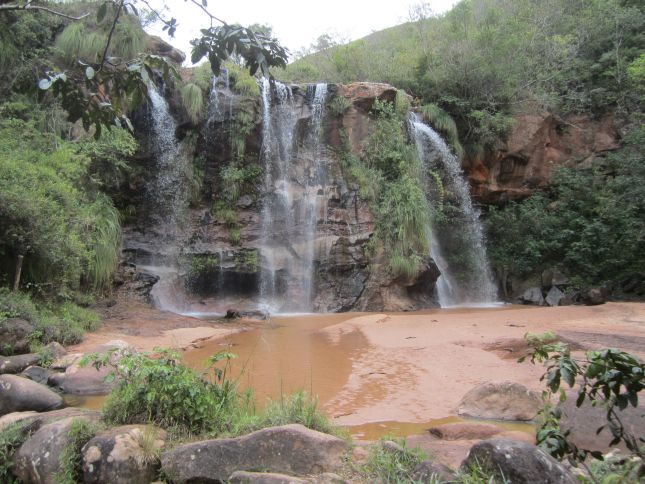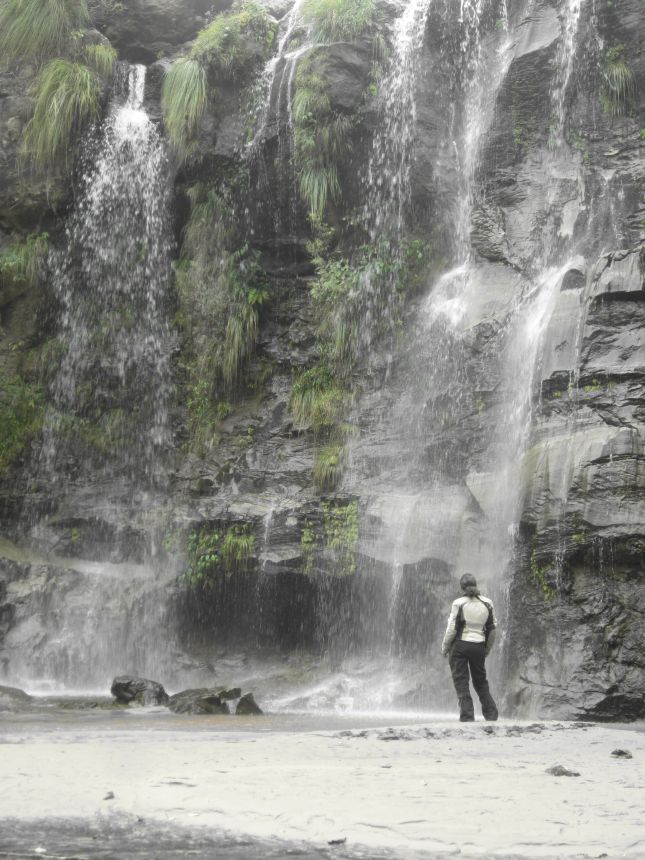 We also headed out to a national reserve at La Yunga, this is a cloud forest up in the mountains. Normally you have to pay 50BOB to get in but nobody was about to attend, so we went for free. We Ride South out of Samaipata for about 17Km to the town of Mairana, then head right into a street that takes us past the plaza. The road continues and turns into dirt at a T-junction with a little sign indicating La Yunga to the right. We carry on up the sand track for somewhere about 30Km.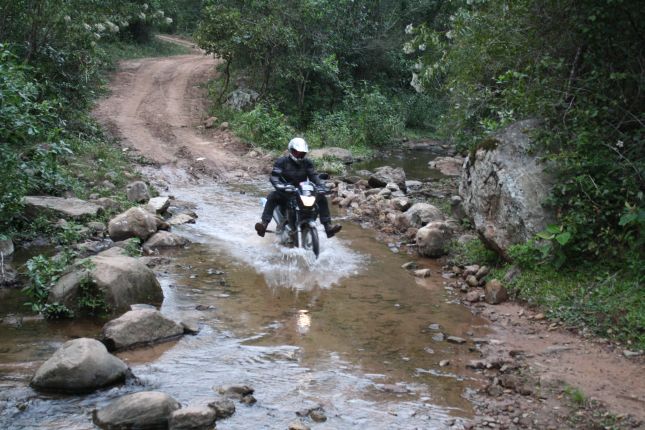 It's a rough track, well eroded in places and with a few water pits to cross, but it's good fun and the dirt is colourful, which makes it enjoyable to watch the road come towards you. At La Yunga there's sign and a gate on the left which leads to the park, which we ride through until we hit a clearing with signboard showing the walking path.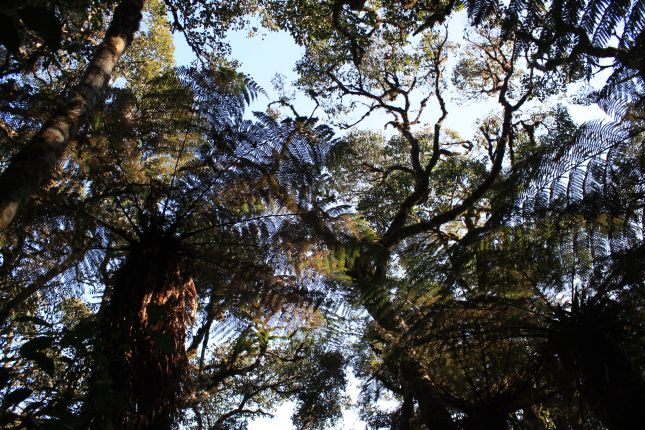 There are two routes, one of about 1Km and the other about 2Km. It runs through some dense vegetation and fern forest, and eventually passes a viewpoint. It's a nice forest walk but because we go too late in the afternoon we have to rush it, because the ride back to Samaipata will probably take about 2 hours – and it's not a track you want to be on in the dark. The highlight for me here was to spot a number of Kolibri birds on the bush, tiny and metallic green in colour.
Samaipata and the surrounding area is cool. Lots of little things to see. And if you're on a motorbike it may be of interest to you that there are many Che Guevara-history related routes and towns you can visit in the area. We don't visit any specifically, as we don't spend more time here.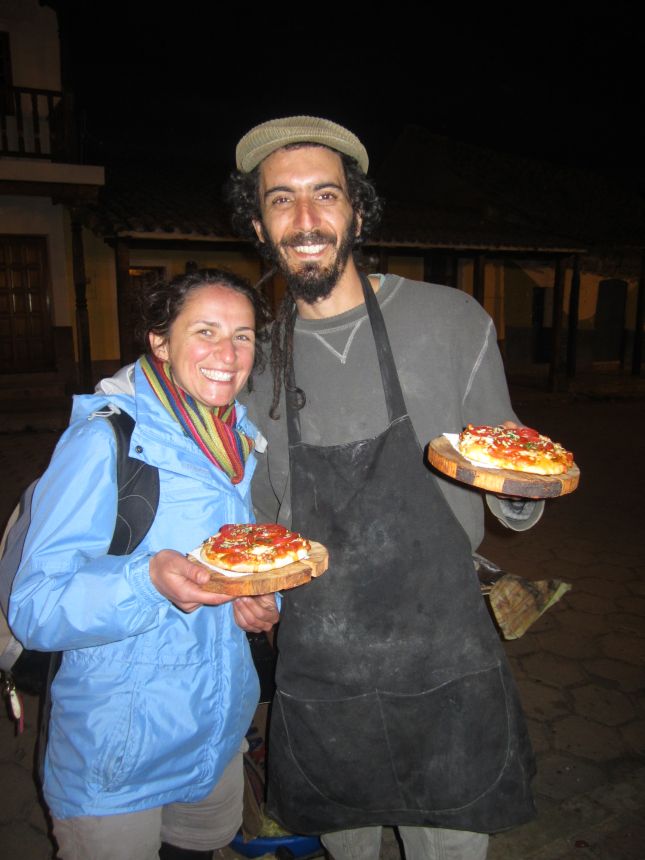 One awesome memory of Samaipata is the Samaipata Mobile Pizza Man! We met this guy selling delicious mini pizzas at the plaza for a steal. This Argentinian's done plenty of time in the Pizza business and has set himself up with a make-shift mobile gas-fired pizza oven on a trolley and he rolls out dough and prepares your pizza for you as you wait. Great idea!