TRIP INFO BOX

Route
Mazuco, Peru – Puerto Maldonado, Peru (26/30C)

Distance

204Km

Travel Time

3.5 hours

Road Conditions

Flat, Road deteriorates after Quincemil but still good tar

Weather

Warm, humid

Terrain

Jungle, deforested pasture land, rivers

Food and Petrol

Frequent

Accommodation

Hostal Rusfi, Puerto Maldonado
---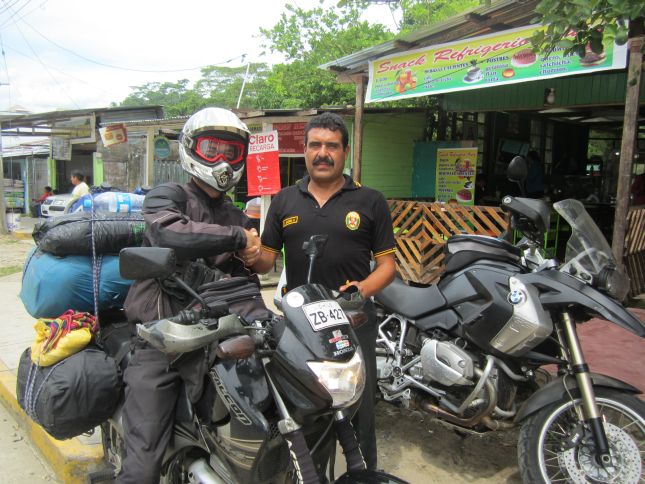 After a healthy breakfast we shake hands with a friendly, curious policeman in Mazuco and we head off. PS: If you're in the area, the little shop behind us in the photo can make you a a good eggs-breakfast and fresh fruit juices. Something we weren't able to find anywhere else in Mazuco.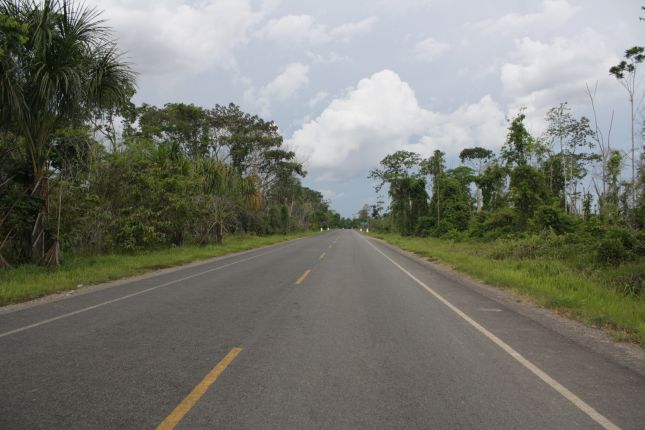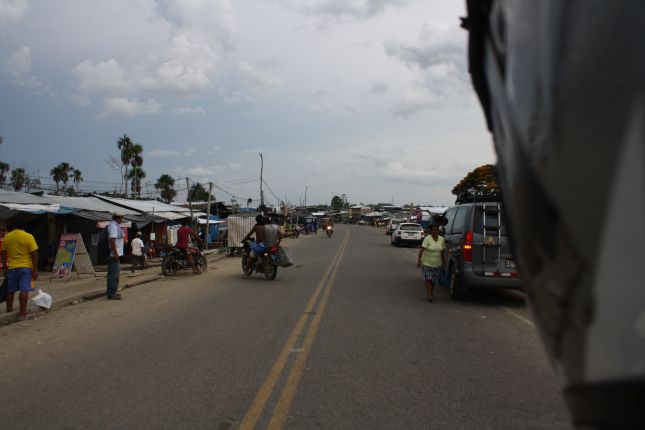 From Mazuco it takes us 3 1/2 hours ride to Puerto Maldonado, only 205 kilometres. It's flat and hot. The lush jungle landscape is interrupted at times by dire-looking deforested land and some make-shift road-side villages with a rather dodgy feel to them. I'm not sure but I think these may have to do with the illegal gold mining which goes on in the area.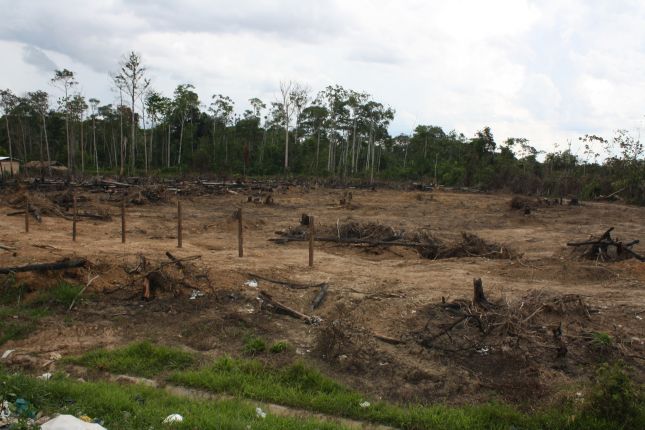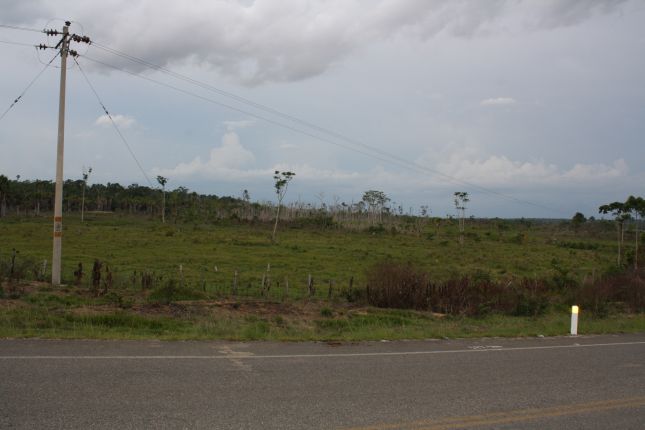 Puerto Maldonado is a large town in the jungle planes and has a nice feel to it. We check into Hostal Rusfi on the main road in (60PEN/dbl) which has secure parking, spacious, clean rooms with fan and television, and the guys down at reception are good folks and very helpful.
This is a nice town if you're riding a bike because everybody else seems to have one. The streets are always buzzing with motorcycles and the atmosphere is happy and energetic. There are many places to eat and bars, some plain and some quite done up, all around the centre of town.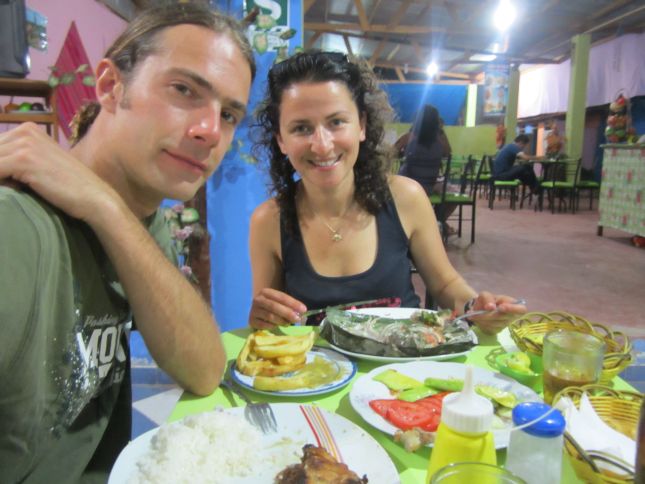 In Puerto Maldonado we have a few things to accomplish: we want to find new LCD screens for our laptops and find a few last items in preparation for our trans-Amazon adventure which we think will be cheaper here.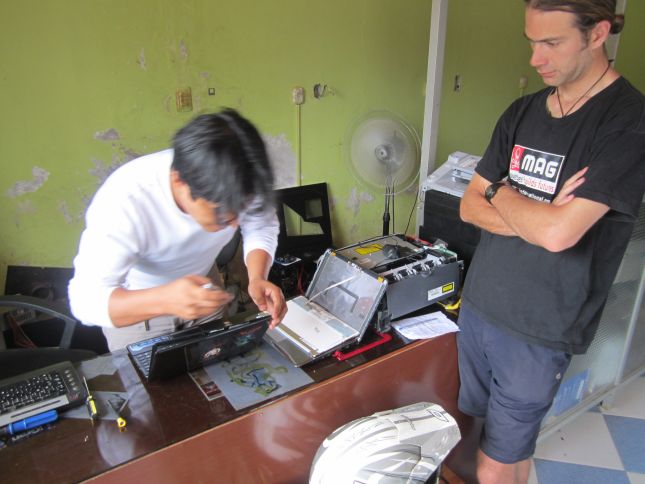 For the laptop screens we find a computer technician on the main road in, who checks out the model numbers, checks out replacements with his guys in Lima and quotes us jut around 100USD each to get them replaced. The catch is that they will need to be flown in from Lima and that would take an additional day for delivery. Not wanting to delay our departure, and optimistic that we will find these parts cheaper in the bigger towns of Brazil, we decide to pass on the opportunity and move on.
As for the Transamazonica preparations, we manage to get a few bits and pieces but have to leave the rest for Rio Branco or Porto Velho. However we do meet a nice guy, the owner of the bearring shop two blocks South of the big obelisk in the centre of town. He's happy to meet some fellow bike travellers and enthusiastically, her takes me to the back of the shop and shows me his XR650 which he bought in Japan about a decade ago whilst working there in the shipping business. He loves it – oil changes every 1000Km, full synthetic only… the thing's a decade old but it's like new.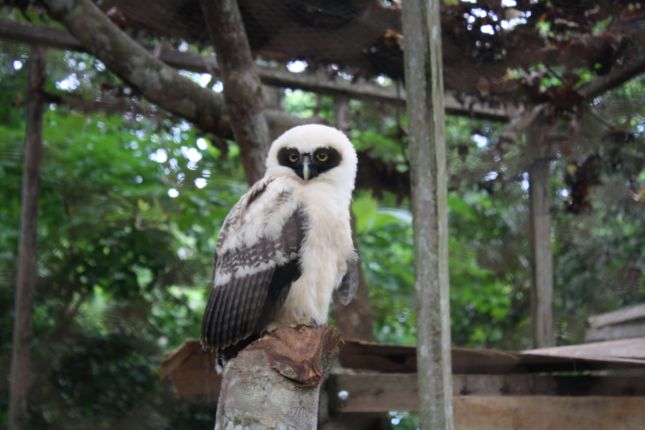 Puerto Maldonado has a large market area towards the East of the town where you can find hardware shops, clothing, food and just about all the other bits and pieces you may need. There's some really good fruit juices to be had there too. Also there is another large market area if you head out West, in case you cant find what you need on the other side.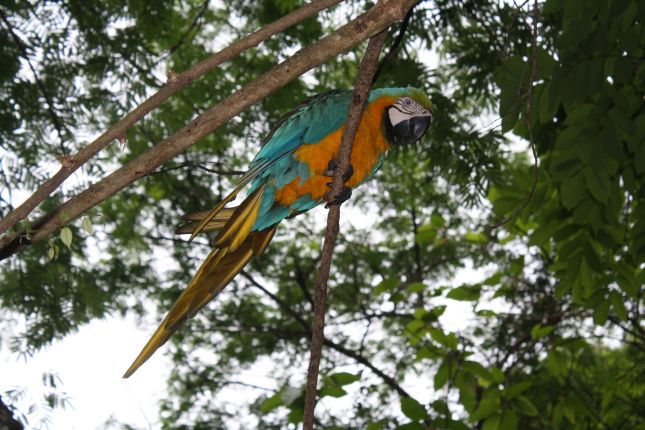 We go on a day trip to an animal sanctuary / snake park a few kilometres West of the town, towards the air port. It's a guided visit for about 10PEN/pp and though it's not best in class, it's a nice experience and there are a number of beautiful snakes on display – most of them pythons – some of which you will be able to hold.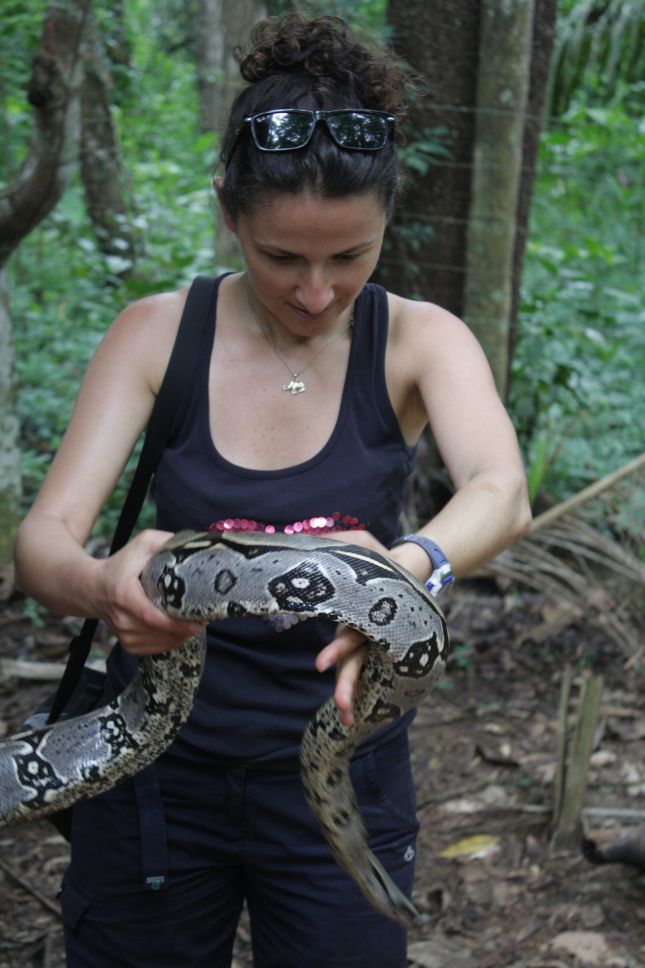 Thereafter we head out on a route to an indigenous village another man told us about. It's a roughly 15 kilometre journey out to the SouthWest on dirt roads, and this is the first taste we get of Amazonian dirt. The ground is of red clay, not very well maintained. It heads out deeper into the jungle, passing by a beautiful river. In places there are some dodgy bridges and some wet areas where the ground is muddy and sticky. It's scary riding across but we manage. The occasional passers-by we see are surprised to see us. When we eventually reach the little community we're met by nothing but stares.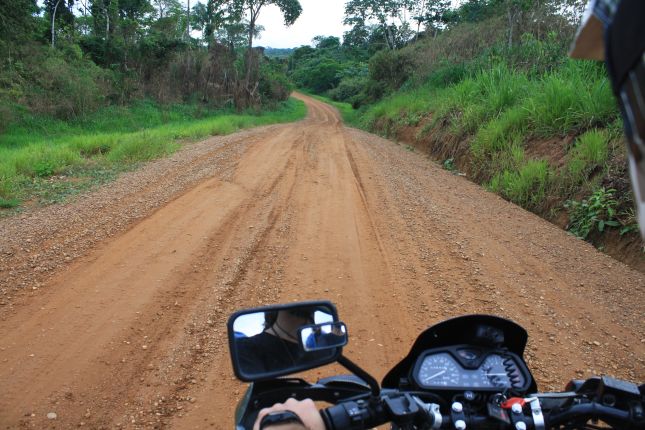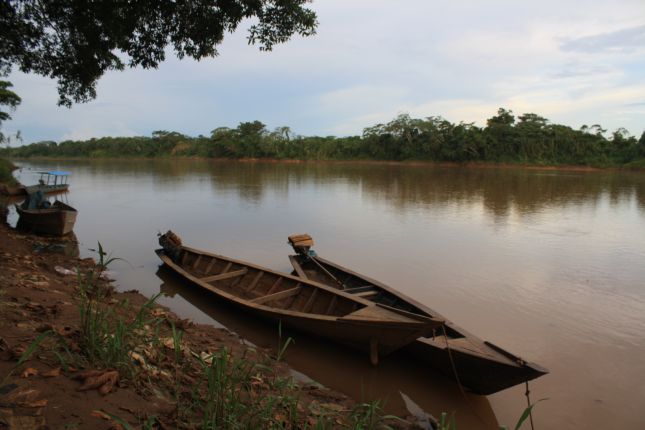 We sit down at a little tienda, playing music DVDs over large speakers and a television screen. There are a couple of people sitting there drinking but they show no interest in us. The lady we order our soft drinks from is friendly though. We head back without many works exchanged. It's dusk and many insects are out, some drawn to my head lamp like a magnet. By the time we reach Puerto Maldonado again it's dark. It's been a nice day out and we've seen something quite different today. We're happy and excited at the thought of braving the Amazon rainforest. The taste we got today has left us with a desire for more.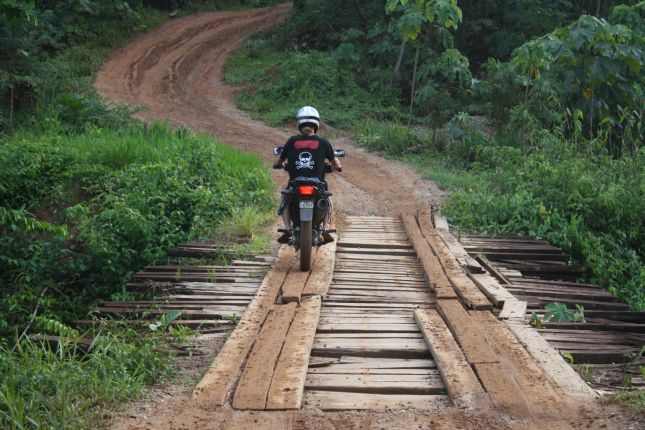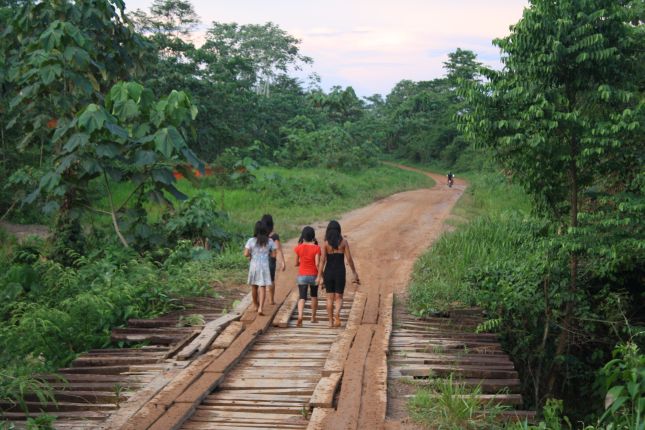 Our visit Puerto also brings with it a grand revelation: It turns out that the reception bloke at our hotel has himself just bought a new Honda Falcon NX4, just like mine. The difference is that his has only 700Km on the clock and no custom bash plate. He shows it to me and immediately I ask him whether he can start it up so I can listen to the engine: it is more silent, but straight away it emits the same whirring and gnashing sounds as mine. This finally proves that matter! The noise from my bike is being amplified by the aluminium bash plate I mounted on the bottom. There is nothing wrong with the engine. What a long distance to travel to confirm that!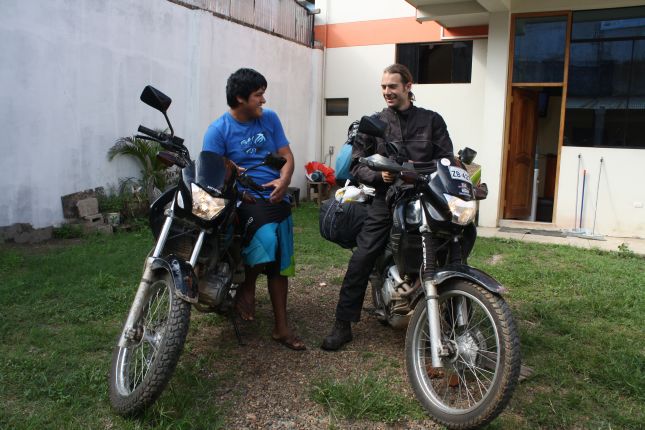 We find a nice wood-built restaurant down the road from the popular LP Hostel – I think it was El Moderno. We don't eat there but the friendly staff is only too happy to serve us us a few cold beers to welcome the night in.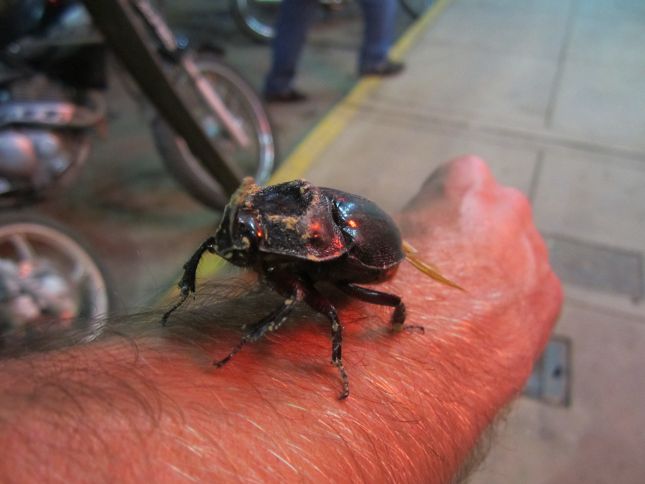 Puerto Maldonado will remain a fond memory for us. Here we will cross the massive Interoceania bridge, recently built across the majestic Madre de Dios river, joining two parts of the Interoceanic highway, which runs all the way from the Pacific coast of Peru to the Atlantic coast of Brazil. We film a clip with us and the bike, describing this as the beginning of our trans-Amazonian journey, with Ebru likely being the first Turkish woman to attempt this leg on a motorbike.