TRIP INFO BOX

Route (Part 1)
Samaipata, Bolivia – Buena Vista, Bolivia (RN4,RN7)

Distance

240Km

Travel Time

7 hours (1.5 hour break)

Road Conditions

Good Tarmac

Weather

Mild, slightly windy

Terrain

Lush mountains, descent into jungle flatlands, crossing city

Food and Petrol

Frequent

Accommodation

Asai Cabanas, Buena Vista
Route (Part 2)
Buena Vista, Bolivia – Villa Tunari, Bolivia (RN7)

Distance

207Km

Travel Time

3 hours

Road Conditions

Good Tarmac

Weather

Warm, clear

Terrain

Lush flatlands and rivers

Food and Petrol

Frequent

Accommodation

Residencial America, Villa Tunari
---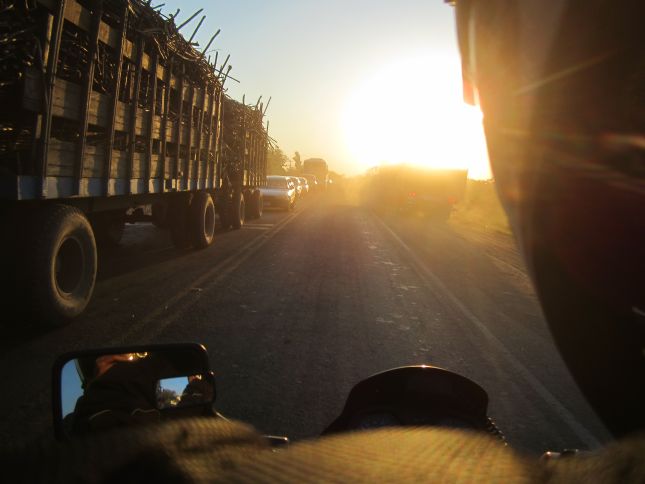 The cold spell in Samaipata seems to have disheartened Ebru and we decide to go to La Paz back via the tropical route we came. This does feel a bit foolish on the one hand, but on the other it'll take us through some nice places, we will know exactly where to stay and the best part is that we'll be able to stop by the Delicatessen Austria near Santa Cruz, where we last had lunch and bought those smoked sausages and ham we became so addicted to on the way up here.
We keep our visit to the Austria Delicatessen short because we have a long way to drive, but again we spend some time chatting to Elfi and we get to meet her husband Andy, and they tell us more of their woes that seem to have got quite serious since the reign of the current president, Evo Morales. It's a strange paradox: travelling through places like this we [travellers] often enjoy the simplicity that such a degree of lawlessness allows you, but living with such corruption when things get serious is no fun.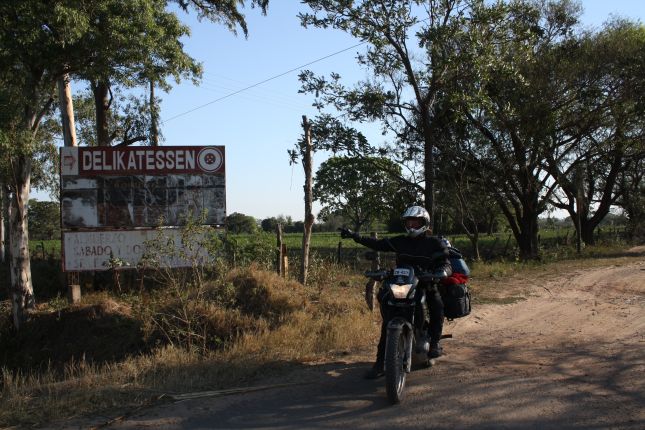 We bid them farewell once again, and this time we're stocked with a cold meats supply that will hopefully last us several weeks! We can't make it all the way to Villa Tunari in one go as we don't want to ride at night, so we stop in Buena Vista, check into the Cabanas Asai again and head straight to the Tex Mex bar/restaurant at the plaza for a couple of beers. To our delight we also discover that there is an awesome WiFi connection there so we make use of the opportunity and get some more blog articles uploaded to the web.
At Villa Tunari we stay again at the Residencial America (Calle Santa Cruz esq. Hans Grether / Tel: [591]-71707096). We get the same room and it's spotless as before. We take delight in using the kitchen to do our own cooking again and enjoy the company of the hosts, Luis, Michael and Edilia.
This time our stay is tranquil and idyllic. No fiestas, no crazy DJ in the hall down the road rocking the air waves for the whole town until 3AM. We sleep like babies – no ear plugs! And what's really strange: the guys with the truck stopped up the road every morning at 4AM, whom I gave incredulous looks and hand signals the last time, seems to have turned off his blaring radio this time when he drove past. Could it be true?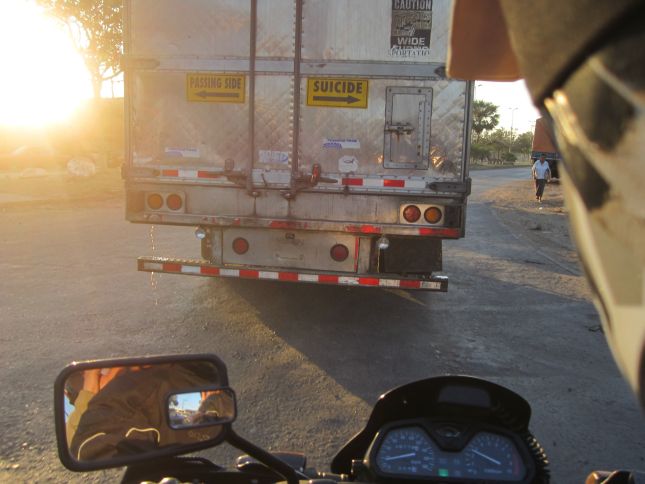 Tough Choice: "PASSING SIDE — SUICIDE"
We spend a night fishing at the larger river across the road this time but catch nothing but rocks and a few sand-fly bites – far less than last time though.
Also we've decided now that we will make the journey to Trinidad after all. This means we have to loop up to the East 800Km to get there or about the same distance via the West, passing La Paz. However we're hopeful about maybe doing a jungle crossing on one of the "secondary roads" marked in my map, one which goes up through the Parque Nacional Isiboro – the one which they want to build that controversial highway through – or the other which runs up through Puerto San Fransisco, La Boca and Camiaco. We have been up each route last time we were here: the West road up to Inisuta, where is terminates in a river (the first of many) which you need to cross by canoe; the East road up to Puerto San Fransisco, where we did not look any further as it was a fishing trip. Both of these routes were completely pebble roads, so not very comfortable to ride on. However after that they would surely be dirt, if proper riding tracks at all. We have to do some asking around.
We go to the army post at the entrance to the pebble road that takes you to these towns and see what we can find out. The soldiers there cannot help much but they seem to be of the opinion that there is no road to speak of beyond the points of Isinuta and Puerto San Fransisco and if there is, it's very bad indeed. They advise us to ask at the OAS road construction encampment "just up the road".
60 Kilometres later we arrive and speak to a young chap there. He seems quite positive about the idea:
He says the Western track continues as stone until Isinuta. There cross the river in a canoe or at 3AM there are generally Unimogs that may be able to help us cross. From there on it's rough dirt track, but on a bike no problem. Continue to Isiboro, then cross a river there in a canoe. Then pass Santisihua, cross river, Aroma, cross river, Moleto, cross river, the get to Ichoa. After that there are at least four other rivers to cross but he doesn't know any more about that, but ask in Ichoa, he's sure it'll be no problem. But an alternative on that route, he suggests, might be to take a road branching off right before Isinuta, which takes you all the way to Moleto, but crosses the four following rivers at a point where they've already combined into one.
Hmmm… my map shows that Rio Ichoa is only the second of four large rivers to cross on that route, and by Ichoa it's only about a third of the total route to Trinidad.
Luis from our hotel, who is very well travelled in Bolivia, tells us that there's definitely no decent track along these routes we're considering, and plenty of stinging insects and diseases to contend with out there in the jungle. He tells us that even the government, who is supposed to be consulting for the Indigenos living in the Isiboro reserve regarding this planned highway, has major difficulties getting in there to the people they're meant to be working with. This pretty much wraps up that agenda for us. Nevermind. (Aside from that, or rather, more importantly, it appears that in this area we might have encountered people so isolated from the rest of the world that exposing them to ourselves might well have put them at serious health risk. In that case better we don't go.)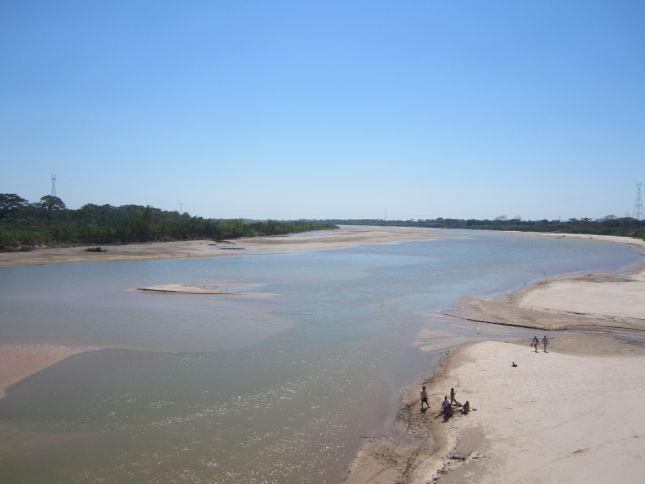 Luis offers another possibility which is to take a boat from Puerto Villaroel to Trinidad, which might take only a day. The next day we're on a 200Km circuit to Pureto Villaroel to find out. We go to the captaincy house, a kind of navy police post where all vessel registrations and so on are controlled. We speak to a very helpful guy called Fernando. He's about the most professional chap we've met in Bolivia!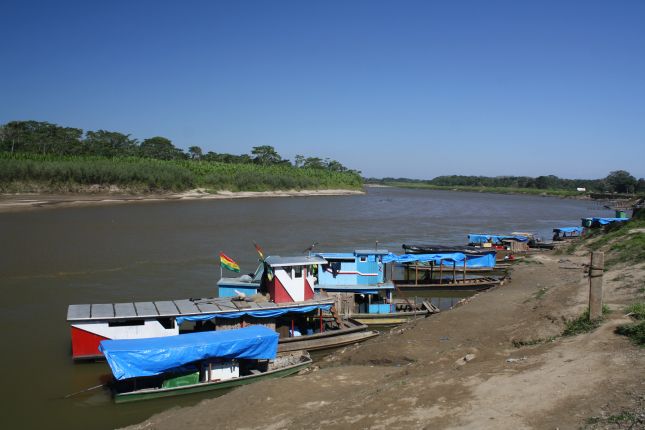 But unfortunately we get more bad news from him: Because at this time of year the river levels are so low, only smaller fishing vessels navigate the rivers and journey times are much longer. We would have to take a boat to La Boca (2 days; 300 BOB/pp), then change to another boat to Camiaco (2 days; 300 BOB/pp). He says there are price estimates and can probably be negotiated cheaper, and these should cover the cost of taking the motorbike as well.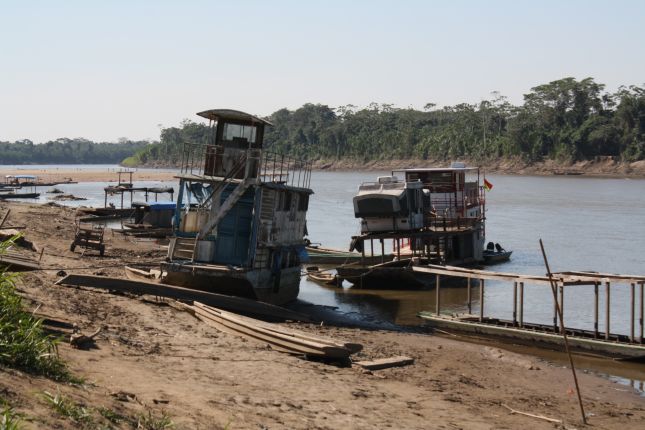 Four days on a fishing boat, no cabins, mosquitoes, nowhere to go, probably the engine thundering holes into your ear drums…. no thanks. In half the time and at half the price we could take the highway and ride there on the highway. Pity, I was looking forward to fishing.
So we decide to head out to La Paz instead. We hope to ride North to the Madidi national park from there and if we have time we may still make it to Trinidad. But for now the idea is buried.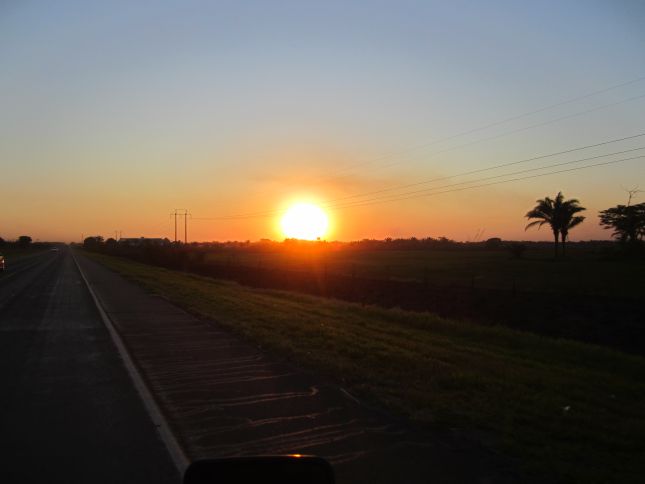 To the Residencial America crew: thanks again for showing us great hospitality and Luis, thanks for all the helpful advice you gave us in planning our trip. We hope to see you again!