In our Planting Around the World Mission our challenge is to plant at least one tree for every country we visit during our world backpacking trip. Why? With all the talk about carbon emissions we may help the environment in our small way. But also because we love gardening, plants and nature, we thought it would be a respectful gesture towards the countries – and its people – we visit. And of course, hopefully, a long lasting memory of our visit.
Once again, with time very much against us, our mission has been accomplished! This time, Hong Kong, China.
Seeing we only had about 4 days in Hong Kong and with apparently not a hope in hell of planting – or finding anything to – plant in the massive cities of Shanghai or Beijing, that's pretty good timing I woudl say. 🙂
Almost having given up hope on our mission in China (and definitely not expecting any results in Hong Kong of all places), we took a nice little excursion to Lantau Island to see the big Buddha statue on day 3 of our visit. Harldy had the bus left the station at Mui Wo, we passed a small nursery at the road side and (subconsciously) a glimmer of hope was kindled in us. We spent the rest of the day enjoying the sights of the Big Buddha at Ngong Ping (truly impressive) and the small fishing village of Tai O.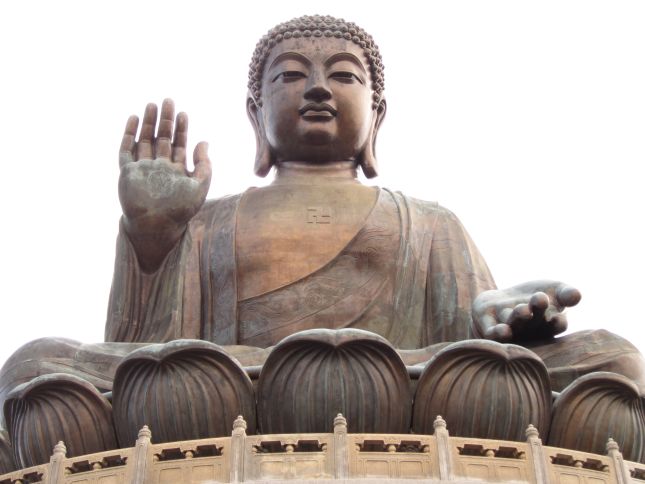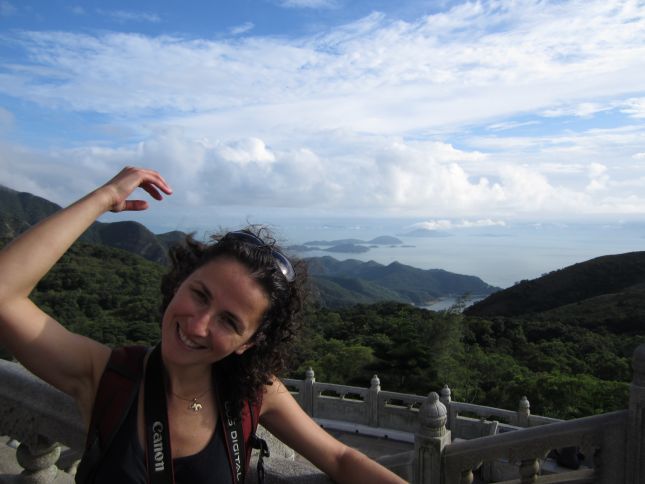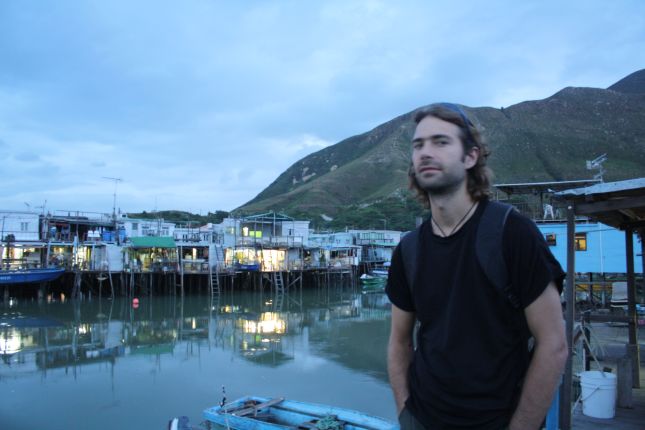 The following morning after brekfast, we made off to the road to enjoy our second-to-last day in Hong Kong. Not really sure of what to see or visit, our powerful sense of responsibility and purpose surged and we decided to set course straight back to Lantau Island to fulfil our tree planting mission, mission number two.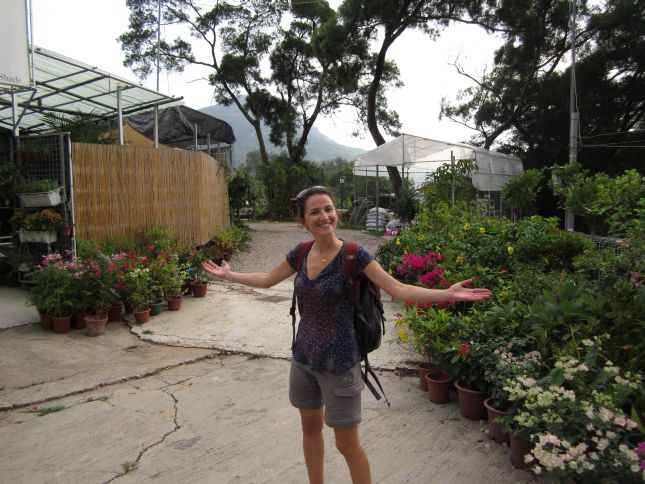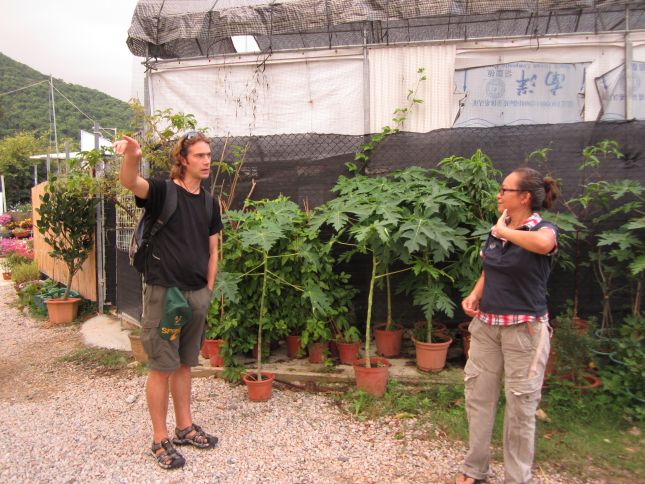 Finding the nursery again (in the village of Pui O) was easy and trees they did have. So after careful consultation and selection we decided for a stiff, young Papaya tree, perfectly adapted to the local soil and climate and ready to bear fruit in the following year. Cash exchanged, snaps taken and smiles aplenty, off we trod to find a place to plant, tree and digging implement (I found a metal shaft in a building skip) in hand!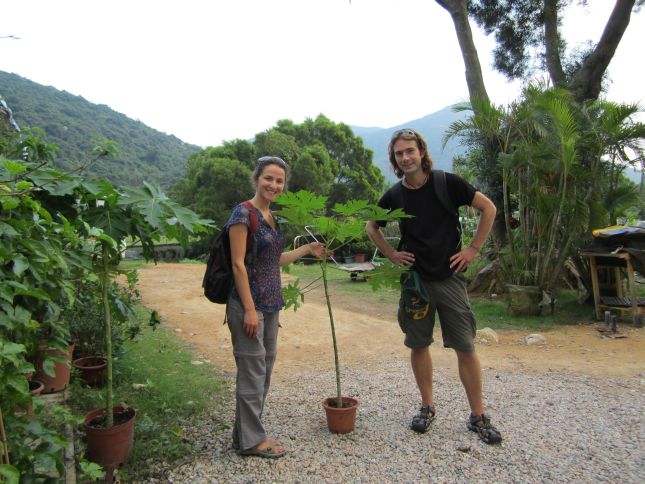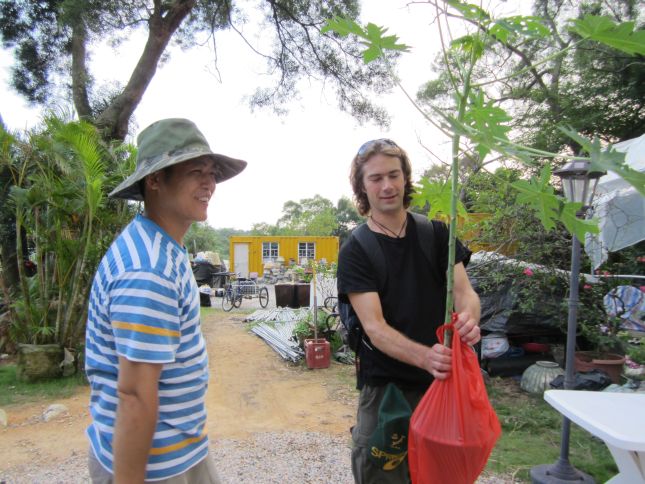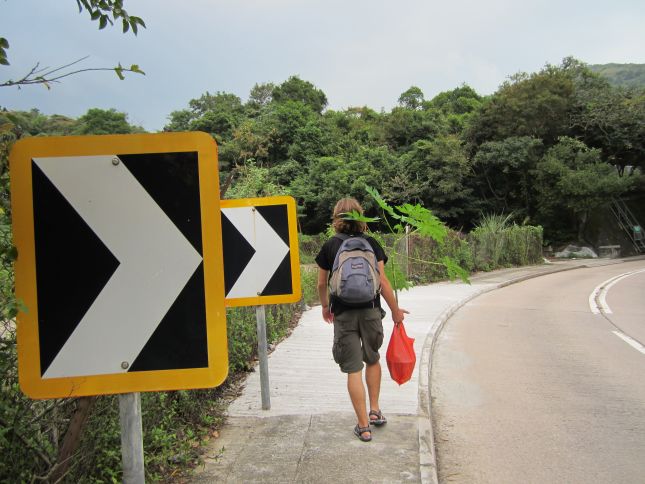 Finding the site was a bigger issue. I preferred the bald top of a nearby hill on the east side of the road, though this was not much of an option as afternoon was upon us and we'd never find the way up there and do the deed before nightfall. Ebru preferred the more practical option of any available patch on the west side, however this area is densely overgrown with trees and shrub, so if making our way through it would be possible, the tree might not survive in the overgrowth and, would we ever be able to find the spot again in years to come?
Clearly the practical option had to be chosen due to time constraints, so a few hundred up the road from the nursery, we followed an uphill walkway which led past an old semetary and then continued as a dirt path, becoming more and more impassable as we continued: the overgrowth becoming denser and denser across the path. When we weren't able to continue through the vegetation, we returned to the semetary, dripping with sweat, itching from mosquito bites and our sandals caked in red mud.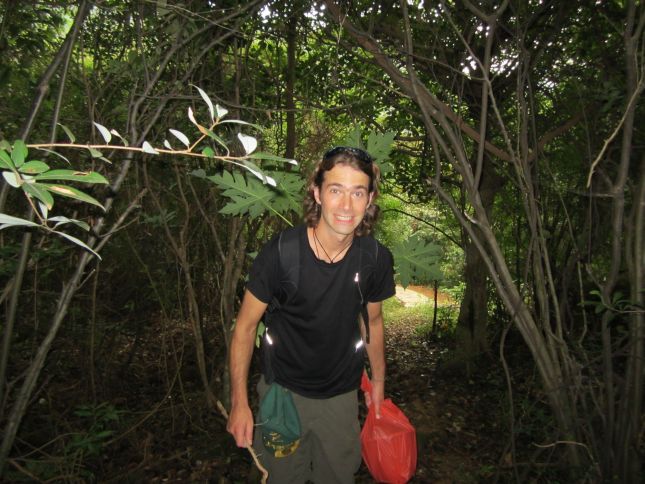 Here we found an area where some trees had been evidently planted by man; not well looked after, yet, we thought, least likely to fall victim to the Axe of the East, bush-whacker, panga or whatever Hong-Kong-ese tool is customary for clearing a path. This was our spot! And we're positive the spirits of the deceased will be honoured with the fruits this tree will bear in years ahead.
Hard was the ground, saturated with small stones, sauna conditions prevailed and the mosquitos were having a feast; but our hole took shape and we planted our young sapling firmly and confidently into the ground, like a golf ball after the precision put of Tiger Woods.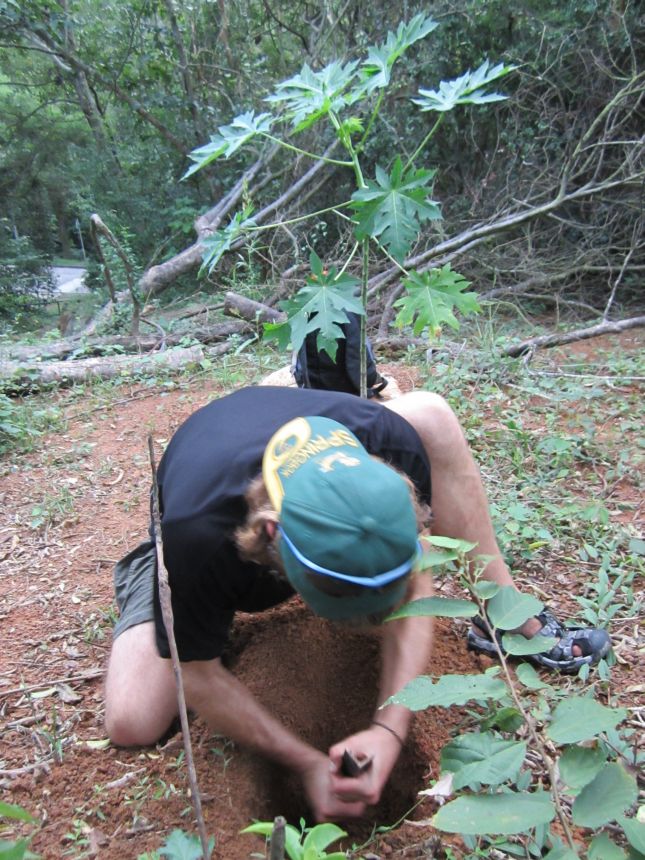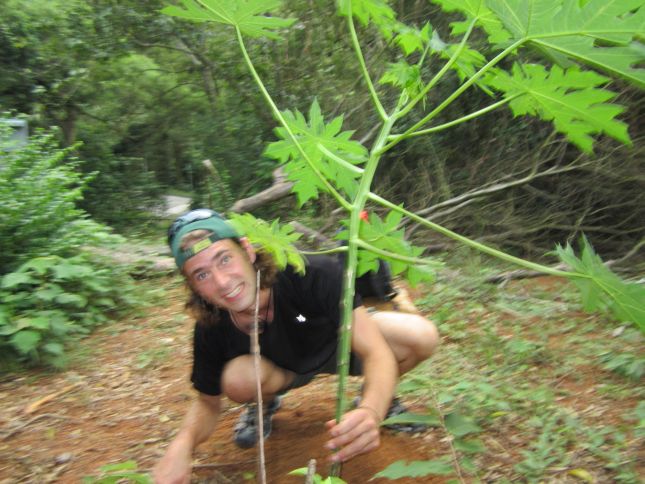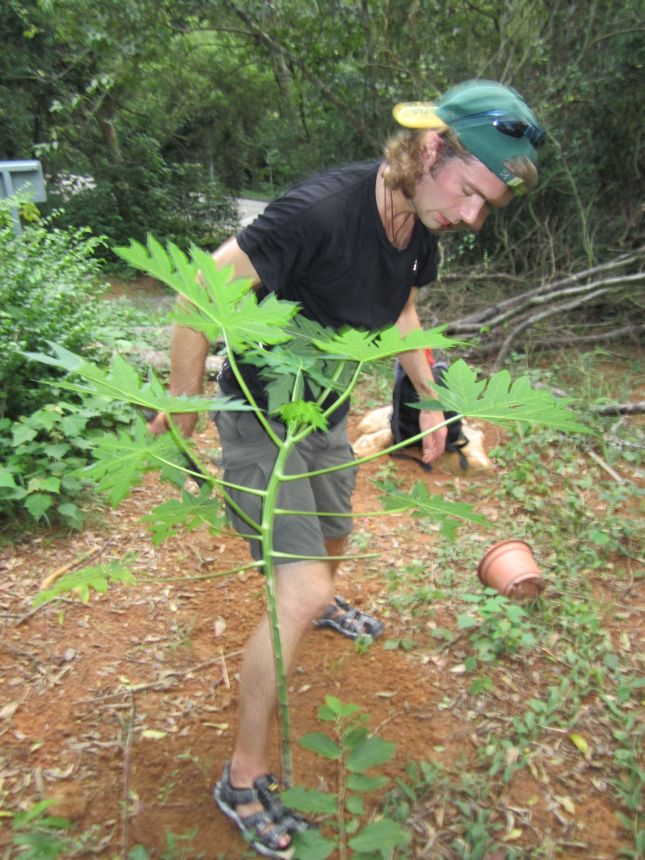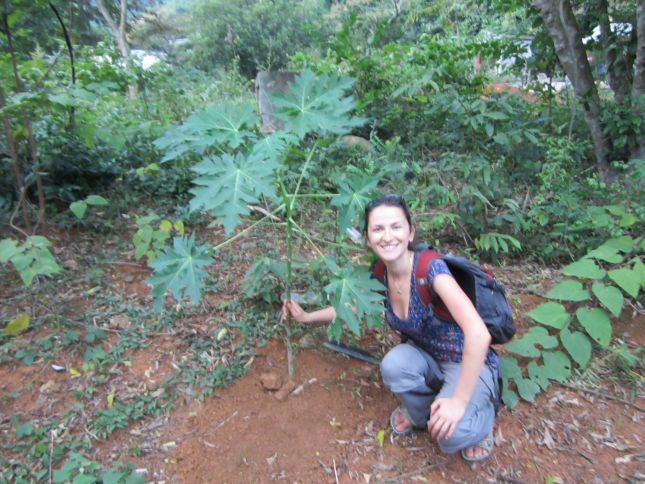 A few quick blessings were administered and a high-five signalled it was time to go. Mission accomplished!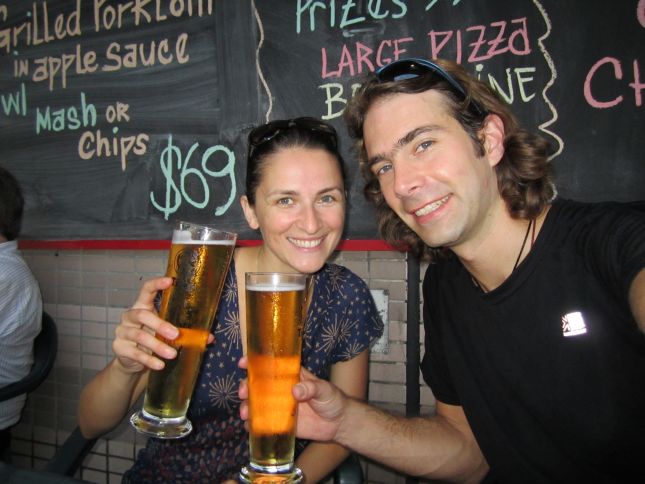 SEE MORE HONG KONG LANTAU ISLAND PHOTOS