TRIP INFO BOX

Route
Aimogasta, Argentina – Santa Maria, Argentina (RN60-RN40)

Distance

365Km

Travel Time

5 hours

Road Conditions

Ggood tarmac, 40Km stretch of gravel, excellent tarmac

Weather

Warm, Slightly couldy

Terrain

Dry, Mountainous, Bends and great long straights

Food and Petrol

Aimogasta, St. Maria, Belen

Accommodation

Residencial Perez, Santa Maria
---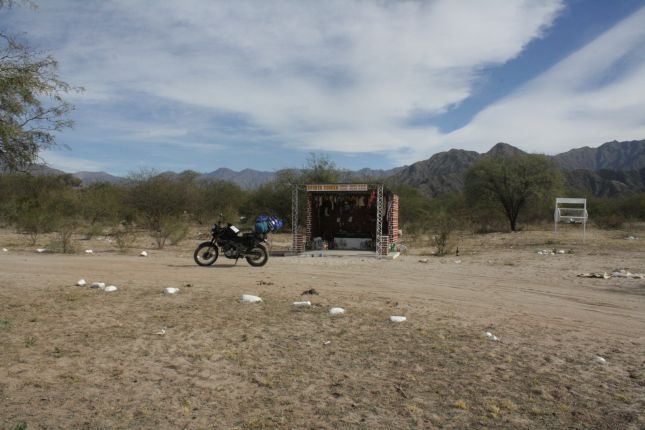 After Aimogasta we head to Santa Maria, another small blip on the radar. The road starts out on good asphalt but works put a 40Km extent of loose gravel in the middle which is tough riding on a smallish bike, 2-up with luggage.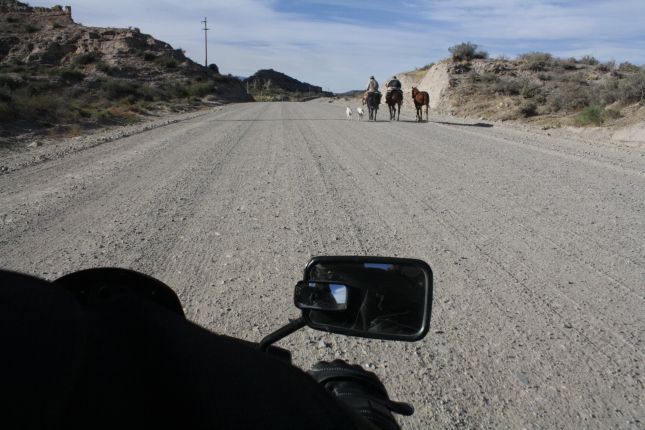 The terrain is the dry cordillera we've become accustomed to, with river beds and shrubs, but it's beautiful in its own way.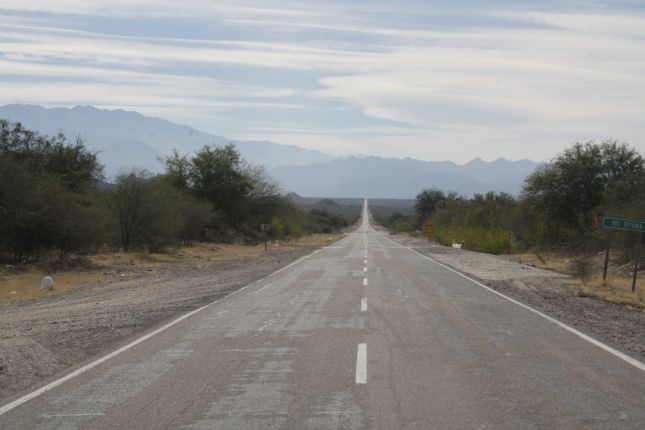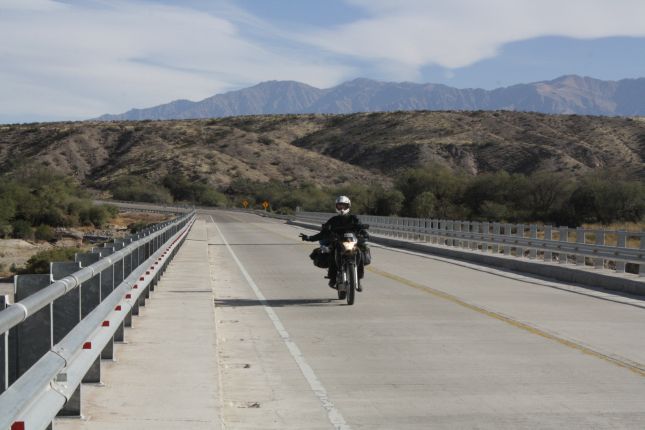 I plant the bike in the ground once attempting a foolish maneouvre of crossing over a gravel mound separating me from the rest of the track, but we're at low speed and nothing bad happens.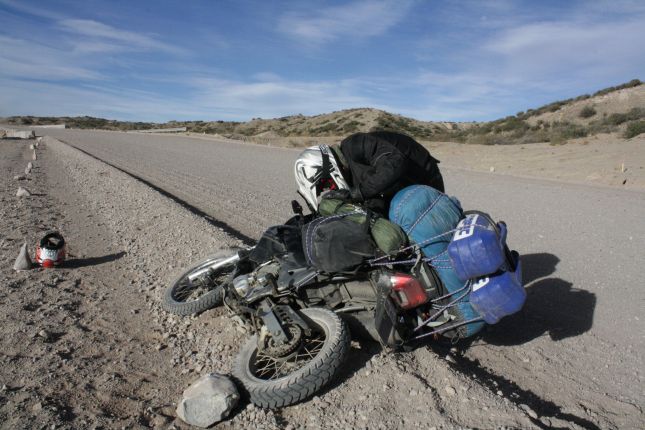 We do have to take the baggage off though to get the bike upright again. After the works the road changes back to some excellent asphalt, which after the gravel can be thoroughly appreciated!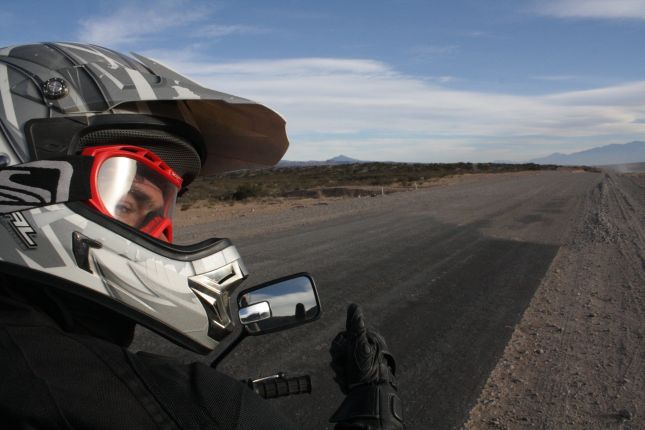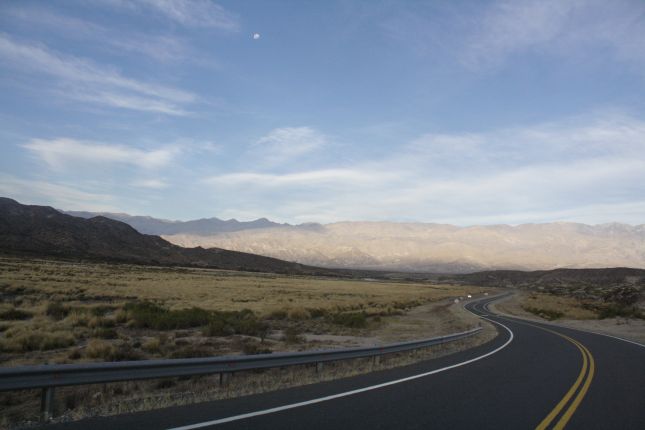 Santa Maria is small and there aren't many places to stay here either. Frustratingly, contrary to our expectations, all the accommodations are again quite expensive! By night-fall we still haven't found a place to stay. Eventually someone points out an economical guest house (Residencial Perez, San Martin 94 Esq. Mitre / 03838-420257) two blocks from the square. It's reasonably priced (100/room/night), has courtyard parking for the bike and the room is clean and comfortable. It's really nicely set up, a bit like you may imagine a Greek holiday villa.
We go out to look for a restaurant where we can have a good meal and a bottle of wine, as we think we really could do with a warm, comfi dinner after the long ride. We check out two places at the plaza (there don't seem to be more) but we're not sure about either so we walk one of side-streets in hope of finding another option.
Not many steps further and we can smell something cooking, it smells mighty fine and we follow it. Then – behold – on an undeveloped piece of land between some buildings, we see a guy doing a braai (BBQ). We walk up and see he's grilling some fine-looking sausages and big cuts of beef. Other local people are around and they're buying. He serves the meat up in big baguette sandwiches with tomato, lettuce, mayonnaise, mustard and a special picante sauce of his own concoction, with chilli, onion, oil, parsley and other herbs and spices.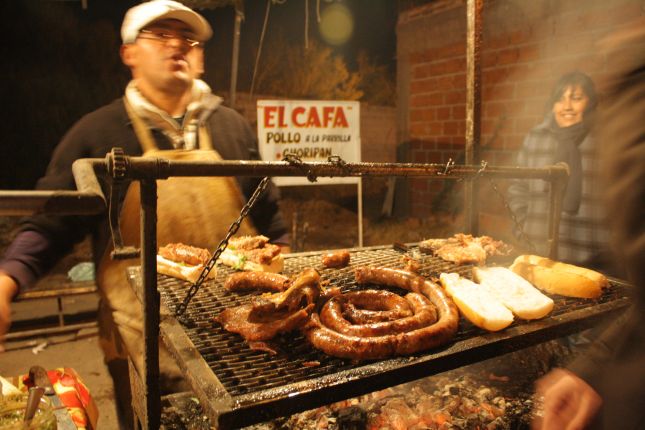 Needless to say, there's no contest and we opt for eating here, out in the cold, rather than at a restaurant. The food is divine! And cheap; 10-15 Pesos depending on your choice of meat! I can't help myself and have to have seconds. We chat with the guys there in broken Spanish. We learn that the chef and patron is named Mr Cafa and he tells us he's been running this stand, called El Cafa, for ten years! Talk about a good business!
For a sun-downer we head to the hotel restaurant at the plaza, which seemed quite lively, and have a bottle of Argentinian Malbec. There's a big tribute show going on, for some long-standing TV show host, and everybody's watching attentively. He's obviously earned the love of the nation. That's followed by a few amateur boxing matches and we're off to bed.