Manaus is a shock and disappointment to us. The town looks dodgy and the hostels are costly.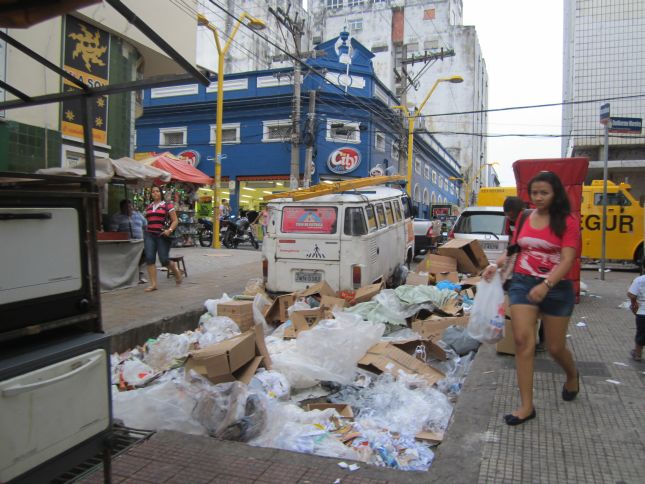 Hostel Manaus Triptour (58.5BRL/dbl-shared inc. "breakfast"; this is at discount 10% with HolaHostel card). But aside from an ok room it sucks. (It's not the same as the better Hostel Manaus mentioned in the LP, but the other has no parking). Most of the staff are pretty miserable. Breakfast consists of 2 slices of toast with a bit of cheese between, as well as a thermos of coffee or tea on table. When we asked for another helping the reaction was as if we were over-stepping the line. The the back garden was the most enjoyable place for us as we liked to sit out and drink a few beers with the sky overhead. Always awkward as the staff were under pressure to lock the door saying it's not safe out there at night, despite there being tall brick walls all around. The kitchen is a joke. There is hardly a thing there to use, knives, forks, not even cups or glasses. We mention this to the staff but apparently the owner's excuse is that people will just break things.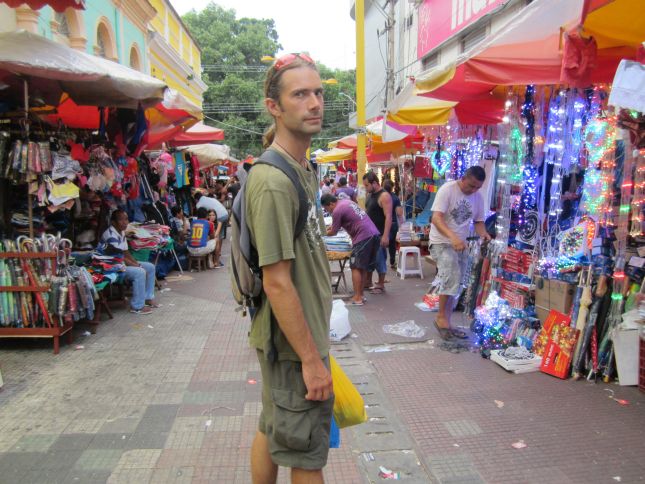 Shopping in the supermarkets is expensive. Even in the budget supermarkets. It's a blast standing in queue watching the swollen lips and arses of the botox-babes in tight, luminous track suits, as if they'd just arrived from the breezy, sweat-less gym. I wonder what lucky man they hope to land in the supermarket. But the life drain begins when you reach the till and wait for your change, which – without fail – they don't have, and need to start a laborious 10 minute process to arrange for you. Heaven save you if you have to have an item cancelled from your bill because they rung it up incorrectly or it was on shelf under a different price!
A much better place to shop is the main market near the docks. It's good old fashioned market shopping, admittedly a bit more sophisticated than the other countries we have been in SAM. But the prices are much better and the produce is excellent. Highlight is the fish market, where you can get enough fresh fish to feed a family for less than 10USD.
Our search for laptop screens makes us wish we'd bought them in Puerto Maldonado. We drive all over town, literally, and they try to rip us off viciously! In Europe or the US you can buy these screens for about 50USD online. I know there are high import taxes in Brazil (I read up the rates on the Internet) but they are taking the piss! We're quoted anything between 140USD and 400USD per screen! The ones offered at 140US are the same model Ebru got in Rio Branco, which broke within a few days, so we didn't want to buy that. No melting icebergs here it seems – what will we do??!!
One evening, explaining my frustration to one of the reception staff, he explains that it's because we're foreigners and also, because without a screen the computer is useless, the vendors will really lay it on thick.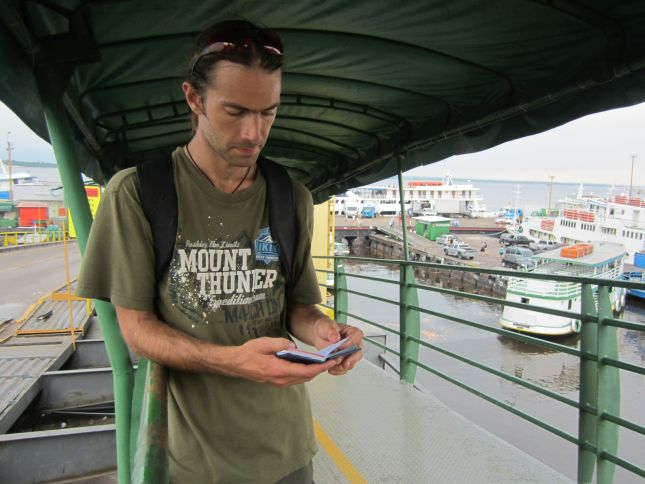 As we plan to take a ferry to Santarem and Belem, we inquire about the rates. It takes a while to find the ticket office: the floating docks terminal ticket offices have closed and relocated to street vendors with badges before the terminal. You deal with them if you have a vehicle, but if you're on foot there is a small office on the street side further towards the market.
There are only a few main lines that you can book the journey with (e.g. Amazon Star and Rhondonia) and they leave on different days. The prices they quote us at the office are:
Manaus-Santarem 120BRL/pp
Manaus-Santarem 150BRL/motorbike
Manaus-Belem 220BRL/pp
Manaus-Belem 250BRL/motorbike
(They indicate prices for December would be higher about 20-25%)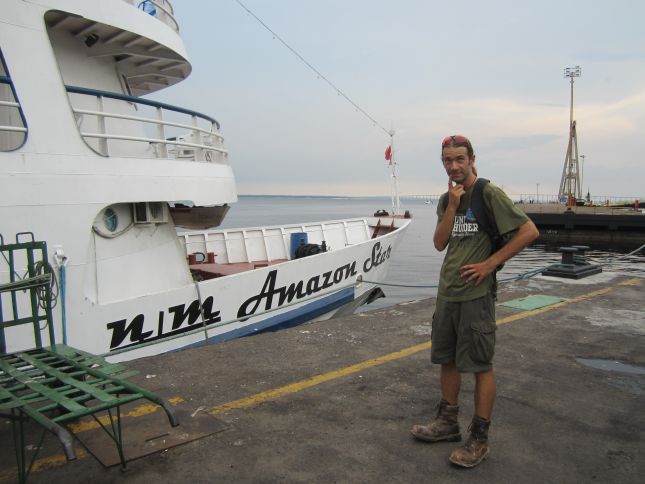 We have more questions about transporting the motorbike which they can't answer so they give us a special "authorization" paper with which we can access the terminal itself and go ask the captiain of the boat himself. The captain of the Amazon Star, quotes us the following prices:
Manaus-Santarem 120BRL/pp
Manaus-Santarem 120BRL/motorbike
Manaus-Belem 180BRL/pp
Manaus-Belem 250BRL/motorbike
Santarem-Belem 150BRL/pp
Santarem-Belem 150BRL/motorbike
Definitely some savings there! Also the journey times he quoted are:
Manaus-Santarem 1.5 days
Manaus-Belem 2 days
There would also be a 30-40BRL tax fee involved at the Manaus entry gate.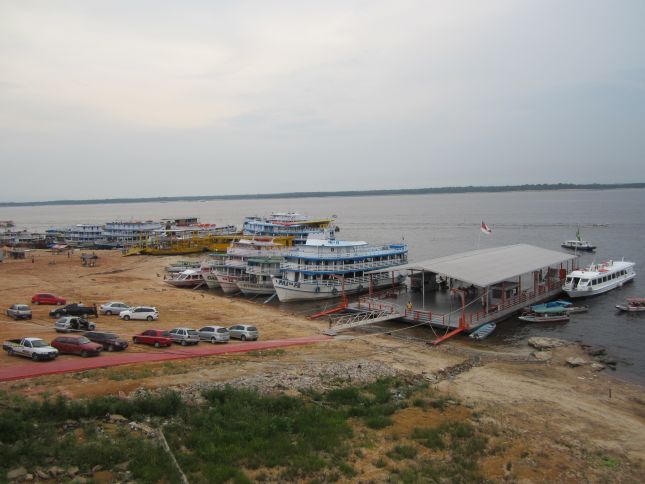 Now, by the market area there are several boat services which you could catch to either of these places also. You would have to go there yourself and ask for a space, and you may find yourself sleeping in a hammock among the cargo, but it would probably be an authentic experience and somewhat cheaper (a French bloke we met said he got a space to Belem for 80BRL).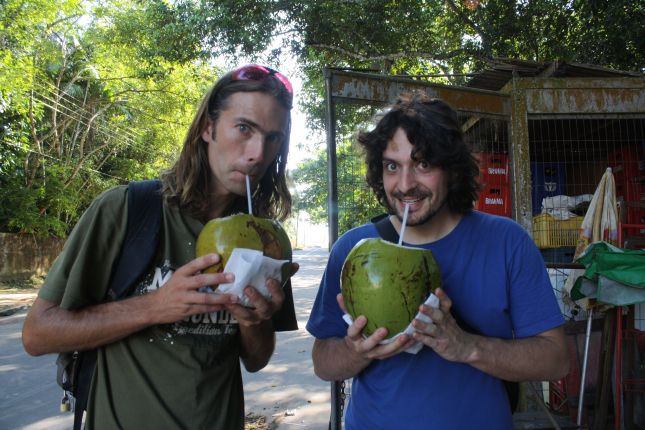 Mateo is a ice Uruguayan chap staying at the same hostel. He's here for a film festival where he's promoting a documentary he made with his accomplices and he's mad about the local music. We have a lot of fun joking about the diabolical breakfast and attitude problems of the hostel.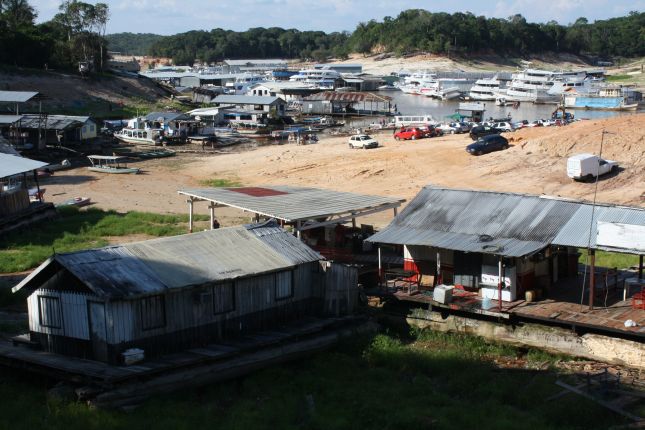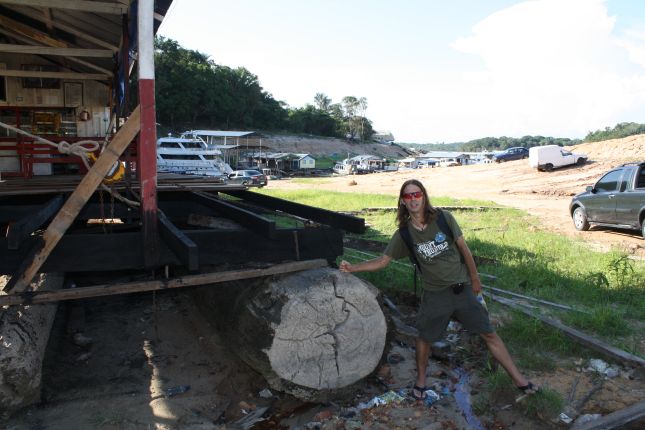 Together we go to visit the white beaches with a boat from a well known little port north of the city. We get there (Punta Negra) easily by bus and walk the rest of the way to the boat-village where we catch a little canoe (I think it was 5BRL/pp) over to the beach. The beach is beautiful but there's nothing there aside from a few refreshment tents and beach umbrellas. Only a few other folks have visited.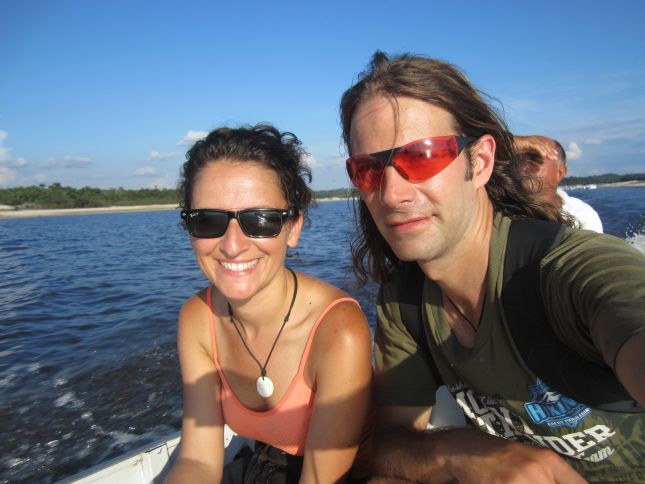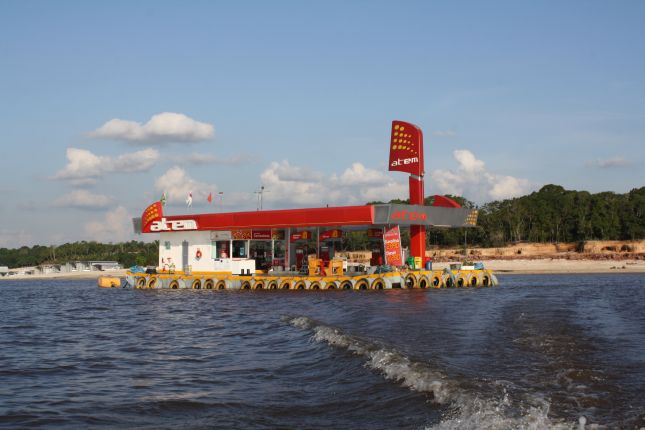 Confirmed (at the boat village) last return by boat is 6PM. We enjoy the spectacular We watch the sunset waiting for the boat and get chatting to this guy who seems to work there and sells beer at this marquis. Another boat arrives but it's a private hire. The guy asks whether he should come back for us but we say we'll catch the 6PM one, upon which he gives this strange look…. The boat doesn't come.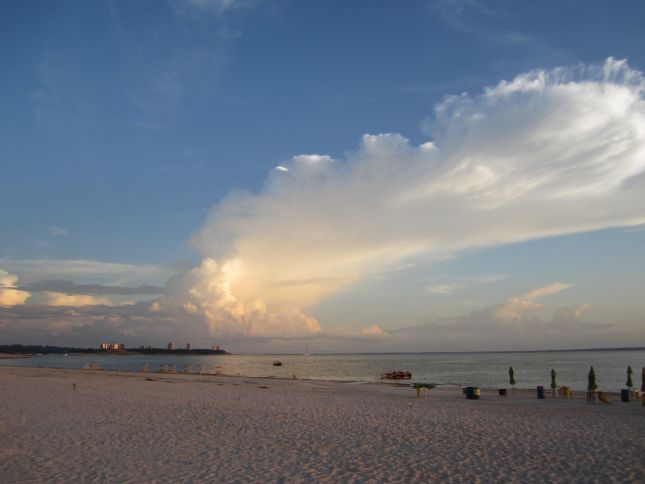 While we wait this dude we're talking to is really getting annoying. He's talking about how he is in the army, real jungle survivor, and how he is a UFC fighter and blah blah. It's getting a bit late for our liking and dark so he says he will arrange us a boat with this old man who works there…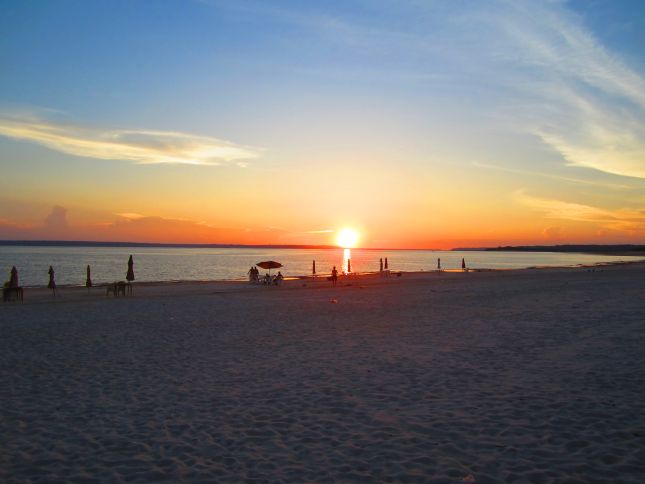 Then when another boat finally arrives a bit later we go towards it to check and he's trying to stop us, saying that the costs already have to be covered for this other boat that's coming. Anyway E and I push ahead, it turns out to be the dude from the private hire. He has come back for us, probably knowing that there would be no 6PM and he takes us all back for the normal price – how awesome of him. Jungle-UFC-man also gets on board and is getting us really on edge. He talks to the boat captain in Portuguese and who knows what kinda nonsense he is trying to talk him into. When finally back at the jetty, the dude walks along with us, so to get rid of him we stop at this floating tienda there with a lotta locals on it and have a cool-drink, until the guy disappears on the back of a moto taxi. Thank G for that! Serves as a warning: be wary – lots of scammers here!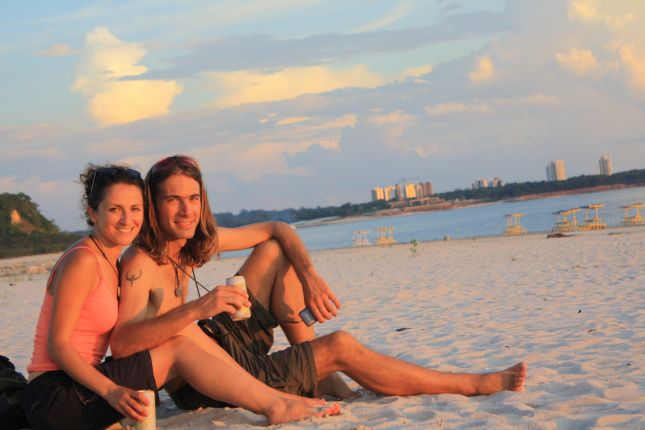 We go up to catch the bus back town centre, but since it's gonna be a while we opt to walk as we came. Soon a passing car stops: it's the boat captain! He offers us a lift as it's on his route anyway. This awesome guys takes us all the way to the centre without asking a thing. We give him 10BRL to cover the petrol or whatever but we're just really grateful to have met such a good guy!
There's a few things you can do around Manaus as a tourist, such as taking jungle trips and swimming with pink river dolphins. But we don't take part in any of this. Tours on offer in Manaus are expensive for what they are, and paying 40USD to take a boat out and meet a supposedly-wild river dolphin on the Amazon sounds fishy to me. Besides, we've seen a fair bit of jungle already.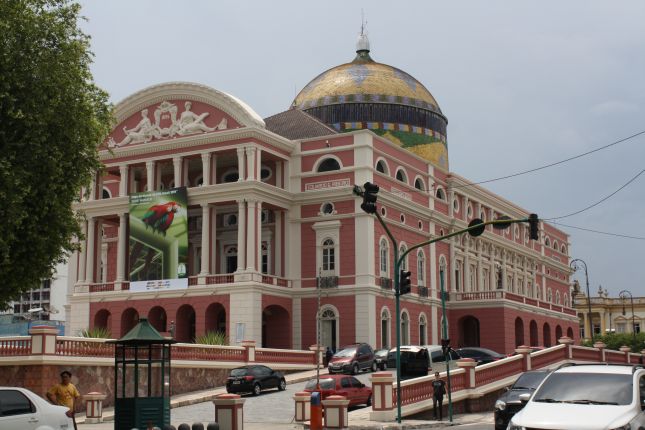 Though Ebru does visit a couple of the main attractions – the theatre house and a botanical garden, together with a Spanish girl staying at the hostel with us. She found the theatre impressive, but the garden was a bit of a rubbish dump.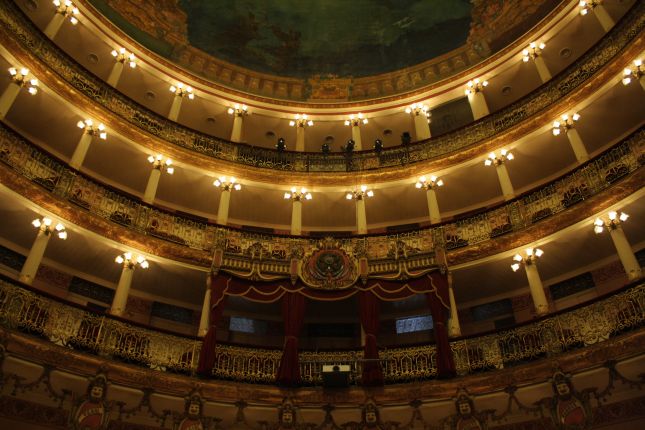 Highlight of the visit? At the market we find a whole variety of essential oils which we so badly need to top up our home-made skin-care-bug-repellent! What's more, they have lots of oils from exotic Amazonian plants which we wouldn't find anywhere else. Awesome!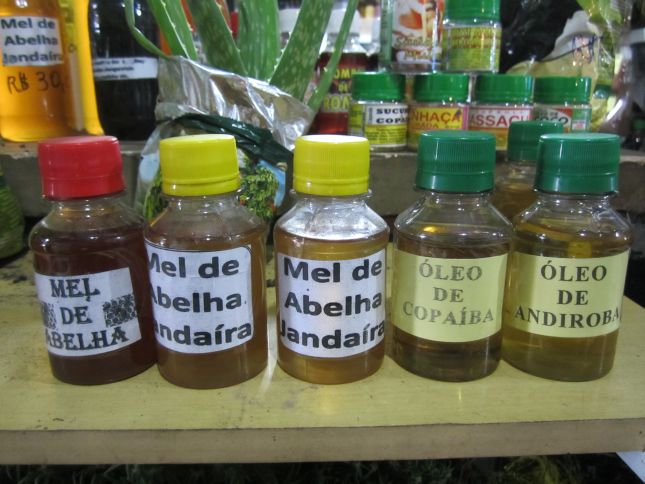 Back at the hostel we deliberate hard about our future journey: Our Brazilian people experience hasn't been all we had hoped – I really been looking forward to soothing music and the gentle friendliness I'd become accustomed to from Brazilians I'd met elsewhere. Is the rest of Brazil like this? It seems we don't have any hope to find affordable laptop screens here, which is a disaster. Manaus is meant to be the best place for electronics – so fat chance finding them cheaper in Rio or Paulo. Then there's motorbike parts: even for a bike that is made here in Manaus – spares are costlier than in other SAM countries! Then fuel and accommodation at higher rates. Add a costly ferry trip to Santarem and/or Belem…
The thought of heading 8000+Km down the Brazilian coast seems more and more unattractive to us, despite the promise of beautiful beaches. The alternative would be to move North, through Venezuela and into Colombia in the east. We contact our friend Garret in Colombia to see what he thinks about this. He recommends it without doubt and assures us that we're very likely to get our laptop screens and bike parts in Colombia at decent prices without major rip-offs. Venezuela is renowned to be a dangerous place. But I do some research and it seems that it should be perfectly possible to do a 4-day crossing of the country – in the one side and out the other into Colombia.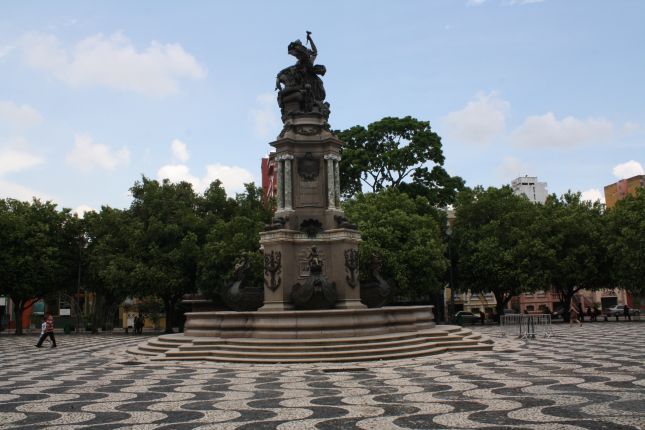 The morning we're about to leave Manaus a couple with helmets is standing at reception. They're Max and Erica (Facebook: enmotoxamerica) from Argentina and they've just come up the Brazilian coast – serendipity? We end up delaying our departure for a day and intensely quiz them about their experience.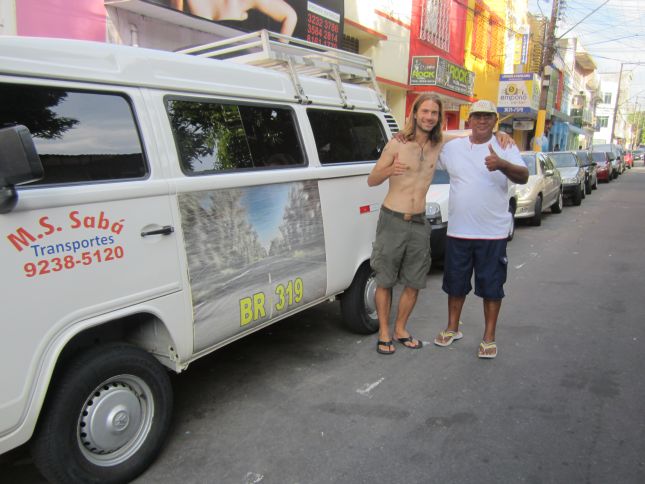 One more thing we arrange before leaving Manaus: we manage to get in touch with Mr Saba, the man that runs that white VW kombi bus between Manaus and Labrea via the BR319 (he gave me his card when he stopped for a break back in Igapo Acu). We send a few gifts for the kids of the Pousada and our dear friend, the man who gave us the confidence to complete our journey to Manaus as we'd planned. It was great to meet someone from "the road" out here in the "real world".
By the end of it we've made up our minds: We're going to Venezuela!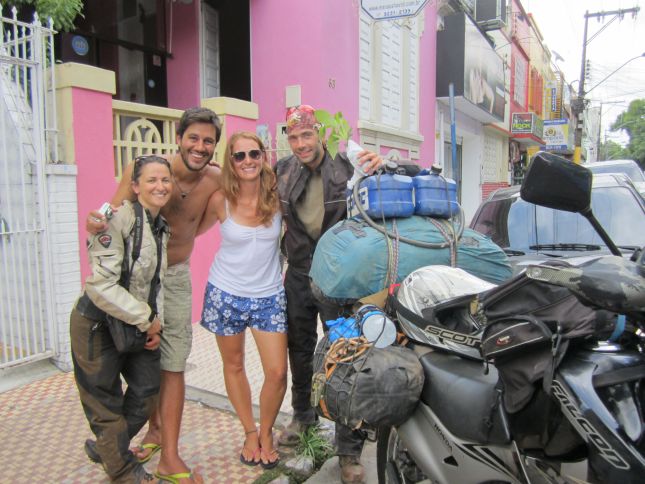 It's "bye bye" to Erica and Maxi and expect we'll be seeing you guys up the road somewhere.
By the way: If you're planning to head this way to Venezuela you will want to take plenty of US Dollars with you. There is a MoneyGram office just around the block from the theatre plaza. (We had trouble finding a bank with foreign exchange and there are no exchangers as in other countries). You can take plenty of Brazilian Reais as well to change in Santa Elena de Uairen but after that it's dollars only.