…Or so the television advert says.
Our trip through Malaysia is sadly only a through trip but we allow ourselves a couple of days in Kuala Lumpur to pick up the aroma. From Phuket bus terminal we take a 08:45 public bus to Hat Yai (262THB/pp) which gets us there 7 hours later and we check into the King's Hotel, a hundred metres from the train station, for an overnight stop before our 16:00 departure the next day. Hat Yai is a transit hub. There's not much of interest as far as I can tell, but it's got a large town feel and the buildings are quite colourful. There are lots of Chinese here so walking through the streets is a bit like walking through China Town anywhere, with Chinese pictorals on buildings and lanterns and such all over the place.
Dinner is a bit of a disappointment – we get some seafood Tom Yam from a street stand near the bus station which upsets my stomach – so I spend the night thoroughly researching options for a good western style breakfast for the next morning. (http://phil.uk.net/hatyai/food.html ) gives some good recommendations on the subject and I decide to visit the Bamboo, but we don't find it. However I do find a darn good Full English at a place called The Swan, which sets me up for the day. We spend the remaining few hours WiFi-ing at the Post Laser Disc where I spoil myself with a superb pint of Guinness draft while we update the blog and research our destination. The Guinness does cost 220THB but I don't expect it to be cheap and who knows when next I'll find one.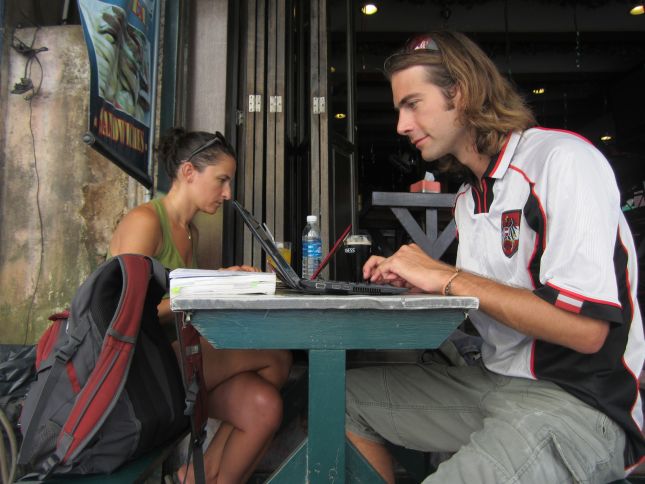 Our train from Hat Yai is a rattly old 2 coaches which take us to the Malaysian border within 2 hours, where it then joins with another few coaches from Malaysia. We only manage to get sitting places (450THB/pp) but we recon we can handle it for 16 or so hours. The immigration process is very straight forward at the interim station stop. The train is ok but journey turns out to be very uncomfortable. I guess our bodies are tired of sitting for hours on end. We hardly get any sleep.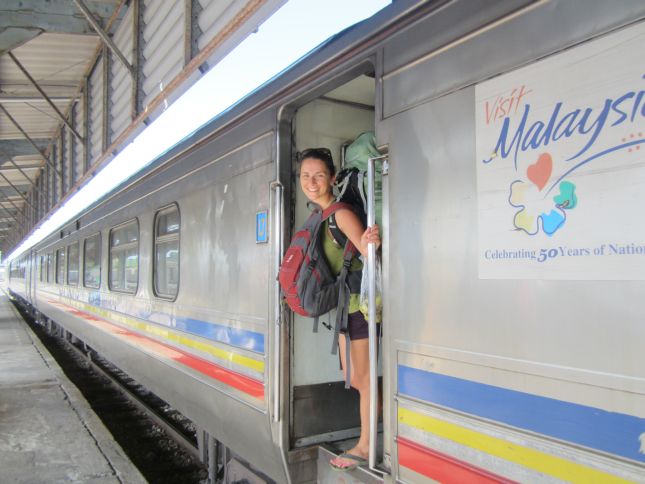 We arrive in KL so early nothing is up and running yet. There appear to be a few huge, unmanned and unoccupied vibration-massage chairs in a corner and we head straight for them. There are a few Indian-looking fellows sleeping on the astro turf behind them with their laptop bags and whatnot (did they fail to spot the chairs??), but we sink into the soft seats and we doze off to the repetitive advertizements for Indonesian restaurants coming from a nearby TV screen. The only disturbance in a couple of hours is from a small cockroach on my arm, seemingly trying to explain that I'm in his seat.
Next we take a metro to Pasar Seni station and hunt down a place to stay. I've already got a few places earmarked on Google Maps – I've developed a pretty good system for hitting a destination reasonably prepared with locations and places to check out. We have to do quite a bit of walking in the baking heat and none of the budget places I noted down (all of which received good reviews on travel web sites) either have vacancies or are in the kind of shape that you'd want to spend a night there. So we check into a place called the Soho Hotel not far from Pasar Seni metro station. It costs us about 20$US for the room but it's clean and has a decent bathroom, AC and a TV with a few English channels so it's quite "luxurious".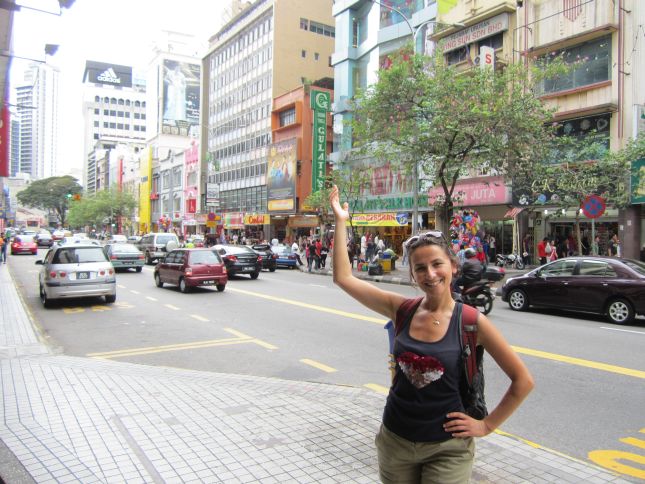 KL seems like a big city on the map but when we walk around we find we can get anywhere pretty quickly by walking – and we do a lot of this! (Besides, you can get a bit confused buying tickets for the different public transport systems they have – the MRT, the LRT, I can't remember exactly but it takes us a few minutes to figure out how we'd leave the airport.)
Keep in mind that some words in foreign languages can be severly misinterpreted if not translated with care and precision.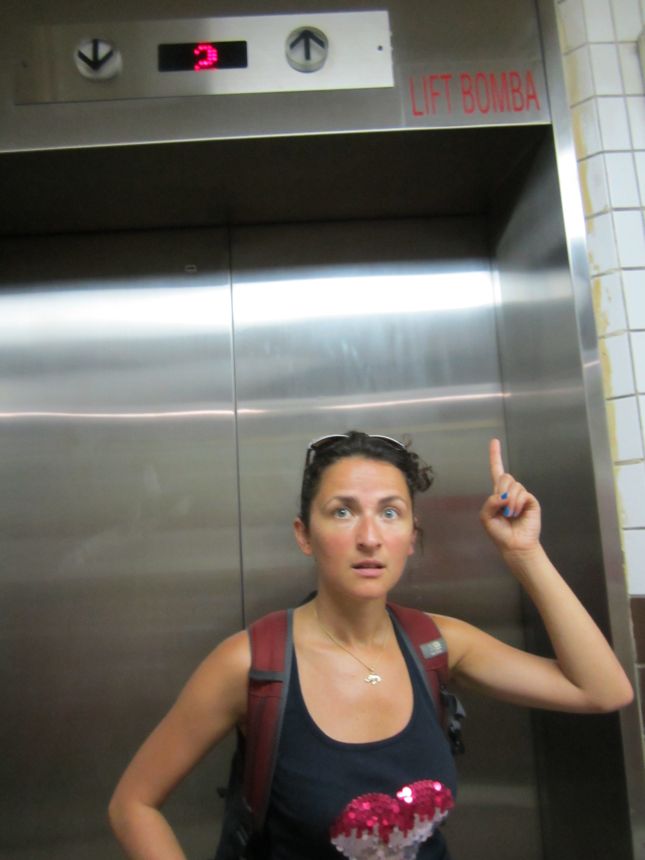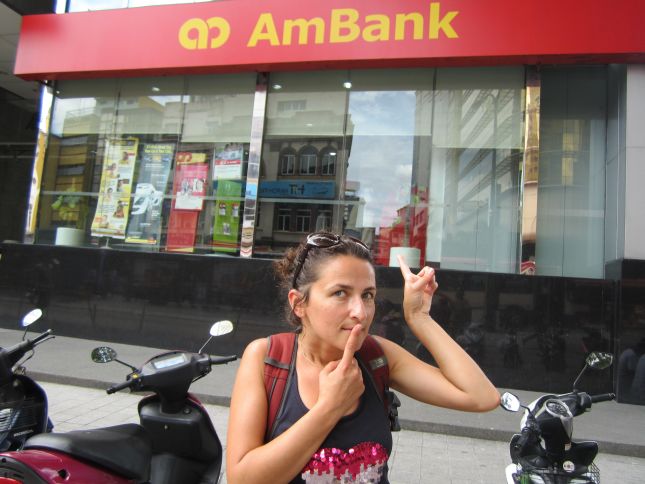 One night we stroll past the Petronas towers, undoubtedly you'll recognize them from pictures on television or magazines; a beautiful piece of modern architecture.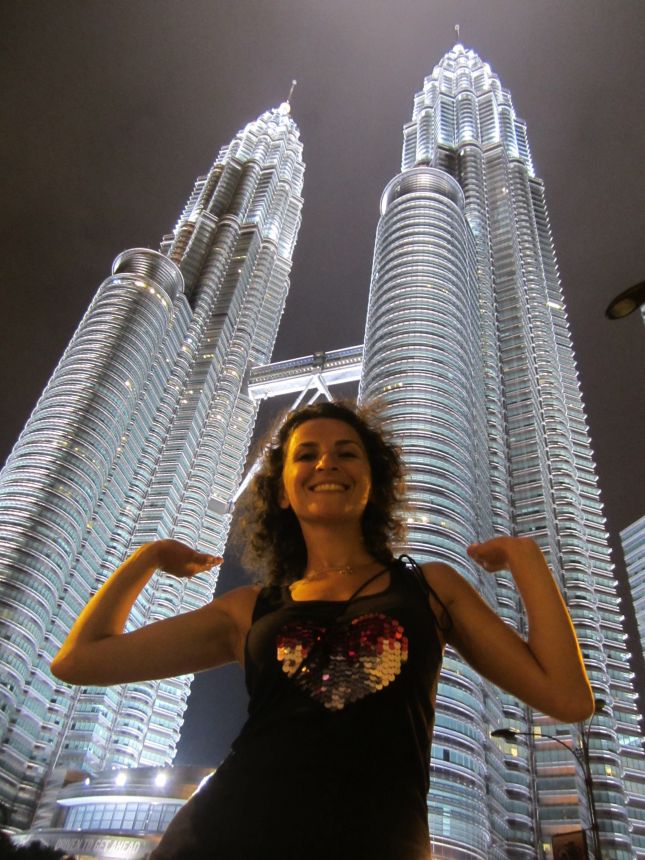 In the vicinity there are also a number of bars selling a variety of beers (and also Carlsberg,  come to think of it) at shameful prices (much like in the UK). But we are tired and dry after a day's walking and must indulge, so we carefully inspect each venue's happy hour deal and go where our buck promises to bang the loudest. – We're sooo cheap! 😉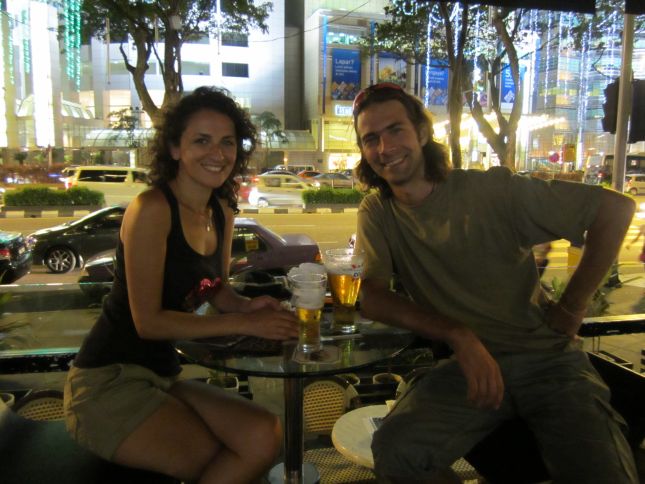 China Town – yes there's one here too. Nuff said.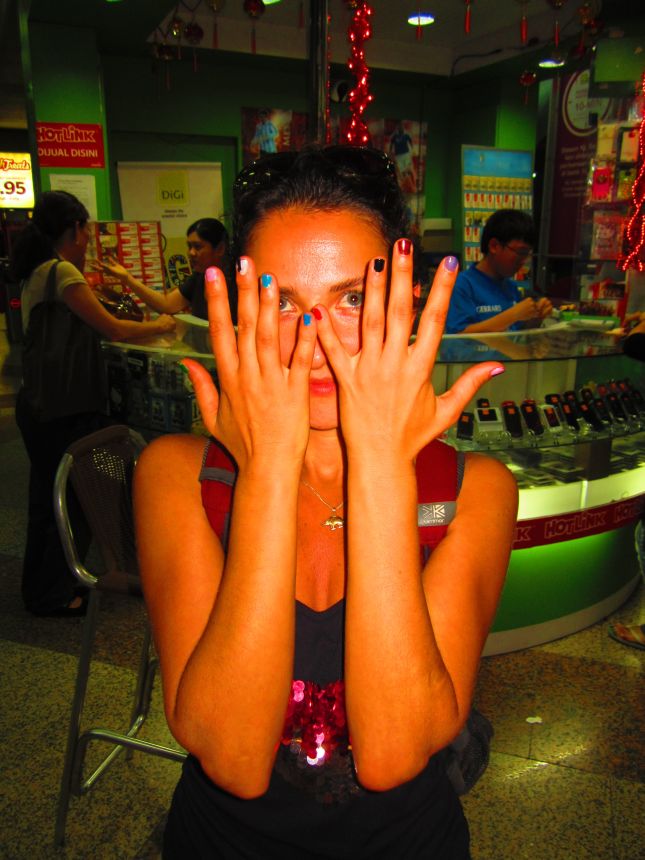 In Little India Indian women hover about in saree-type dresses (though I recall they to a large extent seem to be from the Indian Muslim community) and street after street is rowed with colourful textile sellers and tailors. We intend to buy Ebru a nice burka but we can't find one that'll fit so we leave it. 😉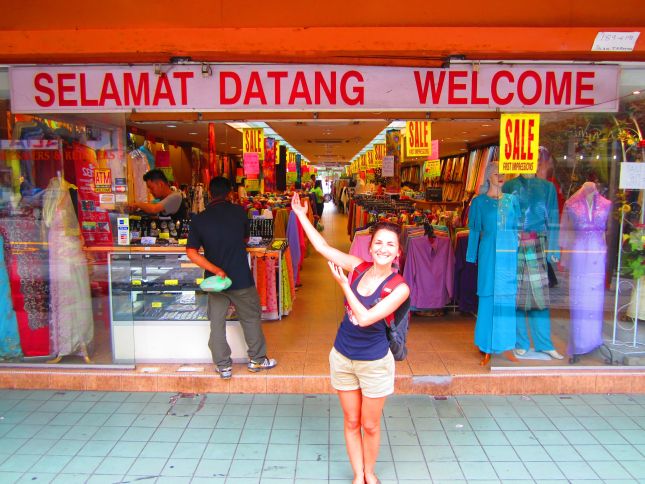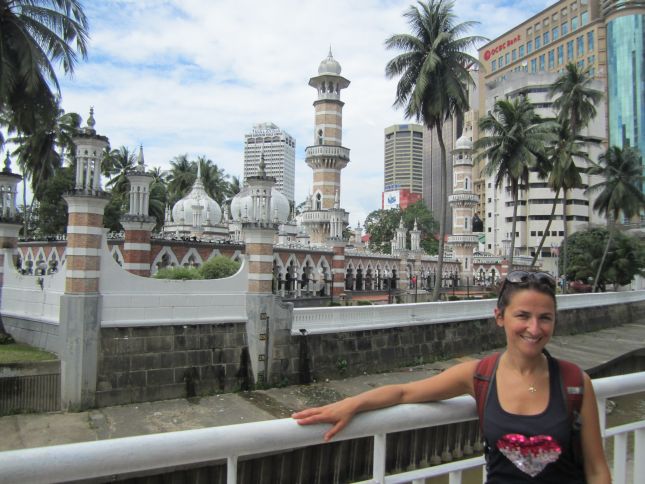 Mederka square is the indisputable statement of national independence after years of British colonial rule. A cluster of large white and dark-wood English style cottages sit behind a smooth green field, which together used to be the colonial cricket club. The green is now a public park and buried firmly into the head of it is a hundred-something metre pole bearing the Malaysian flag.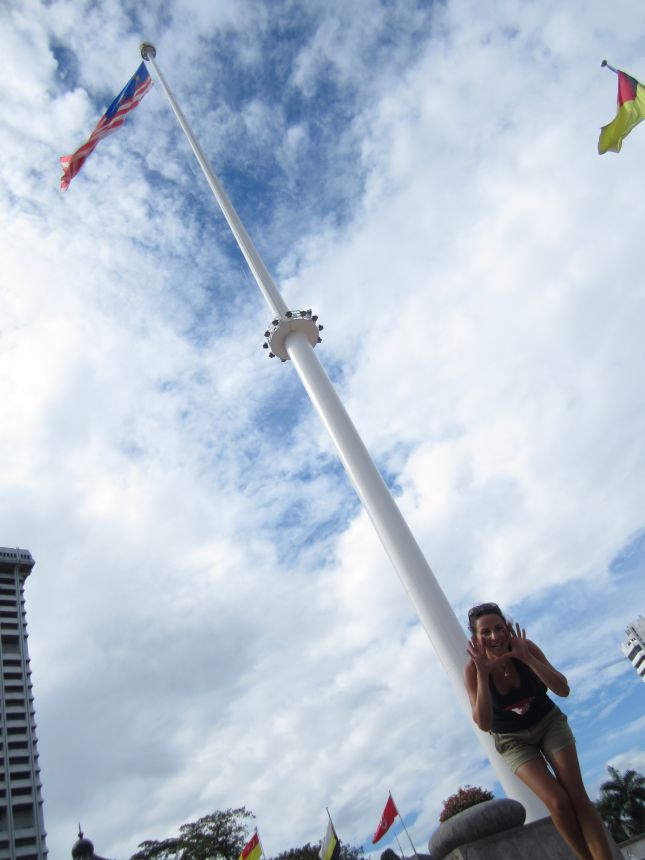 There is actually a very nice little museum / tourist information centre adjacent to it which displays a number of historical photographs and associated information about KL's past, and also on on display there are most delicate wood carvings by a very renowned association of artists. As I recall it, KL – like Hong Kong – used to be swamp land and the British set up camp here to build a colonial port as well as set up a load of tin mines. I always find it fascinating to learn how these places went from – what some would consider – wasteland to huge cities with massive populations infrastructures.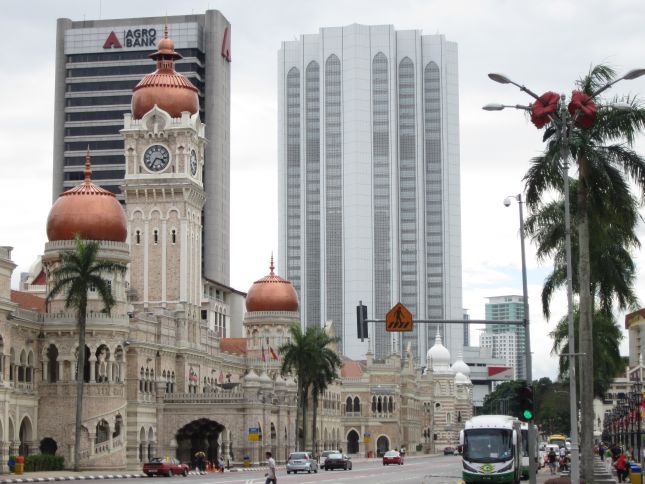 A lot of walking can be achieved in the Botanic Gardens. By the time we get there we're pretty tired, but it is a lovely place to visit so I would recommend going there early in the day and taking your time.
The vibe in this city is so different from all the places we've visited in recent months. Of course Malaysia is a Muslim country and you do see ample evidence of this, not least in the price of a pint of beer. But KL is and feels like a big melting pot of cultures. It's got the shiny steel and glass sky scrapers, but walk on a bit and there are colonial buildings of English style and in-between, the arched windows and doorways of the Islamic architecture. The modern architecture and large trees gives a sense of cleanliness and then, as you walk through the streets, you're fooled to thinking you're in India, with dust and grime and the occasional red splash of dry paan-stained saliva on a wall or lamp post, clearly marking the territory. But if we're in India why all the Chinese…?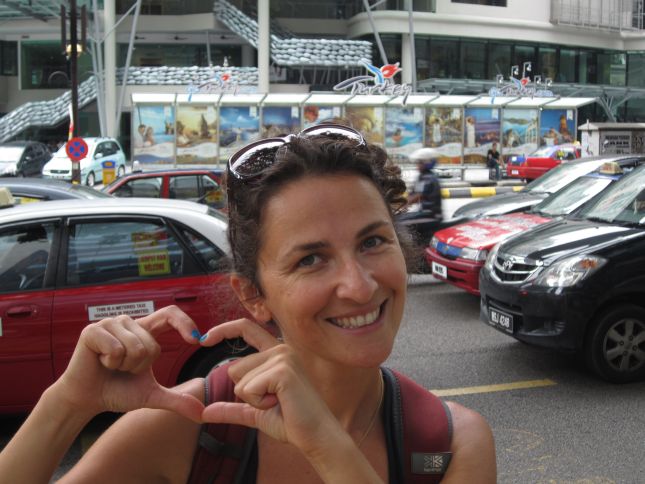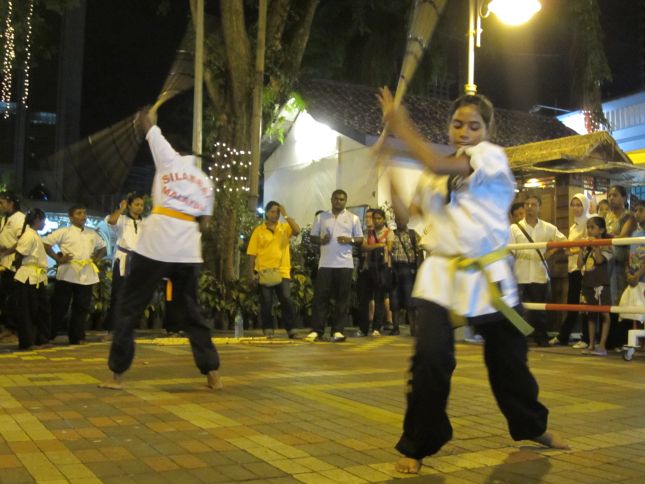 One thing we notice is that they sure like their graffiti here, and they're damn good at it too! Have a look what we found in the canal: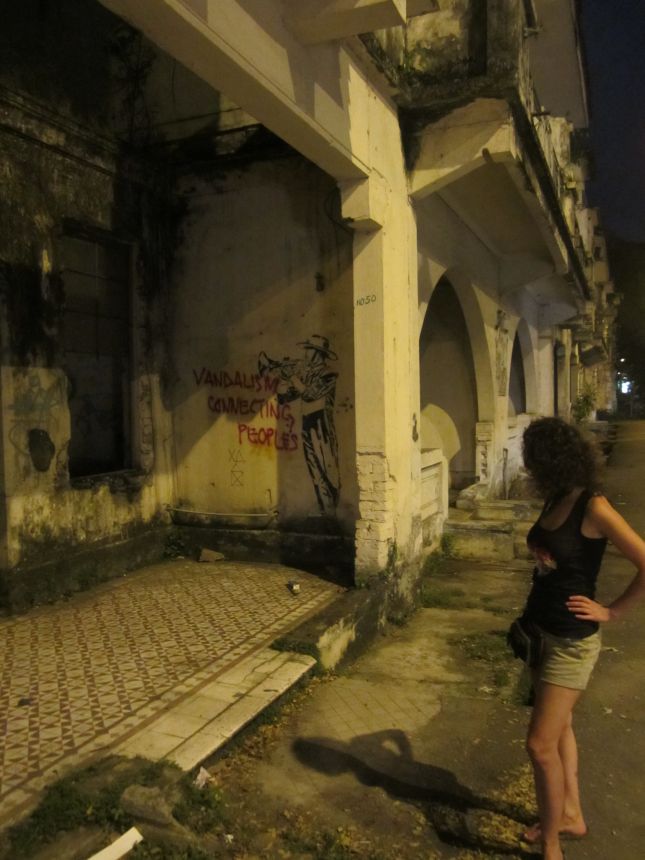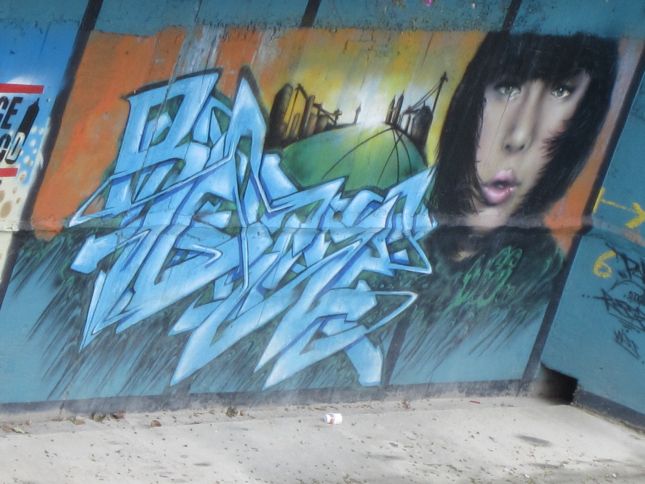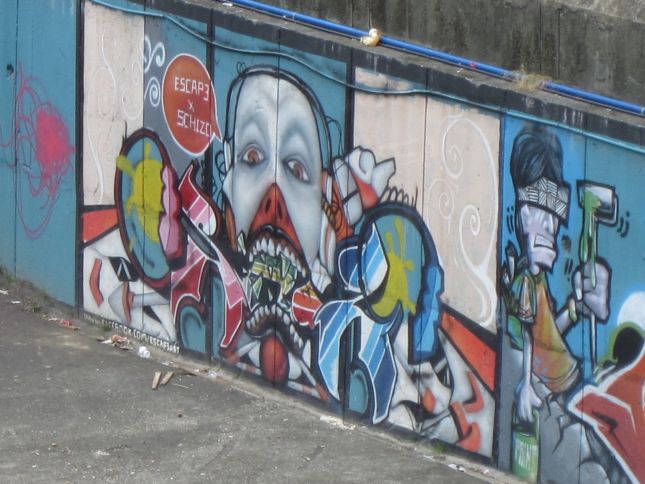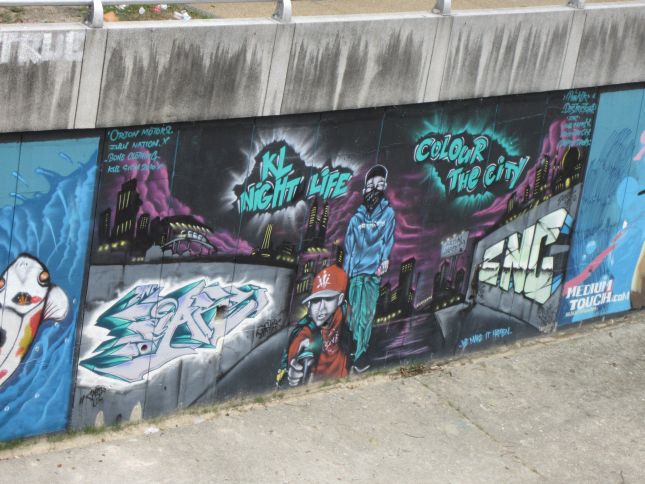 The food scene is colourful as well: one minute you're walking past a blinky McD, KFC, Starbucks or other franchise, the next it's a halal restaurant, then you're confronted by an Indian curry kitchen and to complete the menu some Chinese establishment dangles a roast duck from a metal hook in front of you.
We found some reasonably good food in an Indian cafeteria near our hotel (yes I did suffer accordingly the next day but it was very nostalgic and I enjoyed it).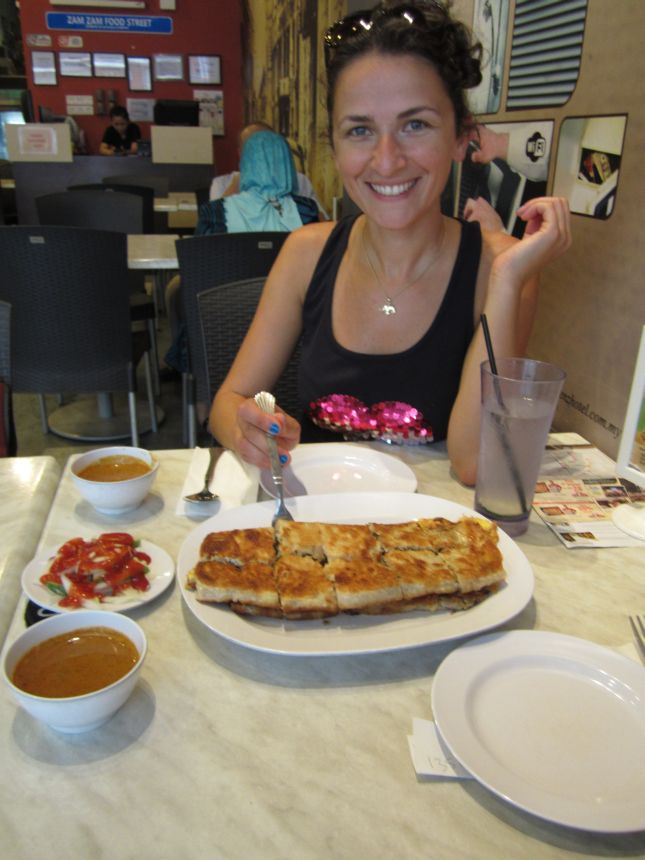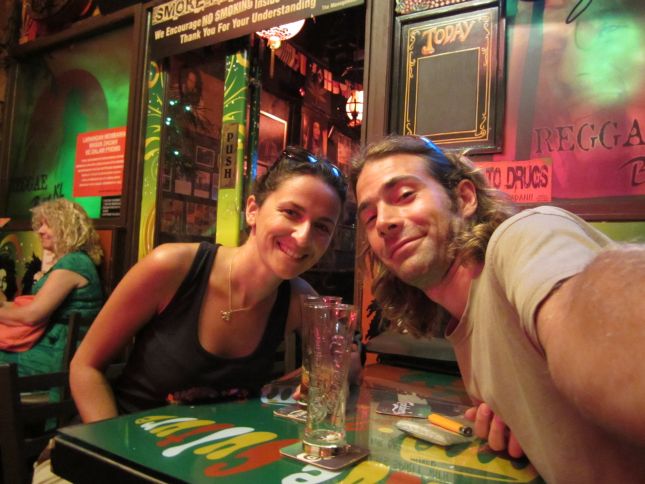 However the hands down winner – and you'll understand my not being able to pass this by – is Nando's Chicken on Jalan Sultan street! My last meal in England before leaving on this trip was Nando's and after five months of abstinence this is a welcome surprise, totally unexpected! I guess this is something of a belated Christmas present from South East Asia. How considerate! It isn't cheap but it's worth it!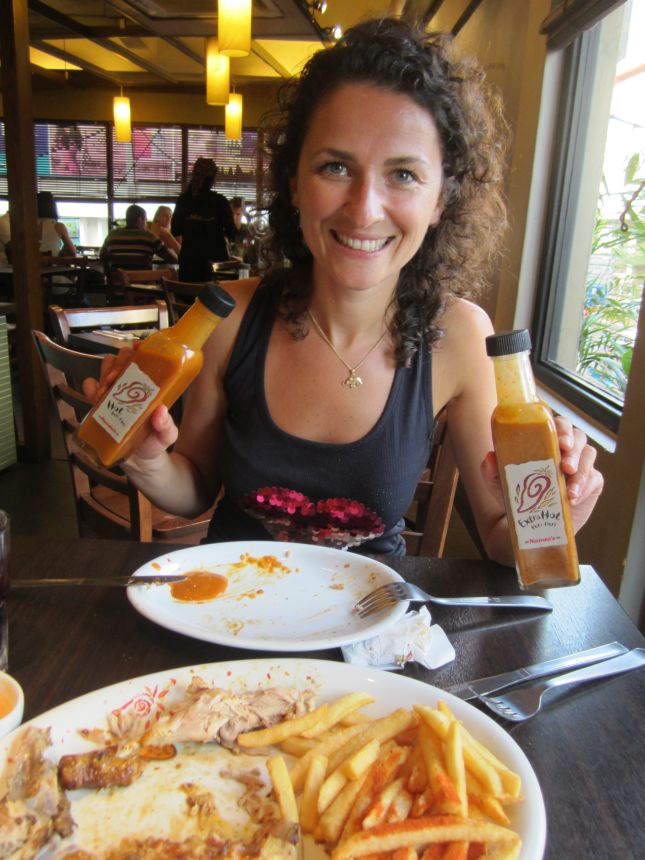 Our departure from KL is once again by night train, this time to Singapore. Since the train departs quite late we're able to spend some time in town enjoying the finer things in life (you never know when the next one will come along).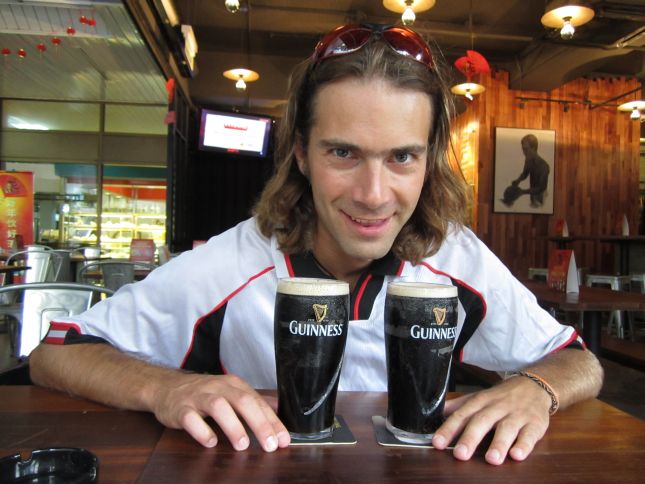 We're bracing ourselves for the costs in Singapore but are looking forward to see this place so renowned for its beauty and cleanliness. The train is already an improvement from the last one so it's promising.