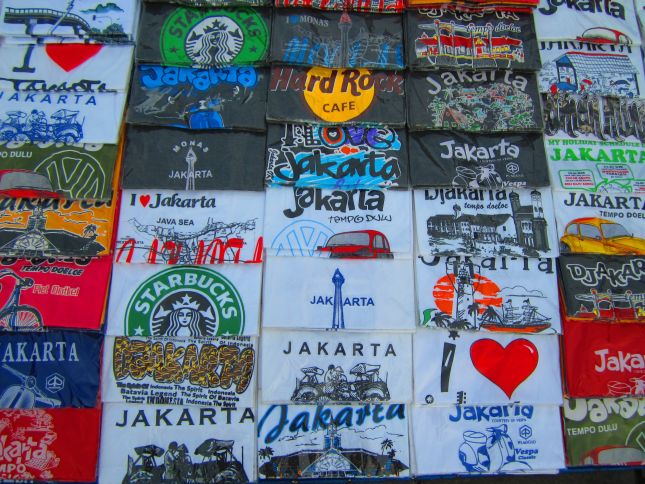 We land in Jakarta at night, about 9PM or something like that. We don't expect to be arriving in the most pleasant nor safe city so we've booked a room ahead for a couple of days, now all we have to do is get there. Before exiting the airport terminal I walk to the glass pane several metres down from the doorway and peer outside to check out the situation. I see lot of people, mainly men. I try to figure out which ones are touts and taxi drivers likely to give us a hard time, and check whether there are any obviously marked official taxi or bus terminals. We know from the guide book there should be buses going from here.
We exit with our bags on the trolley. Soon someone is approaching us; it's a supposed taxi driver asking us where we're going. But he could be anyone really. We try to avoid him and decline his offer but annoyingly, he sticks around. We find the booth selling bus tickets. The taxi driver is still hovering close by. The girl in the booth can't speak English very well. I ask her how we need to get to the area our hotel is in and she suggests a bus and destination. The taxi driver talks to her and suggests another place, "Block M". This is alarming to us – not only does "Block M" sound fictional, but does he want us to get off at some derelict location and make a phone call to ensure his accomplice is there, ready to have his way with the western couple with the rucksacks? We don't have much of a basis to argue so we go with it and buy two tickets for 10KRp each. There's a conductor who calls up all passengers for the various buses that arrive and I confirm with him; he seems to see no problem with what we've been told so that's positive.
Our bus leaves about 22:30. Once we get out of the airport and move along the highway traffic at snail's place, our jaws drop. This is completely not what we expected. This city is colossal! It reminds of Istanbul – large and sprawling, large clusters of small buildings interspersed with impressive skyscrapers, massive malls, and towers. At this time of night there's a sea of of lights washing around tall cliffs of neon signs and LED shows and huge screens running video advertisements high above the ground. What on earth was I thinking? This is not some third world jungle village but the largest city in Southeast Asia's most populous country – 240 million people, that's nearly as much as the United States!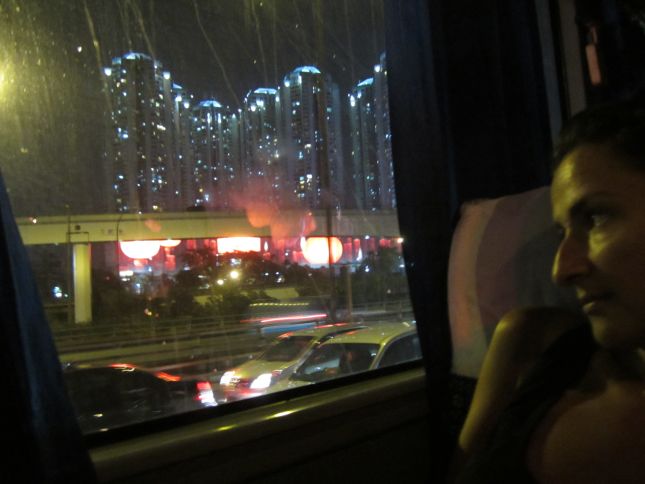 The bus stops under a fly-over on the highway and we're called to get off. Apparently this is our stop (Block M) but there's nothing here but a fly-over and highway. It seems strange but another chap has disembarked here, so I guess it could be right. Hardly has the bus moved off, a blue taxi has pulled up in front of us. The other chap who got off the bus approaches to assist us. (Did he flag the cab for us?) He asks us our destination and assures us we can go with this taxi: it's a Blue Bird cab and it's the most reliable service in the city; charged according to the meter. The taxi drives us on through a rather shabby looking area and 15 minutes we're at our hotel.
We're relieved to have arrived with so little hassle. The Rasuna Icon Residence is rather plush.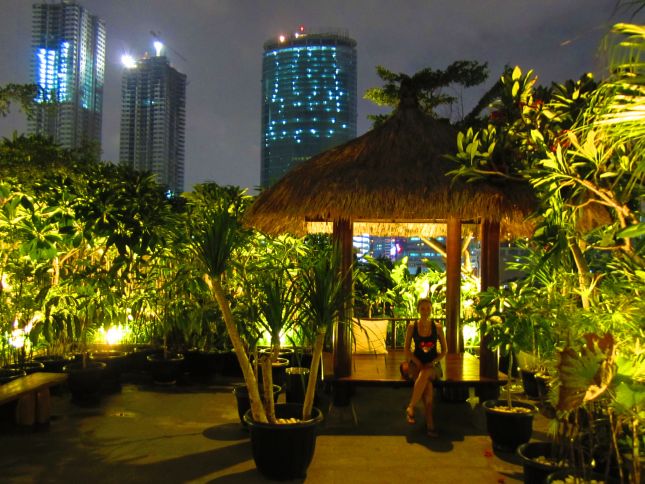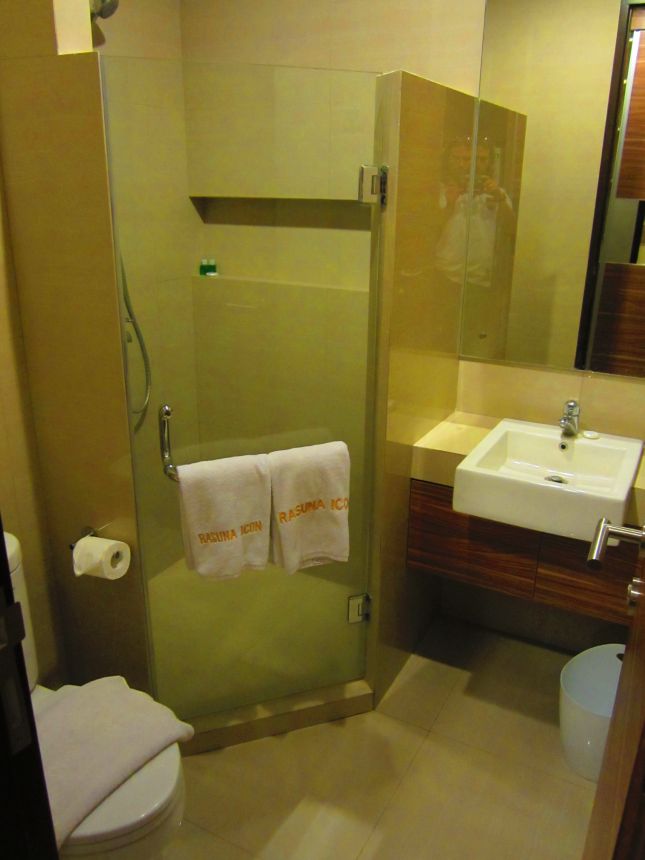 It is a slightly pricier place (40GBP/night) but it's only for a couple of nights and it had great reviews. Once checked in we head out to look for some food. When we asked, the receptionist said it was safe to go. We're a bit nervous walking down this tatty street in the middle of the night, but all the people we pass seem to be smiling and friendly – even the beggars on the footbridge over the main road. At the end there's a shopping centre with a number of franchise restaurants. Nothing small and "local" to be found. We order some rice based dishes but they turn out unpalatable. The piece of plastic in mine puts me off completely – we pay for the one and we leave. By now the other restaurants in the complex have all cashed up and we're left with a McDonalds burger as our only option. But it's edible.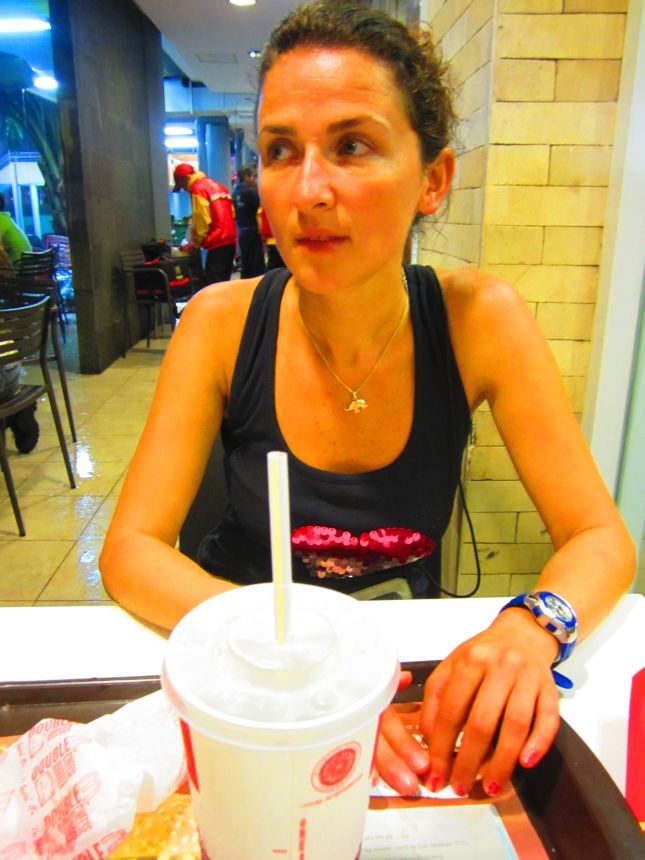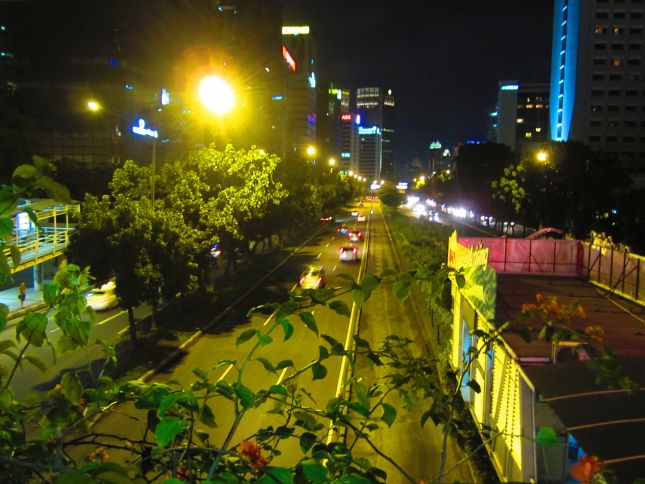 We spend two more days in Jakarta. It's really huge and not much a place for walking. It's a concrete jungle: buildings, roads, vehicles, exhaust fumes, hardly a shrub in sight. Quite soon we've figured out how to use the "Busway", a public bus system which runs along certain highway routes with stations along the way. It's super cheap (3500Rp/pp) and easy to use, but only covers some main routes so it won't get you close to everywhere. All the local people travel with it so it's an interesting way to get around.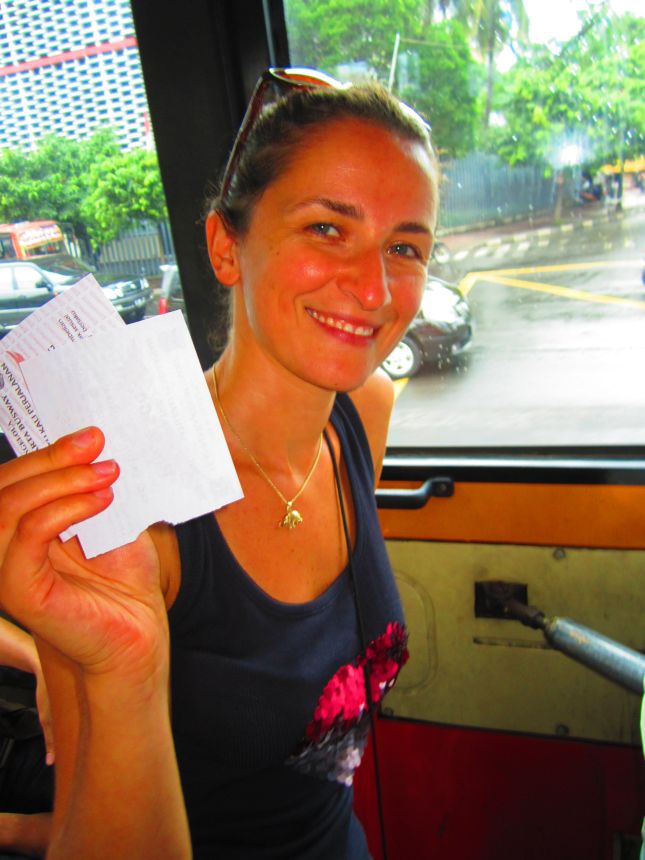 We visit the Lapangan Merdeka (Freedom Square), a huge monument which commemorates Indonesia's independence from centuries of foreign rule. It's surrounded by some impressive sculpture and inside, there's a walk-through exhibition telling about the history of this country. People are very smiley and cheerful here. Several times we are asked to pose for photographs with some of them.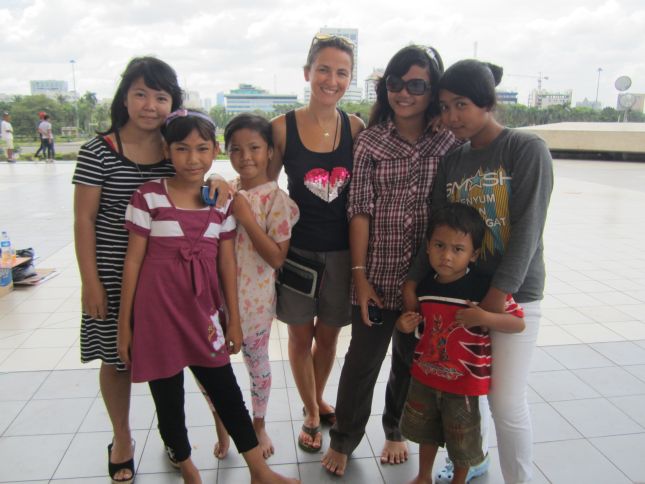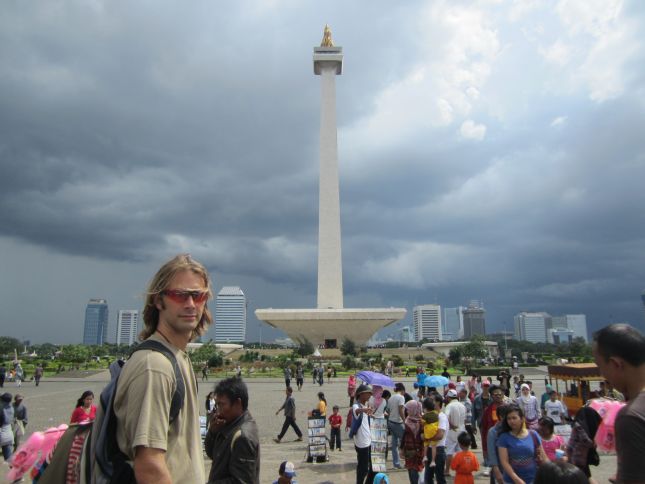 The flea market in Taman Fatahilla in Kota is interesting. People are selling all sorts of bits and pieces from clothes to bicycles to hand-crafted boards of wood and electronic components, which you can slide on to the neck of your acoustic guitar so that it then behaves like an electric.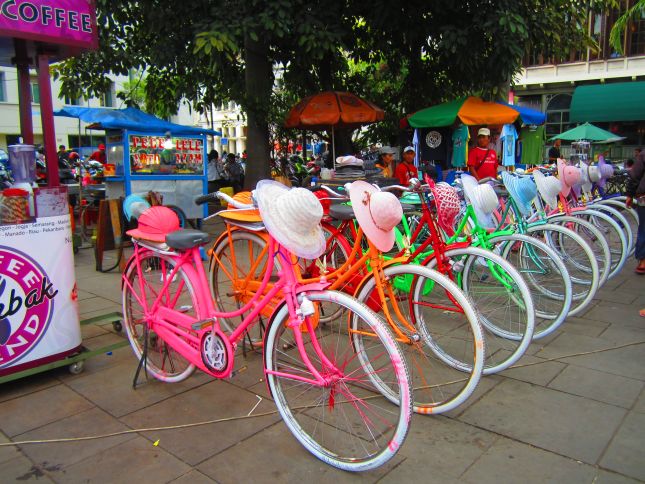 People are also quite friendly in general, a few people request photos with us again, and we have our first good meal at one of the little food stalls.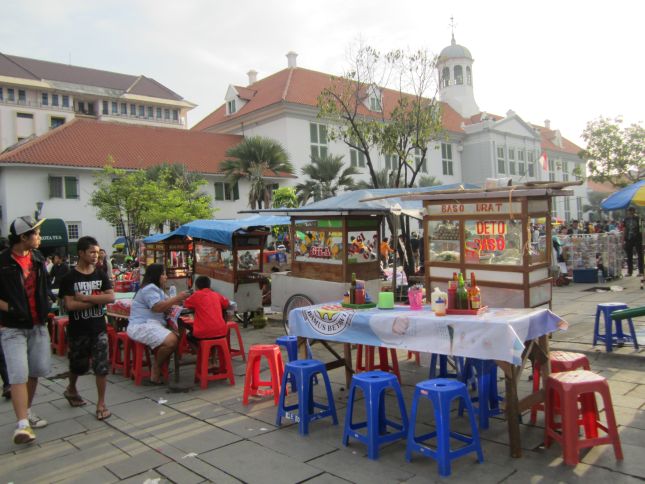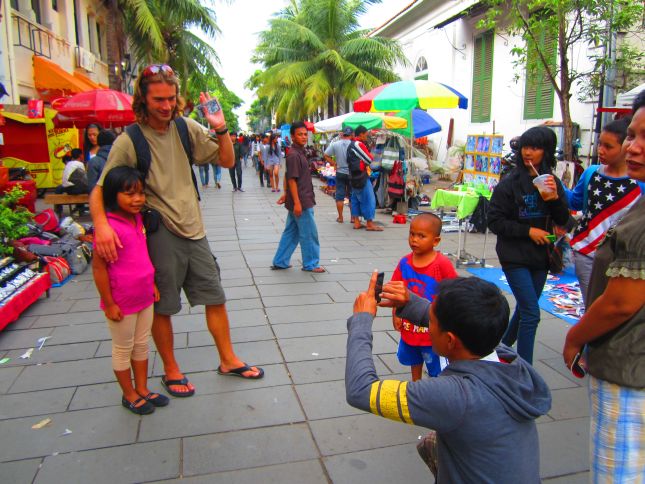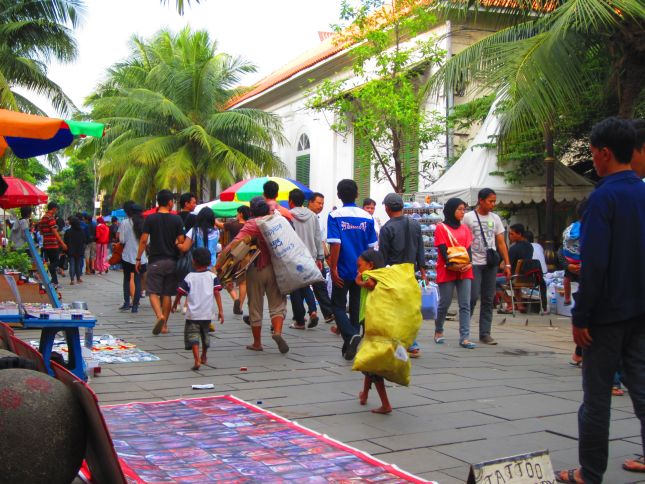 The only annoyance however, is that there are a hundred opportunistic guitar gangs walking around the place, trying to whack out a few notes on their instruments to elicit a few Rupiahs from diners. We have a beer or two at Cafe Batavia later on, which is an old colonial building housing a bar and restaurant. It's quite nice in there, lots of interesting old black & white photos of various famous people hanging all over.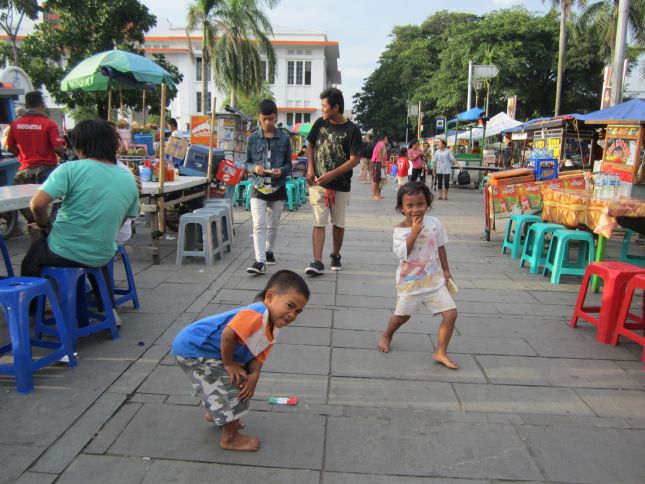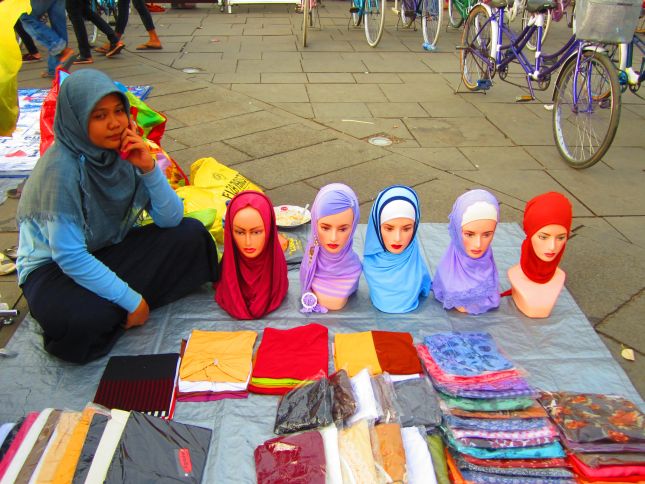 Then we make our way back to the busway station closest to home and attempt to walk the rest of the way. Again it's night time and we're all on guard walking along the main road with everybody looking at us as we pass by. But it turns out people are quite friendly and it almost seems they're glad to see you strolling by. When you ask for directions people are happy to help out. It's not at all what I expected to find in Jakarta!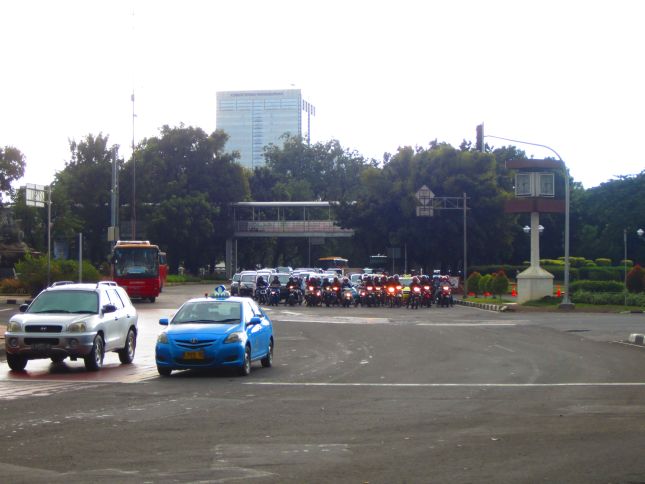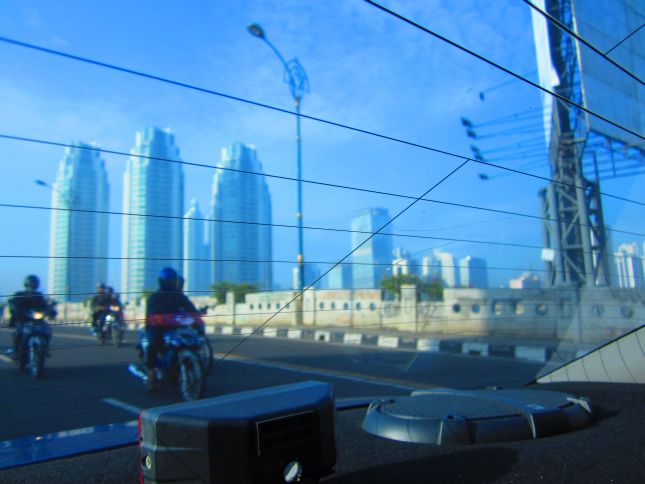 All in all, it seems Jakarta is not such a traveller friendly city, mainly due to its size, the pollution, traffic and difficulty in getting around conveniently. Finding good food also proved difficult. However there is definitely a lot going on here and a lot to discover. I'm told this city has HUNDREDS of shopping malls (!) for example.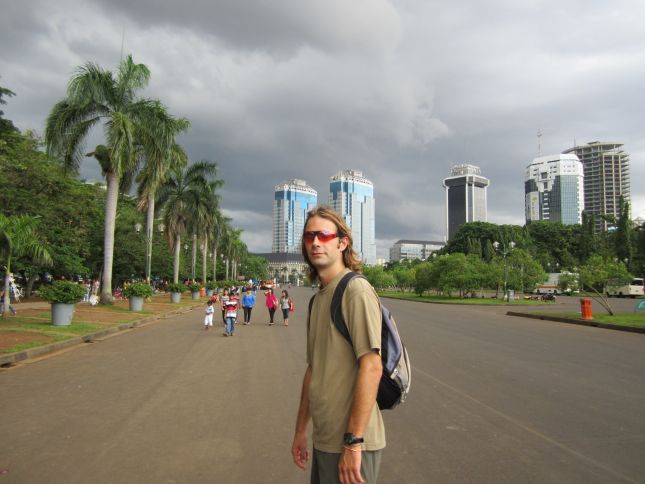 But what I will always remember fondly about this place is its people. When coming to Jakarta I expected to be screwed right, left and centre by touts and con-men out to make a quick buck off me. And certainly I was not expecting be friendly and safe around here in the big city. But I don't recall being hassled even once, aside from the guitar kids. Everyone was welcoming, cheerful and ready to help. It's certainly a place I would recommend to anyone and I wish I'd been able to explore the place some more. Maybe next time I'll find the good food too 🙂