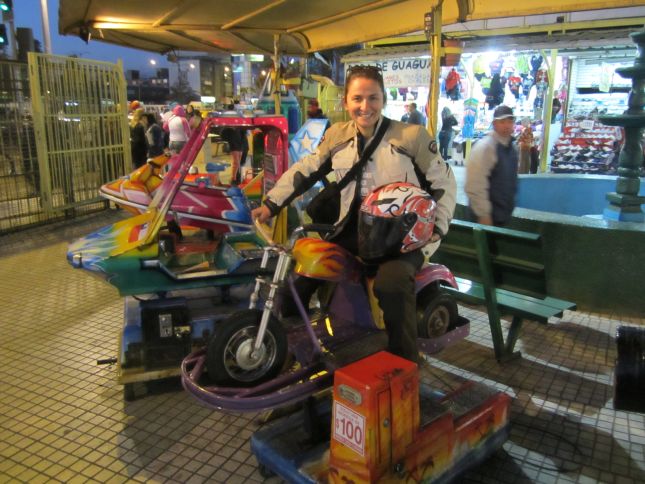 For those interested, here the information that I can impart about the process of buying a bike in Chile.
There is great information on other web sites, notably Horizons Unlimited (aka The HUBB), which will give you more excellent information on the subject. I will refer you to via links to these articles and give other specifics about my experience where applicable. My thanks and credit go to all of the authors on these forums that made the process transparent for me!
Another major motorbiker forum is Adventure Rider Motorbike Forum
OVERVIEW – STEPS TO BUYING A BIKE:
1 – You get a RUT
2 – You find a bike.rut
3 – Pay for it and do some paperwork.
4 – Wait a week or so for your official ownership paper.
5 – Go anywhere you want.
These are the main steps needed to purchase a bike in Chile. They're fantastically documented here, so read this:
HUBB, by Lachy
More great information is located here:
HUBB, by deeve07
WWW.OJURIK.COM
STEP1 – You get a RUT:
Find the Servicio Impuestos Internos (SII) office responsible for your address . If you go to the wrong one tell them your address and they can point you to the right one.
Go early in the morning to avoid queuing (open from 09:00 to 14:00). Take your passport and the address you're staying (in my case my hostel).
You can try to pick up your permanent RUT card within a week or two (see links above) but you may request it to be sent to your address. If you are leaving in a hurry and are on good terms with your hosts in Chile, the latter may be a better option so they can send it to you if you need it.
Not likely you'll need the permanent RUT with you to cross borders. My (provisional) RUT was only once checked by the Aduana at Paso Los Libertadores (Chile-Argentina) when leaving Chile first time and they warned about problems re-entering if I tried this after its expiry date. However my RUT was NOT checked when entering Chile at Paso de Jama nor leaving Chile at Ollague. I also know my bike's previous owner's (provisional) RUT was expired when he returned to Chile as he requested a new one at SII to sell the bike to me.
STEP 2 – You find a bike.
I found my seller on the road. However in Santiago there are main districts of Vitacura (NorthEast), Las Condes (NorthEast) and Lira (South-Central) (all these are also street names that can be found on main tourist maps), where many dealers can be found. Some sites in Chile where dealers and private sellers advertise are:
www.mercadolibre.cl
http://automoviles.emol.com
http://www.horizonsunlimited.com/
http://chileautos.cl
http://www.motonet.cl/
http://www.elrastro.cl/
STEP 3 – Pay for it and do some paperwork.
1. I went with the owner to a Notaria. These can be found all over town. It'd be helpful if you speak enough Spanish or take someone to help.
2. We both signed and fingerprinted a contract (Compra/Venta), in which the seller gave me specific rights to sell the bike to anyone (including myself). Additionally we signed/fingerprinted a document which gave me the right to ride it through any country in South America.
With these documents I should have been able to take the bike as it was, anywhere into South America. However, I wanted the bike inscribed in my name.
3. I paid a motorcycle dealer (approximately 100,000 Pesos) to handle the transfer for me. This took about three days. After a week I went to the Registro Civil on Av. Agustinas and they were able to print me a copy there and then.
STEP 4 – Wait for your official ownership paper.
The new "Padron" or Certificate of Inscription arrived in the post within two weeks. (now I have a spare)
STEP 5 – Go anywhere you want.
BIKE DOCUMENTS:
These are the main documents you need to have:
1 – Seguro Obligatorio – (Obligatory Third Party Insurance)
2 – Certificado de Revision Tecnica Clase B – (Roadworthy Certificate)
3 – Certificado de Emisiones Contaminantes – (Emissions certificate)
4 – Permiso de Circulacion – (Road tax)
5 – Certificado de Inscripcion – (Ownership document)
Note: with new bikes you have generally 3 roadworthy certificates included for the 1st 3 years.
Other documents you may have:
6 – Solicidud de primera inscripcion (Initial registration document)
7 – Solicidud de transferencia (Registration to new owner)
8 – Certificado de Anotaciones Vigentes
PLACES TO BUY MOTORBIKE GEAR IN SANTIAGO
The main place to head is of course calle Lira, where most of the main parts and equipment dealerships are. However it does not hurt to do a bit of searching online as you would do at home. Even if you still don't understand any Spanish by now, the Google Translate feature built into the Chrome browser allows you to make local websites comprehensible.
In Spanish, the terms you'll be looking for are:
ropa de moto, accessoriosde moto, offertas, especiales
I found some good deals and sales online which made me good savings. Here are some names and addresses I have in my notes. Some of these I don't have the shop names for but they were good shops with lots of options away from the main districts like Lira etc:
Agustinas 814, Santiago (OXS – lots of special offers)
Abate Molina 131, Santiago (Pincheira motos)
Los Parajitos 1761, Santiago
Las Condes 8482, Santiago ( Motomundi )
Providencia 2594, Santiago
Other than don't forget about the classified sites such as those mentioned above, they often contain direct contact info for the sellers so you can call or visit before you buy:
Accessories on motociclistas.cl
Accessories on motonet.cl
Accessorios para vehiculos > Accessorios y repuestos de motos
BUYING INSURANCE
If buying the bike in Chile you need the local 3rd party insurance (Seguro Obligatorio). I didn't have to buy this because I had a valid one with the BIKE from RSAGROUP (www.rsagroup.cl).
For touring some other South American states like Argentina you need a similar seguro obligatorio cover (which will probably be checked at the border). For this I found only the "Seguro Obligatorio Mercosur" from MAGALLANES (www.magallanes.cl), the RSAGROUP had only the obligatorio cover for Argentina. Note that the MERCOSUR cover covers only the full members Mercosur (Argentina, Brazil, Paraguay, Uraguay) and for the other countries you're on your own again, unless you can insure bike in the destination country. The cost for 6 months was 66000.00CLP (about 82.00GBP).
Finding an insurance in Chile itself which could cover me or the bike for legal / medical / other was impossible because I am not a Chilean citizen.
As for medical insurance (as with all the above insurances), which I found with the help of the HUBB (www.horizonsunlimited.com), I booked this with TrueTraveller's ( http://www.adventuretravelinsurance.co.uk/ ). They seem to be the only ones that will give you Motorcycle Touring Cover, let you book after you've already commenced your travel, and the rate is fantastic in my opinion. Our rate included:
Adults: 2, Period : 5Months
213.00GBP – Emergency Medical / Repatriation Insurance (True Value Worldwide excl.USA/Canada)
133.12GBP – Motorcycle Touring Option
53.26GBP – Section E (Baggage) Add-On
20.00GBP – Endorsement: Already Travelling
50.00GBP – Excess Waiver
72.00GBP – Adventure Pack Add-On
————————————————–
541.38GBP TOTAL
(Other bikers I met stated they were covered by the travel insurance on their AMEX card, but I checked AMEX, Barclays, other travel insurance companies and banks, but in their policy documents I only ever found cover for rentals up to 125cc)