TRIP INFO BOX

Route
Puerto Maldonado, Peru – Capixaba, Brazil (26/30C, BR317)

Distance

493Km

Travel Time

11.5 hours (3.5 to border, crossing 1-2 hours)

Road Conditions

Good asphalt but nasty potholes in Brazil

Weather

Hot, humid, rainy in late afternoon

Terrain

Jungle, deforested pastures in BR

Food and Petrol

P.Mal., Planchon, Iberia (PE), Brazileia, Capixaba (BR)

Accommodation

Hotel Capixaba, Capixaba
---
From Puerto Maldonado to the border town of Inapari it's about 223Km.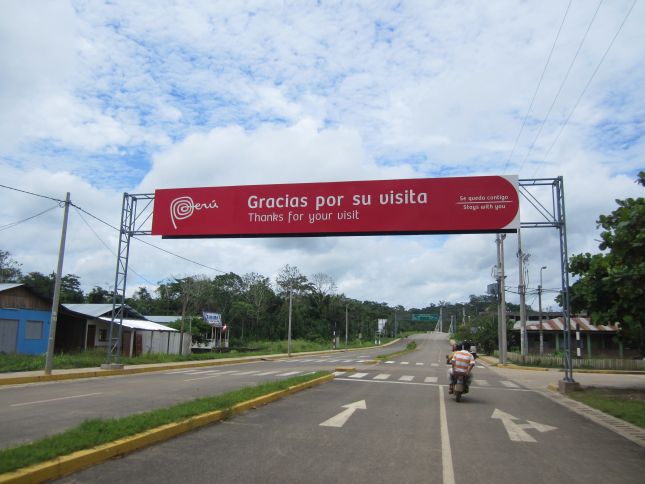 We reach Inapari about midday and we check out of Peru with friendly border police officers and en even friendlier Aduana officer. He tells me to leave my bike across the road, he doesn't want to check anything, only he thanks us for visiting his country and welcomes us to return, then stamps our papers and we're free to move on. How nice.
Money can be changed at the little tienda on the road side.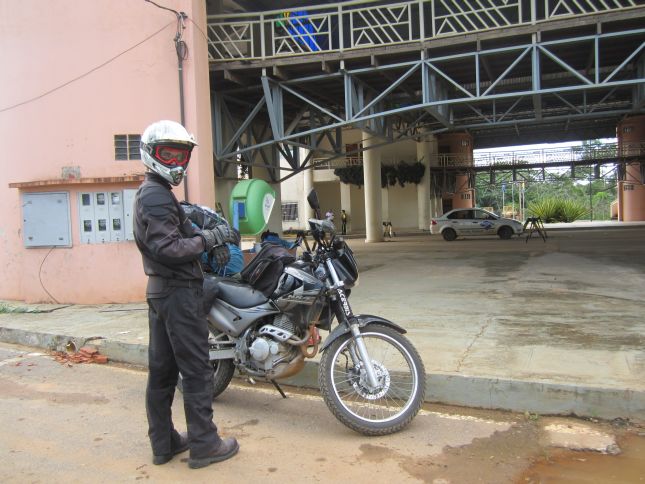 We hope for the same welcome at the Brazilian side, however things are slightly more tense – or maybe it's just me because it's getting later in the day.
The border police stamps us out. Then we are told to wait half an hour for the Aduana to re-open from lunch. An illegible, weathered photocopy of the document requirements is sticky-taped to the office window – on the outside of course, so that it won't be legible for more than two days. The officer takes his time punching details into his computer. Then it materializes that I need to get photocopies of some documents, which I would have been able to do during his lunch break, but of course the illegible, weathered document was taped to the outside of the window… (all according to plan if you ask me. I know there is a photocopier in the office across the road but of course I need to ride a couple of kilometres into the closest town Assis to get my copies.)
Copies needed:
– Passport ID
– Bike registration
– License
– Passport Entry Stamp
– (3rd Party Insurance document copy I had but don't recall if they wanted it)
Note:
I did also notice on the legible part of the page on the window: "Entry vehicle only in name of driver."
We were never questioned about a Yellow Fever certificate (but did have it).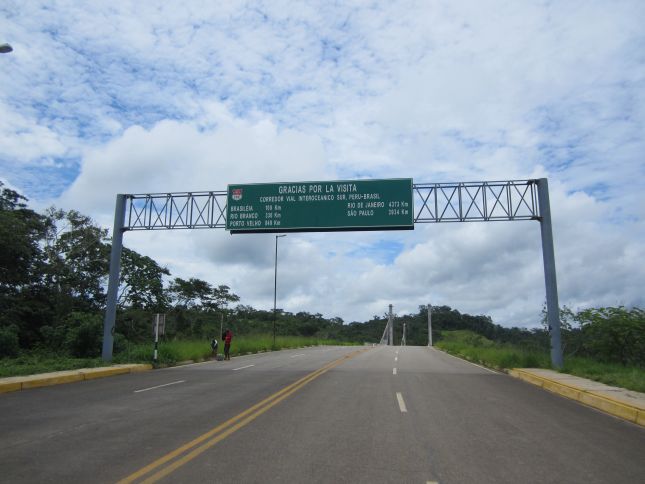 I'm a bit pissed off but what does that help. As we complete the process with the Aduana I wait patiently. They offer me a coffee, which though I decline I receive – black, syrupy sweet – and when Mr Aduana finally completes my TIP (import permit) – the second one, after the correction of Australia to Austria – I sigh relief and we get riding again.
I still don't know whether he just wanted to chit-chat to be friendly or because he was bored, or wanted slow me down to annoy me.
The road on the Brazilian side, the BR317, is of good asphalt, grey and even, giving you the confidence to open up the throttle; however it is frequently perforated with nasty potholes, the kind you really don't want to hit, so pay attention!!!
Next fuel available at Brasileia, about 100Km from the border.