Do things in life ever turn out easy, even for the deserving? I have my doubts!
Repair quotes from bike mechanics suddenly all come out at about 500K Pesos. And we still haven't found gear at the cheap rates Luke mentioned, despite haggling. We spend a lot of time running around the city looking and I spend ages on the Internet researching biker forums, Chilean online markets and so on. Everything's in Spanish here and hardly anyone speaks English… and this stuff is definitely not covered in your tourist phrasebook, believe me… you can imagine…..
I decide since I don't trust the bike dealers (never have), I will go and visit a mechanic recommended by people on Horizons Unlimited, probably the most popular biker forum on the Internet: Ruben Contreras a.k.a. Johnny Moto.
We head the 15Km down to his part of town, La Florida, but after two hours we still haven't found the place. Then it starts raining as well! Dammit! Eventually we find the place. It's on the side of the main Autopista, as shown in Google Maps, but the building number is unrecognizably painted on the wall in brown paint… and it doesn't look anything like a bike shop. We knock… nothing. It's Sunday.
Monday morning we head there again. This time the big metal gate slides open.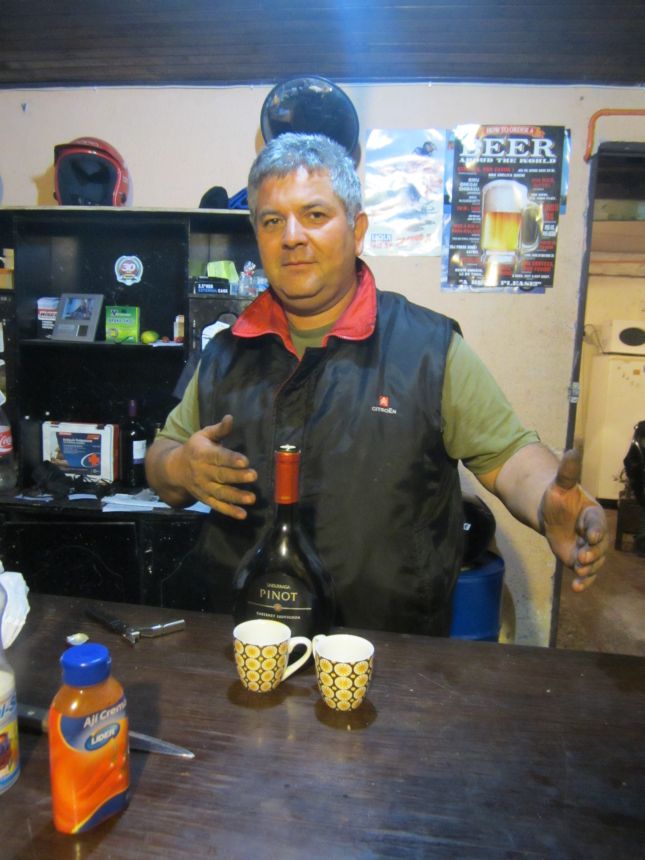 "Ruben Contreras?"
"Si."
Thank God!
His quote is not much below the Honda dealer's (450K Pesos) but at least that includes a new front tyre, brake pads, and he has a reputation.
The work gets underway. I supervise (rather "watch") everything. He seems to be a good mechanic – tidy workshop, clean work surfaces, careful handling of parts, patience…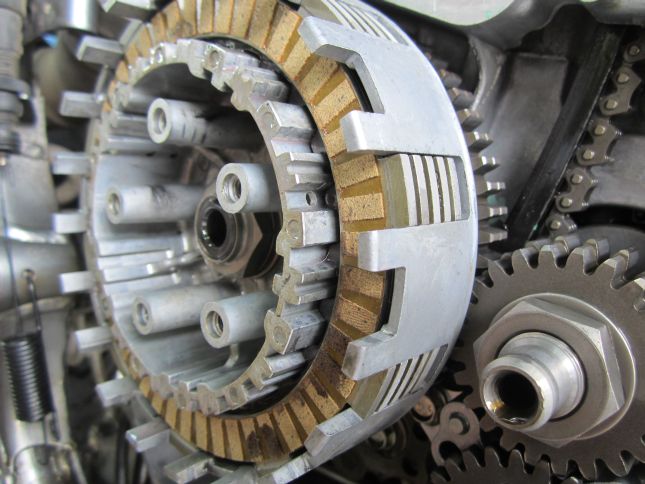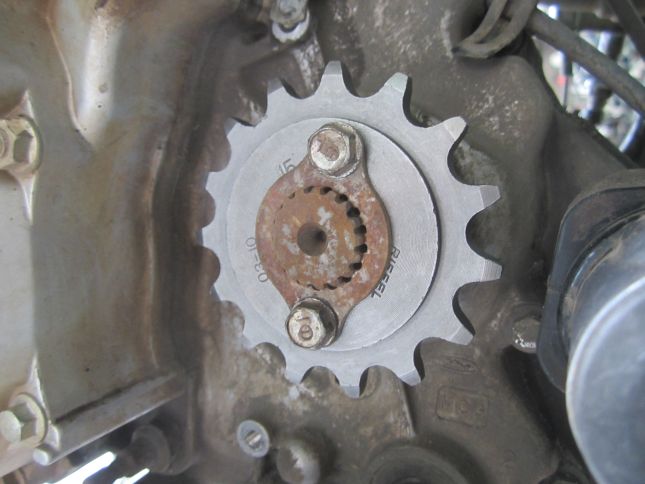 He changes the clutch plates, transmission, tensioner, brake pads, front tyre, oil, oil/air filter; he greases everything, replaces gaskets and rubber seals, recommends and installs some neoprene dust protectors on the front suspension.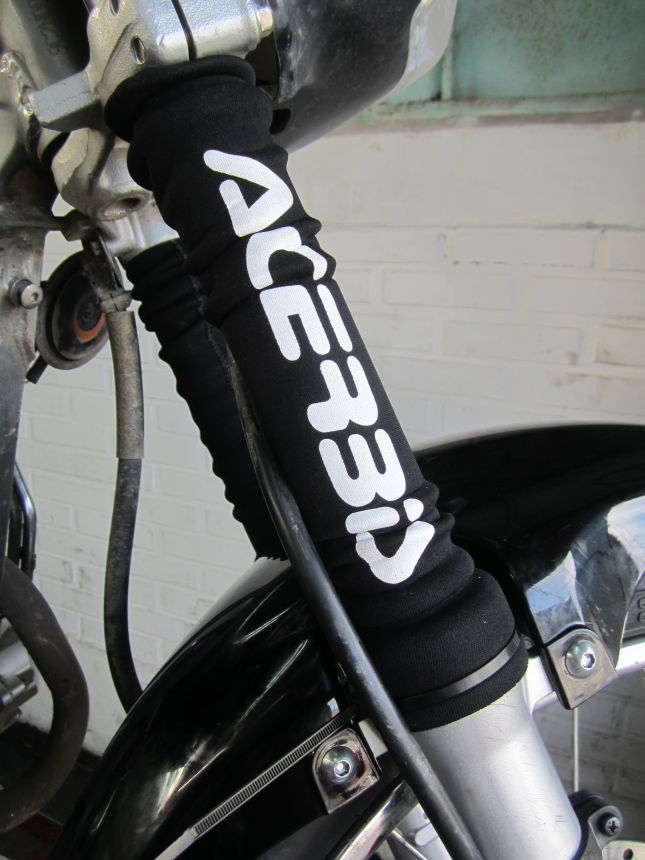 For extra 20K he accedes to my request and bends up an old aluminium bash plate to fit the bottom of my frame, to protect the engine – a piece I'm really chuffed with.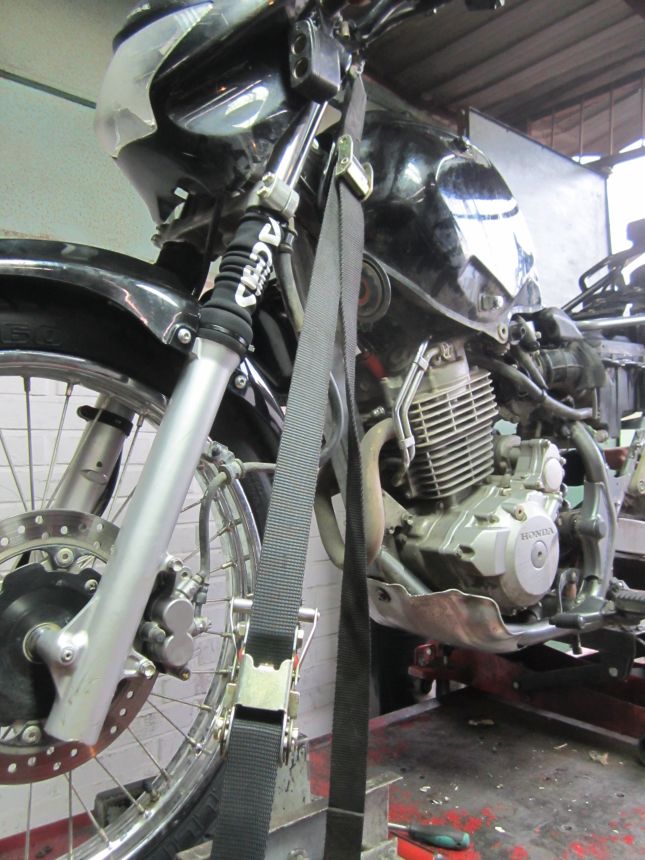 There's a lot of bikes there of all models and generations. A regular entourage of bike enthusiasts hanging about, bringing in lunch or breakfast. And plenty of visitors bringing their boneys for repairs. KLRs, Africa Twins, BMWs…
At 7 at night we start up the bike…. the engine emits a terrible gnashing and whipping noise. Surely this can't be happening! Ruben's look is a mixture of irritation and defeat. They've been working on this thing for a day and a half. He takes it for a spin, comes back and the noise has subsided. Thank god!
The next day we have to go out and sort out the bike papers and gear. Not an easy job, when you don't know the language. For the bike transfer contract at least we have the help of Colvin&Colvin, which makes that part easier. About midday the engine starts with that strange noise again. Shit! Off we go to Ruben aka "Johnny Moto" – "por favor revisar trabajo" (please revise your work). He does, at no additional charge. Dismantles the clutch, removes the tensioner… nothing to be found.
While the work proceeds I speak to one of the "regulars" there, a young woman named Isabella, who has brought her bike in to check up before a trip to the North. She says she's been coming here for years and she wouldn't go anywhere else. When we talk about my bike she says she used to have a bike that was very noisy too and it got her really paranoid… came back here several times to get it fixed. Nothing they could do silenced it – just turned out it was a noisy bike and it gave her years of good service.
Ruben suggests that it might be to do with the tensioner not being a Honda original, though he has used these alternates on this model before without problems and believes it to be a better part. He installs the old tensioner again for me to ride with a while, to see if the problem disappears. And it does.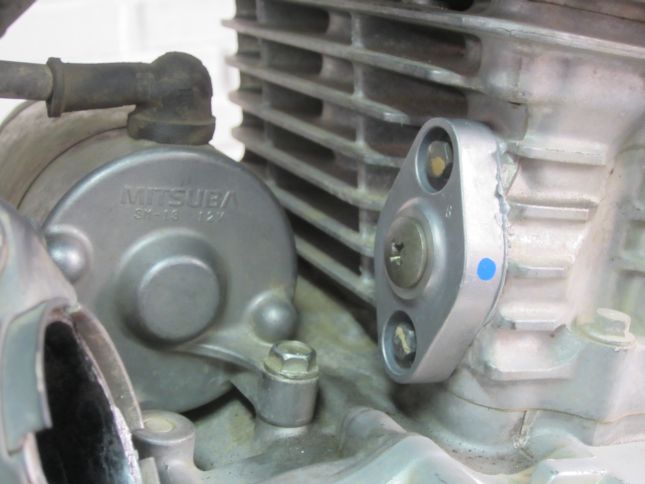 A day later I take the bike back, thrilled that we've discovered the cause of the worrying noise. We haven't had the noise with the old (Honda original) tensioner for over 100Km. We need to make a deal: since the problem seems to be with the alternative tensioner, I want a new original. Johnny doesn't think this is a tensioner problem, but we can agree this is the only "scientifically tested" conclusion we can draw at the moment and the alternative – dismantling the engine completely – would be a major and costly endeavour. I'm willing to carry the price difference for the original tensioner but not the whole cost, unless it doesn't work. He agrees, we buy an original, install it, and everything seems fine. Hallelluja!
The next, with the new tensioner in place, day Ebru and I loop around Vina del Mar, Los Andes and back, to test drive the bike. Fine for a while but eventually the noise returns. SHIT!
It costs 250K for Ruben to completely dismantle and inspect the engine. When the oil is drained Ruben points out a silvery glittering in it – "aluminium", he tells me, "malo" (not good). I watch it all. Every single nut, bearing, everything is taken out and checked.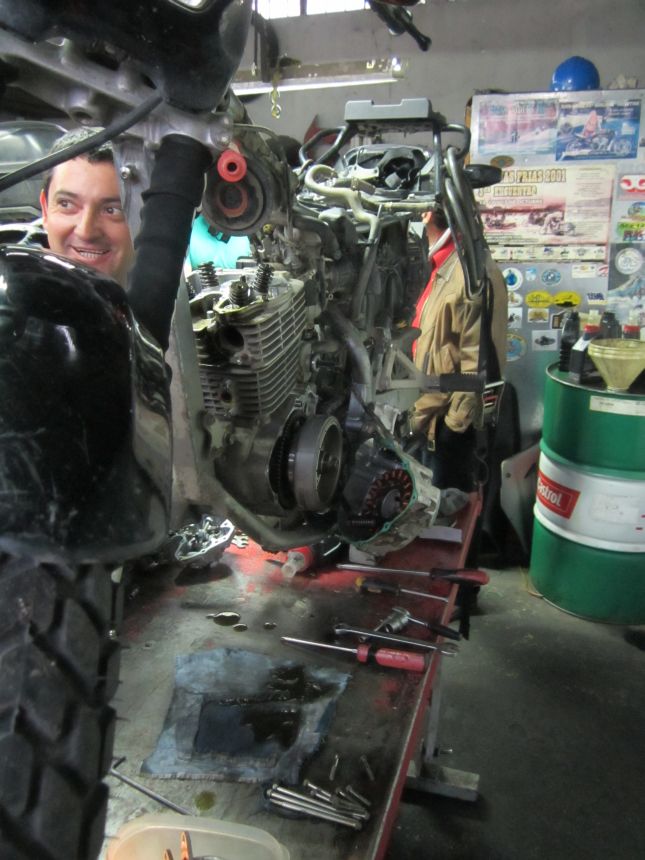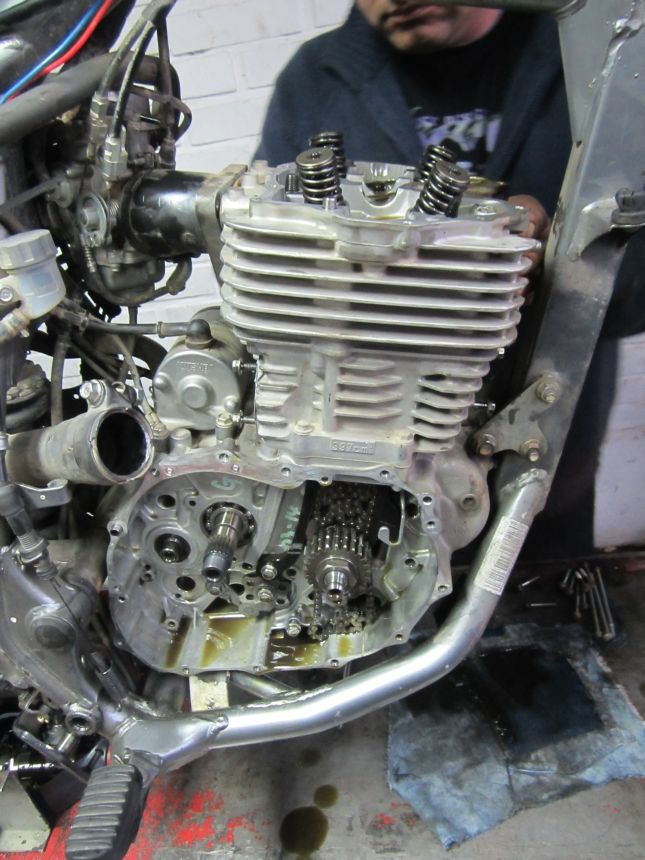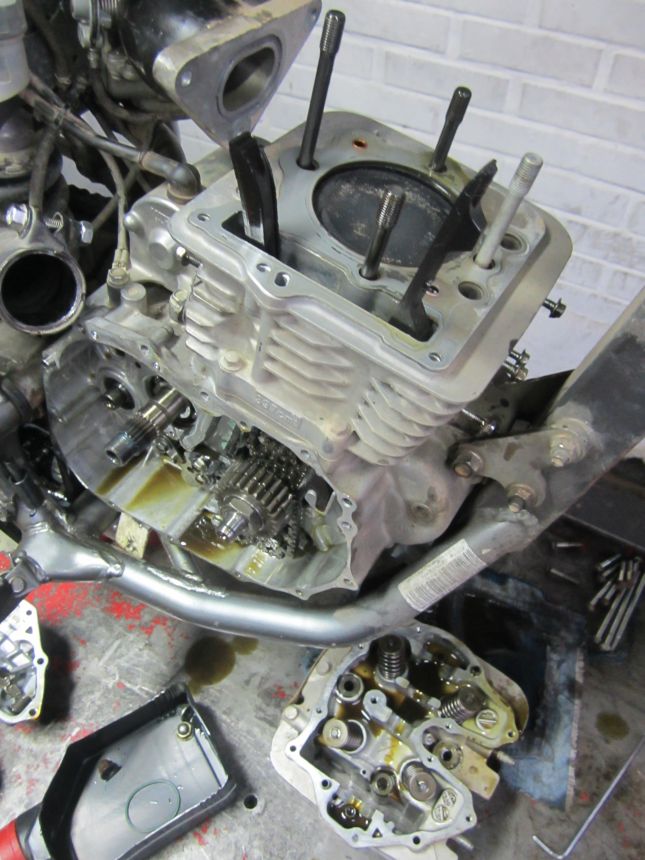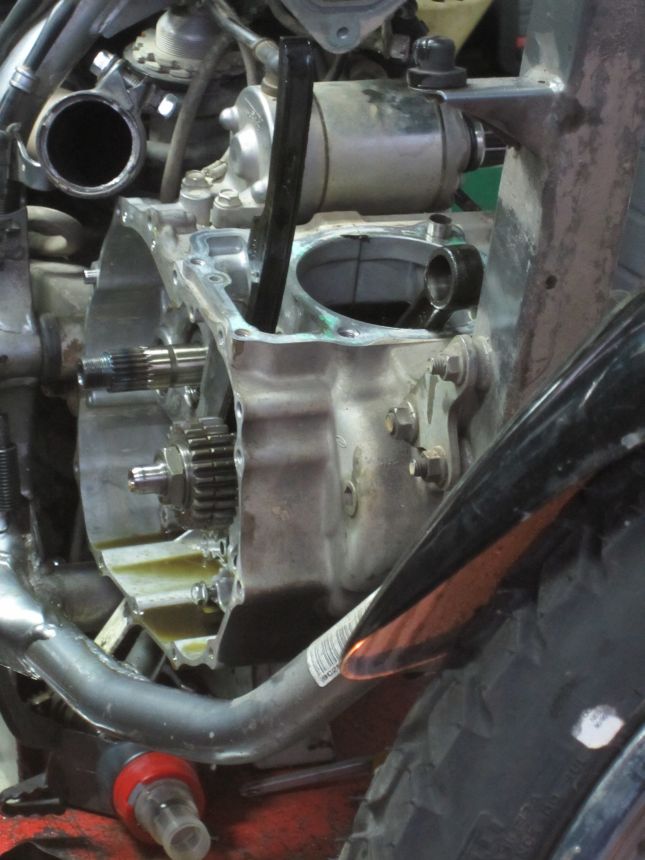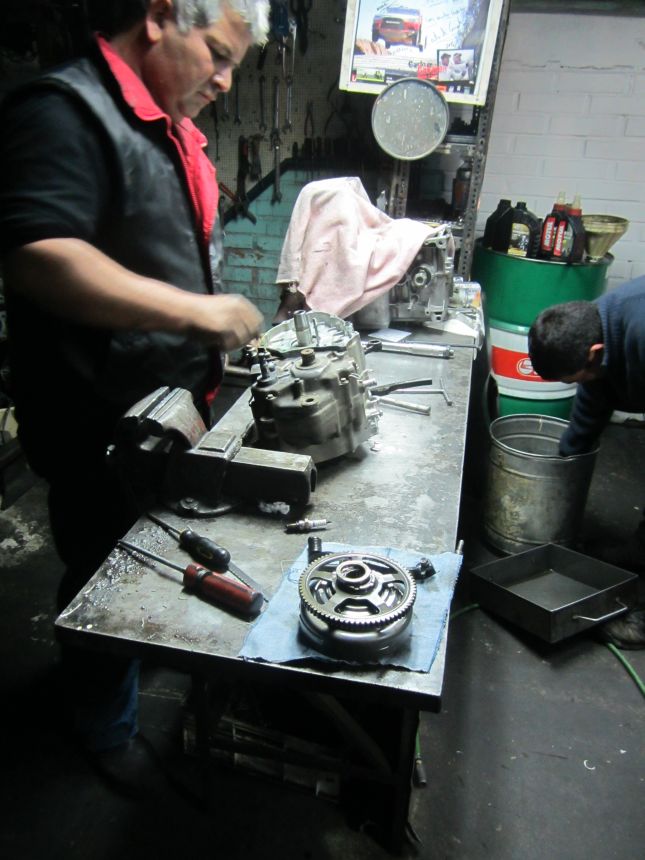 That afternoon another young lady is there with her 750, learning to change her tyre. In conversation I ask her about this little device on her handle bars – is it a GPS? "No it's a TAG, don't you have one?"
"No."
"Oh so you don't take the Austopista I suppose…"
I've been taking it every day to get here. She explains that you have to pay a tax, either by daily pre-pay card or by using a TAG device, which electronically registers with the overhead monitoring systems on the Autopista. I thought those were speed cameras! She's kind enough to phone up a couple of Autopista offices to see whether I owe anything – my number plate has been registered a few times on a couple of them at least. Shouldn't be a big deal – a few thousand Pesos at most – but people recommend that I don't pay because I'm not Chilean anyway.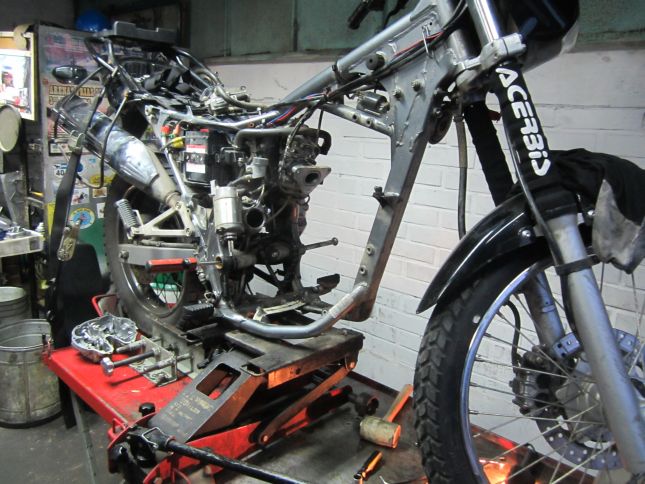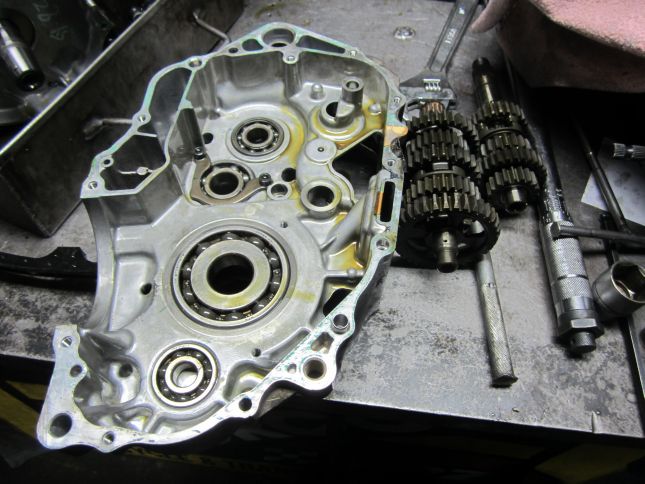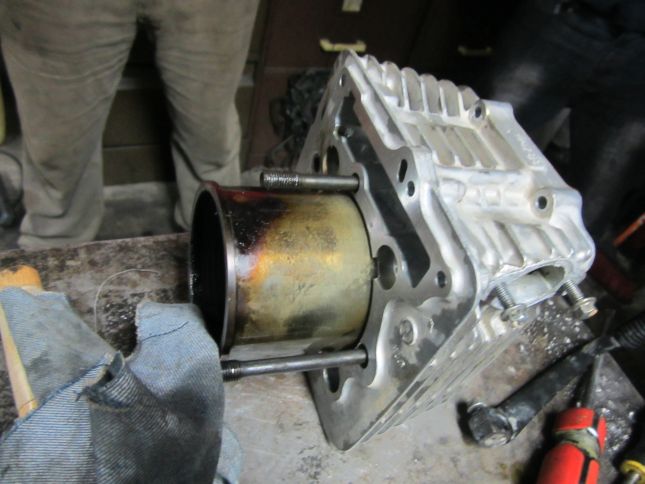 Inspection result: Everything looks good, except there is a slight amount of abrasion inside the cylinder head walls – possibly caused by vibration.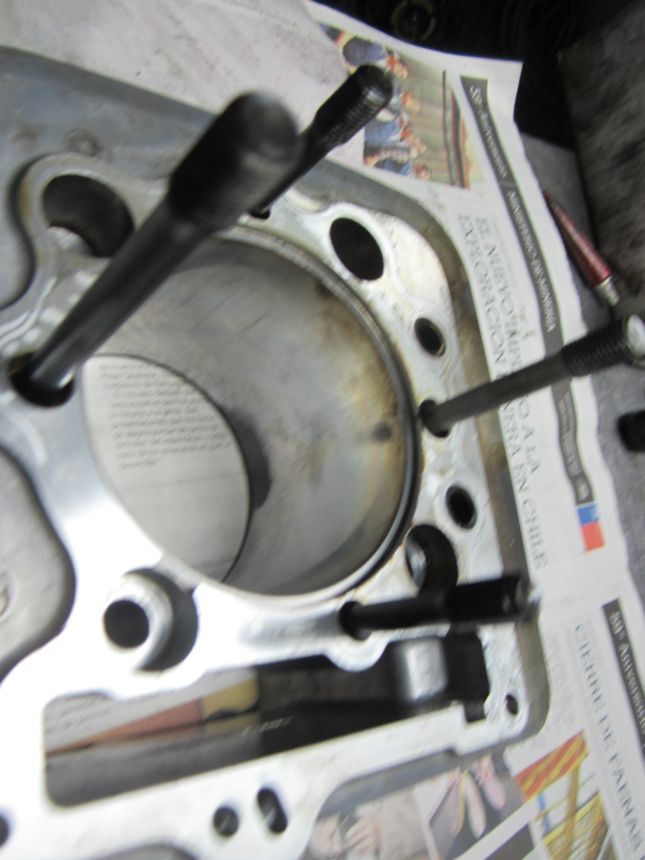 Shouldn't happen with a bike so new, but who knows, could be a factory defect. A new cylinder will cost 60K but for no additional cost Ruben suggests re-mounting the cylinder with Loctite, strong chemical bonding agent. He says he's done this in other cases with success. Just to be sure, two of the main engine bearings are replaced as well.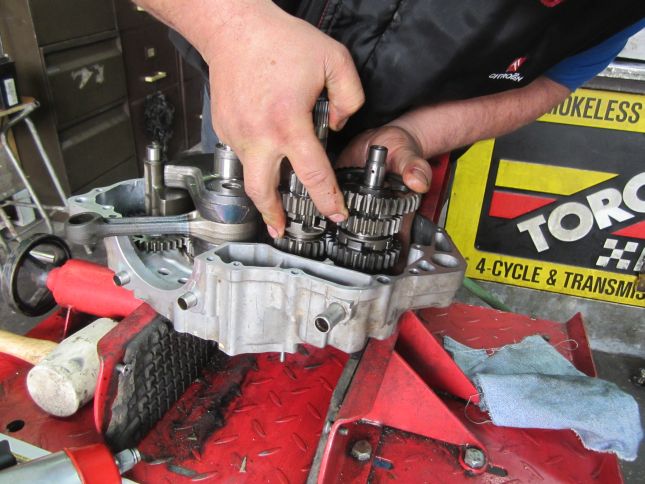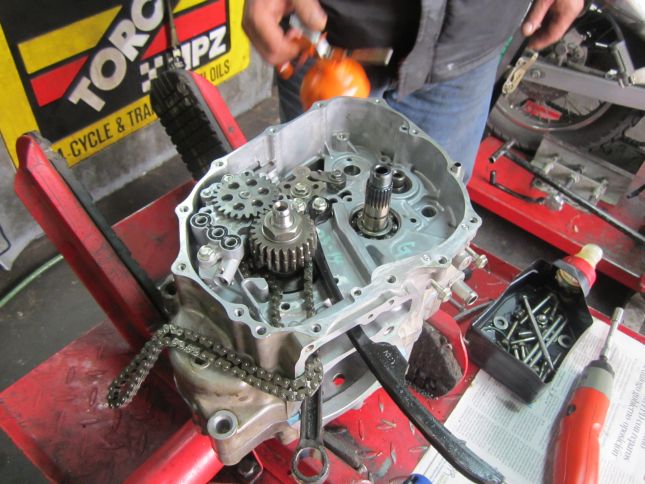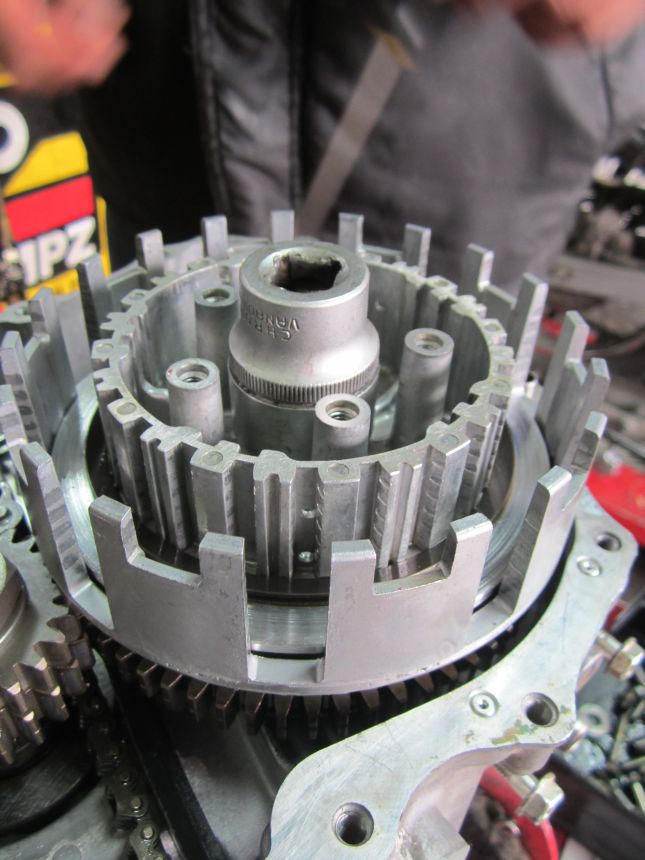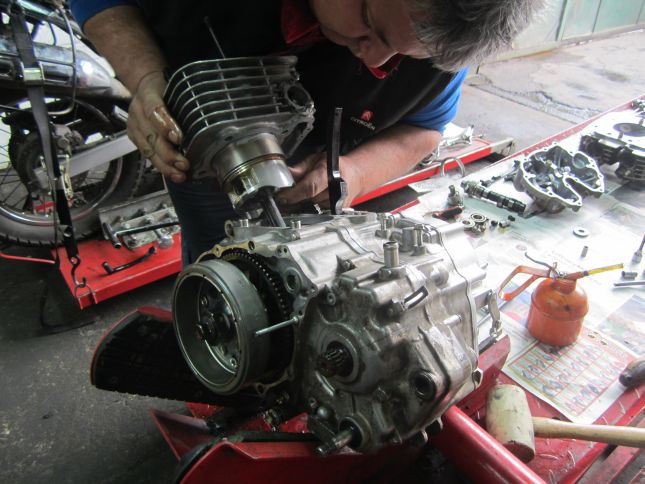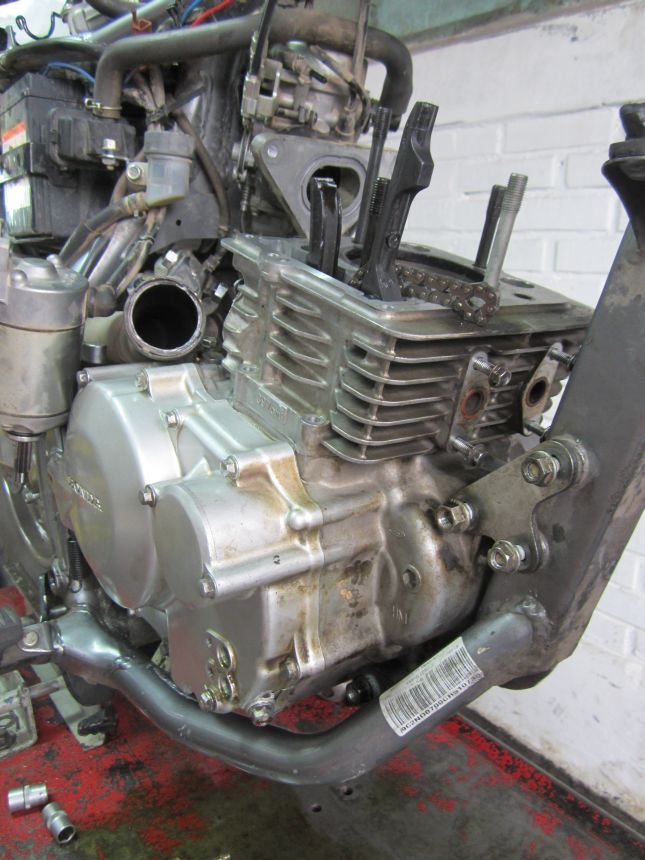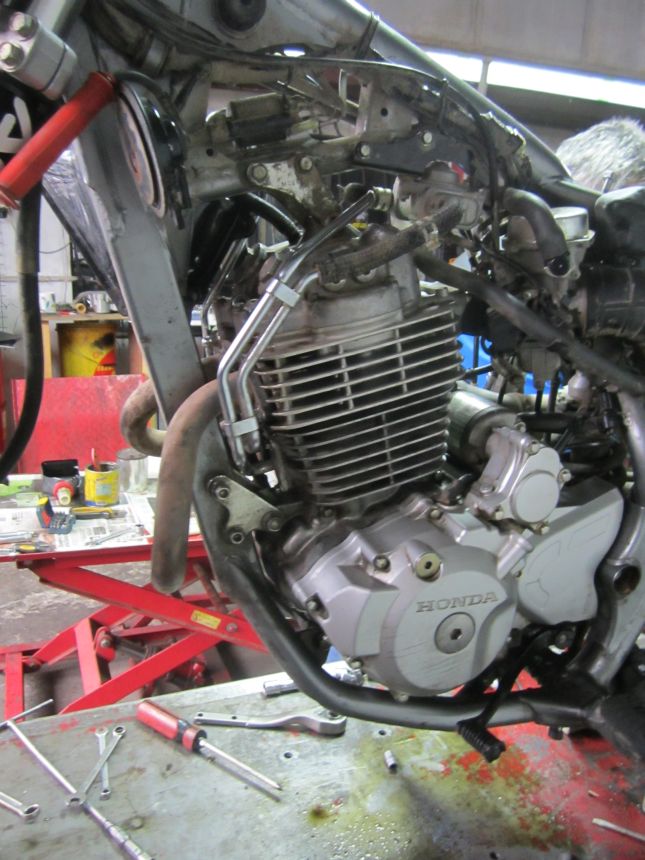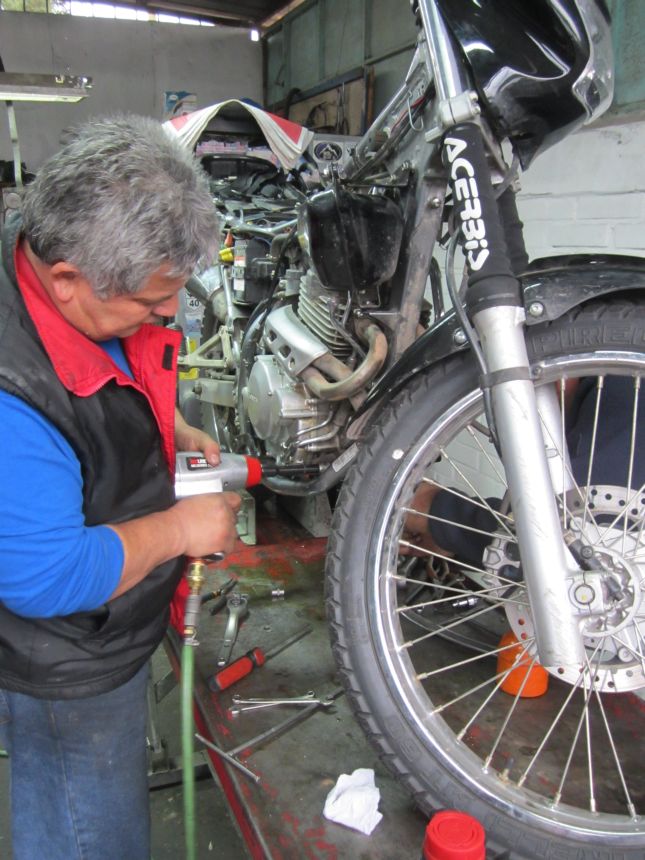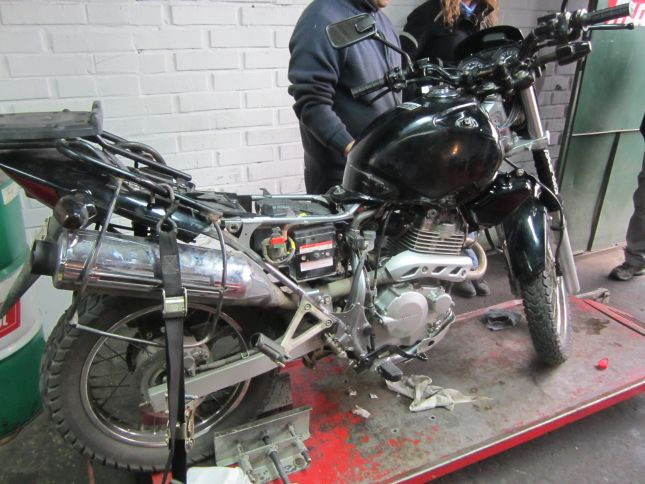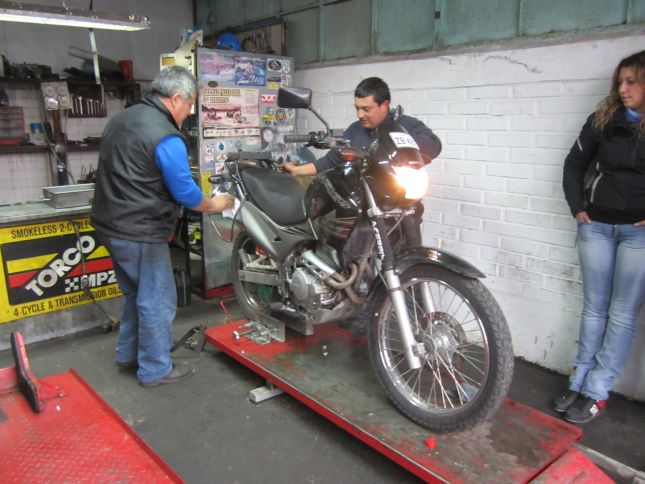 Two days later the bike is again complete and we start it up. Seems to have worked.
The following day Ebru and I ride around town looking to get our gear sorted.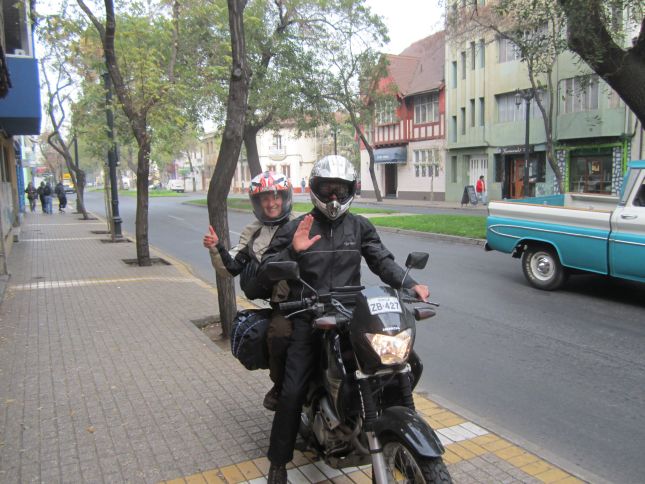 Then the noise comes up again.
I am just about ready to throw in the towel by this point. I go to visit Johnny Moto.. I'm at the end of it.. ask him if he's interested in buying the bike. I've had enough. Johnny's not interested in buying it. He tells me to go with confidence. He's checked every single part and is confident this motor has no issues whatsoever. Only the cylinder could eventually start causing problems and need replacement, he recons, but this bike is ready to go. Go tranquilo! "Vaya con confianza."
What can I say? What should I think? I've watched all the work being done, seen all the parts, asked questions, everything looked good to me, all explanations logical. Everything that can be done, I think, has been done. You cannot dismantle the engine anymore than it was. I guess I'll have to take his word for it.
UPDATE: Finally, after much worry and strife, we have found the root of this engine noise problem! Read these two articles for the story…
1. Getting an idea of the root cause — Crown Jewel of Bolivia: Sucre

2. Problem Solved! — (Coming soon)