TRIP INFO BOX

Location
Death Road / Carretera de la Muerte, Bolivia

Ticket Price

25 Bolivanos per person

Return Trekking Time

6 Hours to Full Day

Retun Distance

Approx. 210Km, more following the offroad route

Terrain

Mountainous, altiplano to jungle slopes, steep cliffs

Flora

Good tar on new road, gravel on Death Road, bad dirt track on Alternateive Exit

Fauna

Food at Undavi and Yolosita / Coroico; Cotapata Petrol Station en route & likely at Coroico

Tips

Take a packed lunch, water, puncture kit; torch, warm clothing & extra supplies if going Alternative Exit
---
Total trip from La Paz is about 60Km (alphalt) to Undavi, another 5 to Chuspipata Crossroads, then about 50Km (good gravel) down to Yolosa, the end of the Death Road. From there 6Km (Gravel) take you to Yolosita and about 90Km of good asphalt (with a few patches of pebble or gravel) return you back to La Paz on the new road.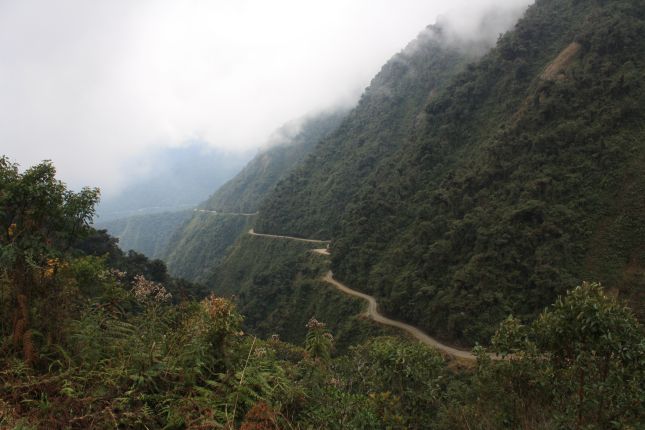 We decided to do the death road by motorbike and research the route on the Internet. It seemed easy enough based on the maps and advice there but in reality we would have missed the correct turn-off if we hadn't been in proximity of some mountain bike tour vans on the day. We tried to exit La Paz on the East side to Ruta 3 but it turned out there was a miners' protest which was blockading the road and all vehicles were turned back – including the mountain bike tours, which is how we ended up following them. They knew of a back-road out of the city, all dirt and spectacularly scenic, which we followed. I'll describe the two routes as best I can in case you're looking for the info to do it yourself.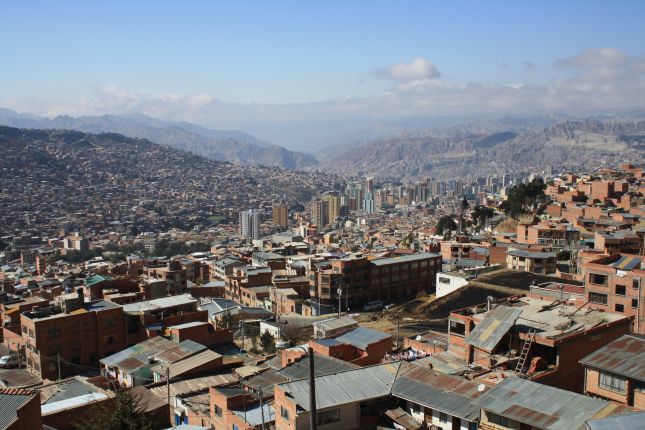 Normal Exit from La Paz:
You follow the Avenida Gral. Jose Torrez Eastwards and this asphalt road will (at the town limit police post) become the Ruta 3. To get there from the centre your route planner might suggest leaving North on Av. Montes (aka. Av. Perez Velasco aka. Av Mariscal Santa Cruz), then slight (R)ight at the funny little YPFB petrol station, R on to Av Armentia, followed by (L)eft into Pisagua, which will join you up with Torrez. Be aware that your little trip up Pisagua will probably scare you more than the Death Road itself! It is severely steep and has come strong corners in it. But since you were off to the Death Road anyway, here's your chance to test your courage. 😉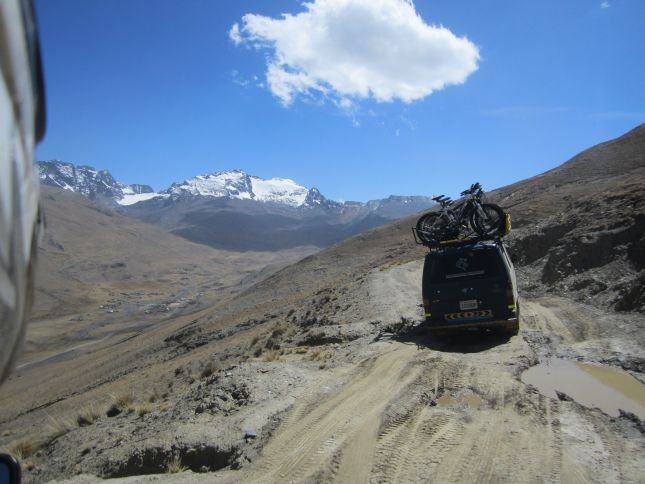 Alternative Exit from La Paz (Through Parque Nacional Cotapata):
Follow Avenida Gral. Jose Torrez Westwards or Montes Northwards until you join the Autopista (uphill toward El Alto). About 3Km after you join the Autopista there will be a signposted archway labelled "Urbanisation Autopista" with a blue & white sign displaying a map for "Albergue Ecotouristico Pampalarma"; turn R off the Autopista here. This will take you on a dirt road towards the village of Chacaltaya, located near the mountain lakes or Pampalarma. (Around here we saw a sign indicating we were at about 4500m altitude.)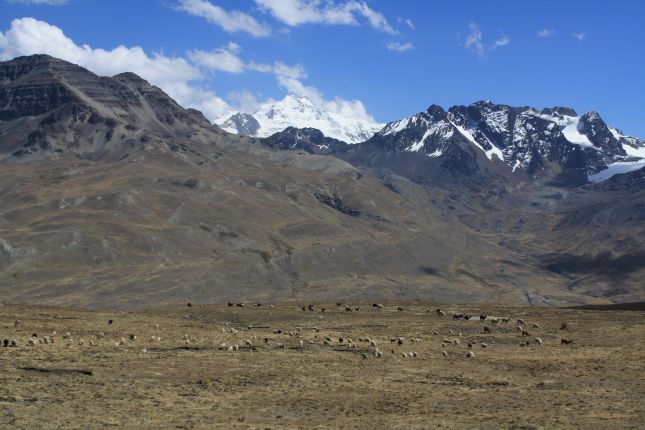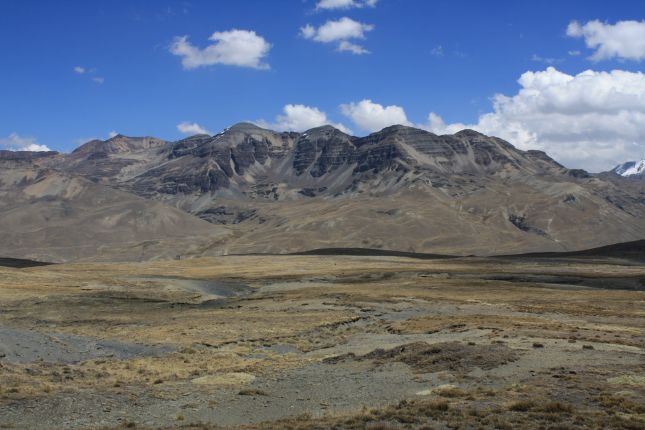 Just before reaching the village (after a small bridge) the road forks, L and level to the village and R and uphill to continue to "La Cumbre". (La Cumbre is the name I read off a mountain biking tour map and I don't know whether the real name is Pampalarma and that La Cumbre just means "the Mountain" or otherwise.) The road is nasty from here on but a fun ride and scenery is breathtaking! You snake up to a small lake, then right towards a larger one where there's some national park sign boards and a couple of buildings. This is La Cumbre at about 4700m altitude. From here you join on to the asphalted Ruta 3.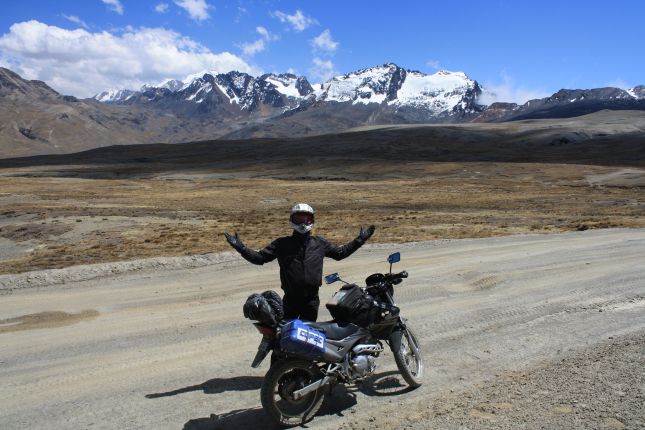 (Just a thought if you do take this route: there was some truck traffic coming towards La Paz; I don't know if this is always the case. You will likely be riding slow in low gears so watch out for engine overheating. It may be worth considering some emergency preparations in case you do get stuck there. In the day you would probably walk to that little village or forward to La Cumbre (there was no one there when we passed through). However this is not a place you want to be stranded without some emergency equipment in the afternoon/night. I would recommend at least puncture kit, torch, energy & water, warm clothing).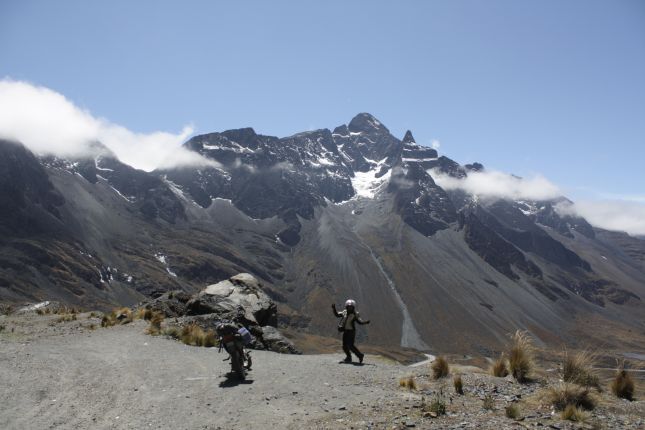 From La Cumbre you follow several Kilometres downhill until you pass a Police check point at Undavi. This is where apparently you normally pay your 25 Bolivano entry fee, but we saw no police and instead paid at the Cerro Rojo Tourist Checkpoint well down the Death Road. Soon after Undavi there will be small green road signs signalling the Yunga Norte and Yunga Sur routes: you take the Norte (L). Then you will pass the small Cotapata petrol station on the left (beware of the dogs!!!) before going into a sharp left-hand bend followed by some shops on the right road side. This is Chuspipata Crossroads.
The Death Road: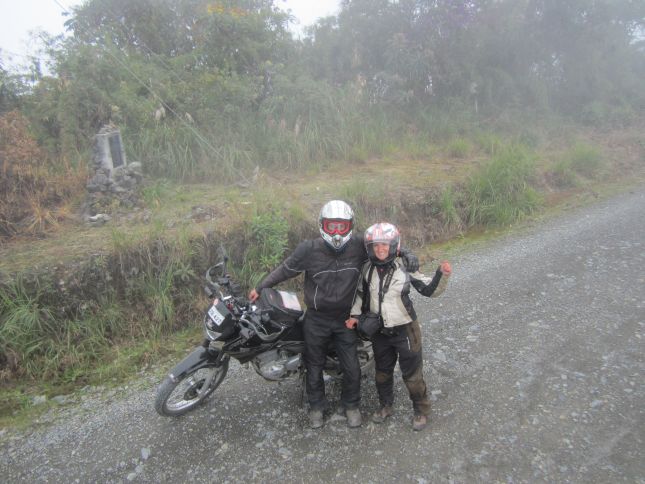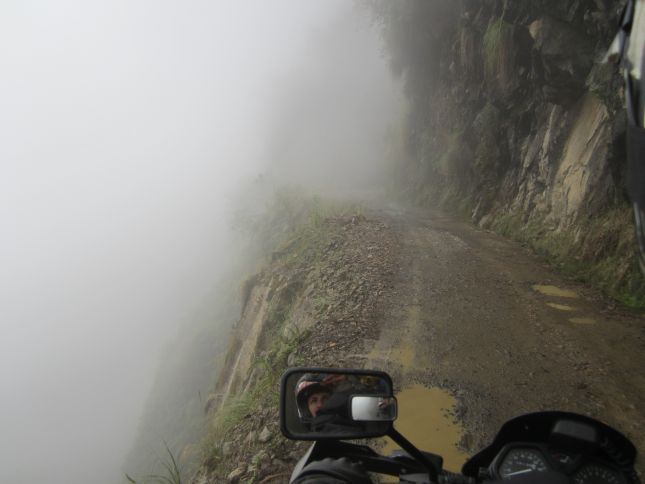 Just in the bend at Chuspipata Crossroads, before the shops, you will see a large yellow sign where a dirt road goes off to the Right. This is the beginning of the Death Road.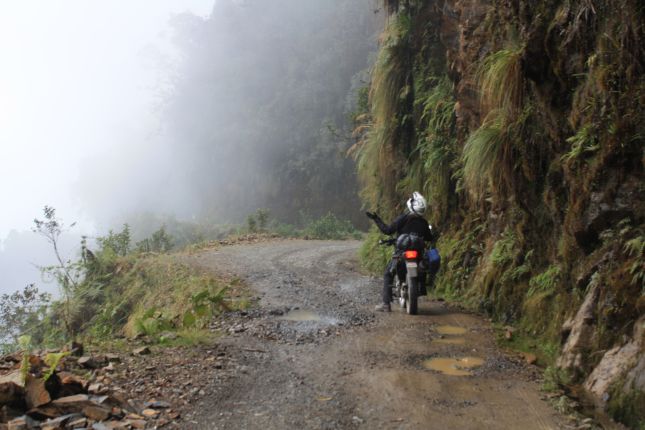 Starting from Chuspipata Crossroad you will begin to DRIVE ON THE LEFT roadside! This is the rule but on most straights you can stick right, close to the cliff face, if you feel unsafe near the edge. The average speed from here will likely be 20-30Km/h. In places you can safely burst to about 40Km/h for short distances but you'll probably want to relax and take in the scenery.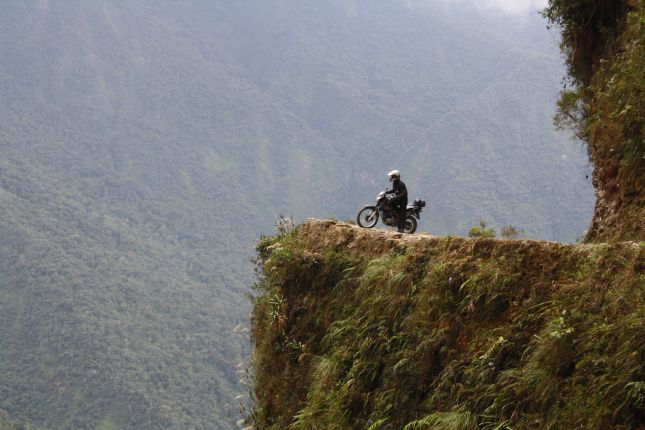 The last approximately 20Km from the Cerro Rojo Checkpoint to the end of the Death Road, you can easily average a good 40Km/h. From here the scenery becomes gradually less amazing due to being lower in the valley. A little hairpin bend over a river at the village of Yolosa signals the end of the death road. From here you can DRIVE ON THE RIGHT AGAIN!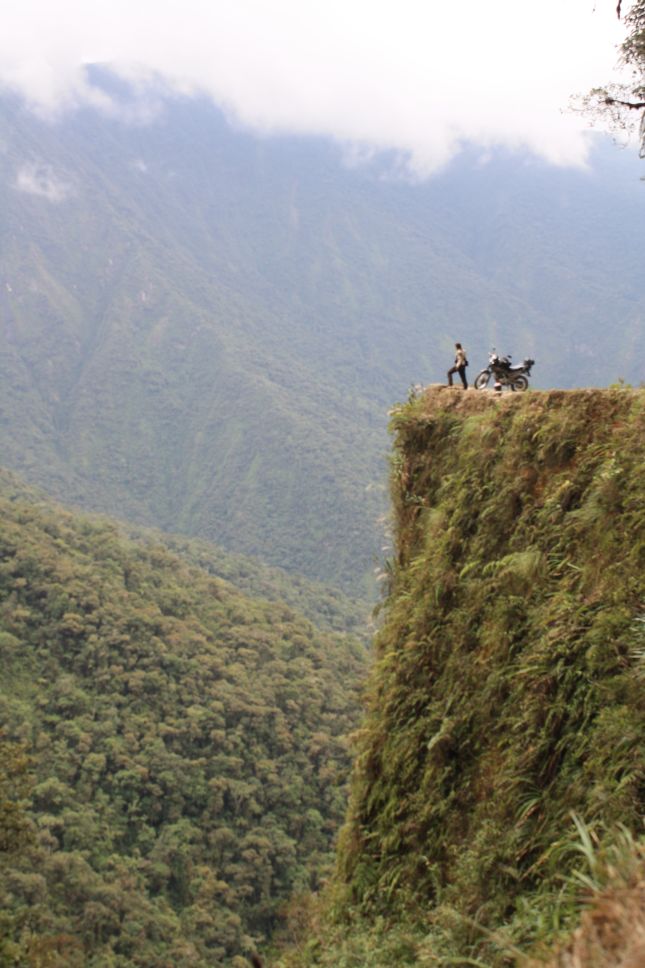 Returning to La Paz:
After crossing the river the road will fork again:
Choose L (dirt, downhill) to go to Yolosita (about 6Km further) where there are a few market stalls again. The big bridge on the Right is the NEW road (Ruta 3) back to La Paz, going Left takes you to Rurrenabaque.
Choose R (stone, uphill) to Coroico (about 9Km), a quaint little town. (Actually this whole area is full of backpacker hostels and various places to eat and drink, probably worth spending a night or two if you're carrying your stuff along.)
The return from Yolosita to La Paz can be done in about 2 hours. The road is good asphalt except a few tiny patches of gravel or stone in between. It'll take you uphill, past Chuspipata Crossroads, Undavi and eventually land you at the Police checkpoint at the La Paz city limit again.
In our particular case we had to navigate through the miners strike there, on our return into La Paz. Night had already fallen and being greeted by blinding miners lamps, huge rocks blocking the roads and the occasional sound of dynamite explosions was a fitting end to our adventurous day. We did ask for permission to pass and did so carefully, but it was a scary experience. They've got no bother with tourists, but many of the miners were drunk, standing around fires or walking in the street, and a few stones were thrown or rolled in our direction.