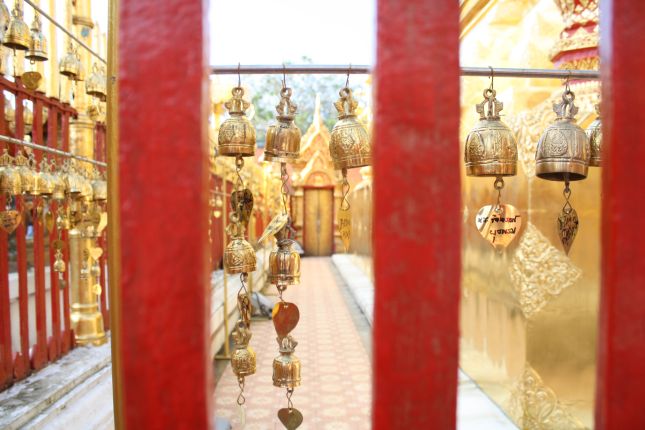 Chiang Mai is not at all what I expected: it's a large town, all built up, with traffic jams and all that comes with it. Despite that, it's a nice place to be. Plenty of Wats (temples) to check out, loads of outdoor activities you can book yourself on and plenty of places to visit. It's not cheap (if you've come from Lao), so we don't buy into any organized tours.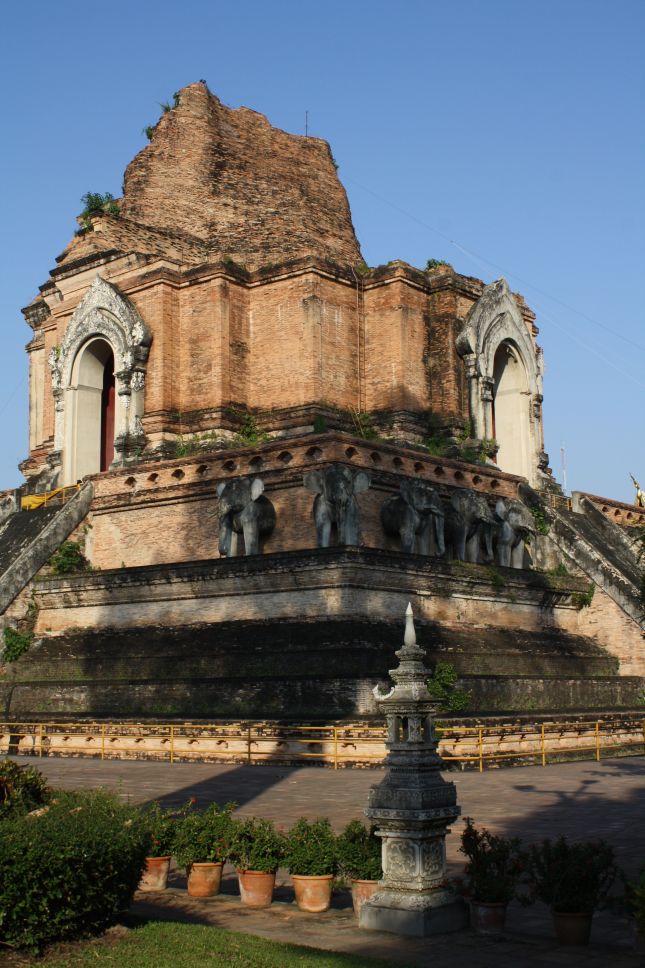 We get a reasonable room in a guest house on the east side of the city wall.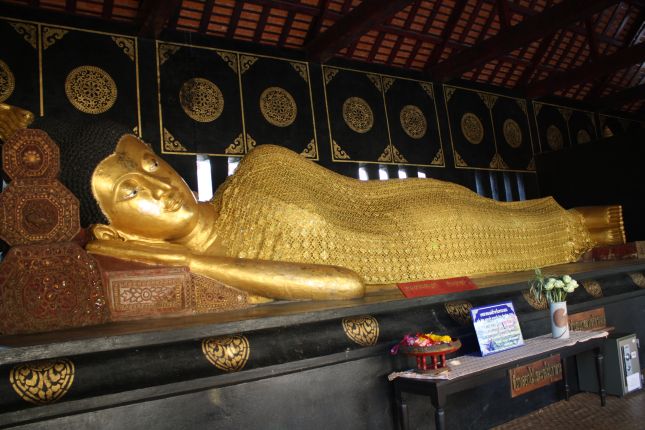 Breakfast at the adjoining Morning Glory Cafe is excellent and the shop is managed by Mew, a really smiley, friendly young lady with the most mesmerizing eyes.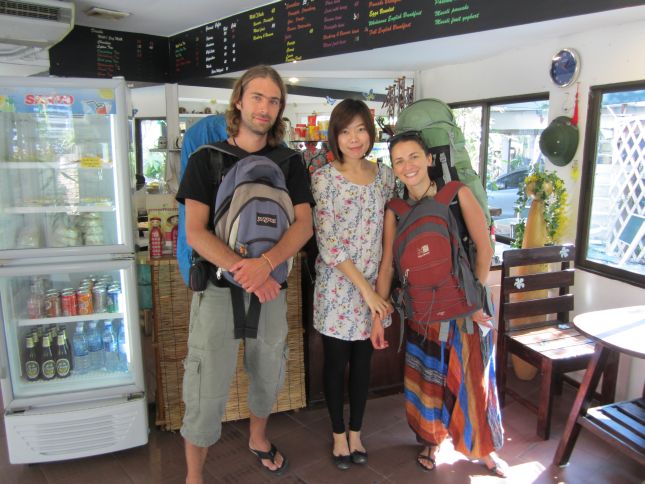 Look at that! Guaranteed to put the sunshine in your day!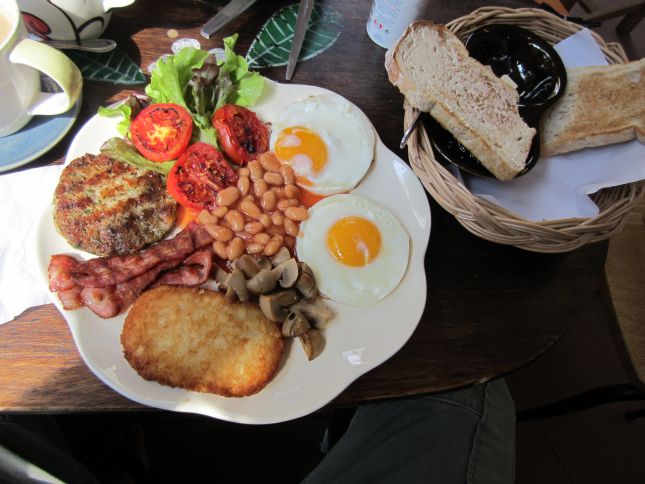 We explore the town from there by scooter (just inside the east side walls an older chap at a wooden desk on the pavement rents scooters for only 100Baht/day!).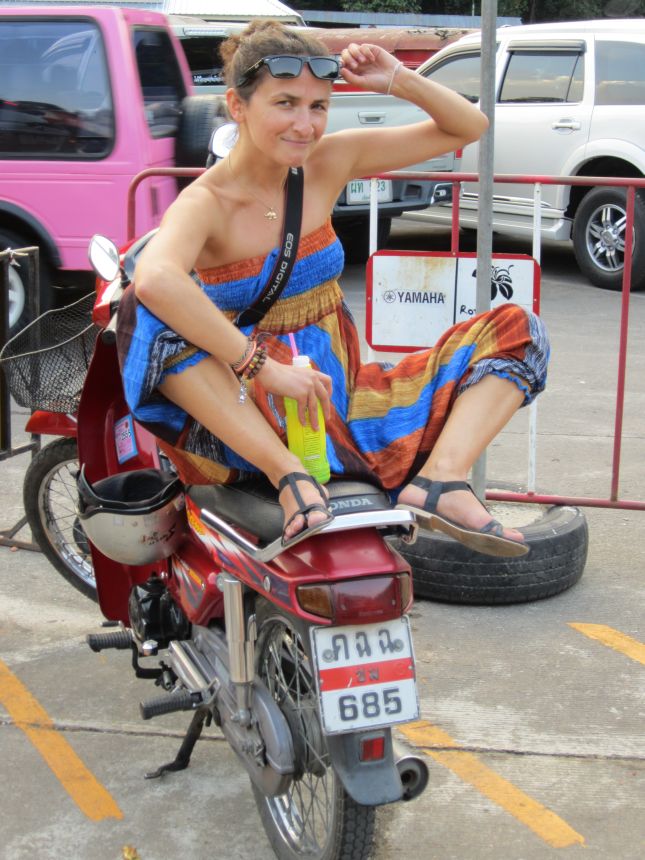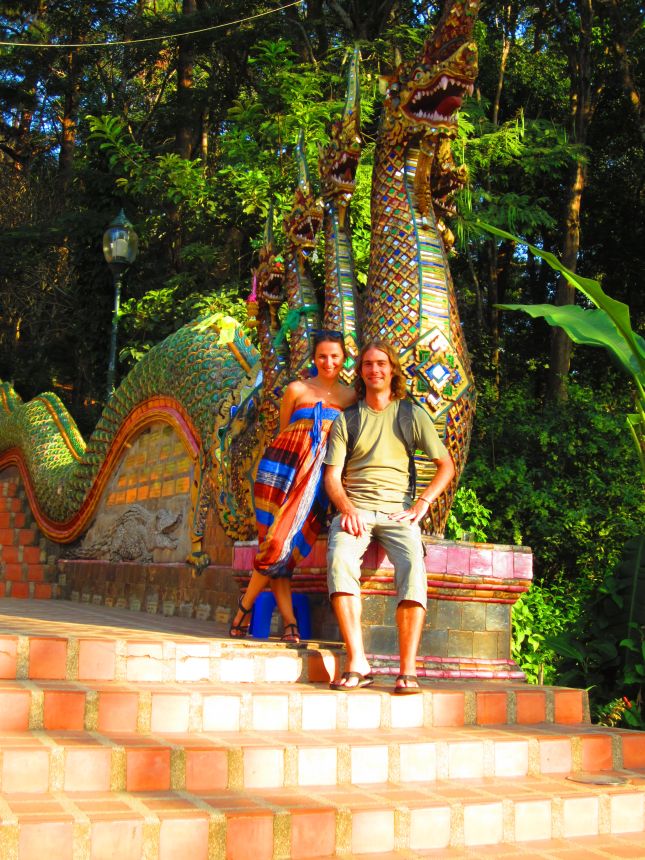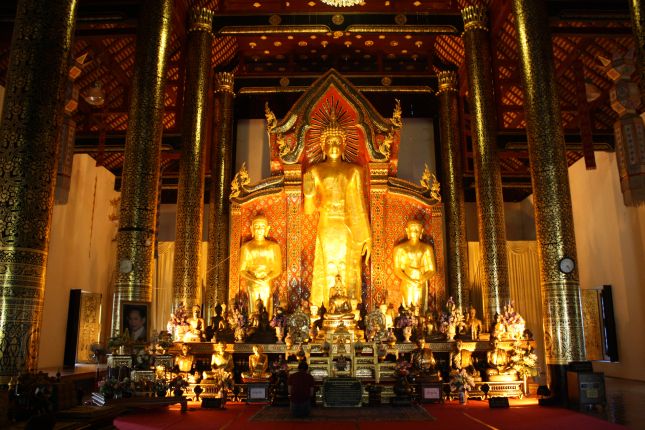 A day trip to Wat Doi Suthep is a worthwhile experience and comes with a lovely view over the whole city. We happen to be here just at the time of the King's birthday so it's a hive of activity, worshipers everywhere, children playing instruments, flowers all over the place – beautiful!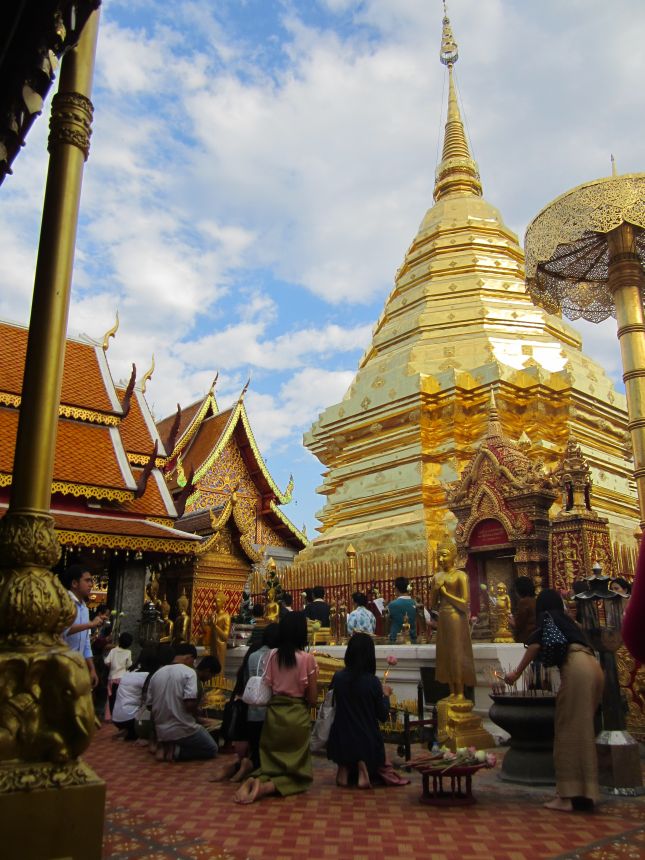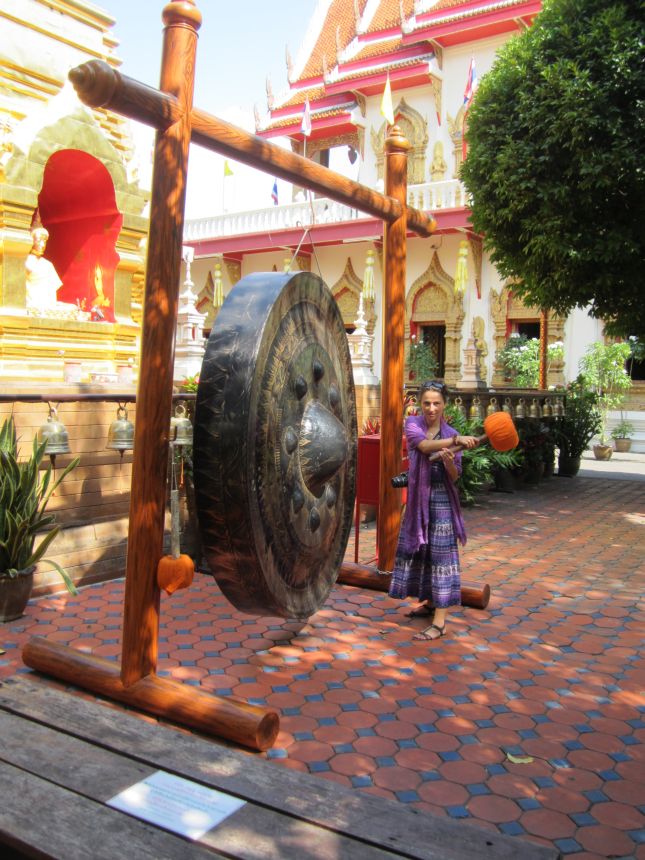 Also we bike about 20km North of town and visit an orchid nursery and an elephant show. Now there's lots of comment out there about whether this elephant training is ethical or not (you'll have to do your own research) and to be honest I don't know, but the fact remains that we went there and it's just amazing how well these animals are trained to do what they do (football, painting, darts etc), so I'm glad I went. At some point I turn my head and little Ebru's standing in the arena playing darts with this huge elephant and it's totally kicking her arse. 🙂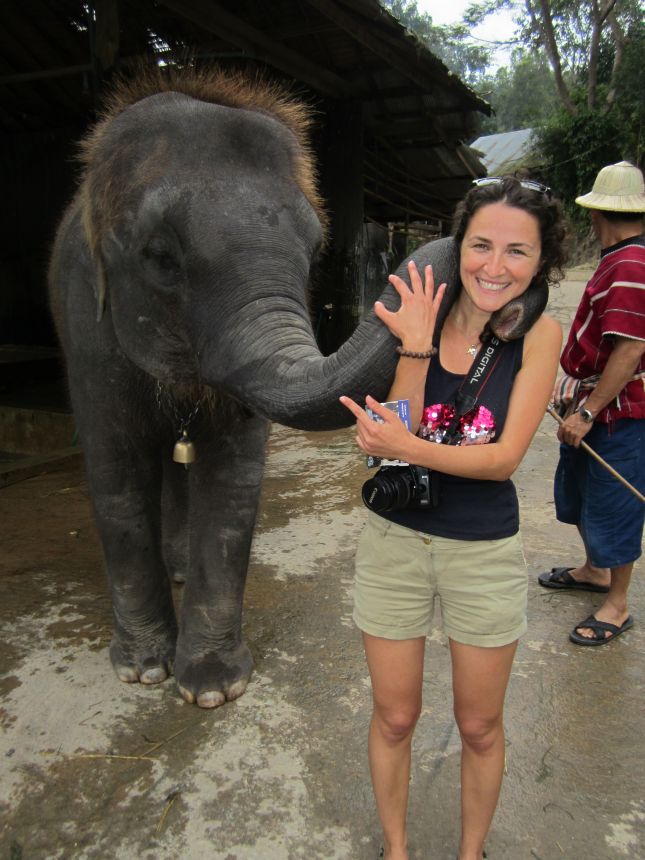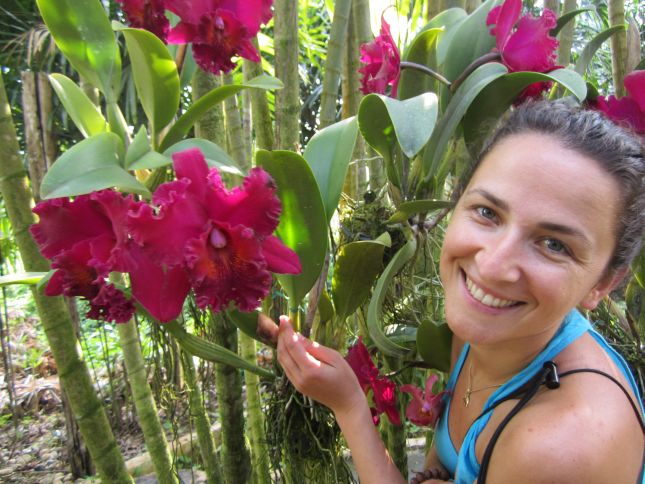 Nights are spent eating Thai food and drinking beer in nice little bars, my favourite being a reggae bar on the south side. And on the King's birthday we happen to attend a Thai music concert in the centre square, which is nice, with lots of singers I'm sure Cherry would have loved to see and song she'd have understood. 😉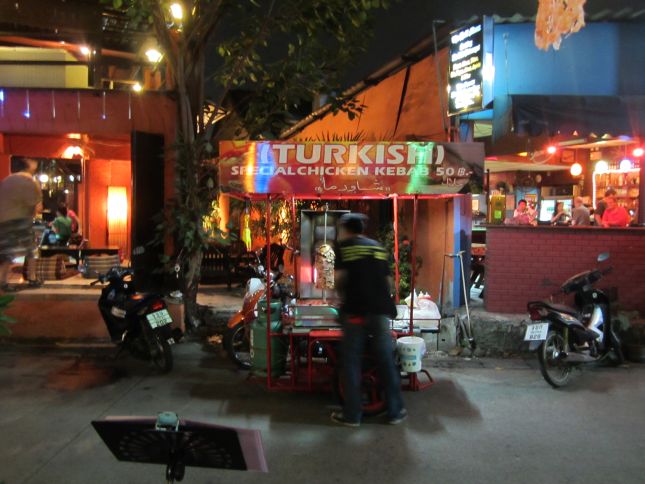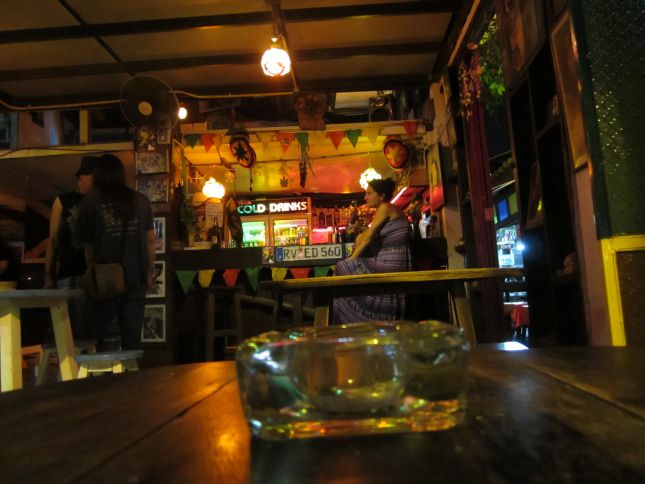 There are a lot of meditation retreats in Chiang Mai. Ebru suggests that I go on one because I'm always so stressed out. 😉 Anyway one day we go and visit a few of the places and find out that Wat Suan Dok (http://www.monkchat.net) they do a two day meditation workshop every week and we book ourselves on it. It takes place at a camp about an hour out of town. We get there and everybody changes into the compulsory white clothes, and for the next 24 hours there's no talking, only meditation exercises and some food/drink breaks. Initially when everybody comes out in their new pyjamas you have to laugh to yourself because it's like you just stepped into a scene from One Flew Over the Cuckoo's Nest.
The workshop is really interesting: informative about Buddhism and a good way to get started on Buddhist meditation techniques. The monk who's running the classes is a great fellow; he just oozes calm and has a really nice way of explaining things. It's barely enough to get a feel for the techniques and unless you're already a meditator don't expect to reach any deep states of rest. However as a taster it's excellent and gives some idea of what you may expect when enrolling for a proper 10+ day Vipassana retreat.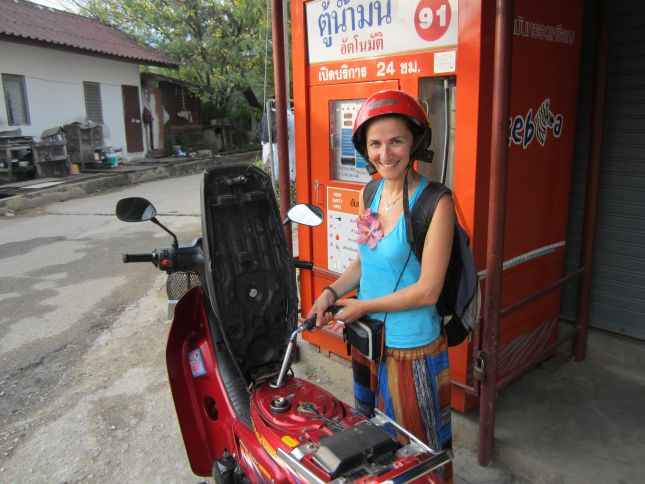 On our final night, Steve at the reggae bar lets us in that there's a festival – the "Smile Party" – going on at the lake outside town tonight and we snap up two tickets for ourselves. Glad we did! Free taxi shuttles there and back all night; it's a small affair, only one stage, all reggae bands except one Thai lady who does the most fantastic Spanish/Latin music, and the music and vibe are awesome! We stay there, dancing and drinking til about 1AM, when the final live acts complete and the DJ takes over. I can't wipe the smile off my face all night. Thank you Smile Party crew!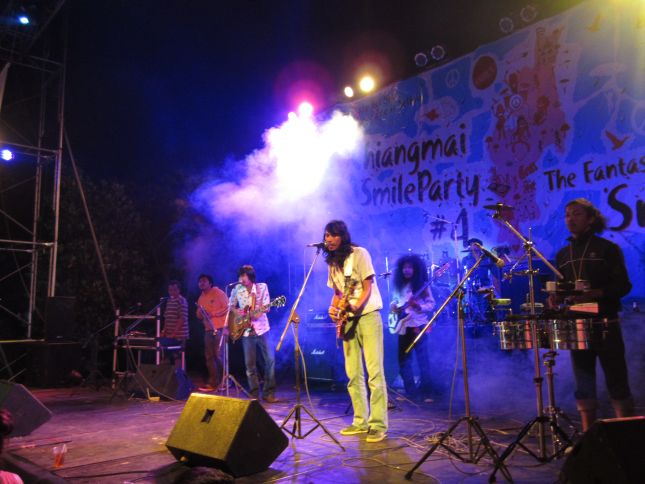 The following evening we're on the night train to Bangkok, a wholly enjoyable and recommendable journey! The cost is around 500THB per person and it takes about12 hours. The facilities are simple but comfi enough. And the highlight is dinner and drinks in the buffet carriage, where some Thai ladies run a restaurant reminiscent of a strip club-cross-discotheque – all dim red haze with colourful blinky christmas lights all across the ceiling and various music playing on the jukebox. The food is good and we have a blast!