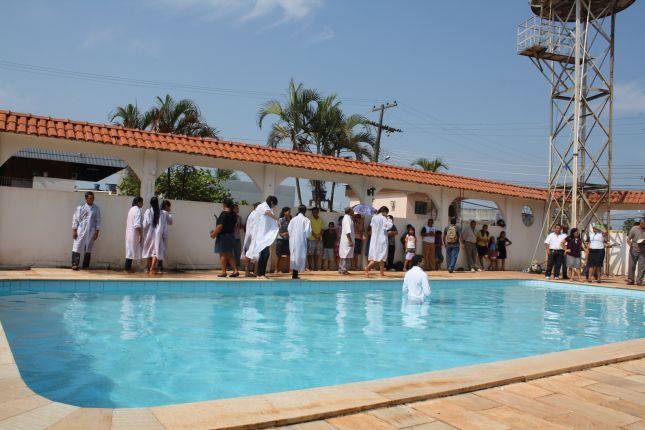 Our departure from Careiro is celebrated with a sort of doctors' pool party. (Ok it's not really in honour of us but the doctors). Music is playing and [what I assume is] the chief medic is dunking all his underlings under the water. The vibe is happy. We haven't met any of these people before in our lives and all this wouldn't have been necessary, but none the less we find it interesting and very sweet.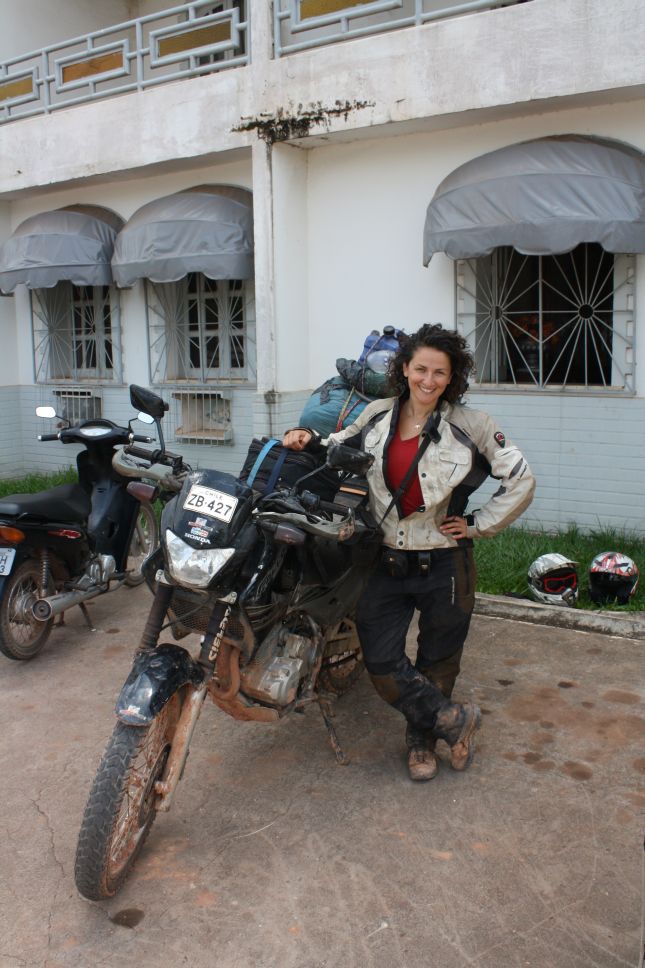 The onward way to Manaus is tame; all asphalt as far as the eye can see, smooth riding. Yet there are one or two sections of road works which send a chill up the spine – could this possibly be the initial steps of the reconstruction?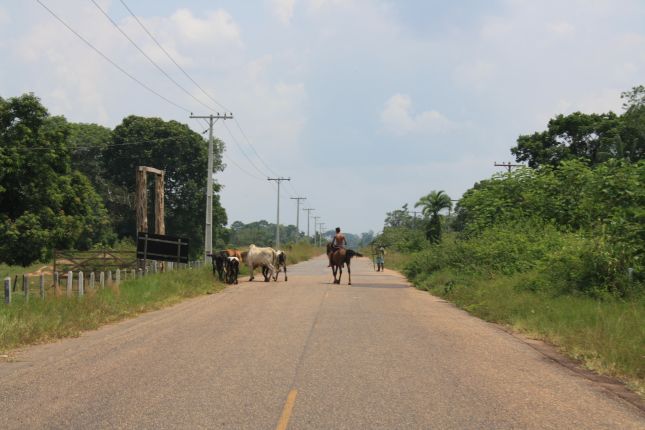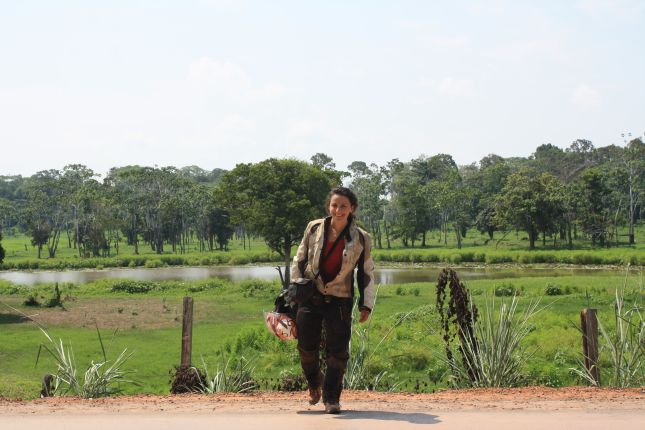 Out here we're riding through a completely different world. Trees have given way to cattle ranches, vegetable plantations. There are streets, cars, buses, fences. From each concrete bridges we cross we can see settlements, some big, some small, skirting the river.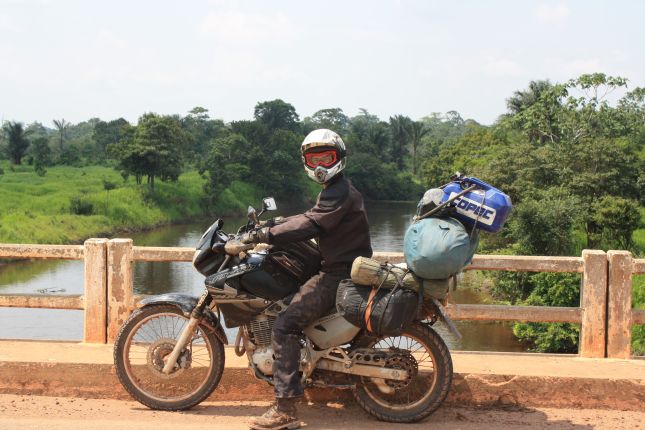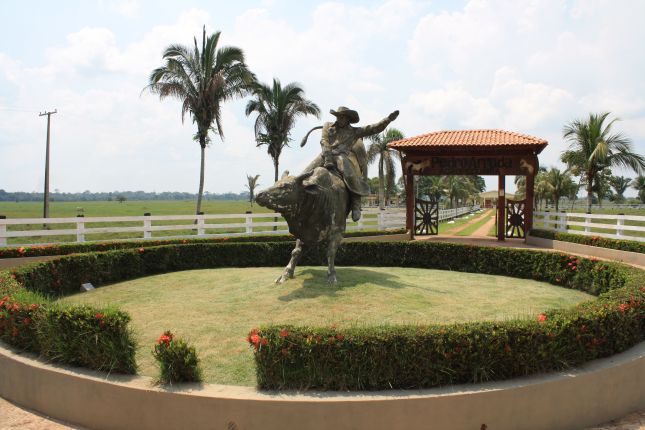 We ride along comfortably over the smooth tar road, and we feel a sense of sadness at leaving the lush wilderness behind. A sense of repulsion at the sight of public transport and a sense of loss, looking at the wide expanses of grazing land surrounding tall, solitary trees dating from different age.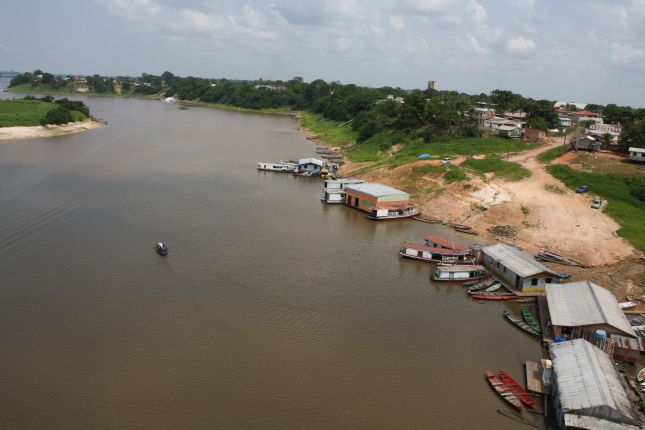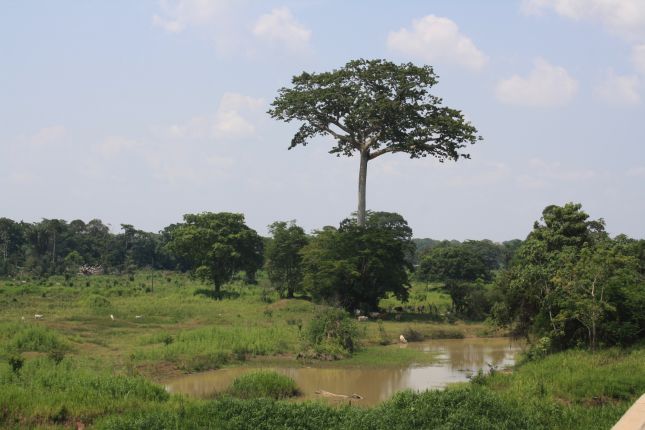 II wonder how many of those cows I have to stack on top op each other to reach the top of the tree…
More work going on at the Careiro-Manaus ferry terminal. It's a building site. The ground is all turned up and big machines are tilling and ploughing and shovelling and flattening.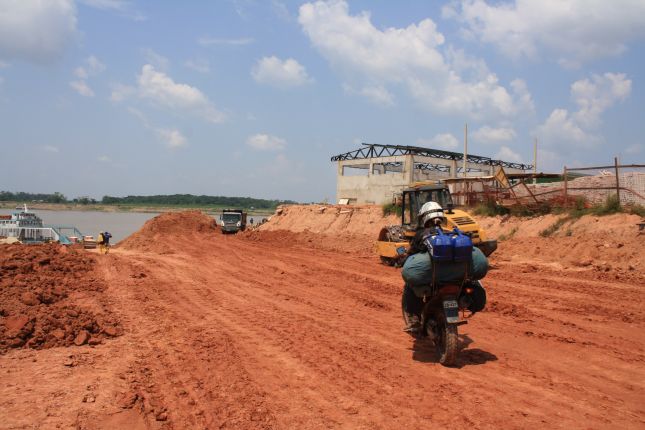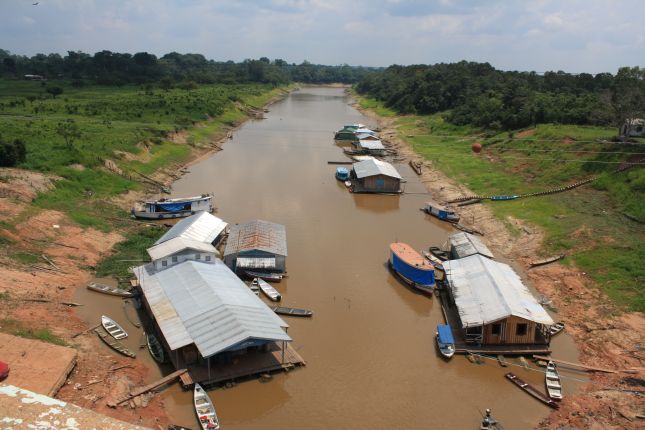 This was the final part of the BR319 road from Humaita to Manaus. From here we have a 45 minute ferry ride which leads us straight into the city of Manaus.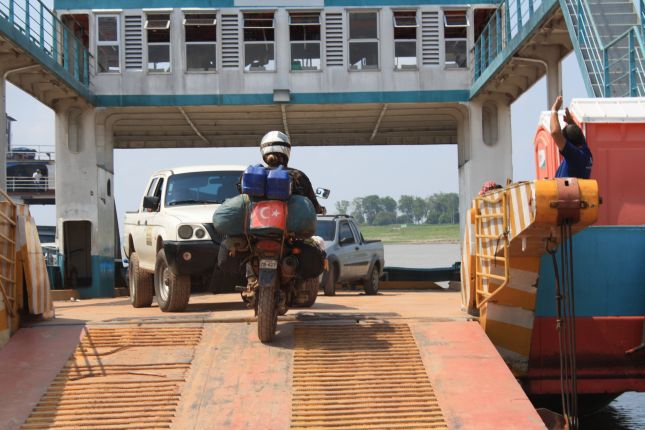 We take a few photos to commemorate Ebru's achievement of being – as far as we know – the first Turkish woman to cross the Amazon by motorbike. And I can contest to the fact that, even though she was not the pilot, she certainly bore a large part of the burden in getting us across! Assisting in navigation, wading mud and water ahead of the bike, building foot-holds and bridges with rock and wood, seeking alternate paths around obstacles in the shrubbery…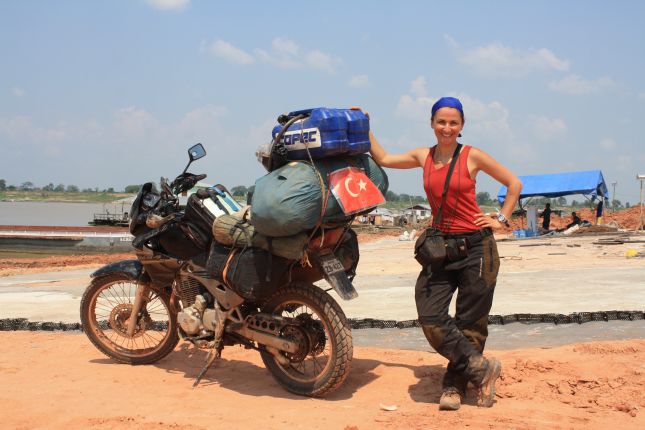 Heck, you could almost go as far to say she was also the first Turkish woman to have practically WALKED across the Amazonas! 🙂
May I just add as a partner & husband: Thanks for coming along and I'm proud of you!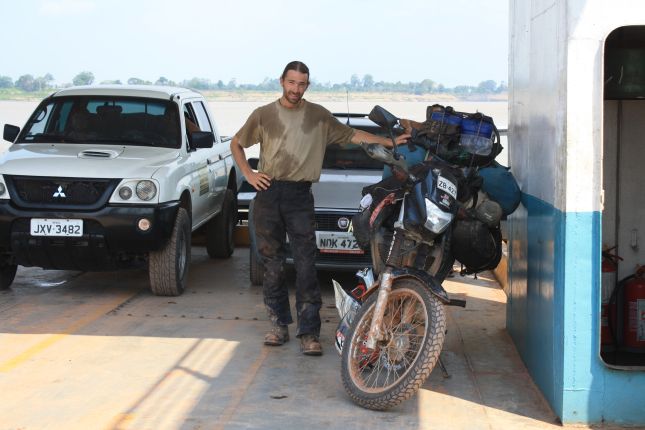 This has been the craziest, riskiest, scariest and most exhilarating thing we've ever done. Arguably, also the most stupid, this I can't deny. However, having done it, it's something we don't regret. Despite the dangers (many of them could have been much diminished through better planning and equipment), we have had the privilege of spending time in one of the most remote places accessible on earth, where wild nature still reigns supreme – while she still reigns, as this fact may be at risk in the near future. And indeed, because of inadequate planning and equipment, our journey through this place, which could have passed us by in merely two days, was prolonged, and gave us a longer and more intimate contact with this special environment. Though we were too engrossed in progressing our journey and in our survival at the time, it's now a fact we're grateful for.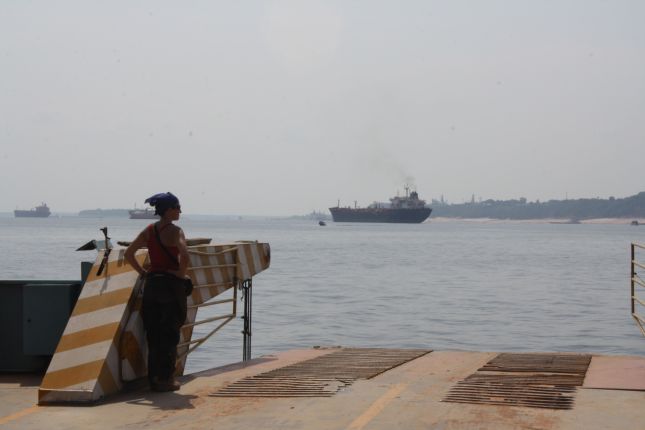 The ferry moves slowly towards Manaus, taking us across the Rio Solomoes to the Rio Negro, over the "encuentro de las aguas" or "mingling of the waters", which is where the two rivers confluence to become the grand Rio Amazonas. Here there's a clear, wavy division where milky brown waters of the Solomoes and the dark waters of the Negro join, and flow along without mixing for another several kilometres down stream.
Large ferries and barges transport automobiles and people in every direction and scores of huge freight ships lay anchored in the river. We even spot one from Turkey as we pass by.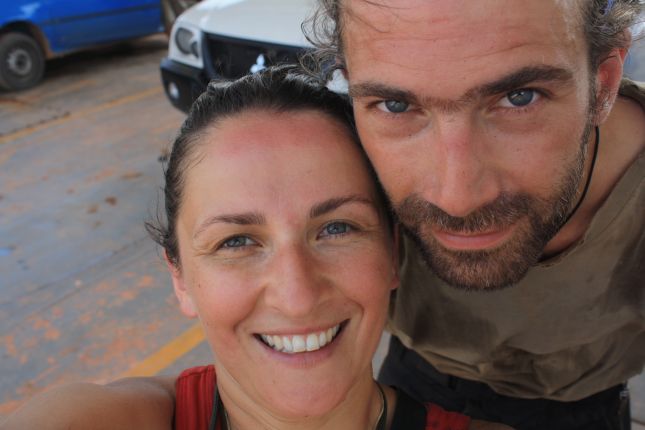 On the other side we disembark into the large customs terminal of this Zona Franca, the city of Manaus. We've made it! Our Trans-Amazonas adventure is complete!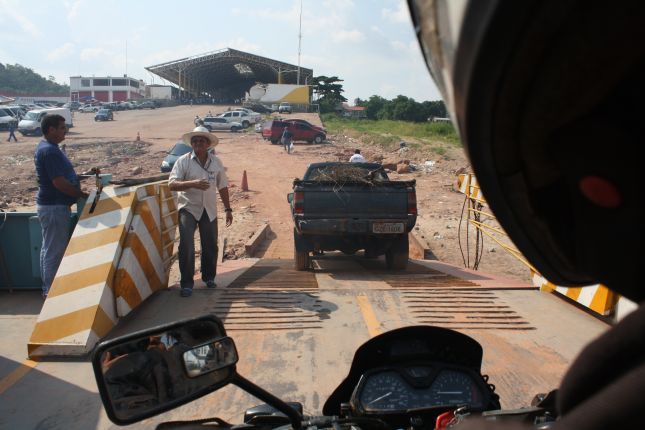 We've been looking forward to reaching Manaus for some time. We'll have the chance to meet some other travellers again for a change, it's history is rich and, very importantly, in this Electronics "mecca" of Brazil, we hope to get our laptops fixed, melting away the last drops of the iceberg in the Amazonian heat!