Island Number 3: Koh Lanta
Word on the street is that Koh Lanta dances to a different tune, that things are more quiet and laid back there. Personally I feel I've heard this all before and as far as I'm concerned, if it's in Thailand and you've heard of it, consider it crowded and expensive. I'm considering not renewing our Thai visas and heading straight to Indonesia in search of pastures greener. None the less, Lanta is a natural stop on our way and we go to check it out.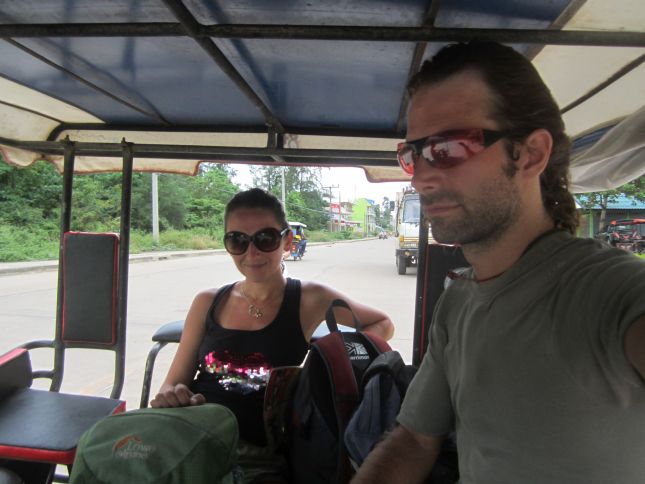 The place immediately radiates a calmer feel and as we head down south to Khlong Nin beach, vegetation mass exceeds building mass and crowds are nowhere to be seen. After examining every beach-front accommodation in the area without satisfaction, we find a lovely, clean, spacious room at the Lanta Ala guest house in the village centre, just two minutes walk from the beach for 600THB. There's a fridge, a TV with DVD player but no antenna and an AC in the room. The family running the place is really nice, very smiley and cheerful. They offer to lend us DVDs as well but we spend so little time indoors we don't take advantage. They have a little baby which is really cute but cries every time it sees me – I wonder why…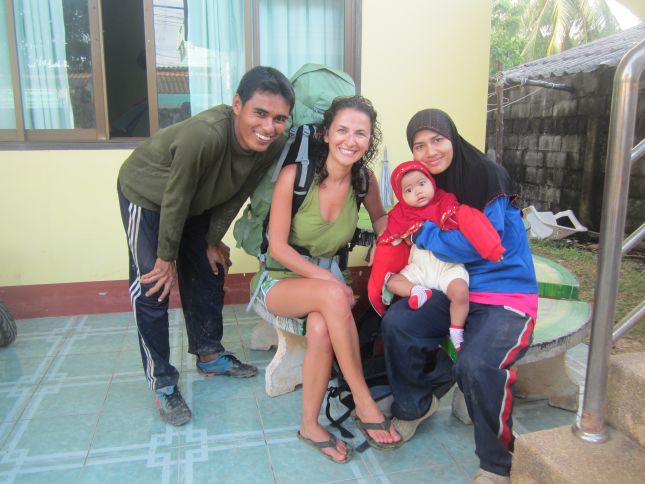 Over on the beach front we find our comfort zone at Jai Dee Home (http://www.facebook.com/pages/Jai-dee-home/184037684996020?sk=wall), a guest house / restaurant / chill out pad run by an Irish chap, James, and his Thai wife. James is a drum roadie, who tunes drum kits for bands on tour and he's worked with some pretty impressive names – Prodigy and Faithless to name a couple –  there's event passes and signed drumsticks littering the bar area. The food here is lush: lovely big breakfasts and the tastiest burgers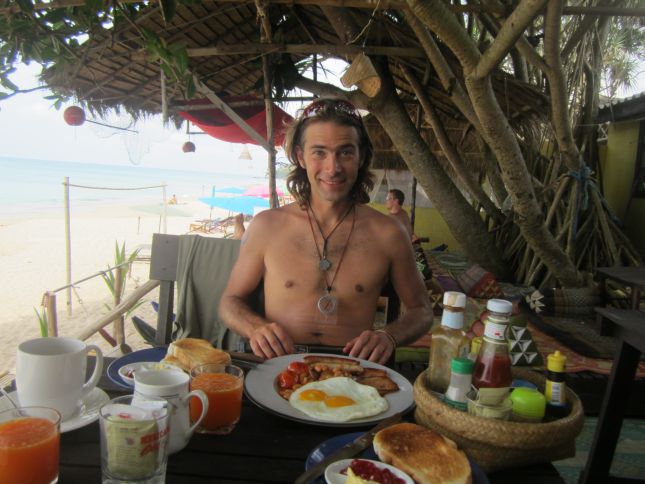 (did I mention I'm going through a little western food phase?)
They've got WIFI and we've got laptops (one each) and we settle in in the morning, eat breakfast, work on our overdue blog/email updates, and go for refreshing dips in the sea.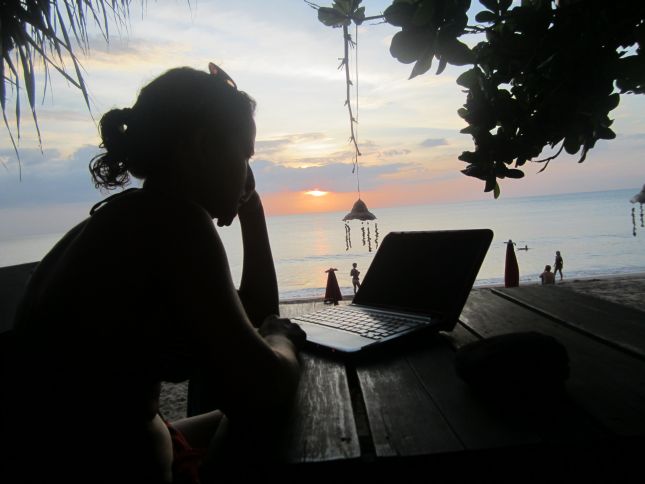 The island is pretty large so there are many other beaches to explore (which we intend to do) and here and there there's posters announcing one or another party taking place in the jungle or elsewhere, so it's unlikely to get boring anytime soon. Ok, it's not the stunning brochure-island with white powder beaches and limestone cliffs jutting out of the turquoise sea; but the beach is large and though most accommodations here are near full, there is plenty of space for everyone. (Besides, when I see those powder beaches littered with beer bottles and plastic cups I'd sooner just visit them only in my mind).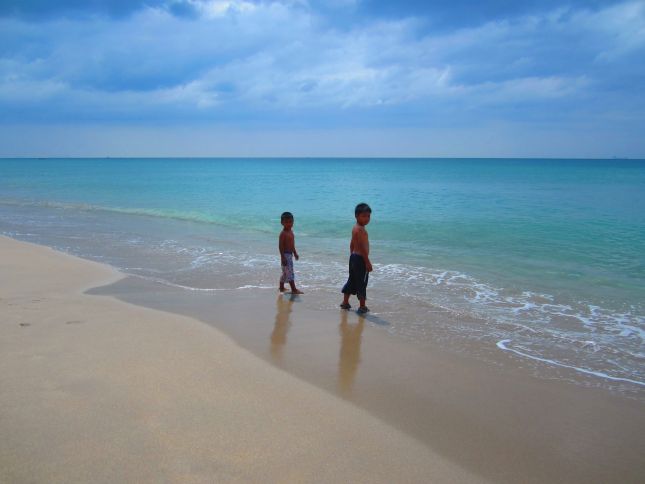 We rent a scooter for a few days (160THB/day) and scoot around. There's a really interesting guest house right on the South side, completely secluded, with a little beach all to itself and rooms in tree houses high up in the trees. Also on the SouthEast side there's the Panorama cafe, which is a relaxing little place with a view of the sea and islands, where you can kick back and enjoy some good food or drink.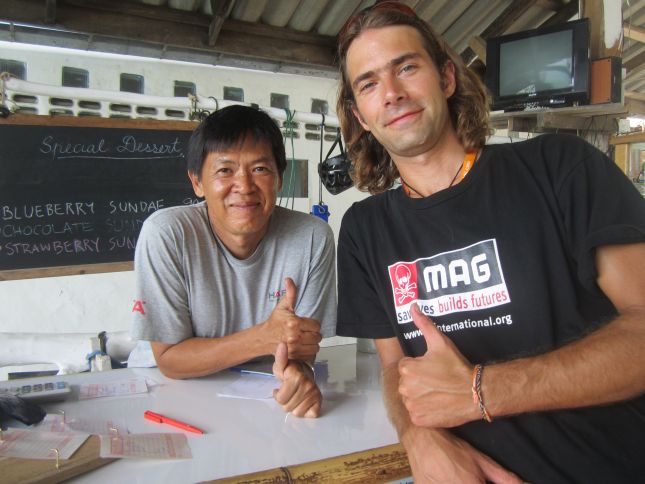 It's run by a guy named Jack who, I gather, used to work in the IT industry in Bangkok and then decided to make an exit from the fast lane and live island style down here. This is also the location where we plant some TREES for our Planting Around the World mission!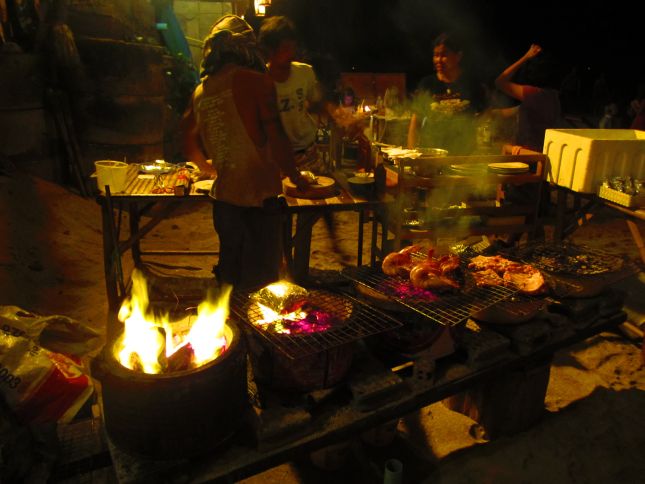 On Christmas day we have a BBQ feast on the beach at the place next door to Jai Dee's, called Richies: for 240THB I get a meaty rack of pork ribs with a baked potato and for 290THB Ebru feasts herself on a large Red Snapper with the same side. Bamboo table on the beach, paraffin candle – how romantic! After that we settle in at Jai Dee for some whiskies and conversation with James as we watch fireworks and sky lanterns rising up into dark space.
Easy to feel at home here; and we decide that, since our most convenient VISA sun will be South to Malaysia anyway, we'll head straight back here after the visa run to Malaysia and live in the slow lane until after new year. RESULT!
The lazy days go on and we're loving it.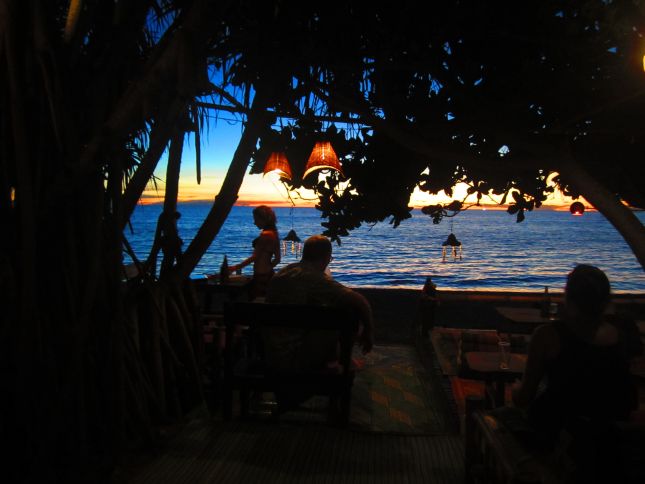 We pay the Blue Moon Bar a visit. A couple of English chaps we met on Phi Phi actually recommended it to us. Gang, the owner, started this bar in another location on this beach about 20 years ago when it was still a mere bamboo hut with hippy visitors coming around from far flung places carrying guitars, bushy beards and such. Gang is a pro and knows exactly how to run a chill-out bar. The music is excellent and plays non stop – sometimes quieter, never too loud. Nothing is ever a problem (as long it generates good vibes). And nothing is associated with a time limit – not the time you spend lounging at Blue Moon nor the time it takes to get a drink. Gang acknowledges orders and gets to them when he is ready; or when he remembers maybe… but in a place where time is not of any consequence this matters little.
As host he blends in with the atmosphere like well camouflaged commando trouper. And he's always doing something: either clearing tables or preparing drinks, taking orders, engaging with guests, combing the beach or adding to the decor around the place to make it more functional or pleasant. Another welcome highlight here is that he has a pizza oven and he and his kitchen staff make a good pizza with freshly made dough – always a winner – and not extortionately priced!
New year's eve arrives!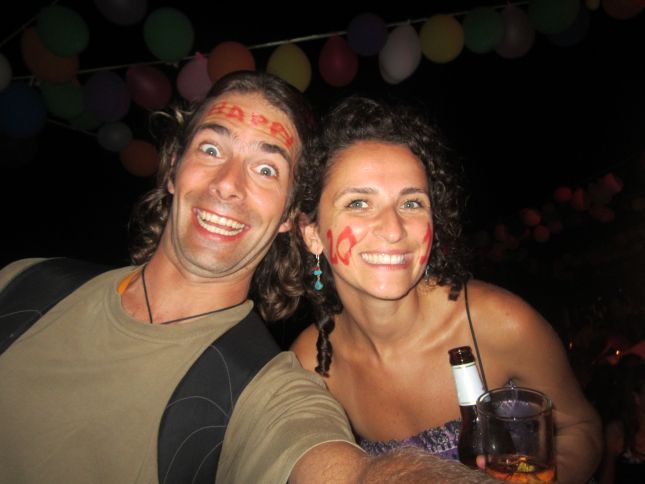 We decide on the BBQ ribs & fish option at Richie's, where we share a large table with a few Germans. They, like us, have planned ahead and brought a stash of SangSom with them, so along with what we order we're sipping away at the rum with great delight and soon enough are merry as can be. After dinner we move on to Otto's, one of the larger beach-front venues down here. Otto's is having a beach party tonight and they seem to be the only ones as that's the place where the crowd and the loud music are. Otto must be a wealthy man, I think. There's this bar/restaurant/guesthouse and there's a travel agent and I'm sure I saw one or two other businesses on the island, all bearing this name. The travel agency is good, we book our Visa Run and Hat Yai trips through them and the staff is very reliable.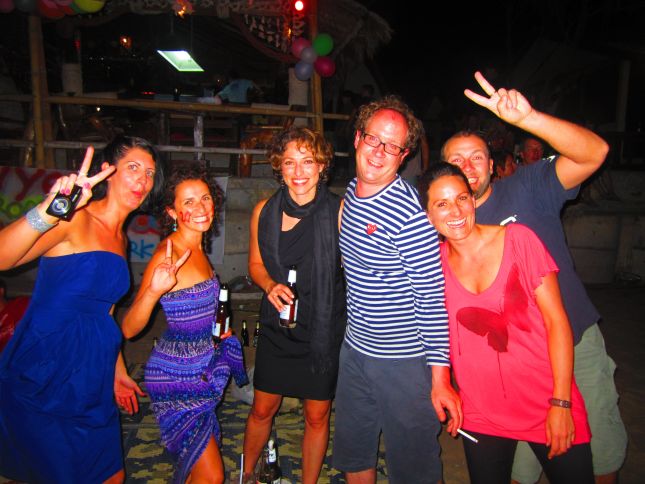 The party goes on, the clock strikes twelve (I wonder who decided that though as I don't recall speaking to anyone with a reliable source of time), fireworks explode and hundreds of sky lanterns rise up into the air, drawing new constellations across the night sky with their yellow shimmer. Beautiful! At some point I go to the bar to get a drink and I meet Otto – or at least so I'm told by the Kiwi next to me. He's a long-haired Thai, probably in his forties, sitting (seemingly alone) in the corner, the last stool at the bar, drinking away as the crowd heaves back and forth around the bar to the music. Not many words are exchanged – we're both drunk enough to be able to rely on understanding rather than communication I guess.
Eventually we leave for home via the Blue Moon Bar, Gang is still there with one or two others at the bar but there's little going on otherwise. Ebru's not up for it, so I drop her off at the guest house and go back to show my support. Ebru loves me greatly for this. When I get back there it's only me and Gang, so we kick back for one final beer and have a good chat about this and that. He prepares a good Pizza, we play a round of drunken Ping Pong and we decide to call it a night.
Happy new year 2012 everybody!
Lanta has turned out to be Thailand's paradise island for us, no doubt about it. Even in the main season we found escape from the crowds and a beautiful environment to just kick back and take it easy. Lanta and all its excellent hosts we will miss you!